Dreams Flora Punta Cana is a particular new resort in Punta Cana for families, adults, friends and singles alike. It was just opened in 2023 and features a completely modern resort with a contemporary design, a lazy river, a wonderful beach section and plenty of delicious restaurants including an amazing buffet. But is it worth visiting Dreams Flora Resort & Spa Punta Cana? How are the food and the drinks? Where can you get the best promotional offers? And what's the particular thing you need to take care of when visiting this family-oriented resort? All these questions we'll answer in our extensive Dreams Flora review.
If not sure which all-inclusive resort to book, you can continue reading here about how to find the best all-inclusive resort in Punta Cana.
If you like more resort options with an outstanding price-value ratio, check out this list of the best affordable all-inclusive resorts in Punta Cana.
If you are looking for other family-friendly hotels in Punta Cana, you can see our hand-picked list of Punta Cana all-inclusive family resorts.
If you're interested in planning your trip a bit cheaper, check out our article about how to save money on an all-inclusive vacation in Punta Cana.
Quick link – the best prices for Dreams Flora Punta Cana
If you're seriously interested in Dreams Flora Resort & Spa, I'd highly recommend you to read this extensive Dreams Flora Punta Cana review with all our experiences and observations from our visit. But I also understand if you're in a hurry or are just here to find the best price for this resort. In this case, make sure to check out this page where you can compare the current promotions of Dreams Flora* at different booking websites. Like this, you can scan several websites with one click and can be sure to find the best rate for your Dreams Flora vacation in Punta Cana.
Where is Dreams Flora Punta Cana
Dreams Flora Resort & Spa is a family-friendly resort located in Punta Cana's Cabeza de Toro area. It borders Jewel Palm Beach on the one side (formerly Dreams Palm Beach) and the large pristine area around Laguna Bavaro on the other side.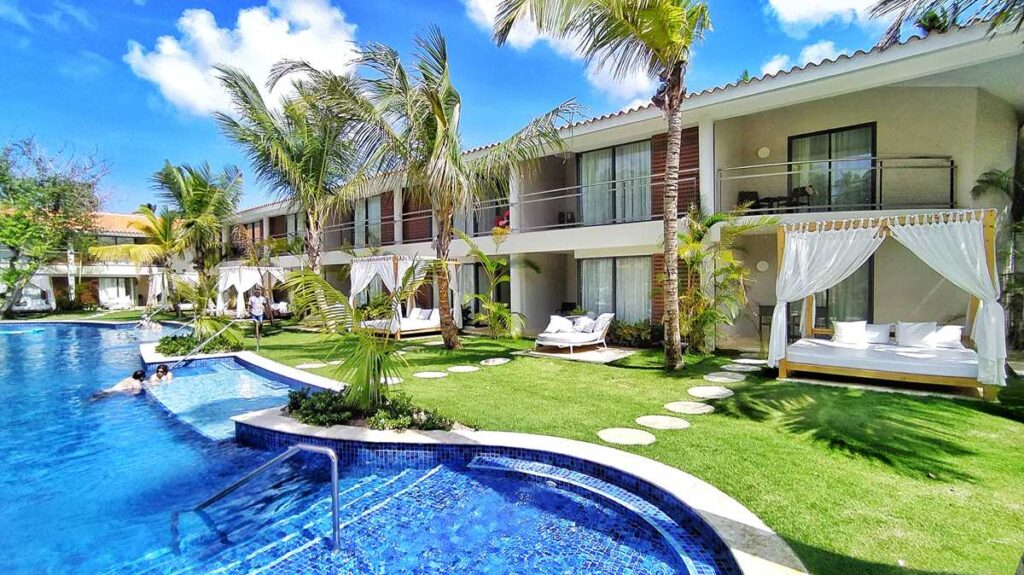 Cabeza de Toro in general is a small beach village that was only created once the first resorts were starting operations. There are some very small shops around (a local Colmado, a lottery store and a few local bars) in approx. 15 minutes walking distance, but nothing impacting. Currently, there are around 8 all-inclusive resorts here in Cabeza de Toro, taking advantage of the short transfer time to Punta Cana International Airport and the wonderful beach here in the area. If you're interested in the other resorts in Cabeza de Toro, you can also check out our reviews about Catalonia Punta Cana or Serenade Punta Cana.
Talking about the airport, Dreams Flora's location is just a 20-minute drive away, guaranteeing a short transfer from Punta Cana Airport. It is recommendable pre-booking your transfer, as the typical airport taxis sometimes can be bothersome. If you're looking for a recommendation, you can use this airport transfer to Dreams Flora here* or check out our official Punta Cana Airport Transfer Guide.
If you're wondering about Dreams Flora's location in terms of the beach, you can check this review further below with additional information about Dreams Flora Beach.
Overview of Dreams Flora Punta Cana
As mentioned, Dreams Flora Resort & Spa Punta Cana is a new resort, the opening date was just a couple of months ago in February 2023. Therefore, everything is (nearly) brand-new and you can expect an elegant and modern resort with state-of-the-art design and contemporary amenities. However, the all-inclusive hotel was not built from scratch, as Dreams Flora's location is where the old Natura Park Eco Beach Resort was situated. All the buildings were completely renovated, also the entire lobby and the restaurants are mostly new. A water park was added to Dreams Flora Punta Cana and the pools were extended by at least 400%, with new swim-up bars, a lazy river and many other amenities.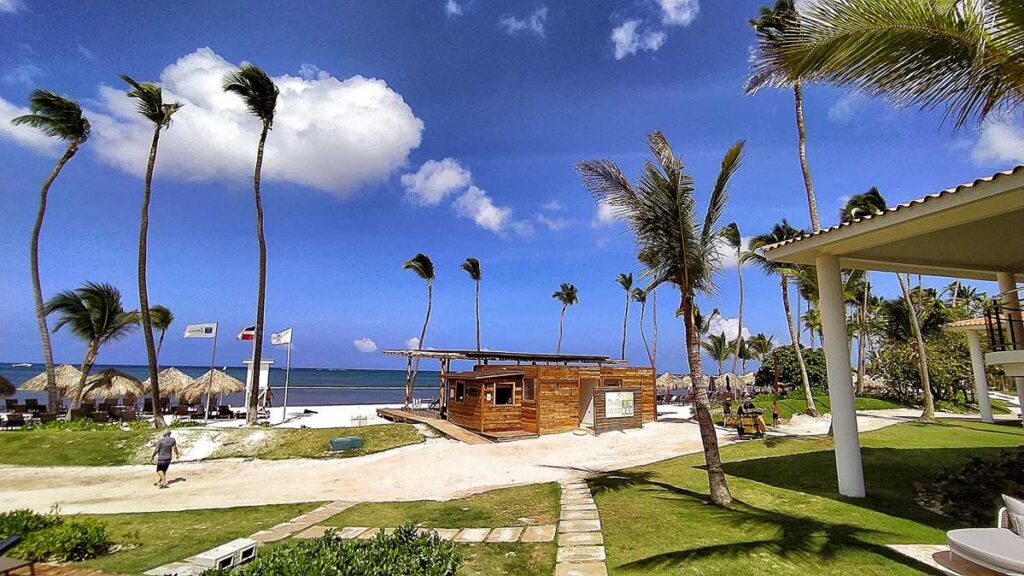 As you can see, a whole new resort experience is waiting for you at Dreams Flora Punta Cana. The hotel is one of the typical medium-sized resorts in Punta Cana with approx. 500 rooms and around 1000 feet distance from the lobby to the beach. There are much bigger resorts in Punta Cana such as Hard Rock Resort Punta Cana or Grand Bavaro Princess but also more intimate ones like Catalonia Royal Bavaro or Royalton Chic Punta Cana.
As always in our resort reviews here at Punta Cana Travel Blog, let's start with a virtual tour through the resort, so you can get to know the specifics of this resort better.
As mentioned, the lobby is completely new and welcomes you with a modern and shiny appearance as well as a tropical vibe, as it is completely open and accompanied by a large fountain.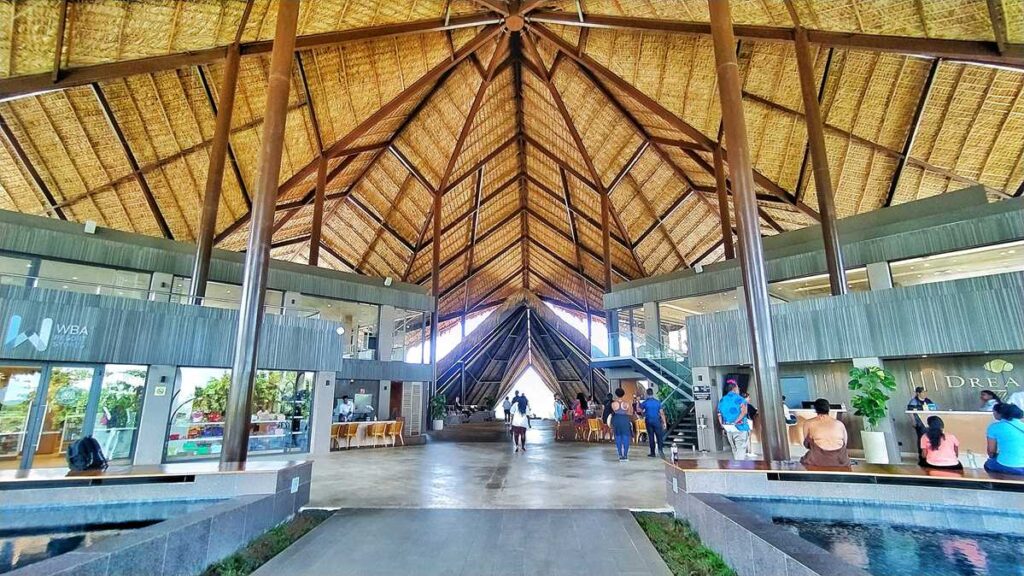 There is also the Dreams Flora Preferred Club lounge right next to it.
From the lobby, stairs lead down to the ground floor, which is home to the most centric area of the resort. Here you can find the large theatre, the main buffet, most of the à-la-carte restaurants of Dreams Flora, an arcade area as well as the main lobby bar.
From here, you can walk through the lush tropical gardens of Dreams Flora, which are flanked by artificial lakes and several pools. The accommodation buildings in this area are all scattered through the resort, there are no massive blocks here.
One of the places you pass is the new swim-up bar close to the lobby – Dreams Flora Punta Cana is one of the few resorts in Punta Cana which has two completely different swim-up bars with a very different vibe.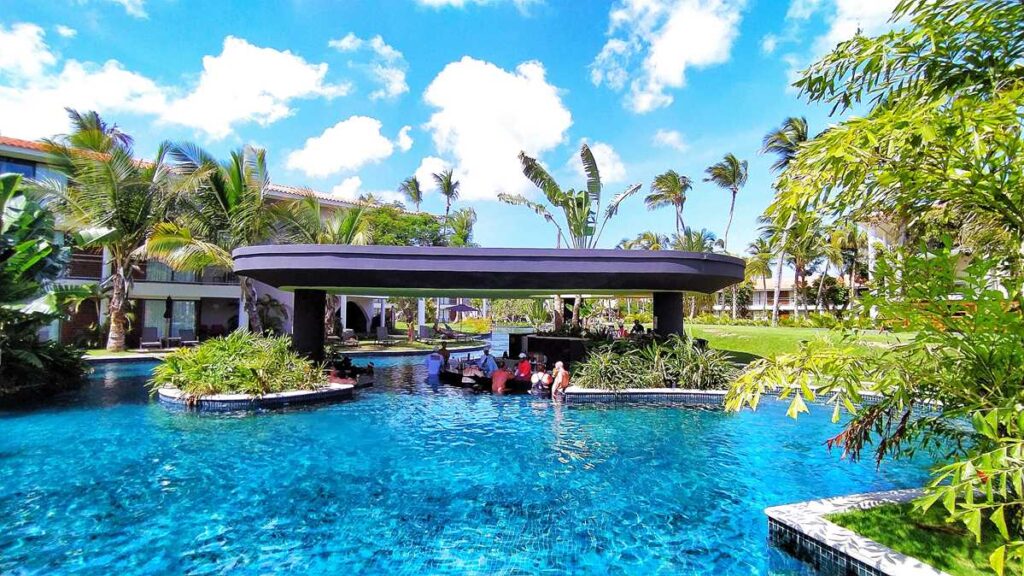 Three amenities placed more on the right side of the resort are the water park, the kids club and the building with the spa and gym – both completely newly built and a good size considering it is not the main attraction of the resort.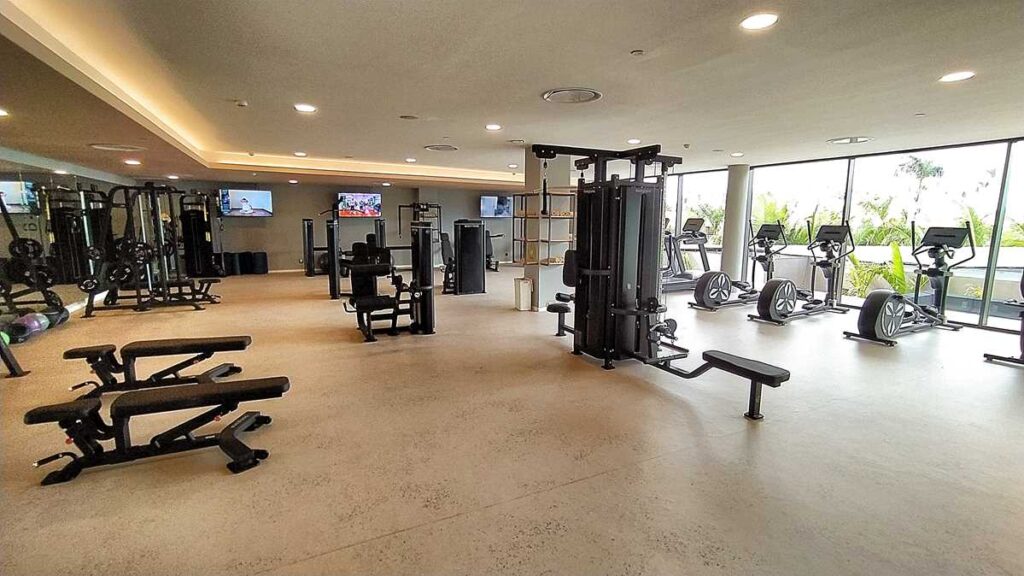 If you walk further down, you're nearly arriving at the beach. However, just before, you will find the main pool area of Dreams Flora, including a lazy river (which isn't a loop however), another swim-up bar, different lounge areas and a shallow pool for toddlers and smaller children, emphasizing that Dreams Flora Resort & Spa is also a perfect family resort in Punta Cana.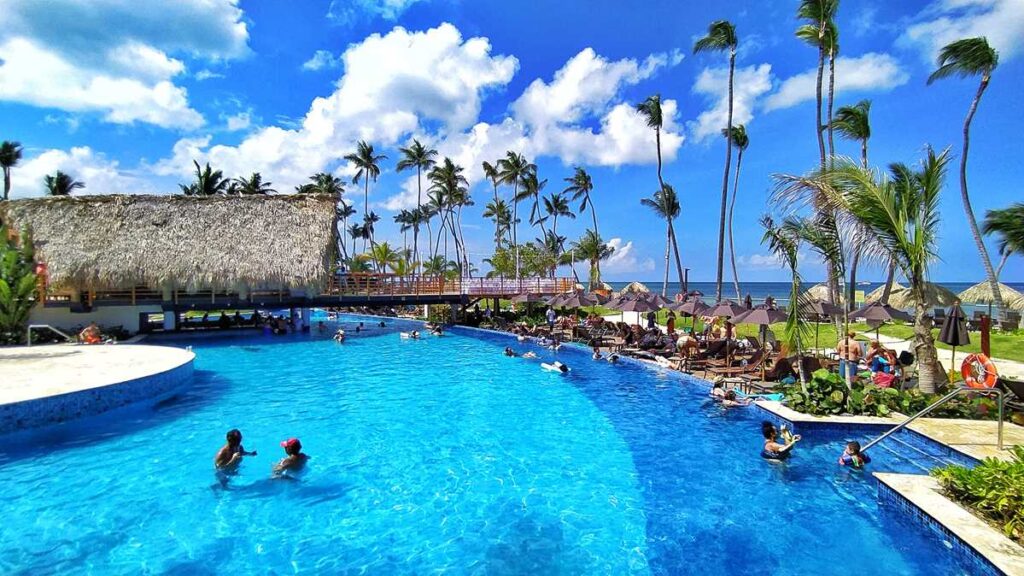 This area is designed very attractively. We loved the different Bali Beds here (which are usually part of some of the rooms), the smaller gardens, the well-designed pools and the marvelous views.
Besides the pools, you can find the small adults-only section in this area, the wonderful Mix Bar with a bridge over the pool and an amazing beach view as well as Two Preferred Club restaurants.
The Dreams Flora Preferred Club pool and swim-up bar is also located here in this area close to the beach.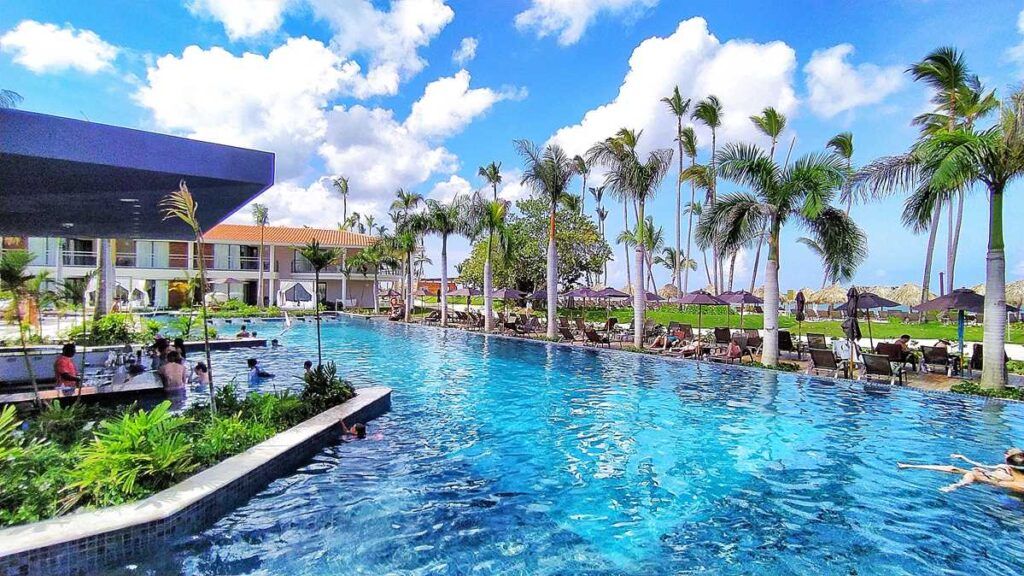 Finally, you have reached the beach with its sun loungers, the water sports center, the beach bar and the Preferred Club beach area.
The beach at Dreams Flora Punta Cana
Talking about the beach, we have some interesting experiences to share with you here in our Dreams Flora Resort & Spa review.
Usually, Cabeza de Toro is not considered one of the most beautiful beaches in Punta Cana. Sand- and water-wise, it can't fully compete with its neighbors, such as the famous Bavaro Beach or Cap Cana. Still, Cabeza de Toro is a perfectly beautiful Caribbean beach, but not as spectacular as its neighboring peers.
However, in recent years, Cabeza de Toro has become more gorgeous than ever. This might be subjective, but when we visited Cabeza de Toro lately, the beach was always awe-inspiring (and usually without seaweed), in 2021, 2022 and 2023. I mean, just look at this photo here.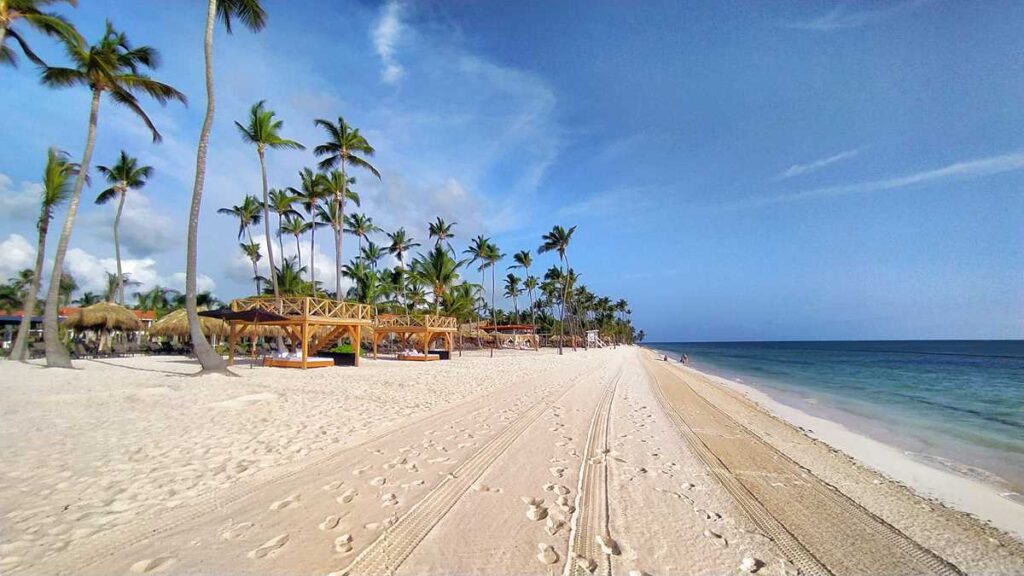 And Dreams Flora's beach matches this impression.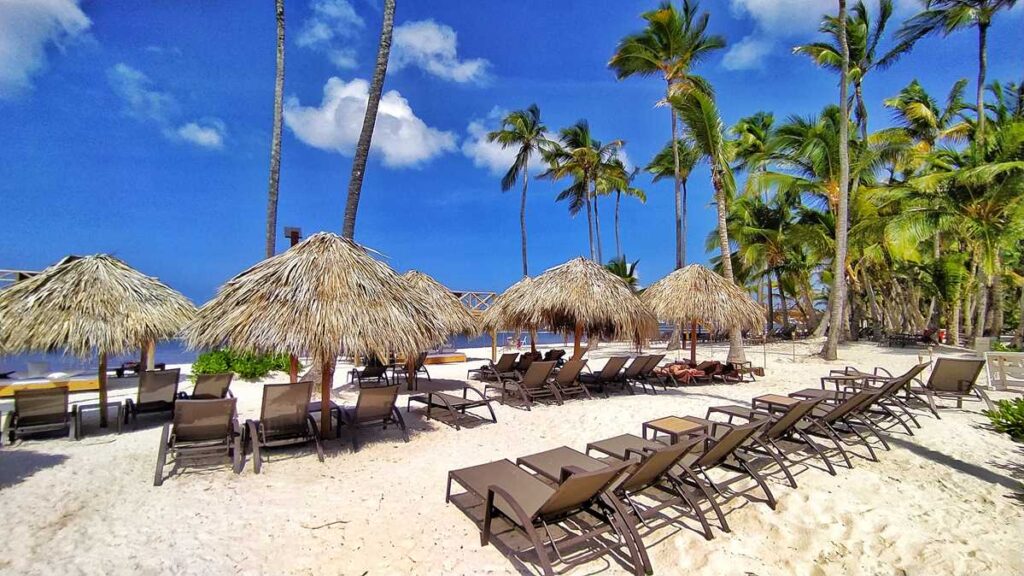 If you want to go to swim, Dreams Flora offers perfect conditions as the ocean here usually doesn't have any waves. The water is not as crystal-clear as in other places in Punta Cana but still perfect for your ideal dose of Vitamin Sea.
TRAVEL COACHING
Save money and time!
Do you need help planning a customized vacation in Punta Cana and the Dominican Republic? Is it difficult for you to decide what and where to book? Would you like to take advantage of someone with years of experience in the tourism industry (knowing all the travel hacks 😉 ) and living right in the place where you would like to spend your holiday?
That's what my personal travel coaching is for. I will design your tailor-made itinerary, tell you how to save money on your trip and send you the best insider tips and recommendations. All the information I send you are crafted with love and passion – and are coming with a money-back guarantee. Let me know how I can help you (check my packages here) and send me a request here!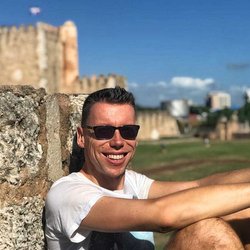 I already mentioned the seaweed above, which sometimes might be a problem in Punta Cana – and in any other Caribbean or (East) Mexican destination. The sargassum concentration in Cabeza de Toro varies, but usually, it is pretty clean, even though the water might be a bit murky on rare occasions. The photos above were taken right in the middle of the seaweed season in Punta Cana so you can see that their measures (cleaning the beach daily and having fences in the ocean) help. Therefore I wouldn't worry too much about the sargassum in Punta Cana as – in case it is pretty bad here at Dreams Flora – it will probably be intense at other resorts in Punta Cana as well. For the few exceptions and further information, you can check out the extensive Punta Cana sargassum guide.
The rooms at Dreams Flora Punta Cana
As Dreams Flora Punta Cana was only opened in 2023, all the rooms are new with a contemporary design and state-of-the-art amenities. Even though they used the old structures of Natura Park Eco Beach Resort, you couldn't tell that the rooms were "only" completely refurbished and were not built from scratch. They are exactly what you expect from Dreams Resorts in Punta Cana and the Dominican Republic: spacious, modern, comfortable and with everything you need.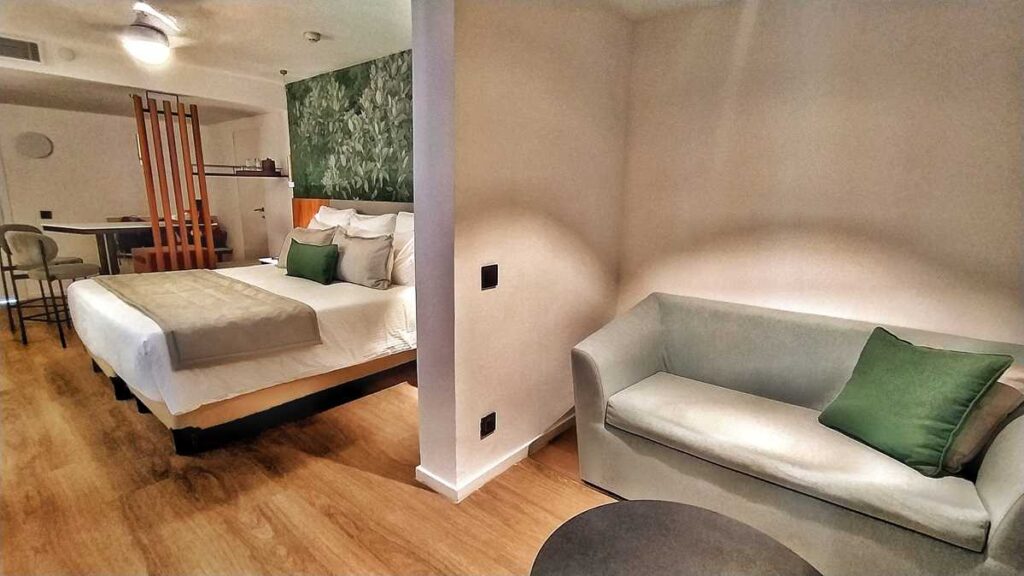 When choosing your rooms for a vacation at this Punta Cana resort, you have the options among 11 Dreams Flora room categories:
Deluxe Room Garden/Pool View
Junior Suite Tropical View
Junior Suite Pool View Pool
Junior Suite Swim Up PoolJunior Suite Family Room
Preferred Club Junior Suite Tropical View
Preferred Club Junior Suite Pool View
Preferred Club Junior Suite Family Room
Preferred Club Junior Suite Ocean View
Preferred Club Junior Suite Swim-Up
Preferred Club Master Suite Ocean Front
As you can see, 5 of the rooms are regular room categories, while you can choose among 6 Dreams Flora Preferred Club options.
Most of the rooms are the same in terms of size and amenities (approx. 500 square feet), except for the Deluxe Room, which is kind of an Economy Room (still spacious though with around 400 square feet) and the Family Rooms, which consist of interconnecting rooms.
All suites, including the Dreams Flora Resort & Spa swim-up rooms, are equipped with king size bed or two double beds, a furnished balcony or terrace, bathroom amenities, flat-screen cable TV, air-conditioning, ceiling fans, direct-dial telephone, work desk, daily refreshed mini-bar, alarm clock with MP3 docking station, electronic in-room safe, scale, umbrella, coffee and tea maker, nightly turn-down service and 24-hour room service.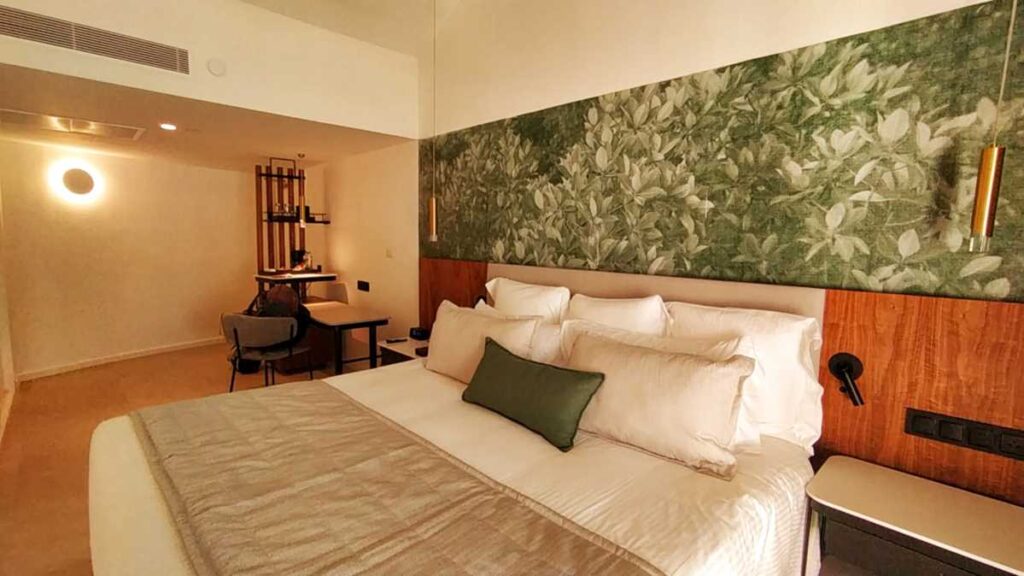 In total, approx. 200 of the 500 rooms at Dreams Flora Punta Cana are Preferred Club rooms.
However, the rooms also come with another amenity: mosquitos. Due to Dreams Flora's location next to Laguna Bavaro, there are a decent amount of mosquitos around – on average more than in other all-inclusive resorts in Punta Cana. However, you don't need to be worried for the following 3 reasons:
Mosquitos at Dreams Flora don't come in when your room is closed. The reason why they were in our rooms (we had two different ones) was that the maids usually leave the rooms open (as in every hotel) when cleaning them, hence the mosquitos take the chance and get into the room
Due to the white walls, the mosquitos can be killed easily (sorry, walls 😉)
The mosquitos are not aggressive and hardly biting
The interesting thing about the issue with the mosquitos is that we didn't have any mosquito bites during our stay – despite the occurrence mentioned in our rooms and even though we're usually getting bitten in other resorts in Punta Cana. Of course, this can not be generalized but it shows that it shouldn't prevent you from visiting Dreams Flora Resort & Spa Punta Cana, especially as the mosquito situation can change from day to day (as in every all-inclusive hotel in the Dominican Republic) and second, every person reacts differently to mosquitos.
Still, we wanted to share this experience with you as we always try to provide honest resort reviews here at Punta Cana Travel Blog, including for this Dreams Flora Punta Cana review.
In case you're interested in a Dreams Flora Resort & Spa swim-up room you should know that these rooms are mostly connected to one of the lazy rivers or main pools at the resort, either in the main section or at the Preferred Club section. You don't have a private swim-up in front of your terrace. On the other hand, the design of the area allows some of those rooms to have their private Bali Bed in the garden, just between the terrace and the swim-up room.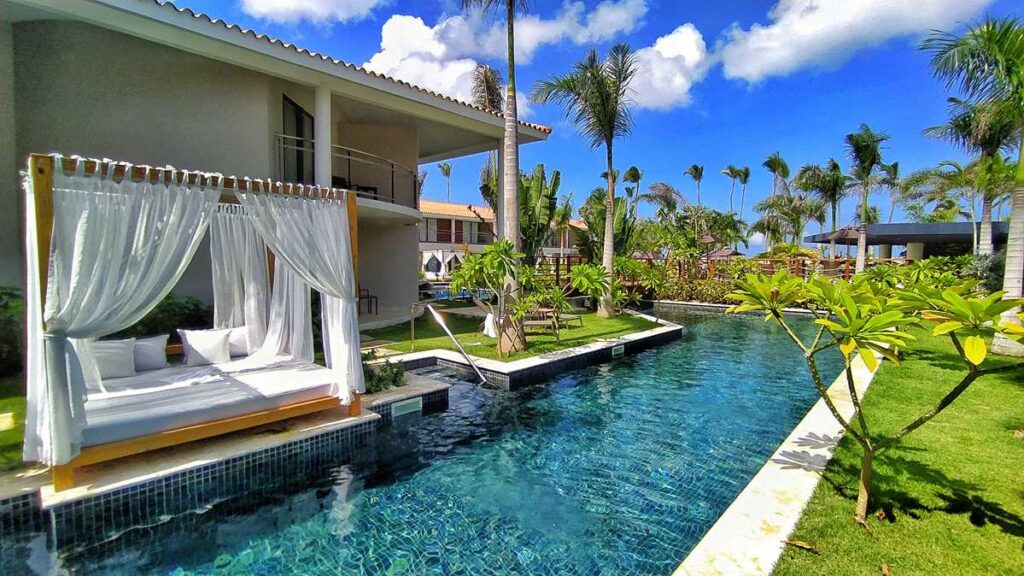 Booking and Prices at Dreams Flora Punta Cana
Dreams Flora is a mid-price premium resort, which offers great service and amenities for families and adults alike. It is neither a luxury high-end resort nor a super affordable hotel in Punta Cana.
To get the best price, I recommend you to check different tour operators and travel agencies as promotions and deals are always varying, which could lead to differences of several hundred bucks for your all-inclusive vacation in Punta Cana.
To compare the prices, I would recommend checking your favorite pages among the following travel agencies. Make sure to also check the website of Dreams Flora directly* as they sometimes offer amazing member-only deals (free registration to be a member*).
| Website | Your Advantage | Dreams Flora Punta Cana |
| --- | --- | --- |
| Agoda | Hidden champion among the OTAs with (sometimes) astonishing offers | |
| Booking | Get up to 10% Genius discount on the already discounted rates | |
| Expedia | Online travel agency with great deals, personal service and good reputation | |
| Hotelscombined | Powerful hotel search engine by Kayak | |
| Hyatt Website | Book directly with the hotel (Dreams belongs to the Hyatt Group) | |
| JetBlue Vacations | Great package deals and interesting promotions for US travelers | |
| Travala | Get a 25 USD welcome bonus (register here*) + 2% cashback | |
| Trip.com | Collect reward points at flights and hotels with this NYSE listed online travel agency | |
| Tripadvisor | Compare prices and reviews on one site | |
Usually, prices at Dreams Flora start at around 300 USD during the low season and 400 USD during the high season – both per double room per night. As the hotel is still very new and has a couple of introductory offers, prices can vary enormously and don't have the typical seasonal variations yet. For example, January, usually one of the most expensive months in Punta Cana (read more here about when it is the best time to go to Punta Cana), is currently available for the same price as the low-season months of November and December.
To get a better idea when is the cheapest and best time to travel to Dreams Flora Punta Cana, you can check the following overview we have prepared for you. All prices are per night per room and can vary widely, depending on the exact dates you're going to travel.
If you're completely flexible you might also be able to find dates cheaper than 300 USD as I found some rates for 250-300 USD scattered throughout the year.
Last but not least, if you haven't booked your flight yet, you can also check if a package with Dreams Flora is cheaper than booking separately. A vacation package means that you book your flight and hotel together and usually have ground transfers included as well. You can check package prices for Dreams Flora Punta Cana here*.
Restaurants and bars at Dreams Flora Punta Cana
Food is always super important for us, so it is for this Dreams Flora review as well. If you're looking for just a quick info we can vouch for that food here at Dreams Flora Resort & Spa Punta Cana is great!
But let's dive a bit deeper into the options you have. In total, you can choose among 6 restaurants at Dreams Flora Punta Cana, among them one buffet and 5 à-la-carte restaurants as follows:
World Café – international buffet restaurant, open for breakfast, lunch and dinner
Bordeaux – French à-la-carte restaurant, open for dinner
El Patio – Mexican à-la-carte restaurant, open for dinner
Himitsu – Asian à-la-carte restaurant + Teppanyaki tables (show cooking), open for dinner
Portofino – Italian à-la-carte restaurant, open for dinner
Seaside Grill – Grill à-la-carte restaurant, open for dinner (+ open for breakfast and lunch exclusively for Preferred Club guests at Dreams Flora)
Barefoot Grill – snack beachside grill, open for lunch (11 am to 6 pm)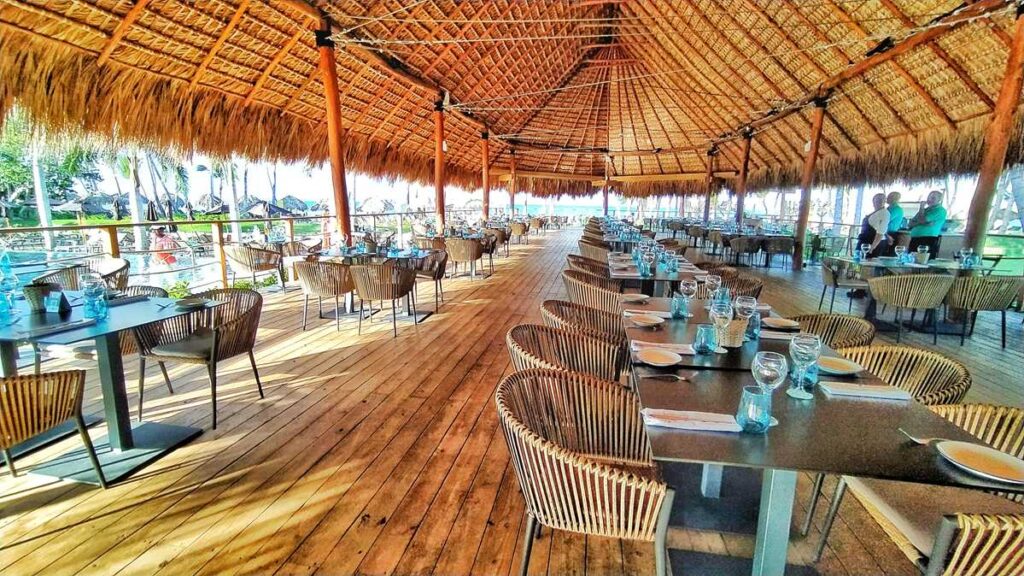 When reviewing Dreams Floras' restaurants, I'd like to focus on two particular places: the buffet and the Himitsu restaurant.
The buffet impressed us. Having stayed at Dreams Royal Beach just a few weeks before, we knew that the buffet at Dreams Resorts in Punta Cana is not always the big hit (even though we loved the resort besides this in every other aspect as you can read in our Dreams Royal Beach Punta Cana review), but here at Dreams Flora the buffet restaurant was top-notch. It not only had a very attractive design and welcoming vibe with outdoor and indoor seating, but the choices were also superb.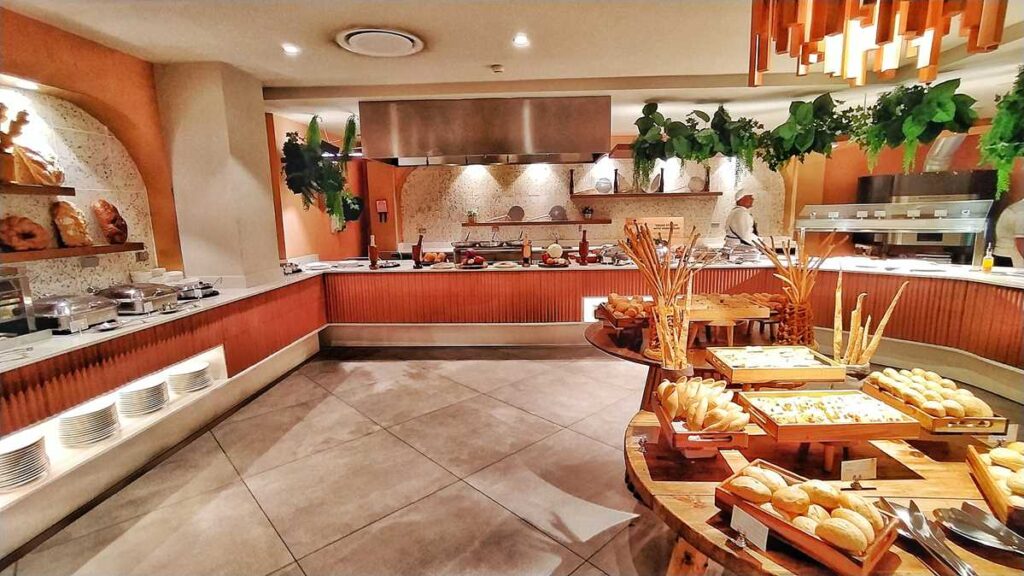 The fruit section was amazing and one of the best we have seen in any of Punta Cana's all-inclusive hotels so far. The same goes for the salads, where you can find lots of natural choices as well as prepared salads.
I could write similar words about the warm food section as well as the deserts, as everything was top-notch, considering we're talking about a buffet in the mid-price range. Freshly squeezed juices without sugar were available as well. There was also a station with a Jamon Iberico and other cuts, including salmon and other fish options for breakfast.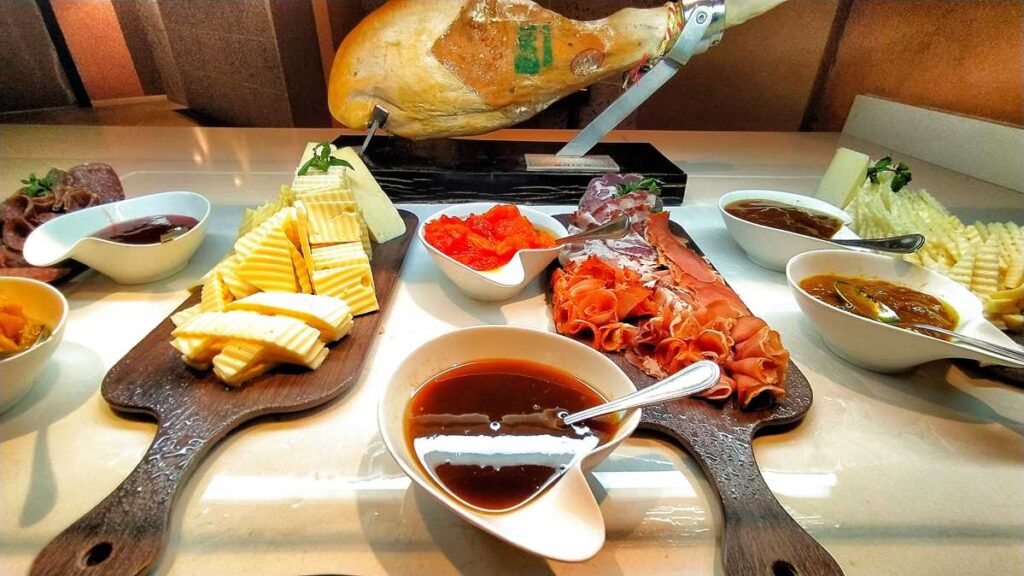 Last but not least, Dreams Flora Punta Cana showed that it is (or wants to be) a family resort in Punta Cana as they had a beautiful kids' corner as well.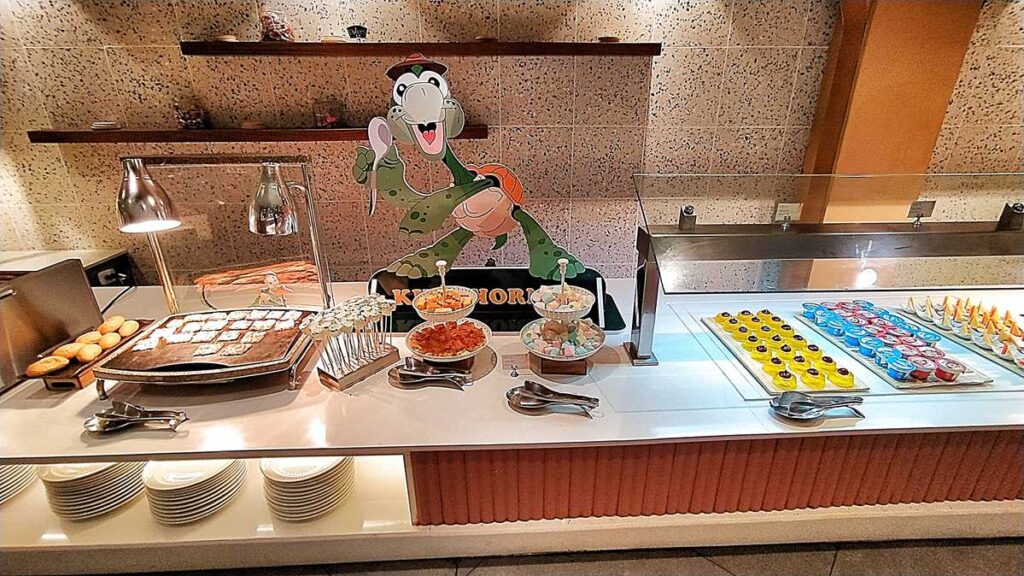 Furthermore, there is a 24-hour coffee shop with delicious sandwiches, snacks and pastries, which have much better quality than the ones at Dreams Royal Beach for example and which also feature plenty of vegetarian options.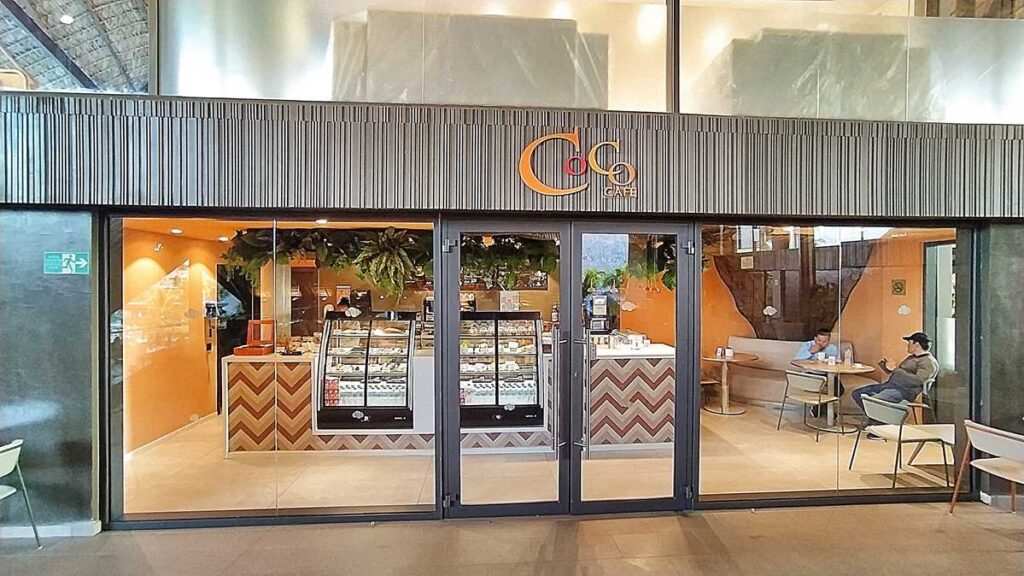 The second Dreams Flora Punta Cana restaurant worth mentioning was Himitsu. We didn't do the Teppanyaki as we have done this in excess in others of Punta Canas' resorts, but we did eat à-la-carte here. Besides the typical Asian dishes, they also have a sushi menu. One of the special items here I have never seen at any other hotel in Punta Cana is the "sushi boat" – an impressive wooden structure designed like a boat, fully loaded with different sushi. This is a must-try and – as everything here in this Dreams Flora Resort & Spa review – is included in your all-inclusive stay.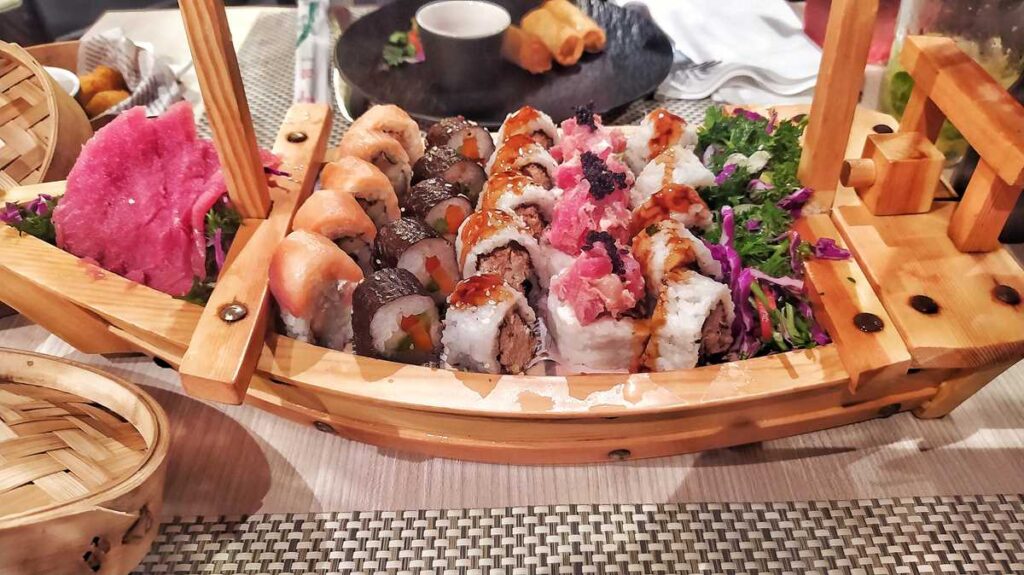 If you're looking for a quick bite at the beach, you can also head to the Barefoot Grill, which brings up the number of snack and dining restaurants at Dreams Flora to 8.
Drinkwise, you can expect the typical Dreams Punta Cana quality which is – especially in terms of the selection of brands and international premium liquors – great! I mean, look at this selection of drinks you have here at the main lobby bar – I am sure your favorite alcohol brand is among those. Among others, alcohol and liquor brands at Dreams Flora include Bombay Sapphire, Frangelico, Campari, Smirnoff, Dewars 12 Years, Jim Beam, Siboney Rum or Something Special.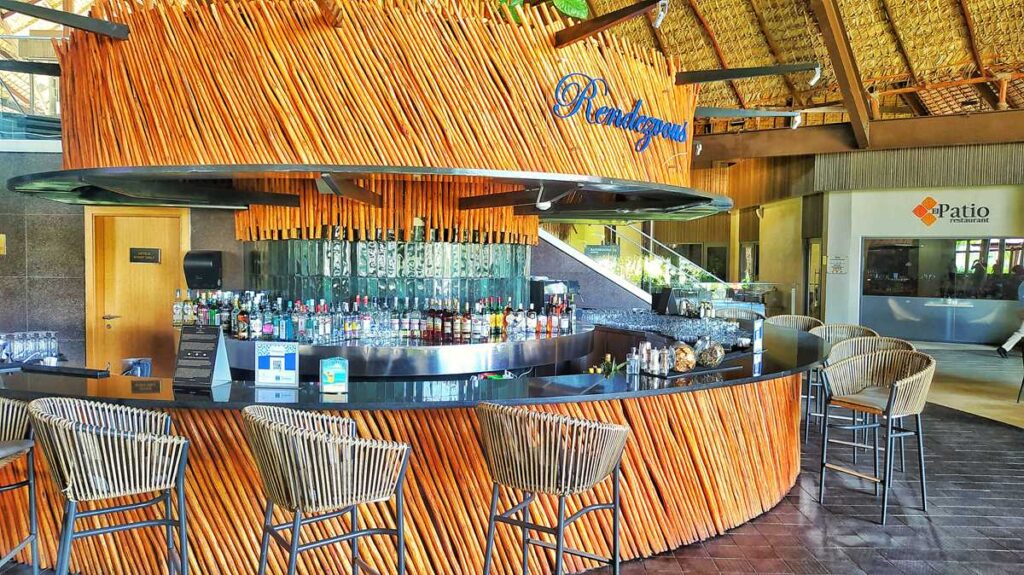 My favorite bar at Dreams Flora – besides the Lobby bar for its impressive selection of drinks – was "The Mix" bar on the second story of the main pool, with a relaxing lounge area and ocean view!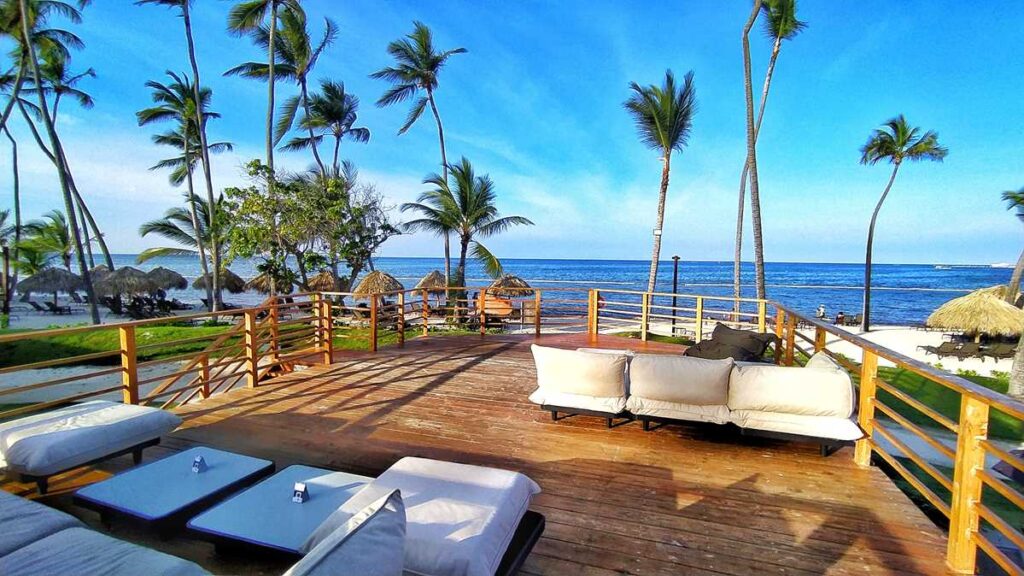 Entertainment and service at Dreams Flora Punta Cana
The Dreams Resorts in the Dominican Republic are and have always been a resort for all kinds of travelers: families, honeymoons, singles, groups of friends, couples, and everything in between. This also applies to Dreams Flora, there is no difference here.
This multi-generational focus can also be observed in terms of the activities and the entertainment as there is something for everyone.
Let's start with the family amenities here at Dreams Flora Resort in Punta Cana. The biggest attraction for the kids for sure is the water park, which isn't as big as those at some other water park resorts in Punta Cana, but still absolutely sufficient for some hours of fun and entertainment. There are four different medium-sized slides, among them a 4-lane aquaracer.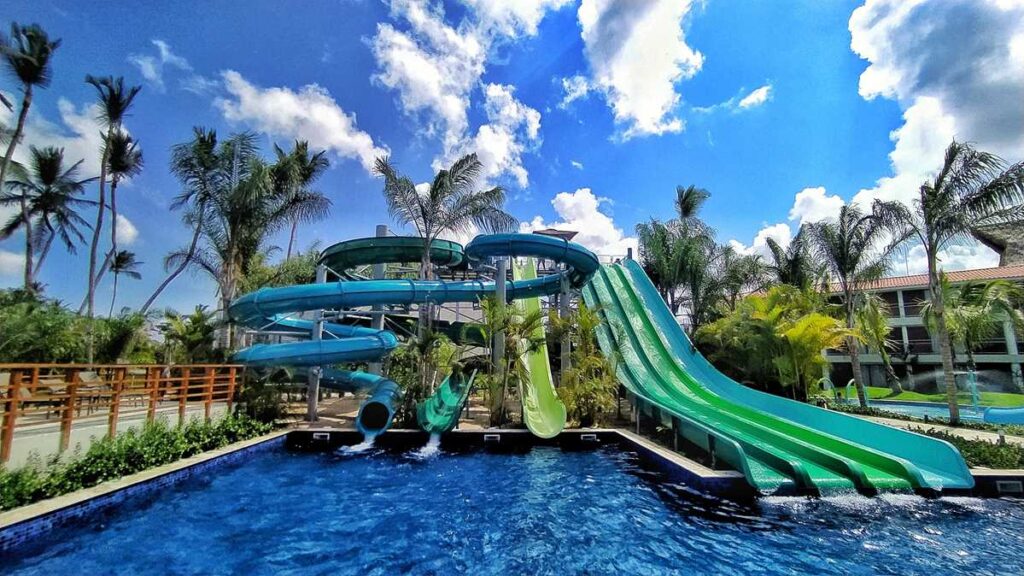 The water park is very much comparable to the one at Dreams Macao Beach Resort.
There is also another water park for toddlers and smaller kids at Dreams Flora Resort & Spa, which includes a very shallow pool as well as two small kids' slides and a splash playground.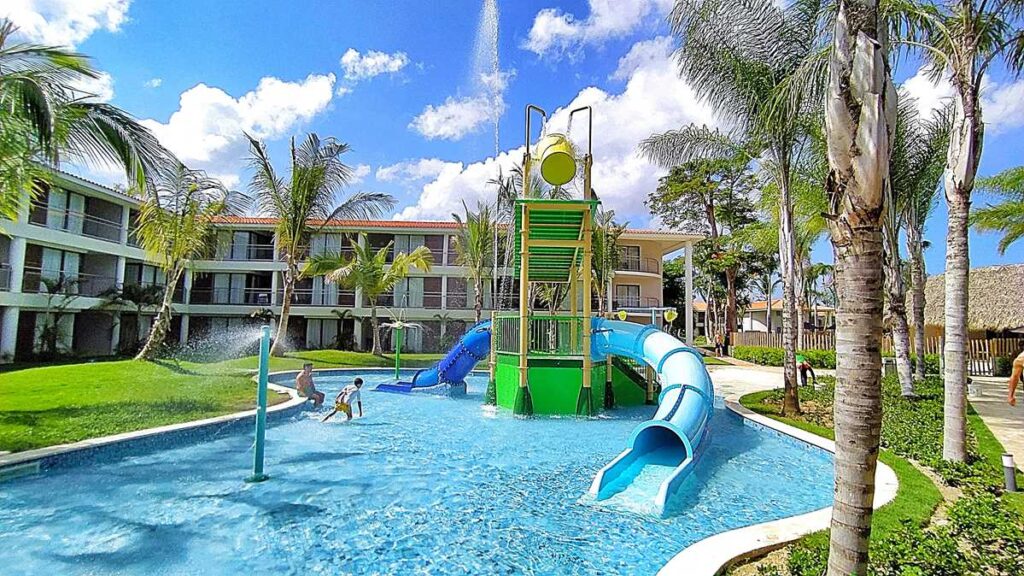 Talking about the family amenities in this Dreams Flora Punta Cana review, we shouldn't forget to mention the Explorer's Club (kids club) and the Core Zone (teens club). While the latter one is particularly suitable for teens aged 13 to 17 and features super extensive hours (9 am to 11 pm) – particularly compared to other family all-inclusive resorts in Punta Cana – the kids club is open from 9 am to 9.30 pm for kids from 3 to 12 years and include fully supervised activities such as arts & crafts, playground, treasure hunts, indoor game room and video games, weekly campout adventures, beepers for parental control and dinners for children.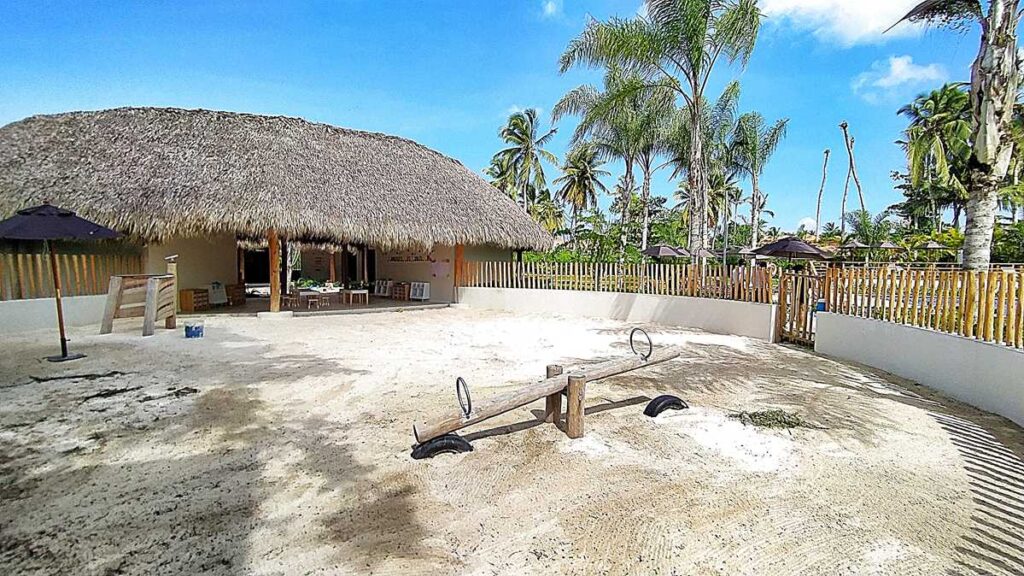 Another great amenity of this family all-inclusive resort is the shallow toddlers and kids pool you can already see pictured further above in this Dreams Flora Resort & Spa review.
But even if you're traveling without kids, you will find many amazing things to do at Dreams Flora Punta Cana. As in many other all-inclusive resorts in Punta Cana, you have a full activity program during the day and at night. While we didn't attend the daytime entertainment program that much, the nightly event we saw with a kind of interactive music quiz show was pretty cool and something we hadn't seen before at any other all-inclusive hotel in Punta Cana.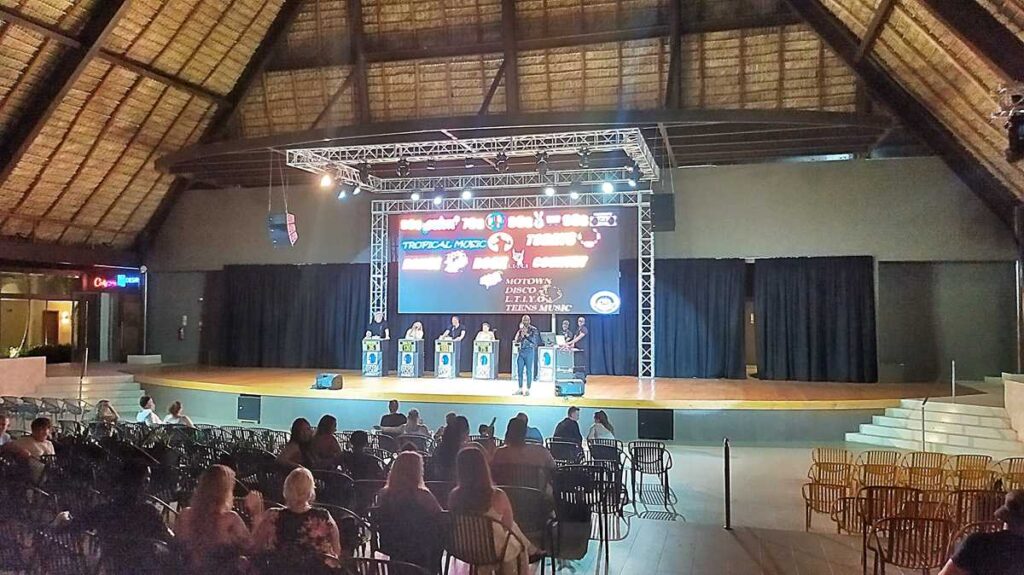 If you're into sports, der is a fully equipped gym, tennis courts, beach volleyball, billiards and a water sports centre, where non-motorized water sports, snorkeling, kayaking and introductory scuba diving lessons in the pool are for free.
More activities needed? Check the Dreams Flora website* to check for your favorite activities or entertainment or simply let us know in the comment section what specifically you're looking for.
Preferred Club (VIP Level) at Dreams Flora Punta Cana
As mentioned occasionally throughout this Dreams Flora review, you also have the chance to book a Dreams Flora Preferred Club room for additional amenities and services. Among those are the following:
Private Preferred Club bar
Private Preferred Club pool
Upgraded bath amenities
Upgraded mini-bar and room service menu
Preferred Club member-only á la carte restaurant, open during breakfast and lunch
Daily continental breakfast service and hot and cold afternoon snacks in the lounge
Pool concierge & bar service
Butler Service
Dedicated beach area exclusively for Dreams Flora Preferred Club guests
As always with that kind of VIP Levels and Preferred Clubs at Punta Canas' resorts, the question if it is worth paying the extra fee always depends on what is important to you.
Here at Dreams Flora, Preferred Club amenities are mainly about the additional amenities at the pool, the beach and in terms of service. If you're a pool person, you will love the separate Preferred Club pool area as it is very ample and designed attractively and elegantly.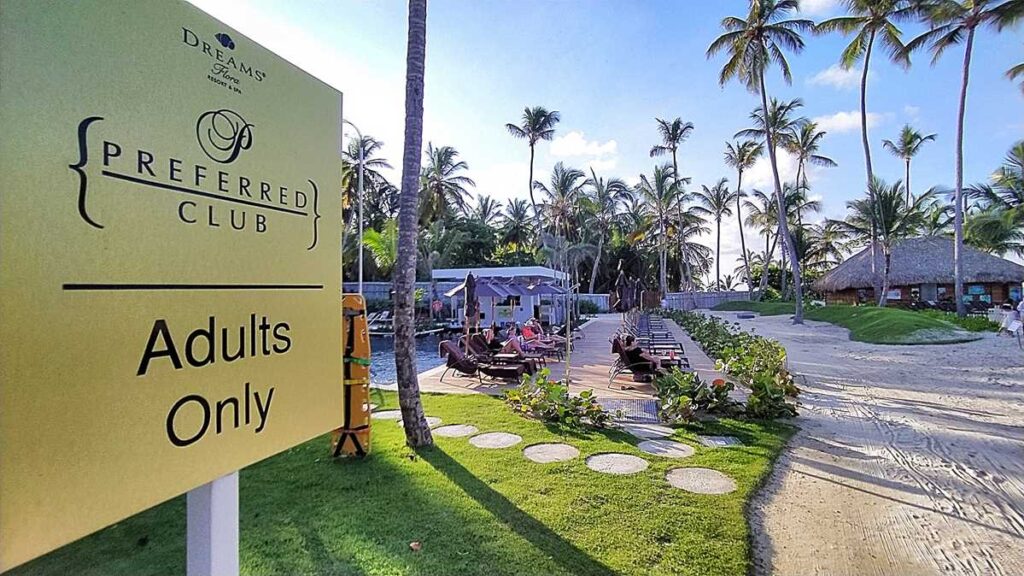 Next to this pool, you can also find the Preferred Club restaurant at Dreams Flora with its stunning beachfront location – the Seaside Grill. This is particularly perfect for those enjoying à-la-carte service for breakfast and lunch.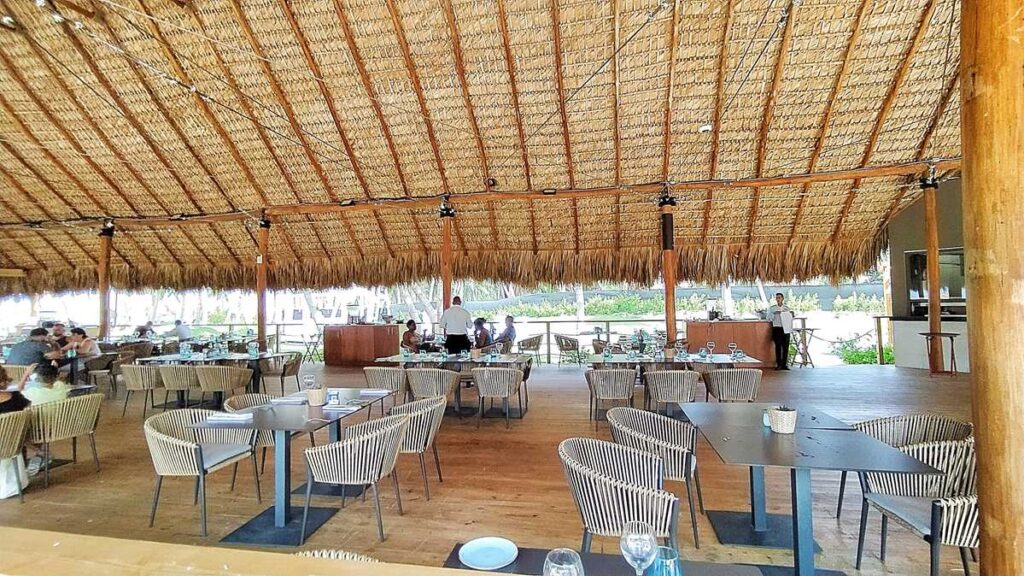 Another important part of the Dreams Flora Preferred Club amenity is the butler service, as the butler can help you with all the needs and problems you might have during your stay. We didn't use this service during our visit to Dreams Flora but have seen at our recent stays at Melia Punta Cana Adults Only and Dreams Royal Beach that a butler can be a super helpful feature.
If you're unsure if the Preferred Club at Dreams Flora is worth it or not, the best is to check prices for your travel dates. As a rule of thumb, a surcharge of 25-40 USD per person per night is usually a very good offer, everything above 50 USD per person per night more compared to a regular Dreams Flora room is only worth it if you really appreciate the benefits of the Preferred Club status.
Excursions from Dreams Flora Punta Cana
One of the key points of Dreams Flora Punta Cana is the stunning nature, embedded between a pristine beach and Laguna Bavaro. Considering that you want to know a bit more about the Dominican Republic's nature, the following Dreams Flora excursions are recommendable.
First of all, if you're looking for the most stunning natural attractions in Punta Cana and the Dominican Republic, a Saona Island trip is a must. It is without a doubt the most beautiful island in the Dominican Republic and a wonderful adventure for every kind of traveler, as long as you don't mind a long full-day trip. When looking for a Saona excursion, you have the choice between one of the very affordable standard tours* or a more upscale small group tour* with personalized service and quicker transfer times.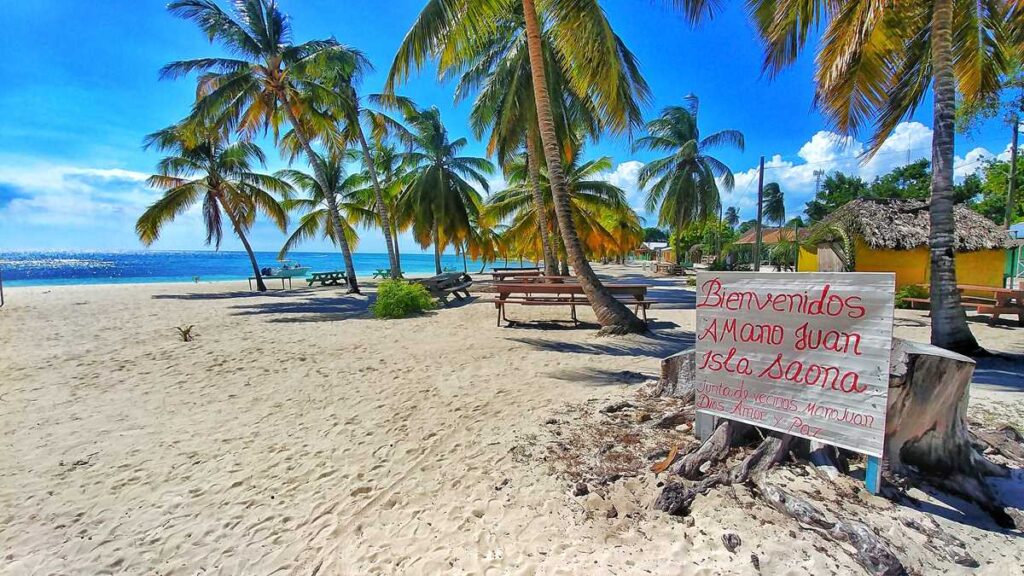 Another natural attraction in Punta Cana – much closer to the resorts than Saona Island – is the Anamuya Mountains. There is an amazing hike you can book here*.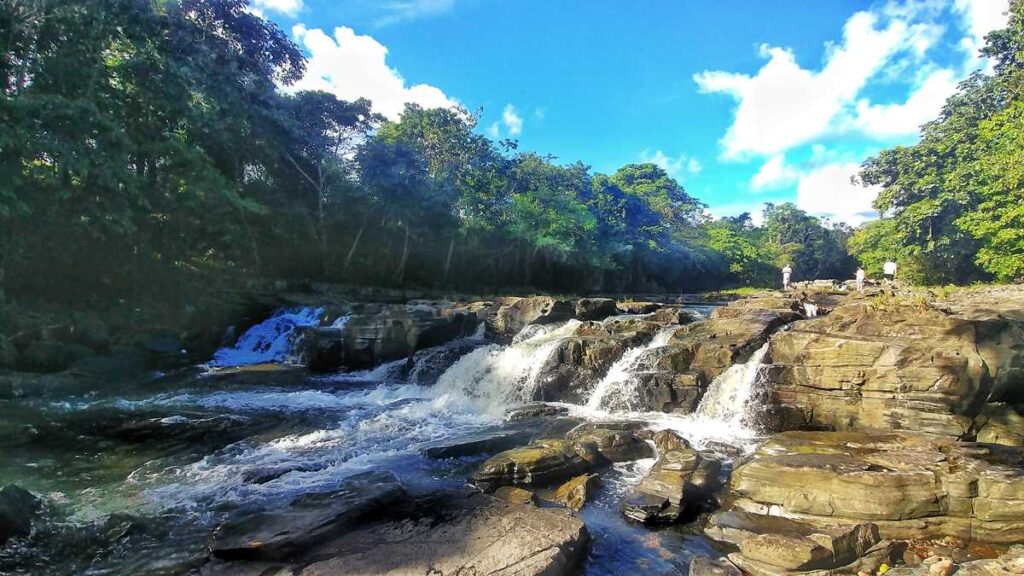 Alternatively, you can also head to Montaña Redonda, which is also part of the Anamuya Mountains. You have amazing views from there and can take unique photos, thanks to the giant swings on the edge of the mountain.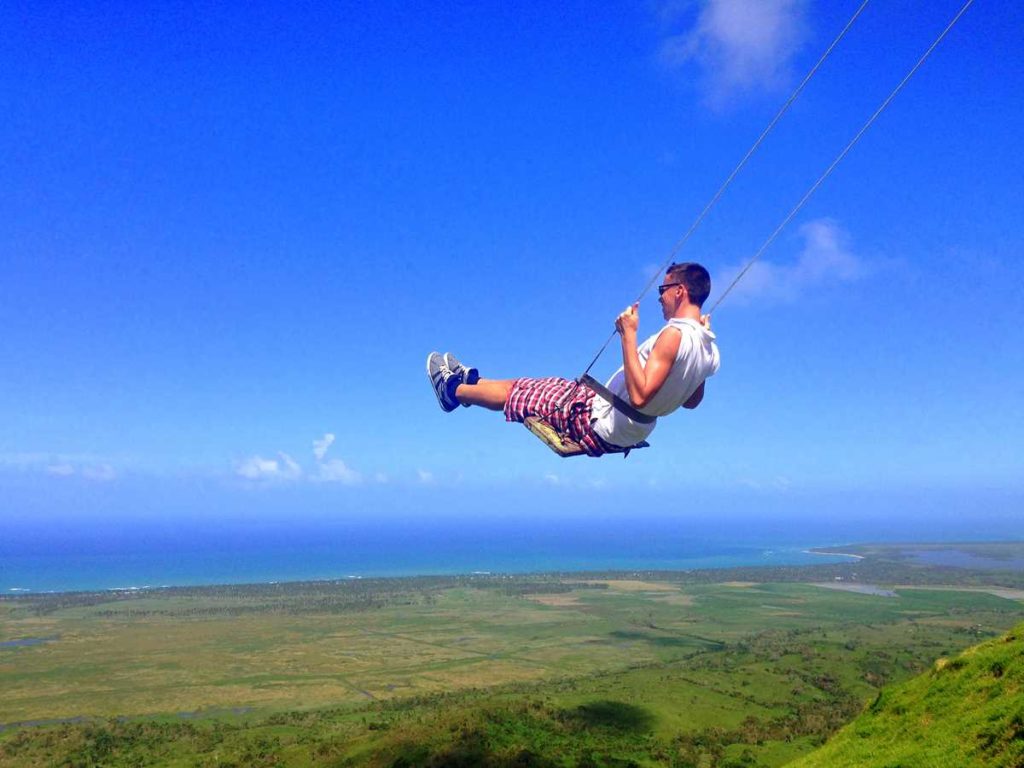 One of the most popular Dreams Flora excursions in terms of nature is whale watching in the Dominican Republic. Tours are only running from January to March as humpback whales are coming to the Bay of Samaná only during this time for the mating season. If you're not in Punta Cana during these months, you can also head to Los Haitises National Park, one of the national parks in the Dominican Republic with the highest biodiversity.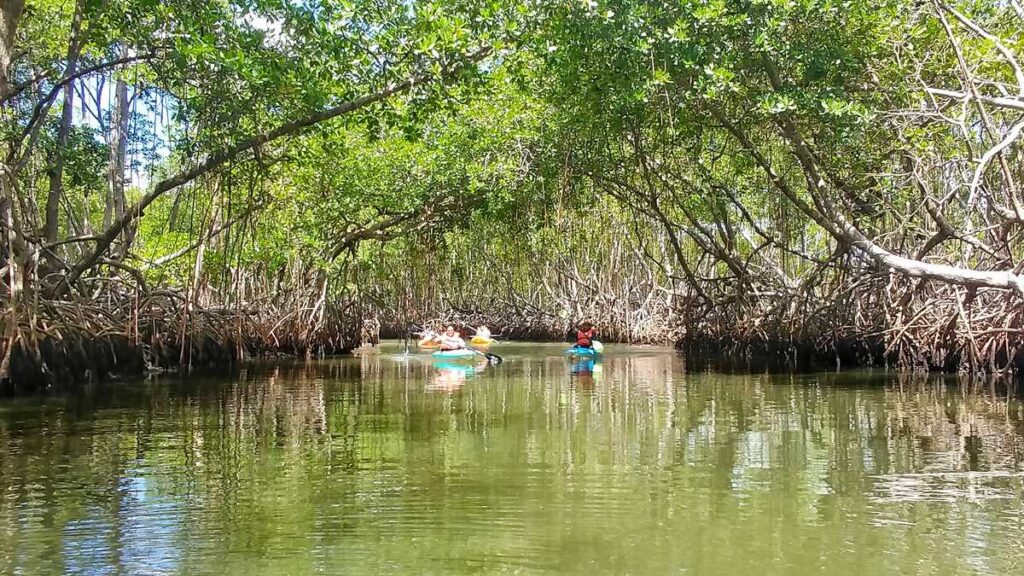 Besides natural attractions, there are many more excursions from Dreams Flora Resort & Spa waiting for you. Check out Scape Park Punta Cana with its amazing Blue Lagoon, go wild on a ziplining adventure, or enjoy the Caribbean vibe at one of the catamaran tours and party boats.
To give you a better idea about the best Dreams Flora excursions, you can also check the following table with the best-rated tours and activities from your resort – all with hundreds of raving reviews, satisfaction guarantee and usually free cancellation (check the booking page for details).
Summary
Dreams Flora is a great option for you if you're looking for a new resort with a contemporary design, if you love good food without breaking the bank and if you don't want to be too far away from Punta Cana International Airport. If traveling as a family, Dreams Flora Punta Cana Resort & Spa will also fully meet your needs.
Highlights for us were the super extensive lunch buffet, the amazing sushi boat for our Asian dinner and the large selection of drinks, particularly at the Lobby Bar, but also the great view at The Mix ocean view bar.
Especially when the price is right and somewhere below 300-350 USD during the low season and below 400 USD during the high season months, you can't go wrong with this well-constructed and managed adults and family all-inclusive resort in Punta Cana. Also if you're looking for an affordable resort in Punta Cana and/or an all-inclusive hotel with swim-out suites, Dreams Flora might be an interesting option.
SHARING IS CARING! IF YOU ENJOYED THIS ARTICLE, PLEASE SHARE WITH YOUR FRIENDS – I WOULD APPRECIATE IT A LOT.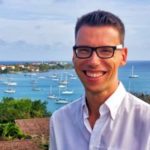 CHRIS
Author, Travel Coach & Punta Cana based digital nomad
Hey, I am Chris, a born and raised German, travel-addictive and Caribbean Soul. Since 2011 I have been living in the Caribbean, among them 5 years in the Dominican Republic. Punta Cana is my home-base here in the country and I'd love to tell you more about how to experience Punta Cana off-the-beaten-track and give you all the advice you want to know for your vacation in Punta Cana.