When you are traveling to the Caribbean, you also want to enjoy a catamaran cruise over the Caribbean Sea. Exactly this is what this article explaining the best Punta Cana catamaran tours is about. However, not all the boat excursions are the same, as some tours are focusing more on snorkeling, some are heading off with very small groups and others are perfect for those looking for the typical booze cruises and Punta Cana party boats. Whatever tour suits you best, you will find it here – just make sure to pick the right one as explained in this comprehensive guide about the best catamaran tours in Punta Cana.
Are you looking for further activities and excursions? Check out the most amazing things to do in Punta Cana.
Are you interested in further Punta Cana tours? If so, check out our comprehensive Punta Cana Excursion Guide with the most exciting 35+ activities for your vacation.
Overview about the best Punta Cana catamaran tours
If you are in a hurry and don't want to read all the details, check out the following table to find the best catamaran tours, booze cruises and party boats in Punta Cana. It is worth noting that there are big differences when it comes to the group size and the focus of the tour (cruising, snorkeling, party) – check out the information further below for more information.
Party Boat + Booze Cruise
Catamaran Tour incl. snorkeling
Private Catamaran Tour
Character of this Punta Cana catamaran tour
The name says it all: party and booze are the focal points on this excursion (incl. short snorkeling and the natural swimming pool)
A catamaran trip in Punta Cana with less people and more time for snorkeling, but still incl. a decent party and the natural swimming pool
A catamaran excursion in Punta Cana exclusive for you inkl. open bar, snorkeling and party at the natural swimming pool
Type of boat
catamaran
catamaran
catamaran
Price per person
55-70 USD*
90 USD*
450-800 USD per group*
Duration
half-day (3-4 hours)
half-day (3-4 hours)
half-day (3-4 hours)
Group size
large (approx. 40-80)
small (usually 10-20)
private
Drinks included
yes
yes
yes
Meals included
no
no
no
Transfers from hotel included
yes
yes
yes
All details in this table are for informational purposes only and can change without further notice. Please check the description of the tour offer for binding information. Punta Cana Travel Blog can't be held responsible for any errors or changes.
The best party boats and booze cruises in Punta Cana
Party boats and booze cruises are what most people are looking for when booking catamaran tours in Punta Cana. Sun, music and a lot of fun are what is promised – and you will get exactly this.
The itinerary of most Punta Cana party boats is very similar.
After a pick-up from your all-inclusive resort in Punta Cana, you'll get shuttled to the area where the catamaran is leaving. This can be either Cortecito, Corales or Bibijagua, all located in the center of Bavaro Beach. Here you might have to wait a few (Dominican) minutes, depending on if other groups or transfers are going to join. Some tour operators (see it linked in the table above in the Punta Cana "party boat + booze cruise" section) have a particularly nice waiting area as you can see in the photo.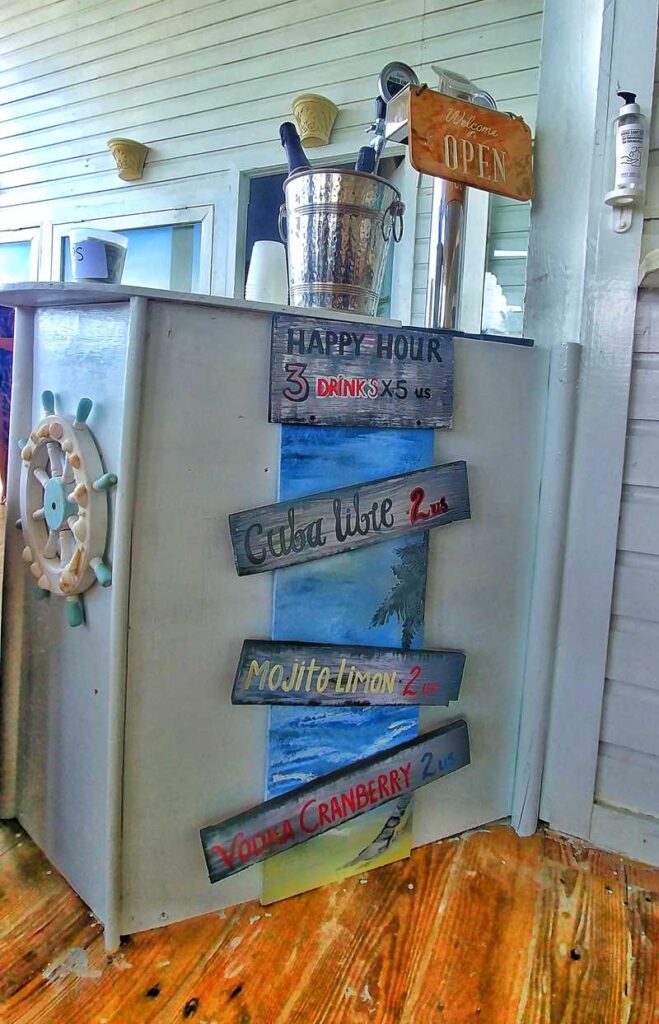 Once you board your Punta Cana catamaran, the cruise is going to start. You head towards the ocean, can enjoy the Caribbean breeze and see the impressive coastline of Punta Cana with all its all-inclusive resorts, endless beaches and coconut palm trees.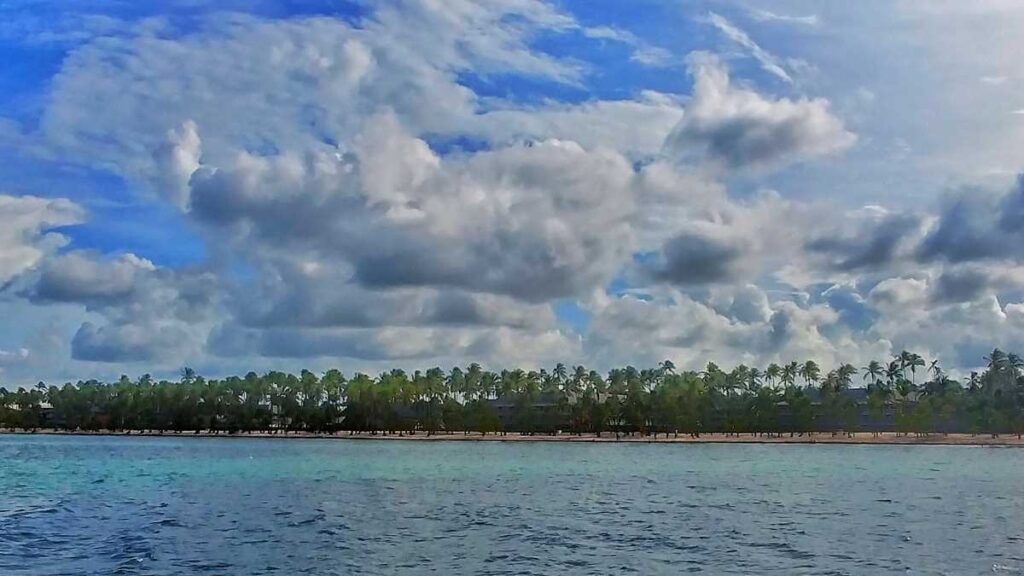 Your first stop is a small reef not too far away from your starting point – less than a mile, so you still can see the coastline. Here you get your snorkeling equipment, head into the water and can see some colorful fish. Depending on the time of the day, the boat trips attract the fish by feeding them bread. The last time fishes were there without additional feeding, which I preferred much more than attracting them with man-made food.
As explained in my article about snorkeling in Punta Cana, don't expect too much when it comes to this part of the Punta Cana booze cruise. While it is great for first-timers, you won't be too impressed if you have already snorkeled in famous destinations around the world such as Belize, the Maledives, the southern Caribbean or the Red Sea.
However, snorkeling is also not why you are going on a booze cruise in Punta Cana, the party boat is what draws the attention. And this is right going to start after snorkeling when the alcohol starts flowing from the open bar (for security reasons, alcohol is not allowed before the snorkeling part). The cruise continues, music will make everyone moving and dancing and a few snacks are going to be prepared.
Your next destination is the natural swimming pool, an area located between Bavaro Beach and Cabeza de Toro. It is a shallow area in the ocean, where you can stand in the water waist-deep and have fun enjoying your drinks and listening to music. Basically, all Punta Cana booze cruises are using this area to make a stop to party, so it can get busy (and loud) here. Even it is not the most authentic way to enjoy nature and the ocean, it is pretty cool to stand in the water, listening to party music, using slides to get into the water and getting served drinks from the open bar on some cool floating devices. There are worse places to enjoy your vacation in the Dominican Republic. 🙂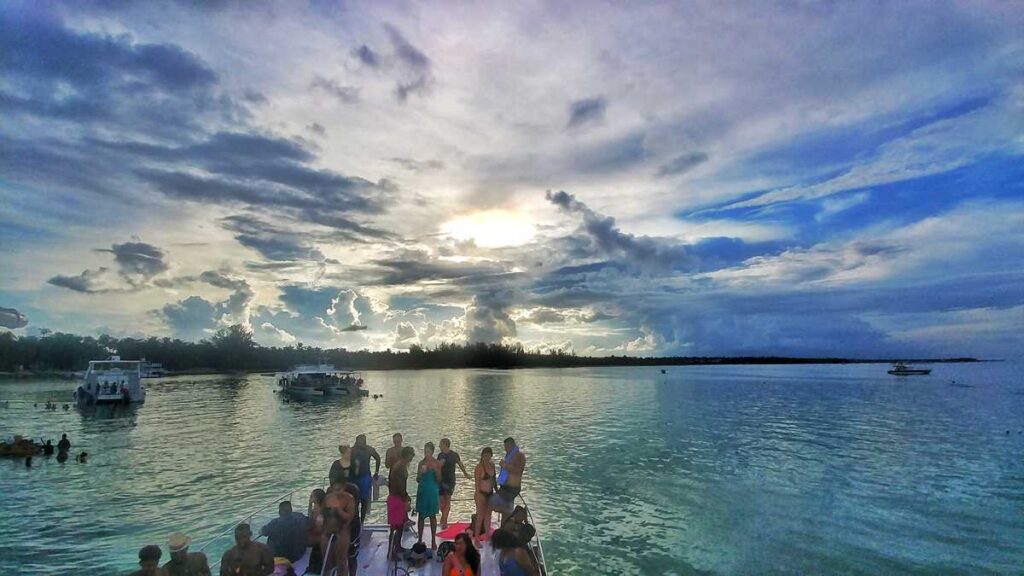 The stop at the natural swimming pool usually takes around an hour. On the way back, the crew of most party boats in Punta Cana is engaging all guests into some more fun and party through interactive games or dancing contests. Be prepared to have a blast and don't head onto one of those booze cruises when expecting a family catamaran or a relaxed Punta Cana boat tour. Having fun, getting entertained and enjoying these kinds of excursions is all that counts on this type of catamaran tours in Punta Cana.
If you are looking for these kinds of Punta Cana boat excursions, check out the following offers:
Depending on your booking, there are morning and afternoon tours available. The whole duration of the trip including pick-up and drop-off at your hotel is usually around 3 to 4.5 hours, depending on the length of the transfer. The actual time on the party boat is usually around 2.5 to 3 hours. Group size can be anything from 30 to 80 people, depending on the capacity of the catamaran. Usually, the party boats in Punta Cana get pretty packed with people as this brings a better party vibe – and more money for the charter company.
The best catamaran tours in Punta Cana with snorkeling
If you are looking for something more relaxed and not exclusively focused on the party, it is highly recommendable to pay a little bit more for a Punta Cana catamaran which goes with smaller groups. Even they have the same itinerary, they pay more attention to nature and the service, which allows for a more private experience.
Even snorkeling in Punta Cana is limited, you also can get a slightly better snorkeling experience with those smaller-sized catamaran tours in Punta Cana as you don't jump into the water with 80 other people like on the Punta Cana party boats mentioned above.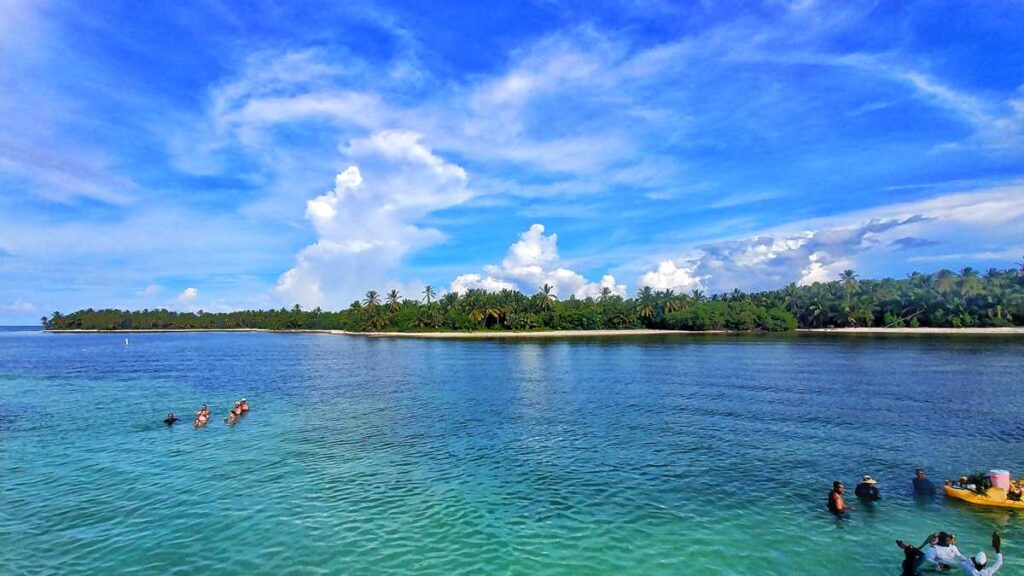 And still, even with a catamaran boat heading off with smaller groups, you don't miss out on the party, it is just less crowded. For example, the Punta Cana catamaran tour you can book here* heads off with a maximum of 16 people, but still plays perfect music to enjoy, dance and feel the Caribbean vibe while at the same time keeping the drinks flowing to get you animated. In the end, with this Punta Cana boat excursion, you will visit the natural pool as well, just with fewer people on your boat.
A further advantage of these smaller groups is that they comply better with Covid-19 safety regulations in Punta Cana. Obviously, it is hard to keep social distancing on a party boat with 60 people and masks won't be worn during a booze cruise in Punta Cana. Therefore, if you are worried about the virus, better book a tour with smaller groups. If you need other ideas for excursions with social distancing, check out the best Punta Cana excursions to book during Covid-19.
The best private catamarans in Punta Cana
Or even better – book a private catamaran in Punta Cana. By booking your private boat rental for your Punta Cana excursion, you can enjoy many advantages:
You'll have much smaller groups – just the people from your traveling party.
Even the number of possible stops are limited, you can adjust the itinerary according to your wishes – at least you can say how long you want to stay at each stop.
You don't have any strangers on the boat in Punta Cana and can create the vibe you want.
The staff is just there for you, creating an exclusive experience. You get their full attention and they will try to cater to any preference you might have.
Drinks and snacks on the private catamaran will be exclusively for your group.
In case of any problem, you can always seek immediate help from the staff or the tour operator of your private catamaran tour in Punta Cana.
Pricing is very competitive. If you are traveling with a large family or a group of friends, the prices of a private catamaran can be cheaper than if booked individually. For example, if you are traveling in a group of 10 to 15, you can get a private catamaran in Punta Cana for as low as 50 USD per person – for a fully exclusive experience. In the widget below you are seeing some of the best private catamaran tours.
Social distancing can be enforced. If you care about Covid-19, a private boat in Punta Cana is the best option to enjoy the ocean.
Considering you are paying the same price (50-80 USD per person) as for the big shared booze cruises, a private party boat in Punta Cana is a perfect option for families and smaller groups.
And even if you are a bigger group with 20 up to 80 people, a private catamaran tour in Punta Cana is the perfect experience as you can get the party going exclusively among your group. The itinerary with snorkeling and a natural swimming pool is similar to the description above in the booze cruise and party boat section.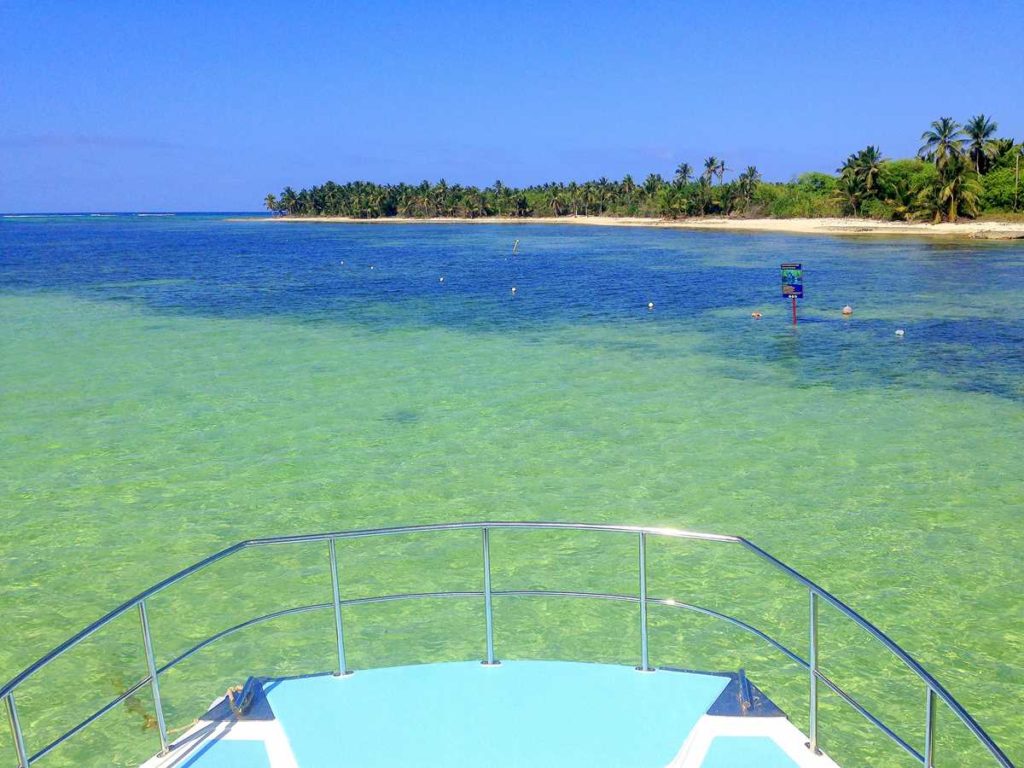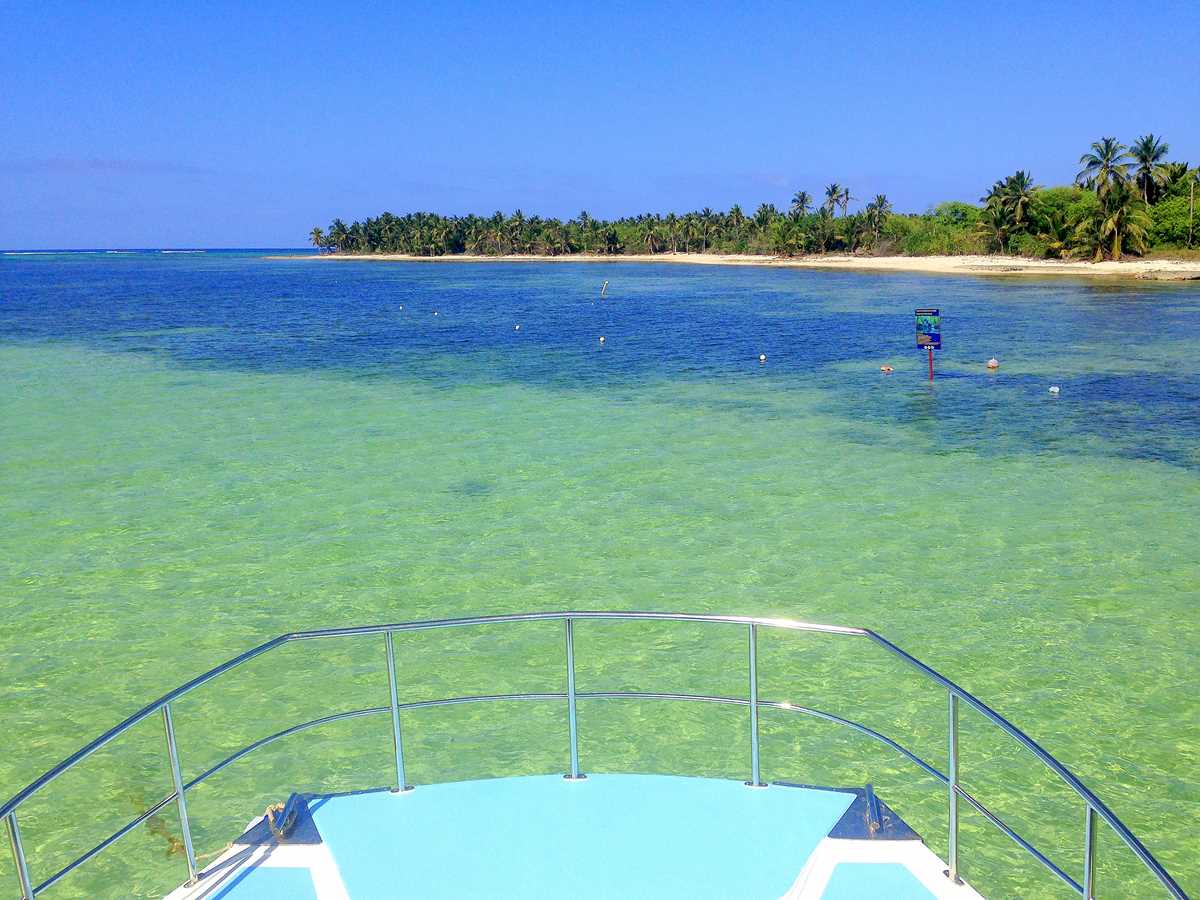 The best sunset cruises in Punta Cana
People often ask us about sunset cruises in Punta Cana as an alternative to the typical catamaran tours during the day. Unfortunately, except if you book one of the private charters showed in the section above and ask explicitly if you can stay on the boat until 7 pm (sunset in Punta Cana usually is between 6.30 pm and 7.15 pm), there are no sunset cruises in Punta Cana. Most boats have to be back onshore at the latest at 6 pm, which is why a sunset cruise in Punta Cana is hard to realize. Furthermore, the colors of the ocean and the entire coastline are not as impressive after 5 pm which is why it is better to go during the day for the most beautiful photos.
TRAVEL COACHING
Save money and time!
Do you need help planning a customized vacation in Punta Cana and the Dominican Republic? Is it difficult for you to decide what and where to book? Would you like to take advantage of someone with years of experience in the tourism industry (knowing all the travel hacks 😉 ) and living right in the place where you would like to spend your holiday?
That's what my personal travel coaching is for. I will design your tailor-made itinerary, tell you how to save money on your trip and send you the best insider tips and recommendations. All the information I send you are crafted with love and passion – and are coming with a money-back guarantee. Let me know how I can help you (check my packages here) and send me a request here!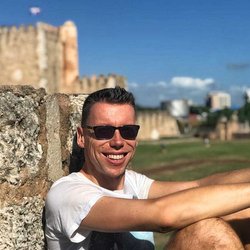 However, interestingly enough, some tour operators are pretending that their regular party boats are sunset cruises. I also see some of the Punta Cana catamaran tours writing "Enjoy watching the sunset on this fun-filled Punta Cana party boat" (or something similar) and on the same page, you see that they start their tours at 10 am and 2 pm, which means they finish by 1 pm respectively 5 pm – far away from the sunset hours.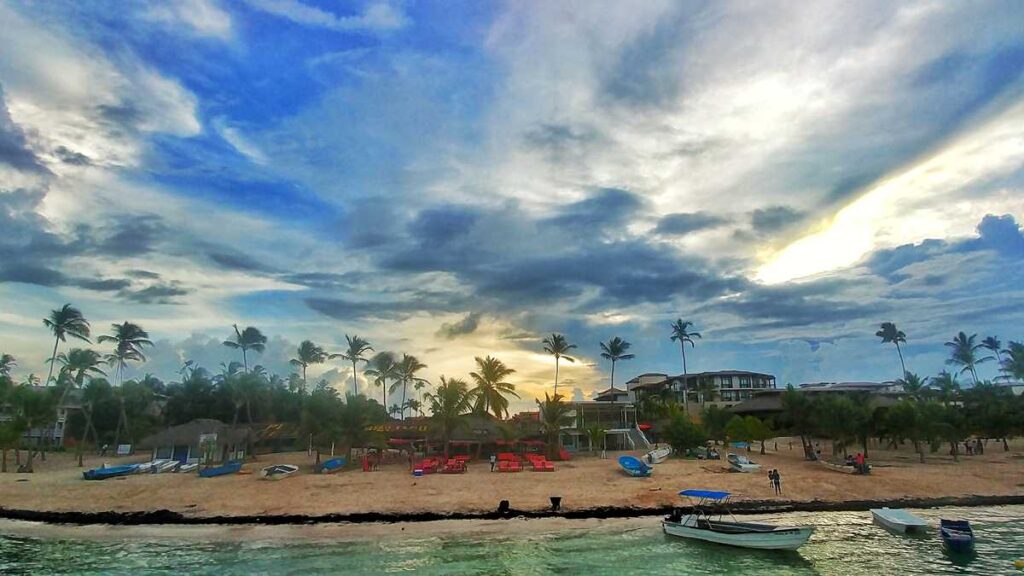 Another point why Punta Cana sunset cruises are difficult is because the sun sets in the west, but Punta Cana is located on the east coast of the Dominican Republic. So even you can see the sunset changing the sky into a riot of colors, you will never see this spectacular Caribbean postcard scene where the sun is plummeting as a red fireball into the sea. If this is what you want to see, better go to nearby Bayahibe.
Therefore, instead of a sunset cruise in Punta Cana, it is easier to enjoy the last daylight hour by having a drink at the beach in your Punta Cana resort.
Alternative options for Punta Cana Catamaran Tours
If those excursions with the different options of Punta Cana catamarans are not what you are looking for, there are still other options for spending some unforgettable time on the water: Isla Saona and Isla Catalina.
Both islands are located on the south coast of the Dominican Republic, approx. one hour away from Punta Cana. Especially when you are looking for catamaran tours in Punta Cana with incredible crazy landscapes and sceneries, Saona and Catalina are the perfect destinations for you.
Compared to the booze cruises and party boats in Punta Cana described above, which are all half-day excursions, Isla Saona and Isla Catalina are full-day tours. As long as you can spare the time, those tours are the perfect option to get a glimpse into the beauty of the Dominican Republic.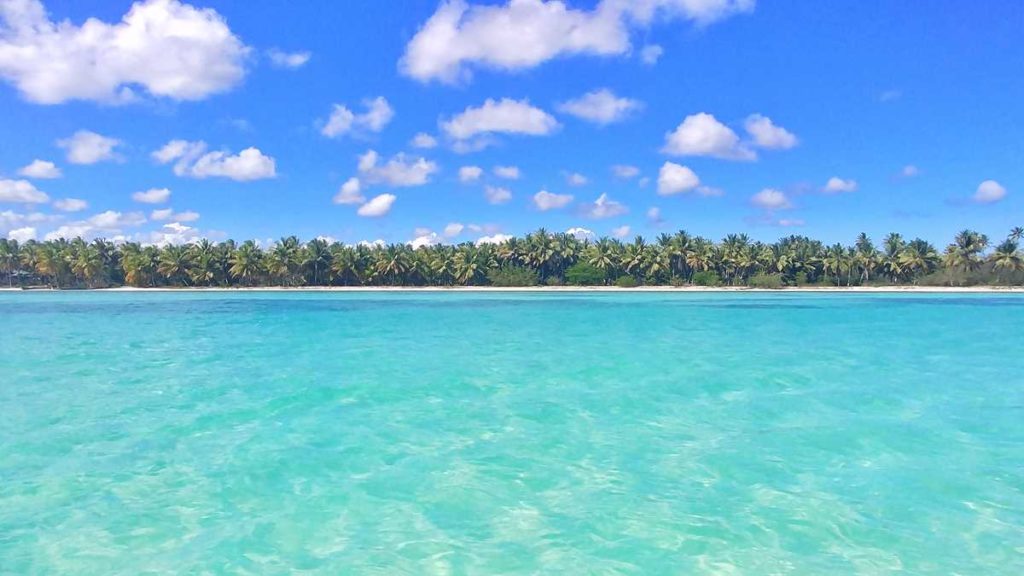 Isla Saona is the most popular excursion in Punta Cana and leads you straight to paradise. The island is so gorgeous that it is hard to believe. Even there are a lot of tourists heading there, you definitely will find your perfect stretch of beach as there are plenty. The tours are usually done one way with a catamaran and one way with a speed boat, offering a perfect mix and a good alternative to the catamaran tours in Punta Cana. Furthermore, you stop at the natural swimming pool (which, to be honest, is much nicer than the one in Punta Cana) and get lunch during your Isla Saona excursion.
There are many different tours to Saona Island, starting from as low as 60 USD incl. transfers from Punta Cana, but you can also book premium tours with personalized service* or posh catamarans. To get to know more about the details and all the different options, it is best to read the article about the best Isla Saona excursions from Punta Cana.
On the other side, there is Isla Catalina. When it comes to natural beauty Isla Catalina scores at least 9 out of 10 points (and Isla Saona 11 out of 10 😉 ), considering you are visiting a wonderful island located in the Caribbean Sea. Furthermore, Catalina Island is the best Punta Cana catamaran alternative when it comes to snorkeling, as all Isla Catalina excursions include a stop at a reef which is better than the Punta Cana snorkeling.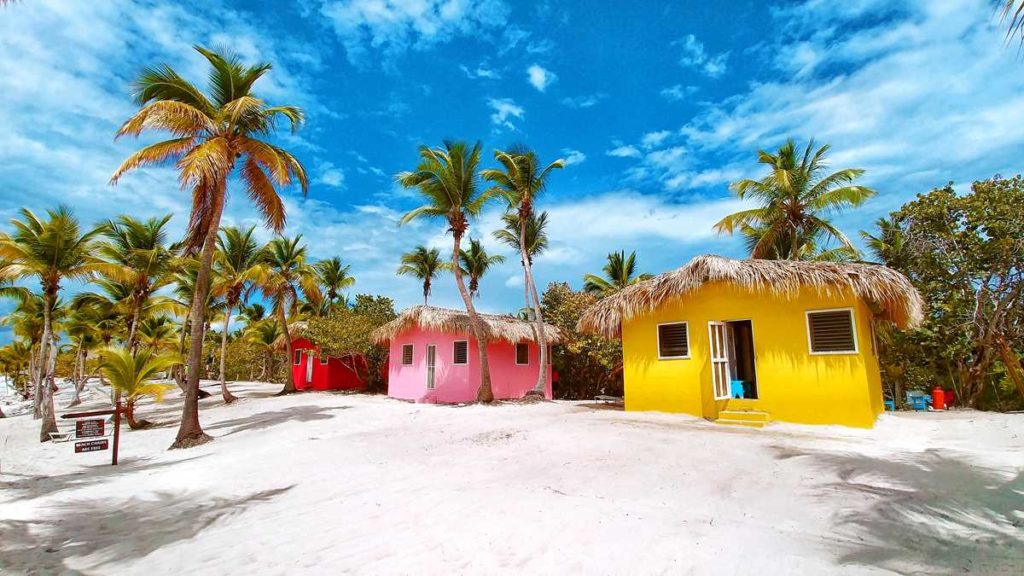 Same as for Isla Saona, Isla Catalina tours are starting around an hour away from Punta Cana and take the whole day, but transfers from Punta Cana are included for most excursions. To find the best deal, check out this comprehensive post about the best Isla Catalina excursions.
What is your favorite way of exploring Punta Cana by catamaran? Do you already have some experience with Punta Cana boat tours? Or do you have any questions regarding the booze cruises and party boats in Punta Cana? Let me know in the comments, I am happy to respond!
SHARING IS CARING! IF YOU ENJOYED THIS ARTICLE, PLEASE SHARE WITH YOUR FRIENDS – I WOULD APPRECIATE IT A LOT.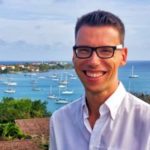 CHRIS
Author, Travel Coach & Punta Cana based digital nomad
Hey, I am Chris, a born and raised German, travel-addictive and Caribbean Soul. Since 2011 I have been living in the Caribbean, among them 5 years in the Dominican Republic. Punta Cana is my home-base here in the country and I'd love to tell you more about how to experience Punta Cana off-the-beaten-track and give you all the advice you want to know for your vacation in Punta Cana.