Great that you are interested in my professional travel coaching. I am sure I can help you with all my experience in the Dominican Republic as well as in the travel industry. This will save you money and time and guarantees you a worry-free vacation in Punta Cana and other places.

To request travel coaching, please fill out the form below or send me an email to [email protected]
I will get back to you as soon as possible with a call or itinerary proposal, a payment link (full money-back guarantee) and further information.

In case the form doesn't work for any reason, please send me an email with your information and preferences to [email protected] .

Here you can go back to all packages, prices and services.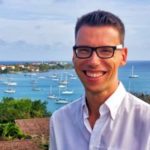 CHRIS
Author, Travel Coach & Punta Cana based digital nomad
Hey, I am Chris, a born and raised German, travel-addictive and Caribbean Soul. Since 2011 I have been living in the Caribbean, among them 5 years in the Dominican Republic. Punta Cana is my home-base here in the country and I'd love to tell you more about how to experience Punta Cana off-the-beaten-track and give you all the advice you want to know for your vacation in Punta Cana.