Dreams Macao Beach is a newly-built all-inclusive resort in Punta Cana which just opened its doors in 2020. It's a brand-new hotel of the well-known AM Resorts chain, located on one of the most beautiful beaches in Punta Cana, Macao Beach. The beach, popular among locals, counts for various adventures and local immersion, which is why Dreams Macao Beach is a bit different than other all-inclusive resorts. As I have visited the resort recently, I have summed up all the details you should know about Dreams Macao Beach and am happy to give you some guidelines to see if this hotel is the right choice for you for your vacation in the Dominican Republic. I am also summing up the Covid-19 measures Dreams Macao Beach Resort has implemented.
If you are looking for an all-inclusive resort in Punta Cana, make sure to read this article with my personal recommendation on how to find the right resort for you.
If you want to know more about the best beaches in Punta Cana, check out this article. There is also a separate article about the beach itself, Macao Beach.
Not sure if Punta Cana is the right place for you to go on holiday? Continue reading this post if you should better choose Punta Cana or Puerto Plata.
If you are looking for other family-friendly hotels in Punta Cana, you can see our hand-picked list of Punta Cana all-inclusive family resorts.
If you're looking for further options with swim-out suites, you can check out this list of the best resorts with swim-up rooms in Punta Cana.
Where is Dreams Macao Beach Resort?
Dreams Macao Beach is located right at Macao Beach in the area of Punta Cana, Dominican Republic. Though the hotel carries Punta Cana in its name, it is outside of the core zone of Punta Cana proper and therefore doesn't have a lot in common with the beaches further south which are fringed by all-inclusive resorts.
Dreams Macao Beach is part of the small village of Macao and located right in front of the beach, which is a favorite among many locals. Once leaving the resort on foot, you have the chance to explore the small village and the surrounding area walking, which is a big difference compared to many resorts located far away from anything.
From Punta Cana International Airport to Dreams Macao Beach Resort, it's a 20-mile and 30-minute drive to reach the hotel. To decide which transport option is the best, I recommend reading this article about the choices you have to get from the airport to Dreams Macao Beach, considering all the options like a private transfer, shared shuttles, public transport and ordinary taxis.
Overview of Dreams Macao Beach Resort (property and common areas)
Compared to other all-inclusive resorts, Dreams Macao Beach is a pretty compact property where you can get quickly from A to B. From the lobby to the beach it's a mere 300-yard walk and the furthest room in the entire resort, a Preferred Club Two Bedroom Swim-Out Villa, is a 450-yard walk from the beach. Those are pretty short distances compared to other all-inclusive resorts in Punta Cana, where you might be half a mile away from the beach.
Due to the small size of the property, no shuttles are running through the resort, everything is walkable.
When entering the Dreams Macao Beach, you will be greeted by the tennis courts, the sports grounds and the 2-bedroom villas, which are located furthest away from the beach. The villas are nestled around the water park, which is surprisingly big and features various big water slides, a lazy river and some smaller pools. Teens and youth will be entertained here for a while.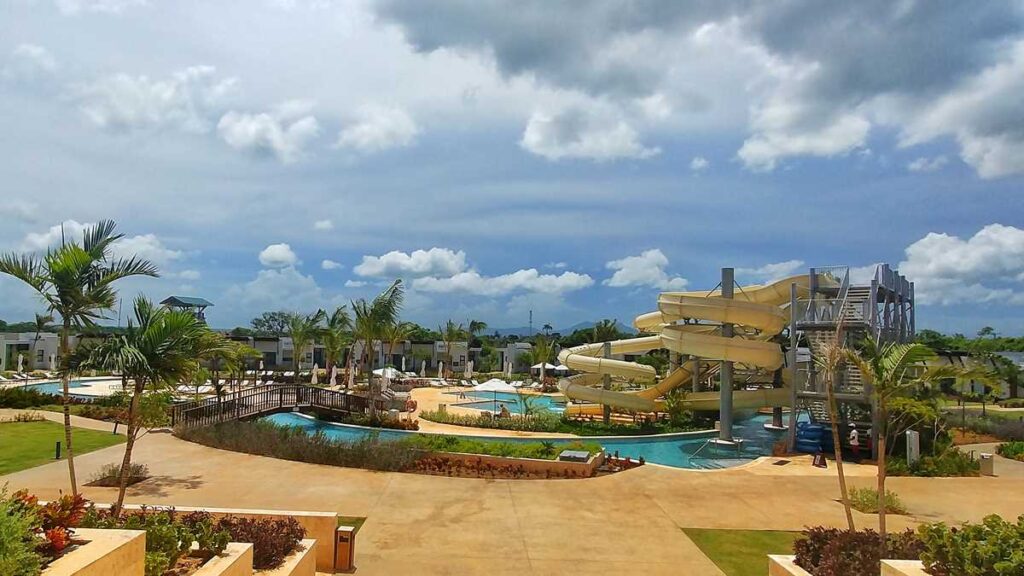 But Dreams Macao Beach Resort is certainly also a suitable option for families with smaller kids, as the kid's pool and water park are not less attractive than the one for bigger children. There is also an additional kids pool next to the main pool.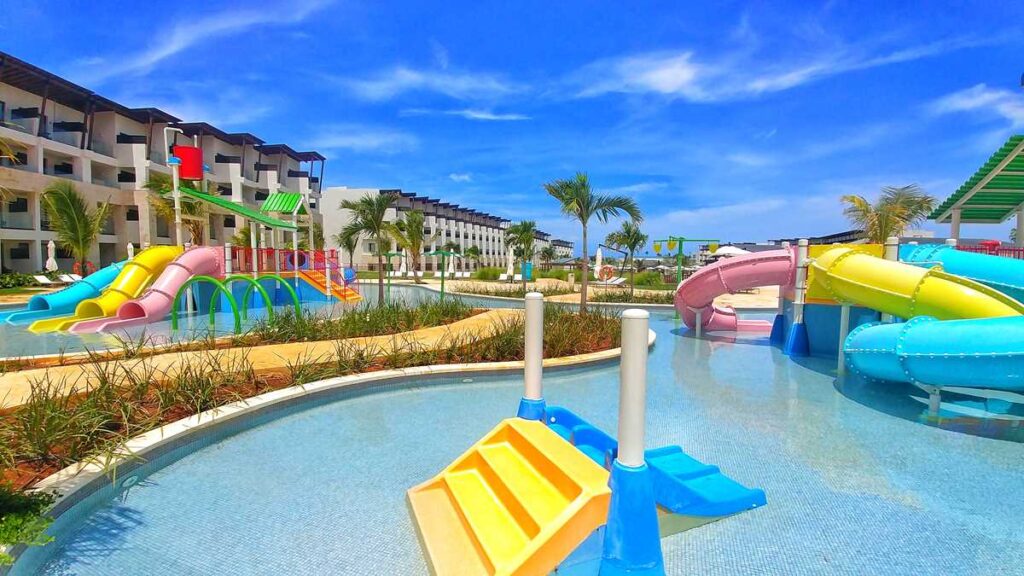 Next to the waterparks and your first point of entry when arriving at Dreams Macao Beach Resort is the lobby of the hotel. It features an open design with various tropical colors but oozes with an elegant atmosphere. I personally love these kinds of open common spaces with a natural breeze more than those lobbies with dark colors and a heavy atmosphere. As an additional plus, Dreams Macao Beach features an ocean view from its lobby and the lobby bar next to it.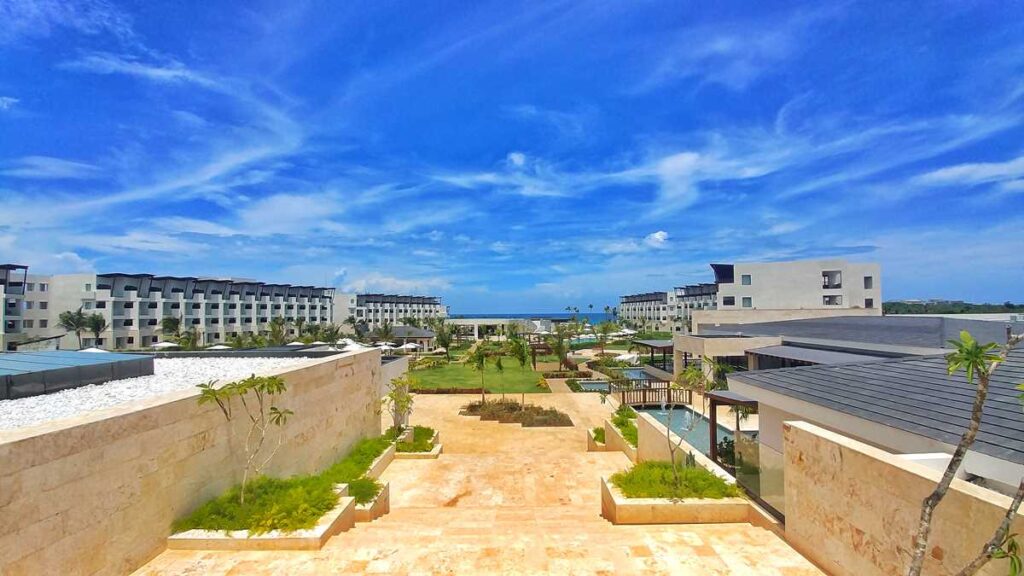 Further areas between the lobby and the beach are the main plaza, the snack bar and further restaurants (see below for details) as well as the main pool with its pool bar, where you can relax, mingle and enjoy the sun. The pool is not the biggest one but sufficient for the size of the resort. Just if you'd like to swim a lot you might wish for a larger space.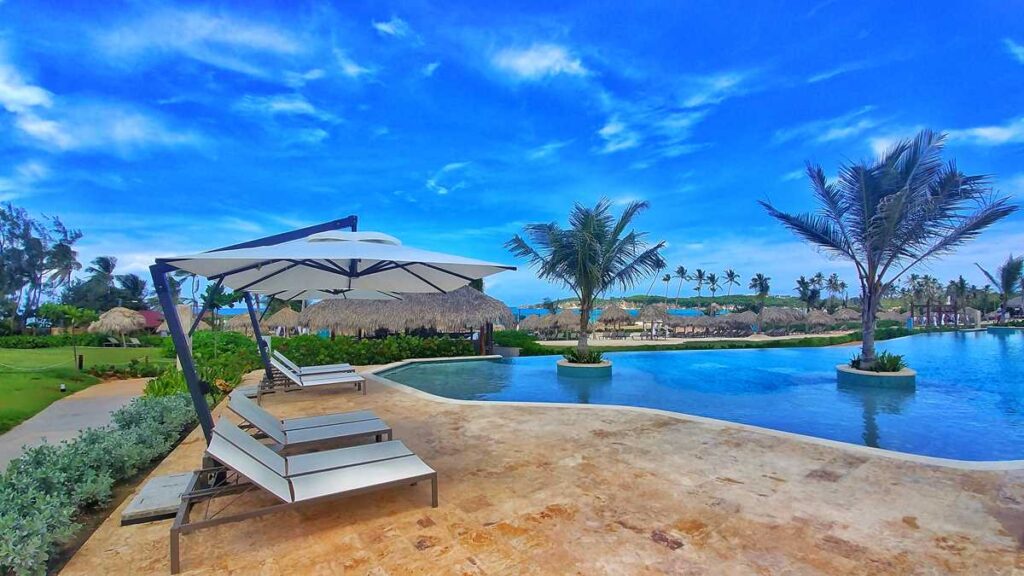 Unfortunately, Dreams Macao Beach doesn't feature a tropical garden like other all-inclusive resorts due to the limited size. However, your main Caribbean flavor comes from the palm limed beach and the turquoise water you can see from various places throughout the resort.
The beach at Dreams Macao Beach Resort
I know that most of you love to lounge around at the pool, but Dreams Macao Beach should be one of your top-picks when looking for an all-inclusive resort in the Dominican Republic due to the beach, as Macao Beach counts as one of Punta Cana most beautiful beaches. It was even once rewarded by UNESCO as one of the Caribbeans' best beaches, so you know what to expect. 🙂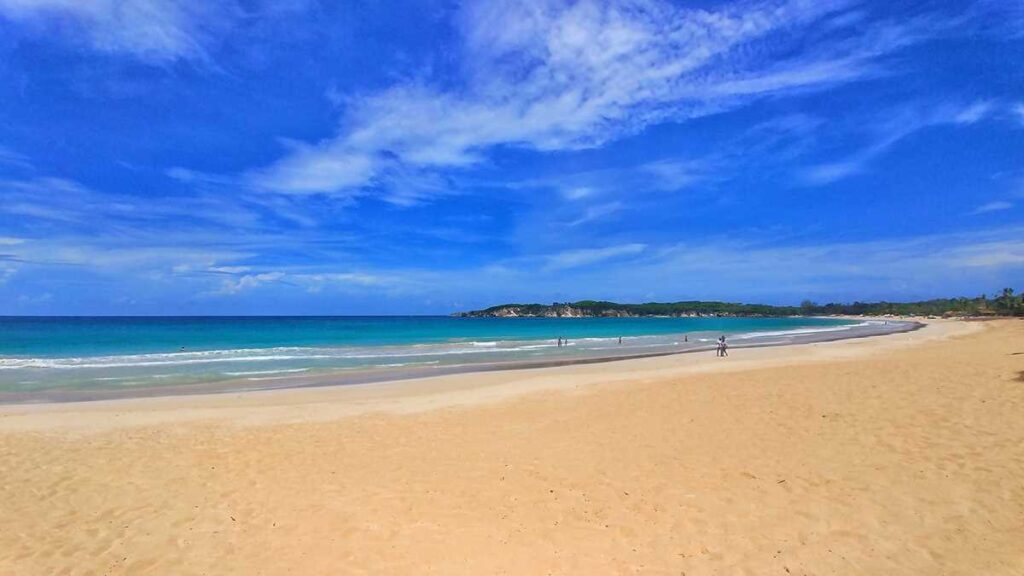 Macao Beach is one of the locals' favorites and if you are looking at the blue color of the ocean, the slightly half-moon shaped bay and the picturesque scenery you know why people love to come here. Furthermore, Macao Beach has easy public access, various local fish restaurants as well as hardly any seaweed which all add up to its popularity. While it is not necessarily the best beach for small kids due to its occasional waves, the sand has perfect quality and is suitable for everyone.
A big advantage of Macao Beach compared to many other Punta Cana beaches is its local connection. If you'd like to eat a fresh fish right from a Dominican fisherman – Macao Beach is your place to go. If you want to see how the locals spend their (Sun)day at the beach, you can watch it here. And if you would like to connect to the local people and learn more about daily life in the village, there is hardly any better place in Punta Cana than here in Macao.
Last but not least, if you love beach walks, Macao Beach is a reasonable choice for you. It is not as long as many other Punta Cana beaches, but you can walk around a mile to the northwest before it gets a bit rocky. If you prefer longer walks or even hikes, there is a nice trail heading parallel to the beach to some pristine beaches up to Uvero Alto, the next bigger beach zone. It's a 2.5-mile walk until you reach the next hotel area.
Dreams Macao Beach is the only proper hotel in the entire area of Macao, so there won't be other all-inclusive tourists on that beach, except for some occasional excursions during the day.
If you want to relax on the beach, the area of the resort and the public beach are separated. There is a private section which is on the grounds of the resort (hence no outside guests or vendors are allowed here) and it is located right next to the main pool. If you prefer to be closer to the (ocean) water, you can use the public section of the beach, where the resort also has an area with beach chairs.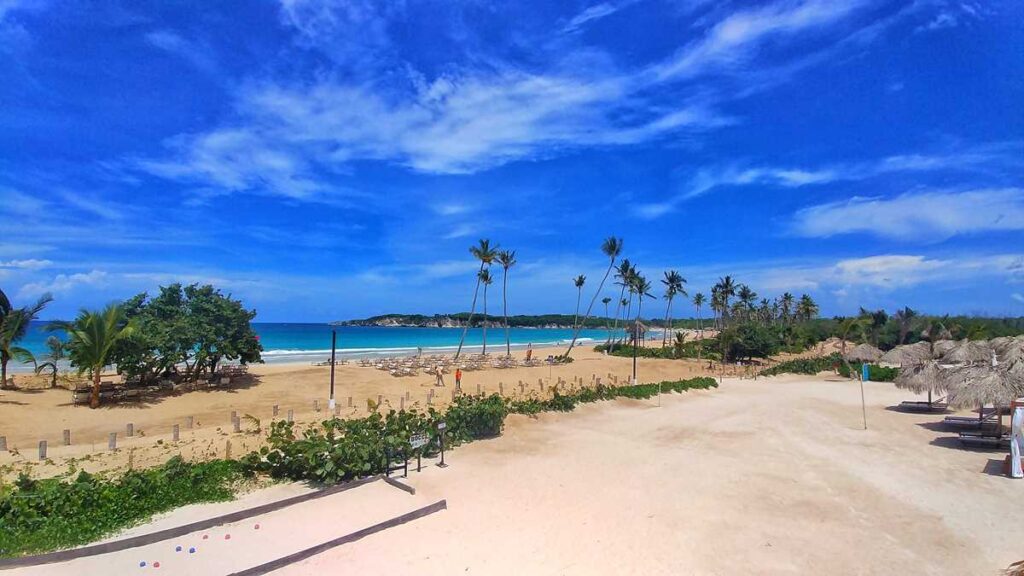 The rooms at Dreams Macao Beach Resort
The majority of the rooms at Dreams Macao Beach is located in a U-shaped building which starts right at the beach and heads up until the lobby. As mentioned before, most rooms are close to the pool and you shouldn't walk more than 3 minutes from any of those rooms to get to the beach.
As in most AM resorts, the hotel got creative when naming their rooms, resulting in 14 different categories. Those rooms are the following:
Junior Suite Tropical View
Junior Suite Pool View
Junior Suite Partial Ocean View
Preferred Club Junior Suite Tropical View
Preferred Club Junior Suite Partial Ocean View
Preferred Club Junior Suite Ocean View
Preferred Club Junior Suite Swim-Out
Preferred Club Master Suite Ocean View
Preferred Club Master Suite Swim-Out
Preferred Club Master Suite Ocean Front
Preferred Club Master Suite Swim-Out Ocean Front
Preferred Club Presidential Suite Roof Top Ocean Front
Preferred Club Presidential Suite Swim-Out Ocean Front
Preferred Club Two-Bedroom Swim-Out Villa
The predominant room categories are Junior Suite Pool View, Junior Suite Partial Ocean View, Preferred Club Junior Suite Ocean View and Preferred Club Junior Suite Swim-Out.
Due to the U-shaped building of the rooms, most rooms have at least a partial ocean view and you might be lucky to see a glimpse of the ocean even from your Pool View Room.
If you'd like to reserve the cheapest room category for your holiday in Punta Cana, you should book early as there are only 18 Junior Suite Tropical View Rooms available in the entire resort.
As in all recently opened hotels, the rooms are brand-new and feature a Caribbean yet elegant design with all the amenities you expect from a 5-star all-inclusive resort. I won't talk too much about the standard facilities such as the beds, the terrace (which were spacious and comfortable), TV, air-condition, bathroom, etc.. I just want to mention a few things which particularly called my attention.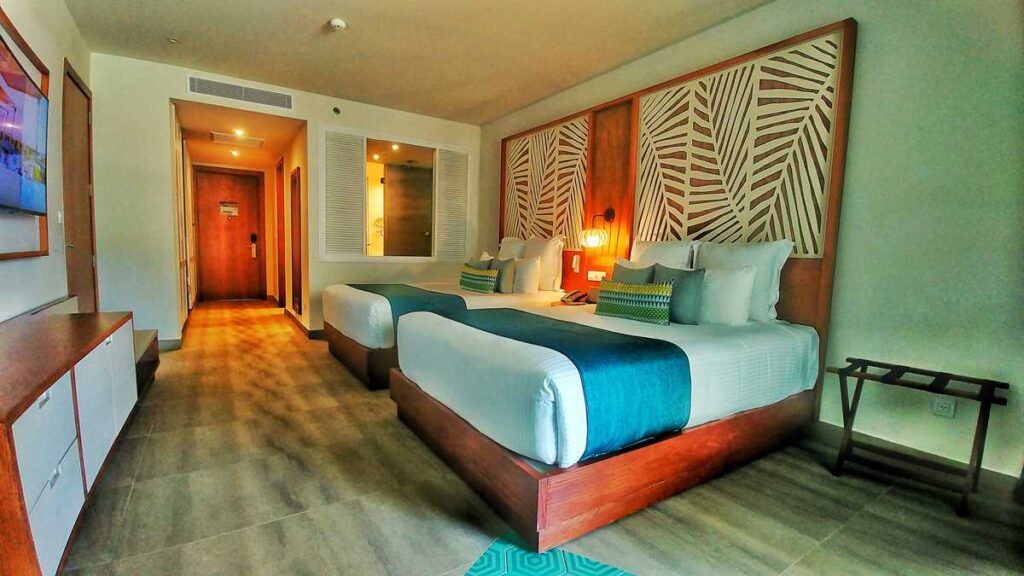 While the bathrooms had the (nowadays) typical separation of shower, toilet and (double) vanity sink, the separate bathtub with a connection to the bedroom was standing apart. Even it is not mentioned (yet) in the official resort description of Dreams Macao Beach, all rooms seem to have a jacuzzi, some of them as shown in the photo between the bedroom and the bathroom, some of them on the balcony.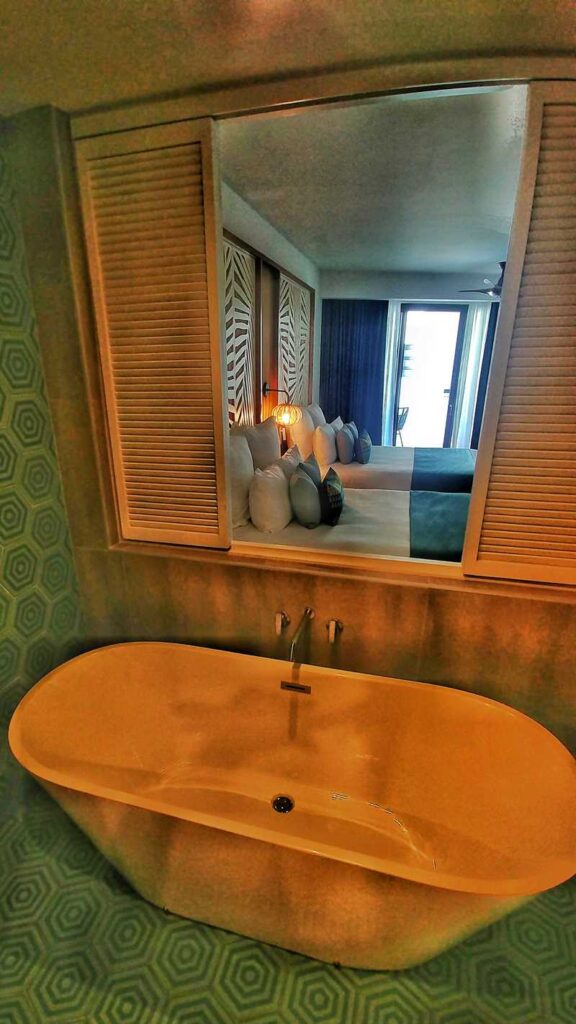 Another feature not mentioned in the resort description is a small wine fridge with a capacity of three bottles. While this doesn't seem logical in an all-inclusive resort, it is a nice feature if you'd like to celebrate a romantic evening on the terrace or at the beach and would like to drink something better than the typical resort house wine. You can either buy (quite expensive) wine at the resort or head out and get some in the supermarket or a local winery (if you have a rental car or go shopping anyway).
Another innovative and particularly useful feature is a little space called "secret box". This small compartment is accessible from outside only by the housekeeping and service staff. From inside the room, you can access it through a separate area in your wardrobe. This compartment has two functions. First of all, all deliveries brought to your room (food, towels, room service, etc.) won't be outside your room, nor does someone have to knock on and touch your door (important in times of Covid-19). And second, when you want to place something to take away (for example used dishes), you can also place it in this compartment, which takes the smell away from your room, but also the ugly image of dirty dishes in the hallway.
Booking and Prices at Dreams Macao Beach Resort
If you have decided on your room of choice, it's time to book Dreams Macao Beach. As always, it is recommendable to compare different websites to get the best price. Furthermore, different companies have different advantages, so pick the one which is most convenient for you. Below, I have a list for you of some travel websites where this all-inclusive resort is bookable – including their special conditions and how to save on Dreams Macao Beach Punta Cana:
| Website | Your Advantage | Dreams Macao Beach |
| --- | --- | --- |
| Booking | Get up to 10% Genius discount on the already discounted rates | |
| Dertour | Get European tour operator rates (only for Europeans) | |
| Hotellook | Comparing dozens of sites for you to find the best prices | |
| Hotels.com | Every 11th night is free, redeemable worldwide | |
| Hotelcombined | Powerful hotel search engine by Kayak | |
| Travala | Get a 25 USD welcome bonus (register here*) + 2% cashback | |
| Tripadvisor | Compare prices and reviews on one site | |
Dreams Macao Beach is an all-inclusive resort home to the medium-budget category. It is not a cheap resort nor a high-end accommodation option. A regular starting price ranges between 250 USD and 300 USD per night per room (all-inclusive meal plan), everything below 250 USD is a top deal where you shouldn't think too long to book.
During high season in Punta Cana (January to April), prices usually start around 350 USD, peak season (Christmas and New Year's Eve) is much more expensive.
When booking Dreams Macao Beach Punta Cana, make sure you get an all-inclusive rate as AM Resorts has recently introduced a breakfast-only plan (which is, however, not displayed in all the booking engines). While I appreciate the chance to get these hotels for a lower price, it does not make much sense if you have to pay for everything extra, especially as meal prices would be quite high if you still decide to dine in the resort. Hence make sure that your rate states "all-inclusive meal plan", "all meals included" or "breakfast, lunch and dinner included". The price difference is worth it.
Furthermore, in case you haven't booked your flights to Punta Cana yet, make sure to check if it might be cheaper to book flights and hotel together as a package. Sometimes tremendous discounts are offered when booking them together – and sometimes not. I'll recommend checking your package price for Dreams Macao Beach including flights from your designated airport with hotels.com.
Restaurants and bars at Dreams Macao Beach Resort
As important as to book the hotel for the right price is – for many people – the selection of food and drinks at an all-inclusive resort. And luckily, Dreams Macao Beach Punta Cana won't disappoint you at all.
The resort features 6 á-la-carte dining options, 1 buffet, 1 coffee shop, 1 snack bar and 1 food truck. Considering a week-long holiday in Punta Cana at Dreams Macao Beach Resort this guarantees sufficient choices, especially as you can dine in every à-la-carte restaurant as much as you want. There are no reservations required and you pick spontaneously which dining option you'd like to visit each day. You have the choice between the following specialty restaurants at Dreams Macao Beach.
Bordeaux – á la carte gourmet French cuisine
El Patio – á la carte Mexican cuisine
Himitsu – á la carte Asian cuisine (incl. Teppanyaki show cooking)
Oceana – á la carte seafood specialties
Portofino – á la carte gourmet Italian cuisine
Seaside Grill – á la carte grilled meats, fish and hamburgers (with show cooking)
Furthermore, the all-inclusive resort features the buffet, which is called World Café. As usual in a brand-new resort, everything is super modern here and complimented with a fresh design.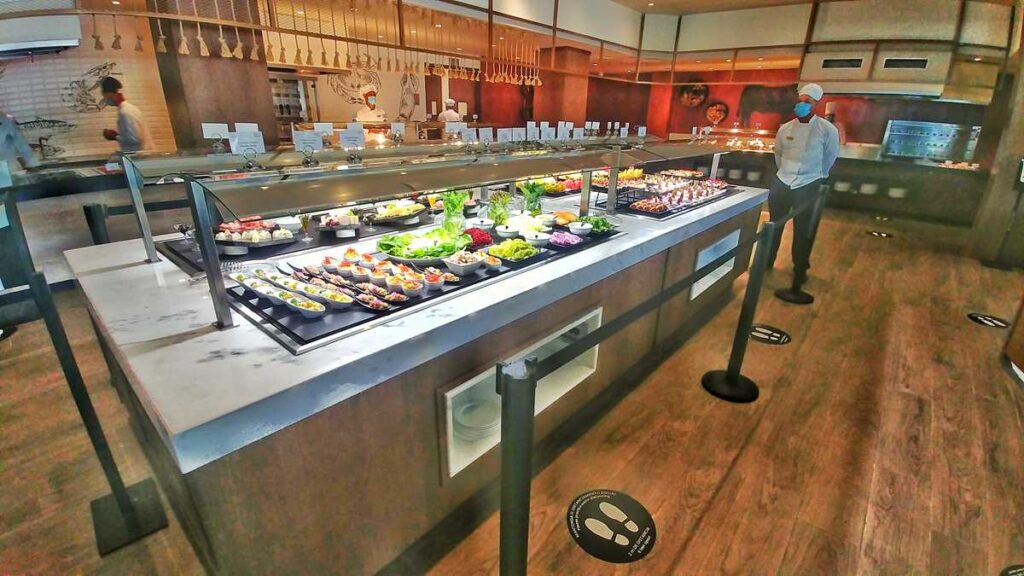 For some snacks in between, you can head to either Barefoot Grill, Coco Café or Macao Bites Food Truck, where some fast-food and fresh coffee is served.
TRAVEL COACHING
Save money and time!
Do you need help planning a customized vacation in Punta Cana and the Dominican Republic? Is it difficult for you to decide what and where to book? Would you like to take advantage of someone with years of experience in the tourism industry (knowing all the travel hacks 😉 ) and living right in the place where you would like to spend your holiday?
That's what my personal travel coaching is for. I will design your tailor-made itinerary, tell you how to save money on your trip and send you the best insider tips and recommendations. All the information I send you are crafted with love and passion – and are coming with a money-back guarantee. Let me know how I can help you (check my packages here) and send me a request here!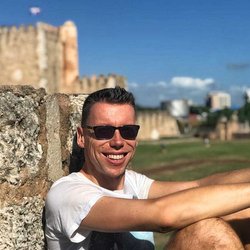 At Dreams Macao Beach, you can also find the typical all-inclusive resort distribution of bars: lobby bar, pool bar, swim-up bar, beach bar, sports/night bar and theatre bar. The big advantage of Dreams Macao Beach (same as in other Dreams and AM Resorts in Punta Cana) is their premium liquor concept, which means that you can get brand alcohol and some top-shelf spirits with all your drinks, guaranteeing delicious cocktails (and no headache because of cheap liquor 😉 ). However, you still have to make sure you ask for the spirit of your choice when ordering a drink.
They also use fresh passionfruit or pineapples for drinks such as Passionfruit Mojito and Piña Colada, so that's an additional plus.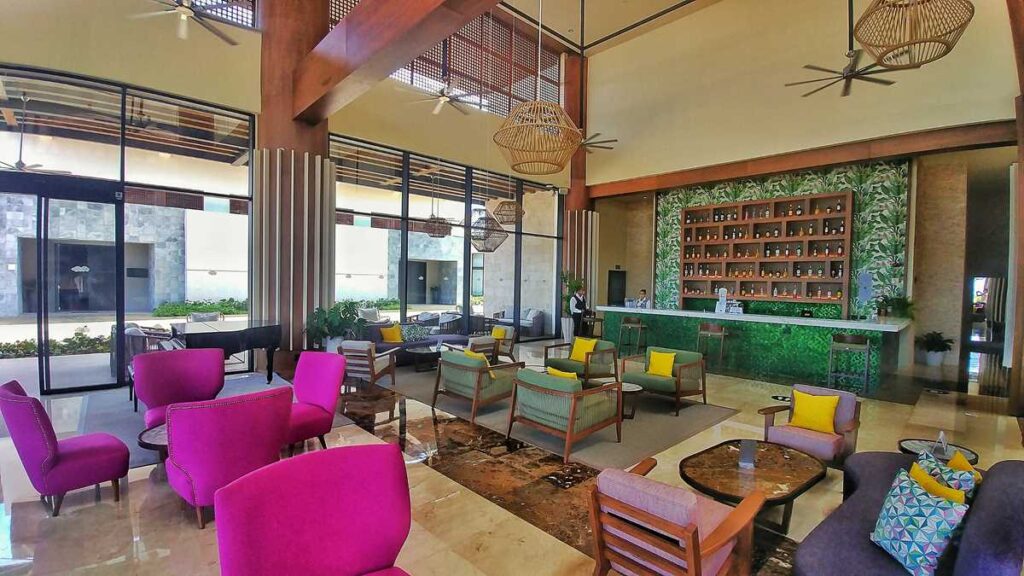 I particularly liked the design of the pool bar with their cozy swings where you can have a drink – including a fantastic view of the beach.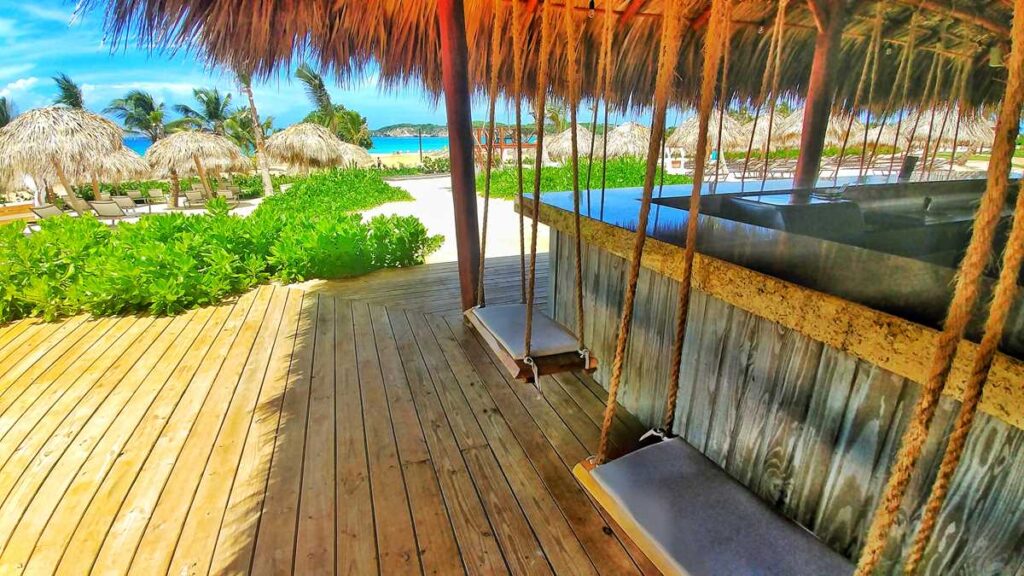 If that's not enough for you, you can also dine out at other Dreams or Now resorts in the Punta Cana area, among them Dreams Palm Beach, Dreams Punta Cana, Now Onyx and Now Larimar. A night pass for these resorts from 6 pm to 1 am is included with your stay at Dreams Macao Beach, but you have to pay your transport on your own if you are interested to go.
Entertainment and Service at Dreams Macao Beach Resort
In terms of entertainment and service, Dreams Macao Beach offers the same as similar all-inclusive resorts in Punta Cana. The nightly show is held at the main plaza with the conference center as a back-up in case of rain. There is a daily activity and sports program which guarantees that you don't get bored. This includes yoga, volleyball, dancing lessons, watersports, zumba and much more. There is also a tennis and basketball court you can use for free plus the waterparks mentioned above.
As in most AM resorts, room service is included in your room rate, so Dreams Macao Beach Punta Cana is one of your top choices if you love to eat in bed or at your terrace.
For the kids, there is a Kids Club (called Explorers Club, 3-12 years) and Teens Club (called Core Zone Teens Club, 13-17 years) available every day.
If you are interested in wellness and beauty, Dreams Macao Beach also offers a large and modern spa area (which has to be paid extra), which includes several treatment cabins, a sauna, a steam room, a large hydrotherapy area as well as a spa bar, a bridal room, a large relaxation area and a beauty salon.
Preferred Club (VIP Level) at Dreams Macao Beach Resort
In case you are interested in some additional services and VIP treatment, you should consider booking one of the Preferred Club rooms at Dreams Macao Beach Punta Cana. While a considerable amount of rooms in the resort are labeled "Preferred Club" (so it's not that VIP as it might sound) it indeed comes with some handy privileges, among them:
Personalized check-in and checkout with concierge service
Access to Preferred Club lounge
Adults-only private, saltwater pool
Private beach area
Upgraded bath amenities
Pillow menu
In-room tablet
Upgraded mini-bar and room service menu
Daily continental breakfast, afternoon hot and cold hors d'oeuvres, exquisite desserts & fine liquors served in the lounge daily
Pool concierge and bar service
Complimentary newspaper in room daily (upon request)
Preferred Club only restaurant for breakfast and lunch at Oceana
Preferred Club bar
Complimentary access to computers in the Preferred Club Lounge
While some of these advantages are minor, others are more valuable, but all depends on your personal preferences.
Personally, I appreciate the Preferred Club Lounge if I have to work a bit in between as well as the top-shelf spirit in the Preferred Club bars. The separate beach area is a nice plus in case it gets too crowded in the other parts of the resort. Oceana is also a perfect option for breakfast and lunch if you don't want to eat buffet-style.
Other advantages such as an upgraded pillow menu, an in-room tablet, complimentary newspaper or a saltwater pool (who needs a saltwater pool if I have the ocean a stone's throw away?) are less important for me, but this solely depends on your preferences.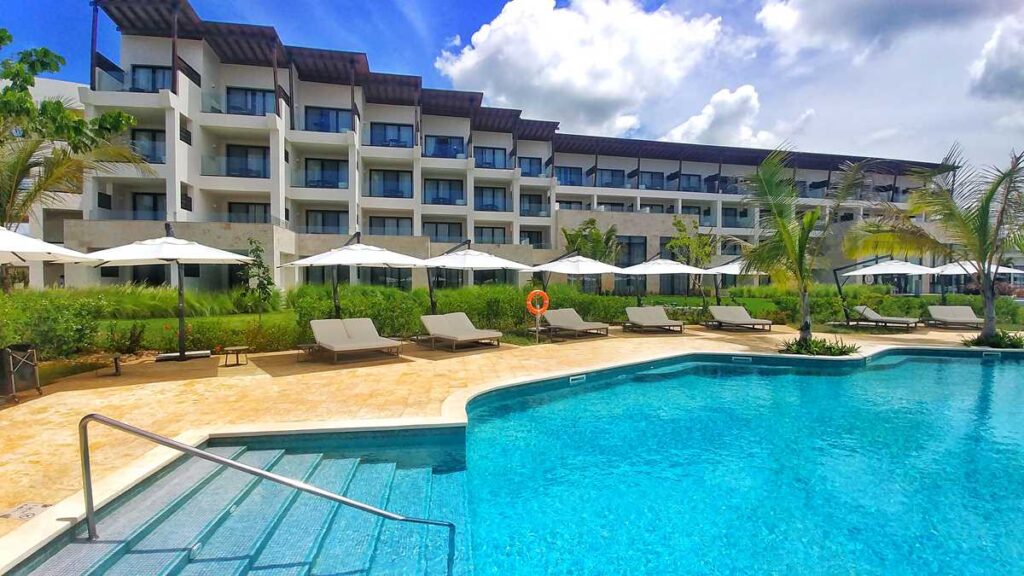 In the end, it also depends on the price for the Preferred Club rooms, as the difference between the regular and Preferred Club rooms varies depending on the season. I probably would not pay more than 30 USD per person per day for the difference, but again, this depends on your personal desires and what is important for you.
Safety Protocols and Hygiene Standards at Dreams Macao Beach Resort
Due to the current Covid-19 situation in Punta Cana and the entire world, Dreams Macao Beach has implemented – as all all-inclusive resorts in the Dominican Republic – several measures to avoid the spread of Coronavirus. For this reason, AM Resorts (including Dreams Macao Beach), have created the CleanComplete Verification for their resorts, which includes several hygiene protocols as well as third-party certifications such as Cristal International Standards, POSI Check and Food Check.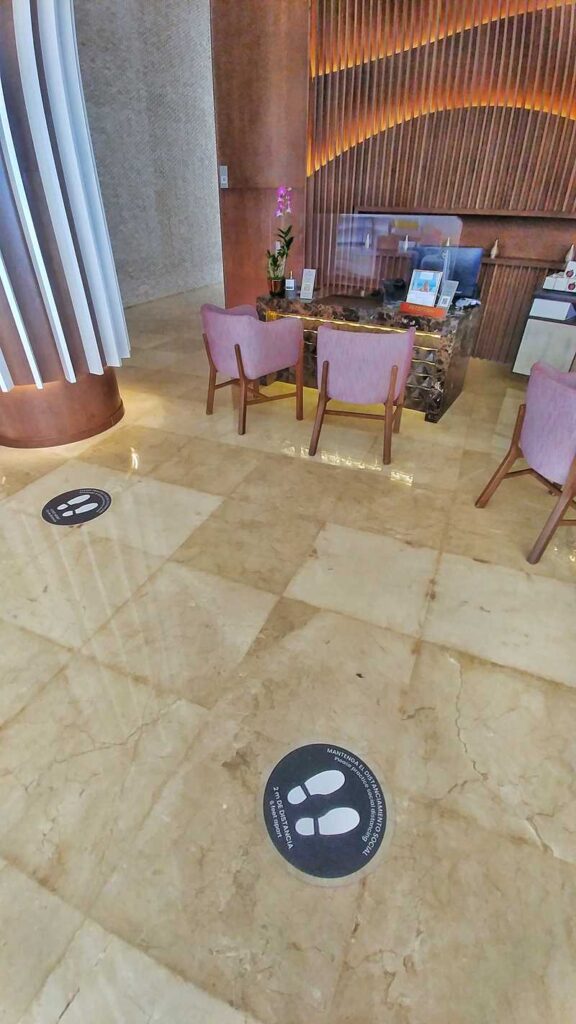 While I could write a lot about the protocols and the "theoretical" guidelines, I'd like to point out what I experienced as a guest at Dreams Macao Beach Resort Punta Cana in terms of measures to prevent the spread of Covid-19:
Upon arrival, your body temperature gets screened, your luggage disinfected and you shall sanitize your hands.
Check-in at Dreams Macao Beach can be done completely paperless.
Check-in agents are separated by plexiglass from the guests.
All employers of Dreams Macao Beach are wearing face masks to prevent the spread of Covid-19.
When ordering a drink, the waiters won't touch your class (you either grab it from the tray or they pass it to you with a napkin).
At the buffet, you won't serve yourself, so the food tongs won't get touched by multiple persons. You rather choose at the buffet what you want to eat and one of the service staff members will put it on your plate.
Tables get properly disinfected before and after using.
According to the Covid-19 hygiene protocol at Dreams Macao Beach Resort, your room gets fully disinfected before you check-in.
Multi-touch items such as remote control, tablet or bathroom amenities get disinfected and will be placed in a sealed bag afterwards.
Pool and beach chairs are being moved away from each other to maintain social distancing.
As an additional Covid-19 measure at Dreams Macao Beach Resort, dining menus and resort information are available via QR codes.
Frequent hand sanitization is encouraged when entering restaurants, bars, the lobby and other common areas.
Those are just the Covid-19 measures of Dreams Macao Beach Punta Cana which called my immediate attention. There are more procedures in place according to the hygiene protocols, such as regular temperature checks when you come back from excursions or activities outside of the resort, deep-cleaning of the room, express check-out for every guest, bactericidal and fungicidal oils when cleaning the resort and proper education of the staff to prevent the spread of coronavirus. For the moment, due to Covid-19, activities with physical contact such as dance classes or team challenges are postponed or substituted with social distancing alternatives.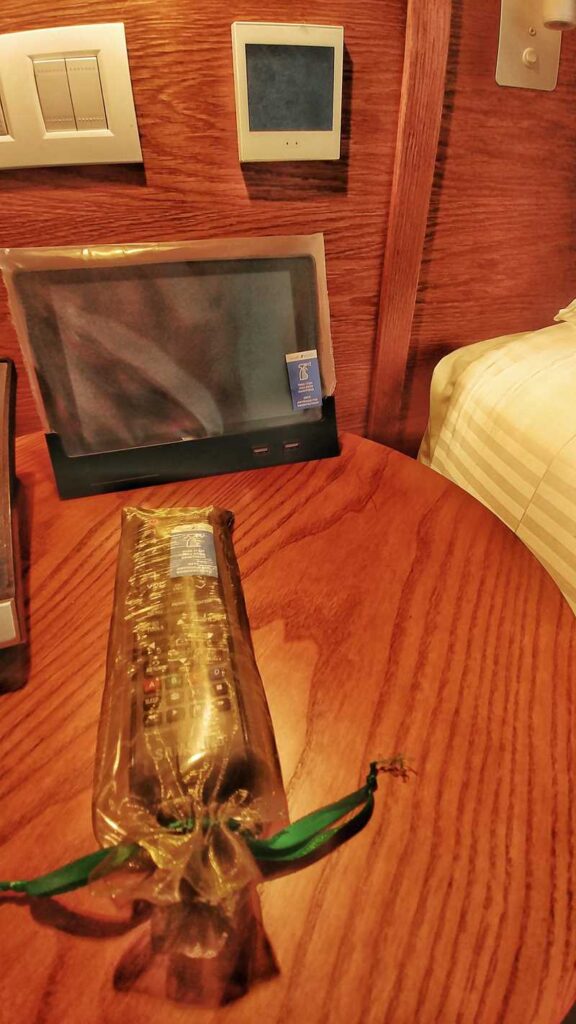 Do you have more questions concerning Covid-19 at Dreams Macao Beach Resort Punta Cana? Check out the following article with a comprehensive overview of the Coronavirus situation in Punta Cana.
Excursions from Dreams Macao Beach Resort
If would like to get to know the area, you have the full choice of excursions and adventures the region of Punta Cana is offering you.
You can either book with the local hotel representatives or check out some of the excursion options before. Especially for price comparison reasons, I can recommend you browsing a bit through the internet to see what options are available*.
Here on Punta Cana Travel Blog, I am happy to inform you about all the excursions you can do from Dreams Macao Beach Resort – it doesn't matter if you are looking for a guided group excursion, a private day out in the countryside, a road-trip or a unique adventure in the tropical jungle.
If you'd simply like to have some fun and book a group excursion in Punta Cana, I can recommend a catamaran cruise, Scape Park Cap Cana, Ziplining, a countryside safari or a buggy tour. Check out Viator* or GetYourGuide* for the best prices at the dates you travel.
If you prefer some educative tours with unique impressions of the Dominican Republic, I can highly recommend you a tour to Santo Domingo, where you can learn about the culture and the history of the country, as well as Los Haitises, one of the most beautiful national parks in the Dominican Republic.
Isla Saona and Isla Catalina are the most popular island excursions from Dreams Macao Beach Resort.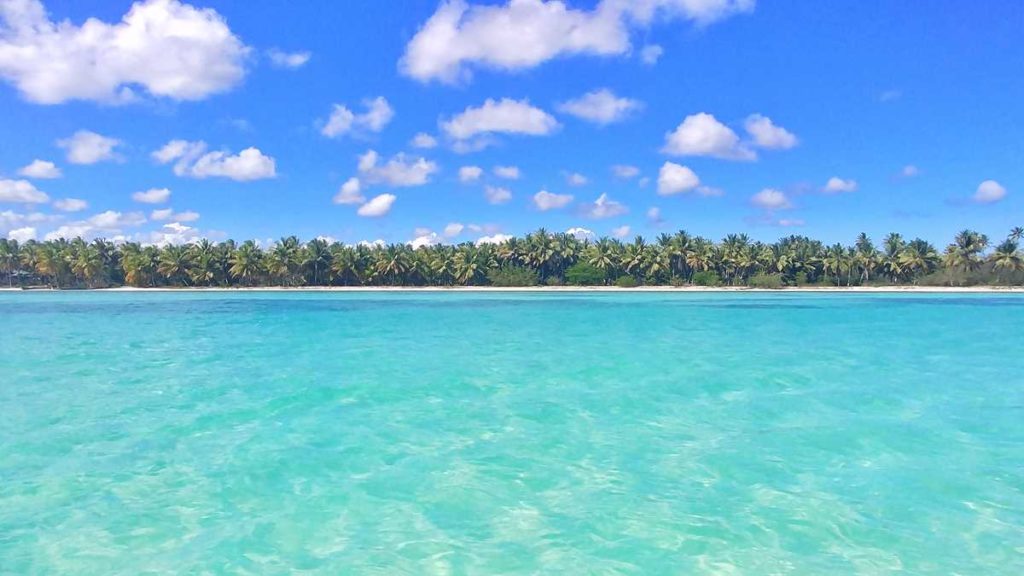 If you are looking for some private excursions, you can check out these options or hire a guide for your tour in Punta Cana.
Alternatively, it is also an option to rent a car (check prices for rental cars from/to Punta Cana here*), which gives you additional flexibility and is usually cheaper than guided excursions. If you are not sure if that's the right thing for you, check out my article about if you shall rent a car in Punta Cana.
Looking at the best day-trips from Punta Cana, you'll also get a good impression on what is possible when venturing out from Dreams Macao Beach Resort.
And if you are fancy for some adventures, check out this section here or have a look at all the waterfalls you can visit from Punta Cana.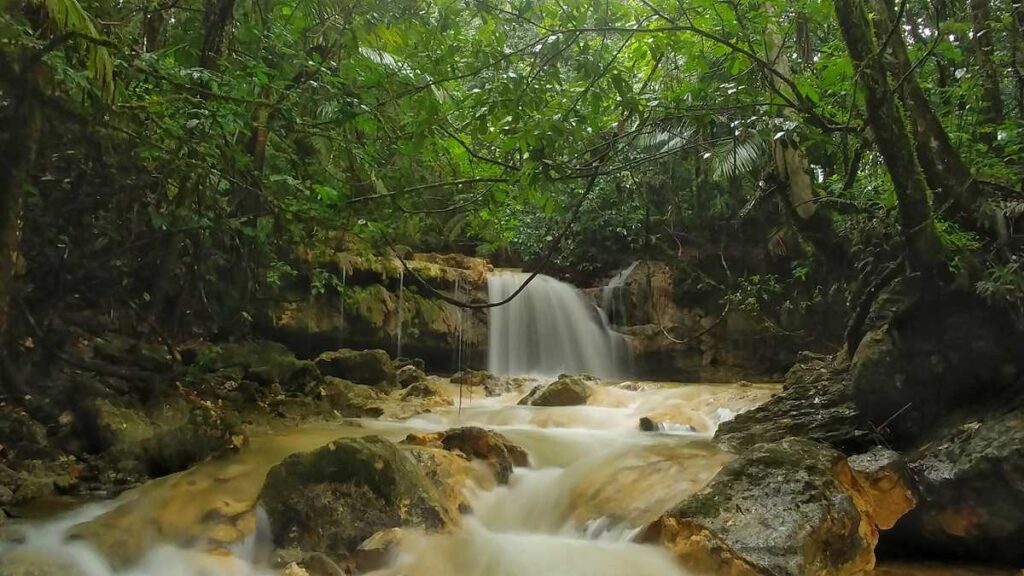 For further information on what you can do while staying at Dreams Macao, check out this ultimate list of the best things-to-do in Punta Cana.
Summary
Dreams Macao Beach is a new and modern all-inclusive resort in Punta Cana. Its location at Macao Beach right in front is spectacular and you can enjoy one of the best beaches in the entire area of Punta Cana. While the resort itself doesn't feature too much of tropical vegetation or beautiful flowers, it is quite a small resort so that everything is walkable without a problem. As always in the resorts from AM, food and drinks are leaving no room for complaints and the whole property is top-notch and sparkling clean (with just a bit too much of concrete for my taste). The hygiene protocols due to the Covid-19 situation are one of the leading concepts of the industry and are hopefully sufficient to prevent the spread of Coronavirus in Punta Cana. After all, with the right rate, you can have a great holiday here at Dreams Macao Beach Resort.
If Dreams Macao Beach is not the right accommodation for you, check my comprehensive article here with many further recommendations and insider tips on how to find the best all-inclusive resort in Punta Cana.
SHARING IS CARING! IF YOU ENJOYED THIS ARTICLE, PLEASE SHARE WITH YOUR FRIENDS – I WOULD APPRECIATE IT A LOT.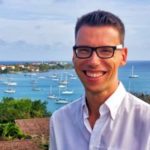 CHRIS
Author, Travel Coach & Punta Cana based digital nomad
Hey, I am Chris, a born and raised German, travel-addictive and Caribbean Soul. Since 2011 I have been living in the Caribbean, among them 5 years in the Dominican Republic. Punta Cana is my home-base here in the country and I'd love to tell you more about how to experience Punta Cana off-the-beaten-track and give you all the advice you want to know for your vacation in Punta Cana.