Are you excited about a dune buggy tour in Punta Cana but don't know which one to choose? Xtreme Buggy Punta Cana, Flintstone Buggy Adventures, Macao Beach Buggy, Terracross, Polaris, Punta Cana Dune Buggy – there are so many options to choose from and so many tour operators offering unique buggy excursions in Punta Cana, that it might be hard to choose the right one. While at first glance all the tours might be similar, there are huge differences between the dozens of buggy excursions available in Punta Cana.
That's why you should check out this article with the best dune buggy adventure tours in Punta Cana (we tested each one of them) as it reveals which buggy tour in Punta Cana is recommendable for each type of traveler.
If you are looking for more unique activities in Punta Cana besides buggy adventures, have a look at these 26 amazing things-to-do in Punta Cana.
Are you interested in further Punta Cana tours? If so, check out our comprehensive Punta Cana Excursion Guide with the most exciting 40+ activities for your vacation.
For further adventurous activities incl. some DIY activities, check out the best Punta Cana adventures here.
Completely UPDATED August 2023
Quick links: the best dune buggy in Punta Cana (+ATV and Polaris)
To start our article about the different buggy tours in Punta Cana, let's have a look at the best type of dune buggy in Punta Cana for each type of traveler. This is particular for those who don't want to read that much and who just want to quickly book their buggy adventure.
For budget travelers: the best cheap buggy excursion below 50 USD*
For families: the best family buggy adventure in Punta Cana*
For adventurers: the craziest Punta Cana buggy tour – a real adventure*
For couples: the best overall Punta Cana dune buggy tour*
For ATV lovers: the best tour with a Polaris/ATV in Punta Cana*
As you can see, even when it comes to buggies, there is a large variety of excursions in Punta Cana.
Comparison: the best Punta Cana buggy tours
Throughout this article, we're presenting different excursions with a dune buggy in Punta Cana in detail and are describing all our experiences. To make it easier for you, here is a table with an overview of the duration, included services and the specific characteristics of the best and most recommendable tours:
Flintstones Buggy Adventure
Xtreme Buggy Adventure
Macao Buggy Experience
Jungle Buggies Anamuya
Character of this Punta Cana buggy tour
Easy-going backcountry experience with a thematic touch visiting the Flintstones cave
Most adventurous dune buggy tour in Punta Cana with a lot of unique experiences
The typical standard dune buggy tour in Punta Cana with a bit off mud puddles + visiting Macao Beach
Punta Cana dune buggy tour in the mountainous countryside with comfortable ATV vehicles
Suitable for
adults and families
adventurers comfortable with manual stick shift
budget travelers
everyone
Price per person
65 USD and up*
175 USD and up*
40 USD and up*
185 USD and up* (incl. ziplining)
Duration
half-day (4-5 hours incl. transfers)
half-day (8-10 hours incl. transfers)
full-day (3-4 hours incl. transfers)
half-day (7-8 hours incl. transfers and ziplining)
Group size
medium (approx. 20-40)
very small (max. 4 buggies)
medium (approx. 20-40)
medium (approx. 20-40)
Drinks included
no
yes (for lunch + water in between)
no
yes (soft drinks for lunch + water in between)
Meals included
no
snacks and lunch
no
lunch
Transfers from hotel included
yes
yes
yes
yes
All details in this table are for informational purposes only and can change without further notice. Please check the description of the tour offer for binding information. Punta Cana Travel Blog can't be held responsible for any errors or changes.
As you can see, there are many buggies in Punta Cana to choose from, all with their specific characteristics. To dive deeper into the details, check out the following description of the individual buggy tours in Punta Cana.
Into detail: the best tours and excursions for dune buggy Punta Cana
Explore the countryside, learn about local life and visit the home of Fred Flintstone (Flintstones Buggy Adventure)
It is not without a reason that the Flintstones Buggy Adventures is one of the best-rated dune buggy tours in Punta Cana*, especially considering the moderate price. Instead of heading to Macao Beach with large groups like many other tour operators, you are discovering the countryside on a thrilling ride along off-the-beaten-track trails.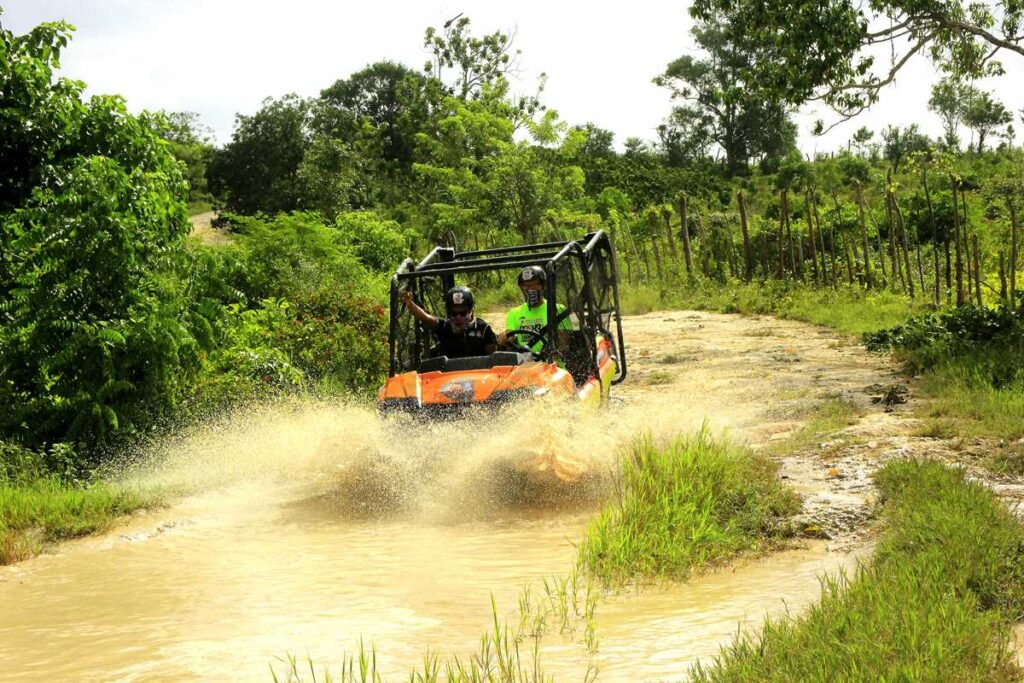 The Flintstones Buggy Adventure is divided into three main parts: an exciting dune buggy ride, learning about the local Dominican life and visiting a giant cave, which is also the (supposed) home of The Flintstones.
The journey with the buggy (typical dune buggies or Polaris ATVs) is the most exhilarating part of this dune buggy tour in Punta Cana. You are exclusively driving on off-road countryside trails, which are leading you through plantations and farmland. Depending on the rain the days before your buggy excursion, you will have some deep waterholes to splash around and have a lot of fun. Compared to other buggy tours, those puddles are completely natural. Considering the rough terrain, you drive amazingly fast on this dune buggy adventure, so you will definitely get your dose of adrenaline.
After the first section of the tour, you stop at a typical Dominican house, where you'll visit the garden, learn a few things about the local fruits and can enjoy a cup of delicious home-brewed Dominican coffee. You can also see the traditional way of cooking (many Dominicans in the countryside are still preparing their meals over the open fire) and visit a local Colmado, a kind of mom-and-pop store, available in even the remotest village in the Dominican Republic. If you want to buy local produce such as coffee, rum or sweets, you'll get it here for the regular Dominican price – it is not a tourist Colmado, which sets its apart from other tours in Punta Cana.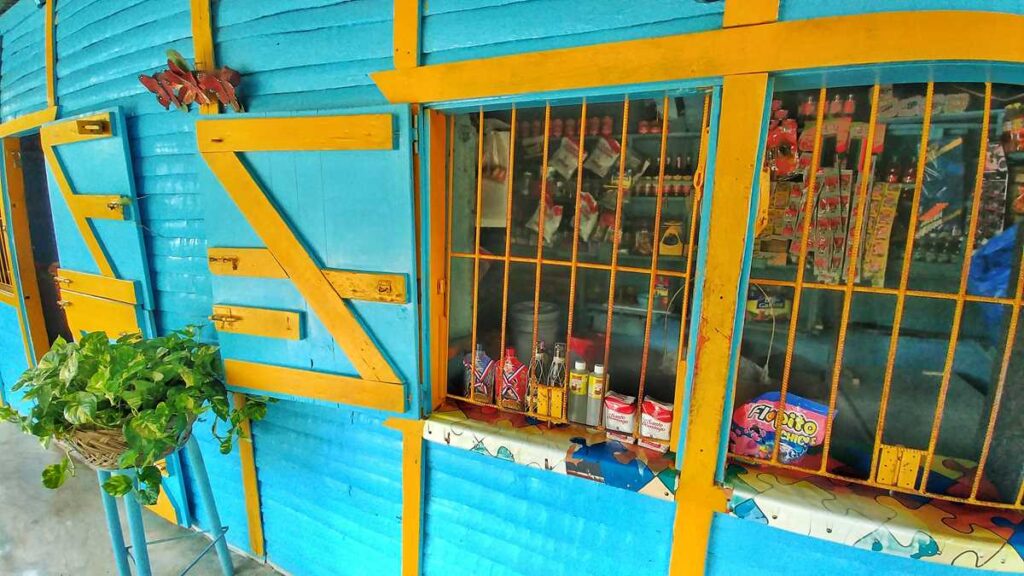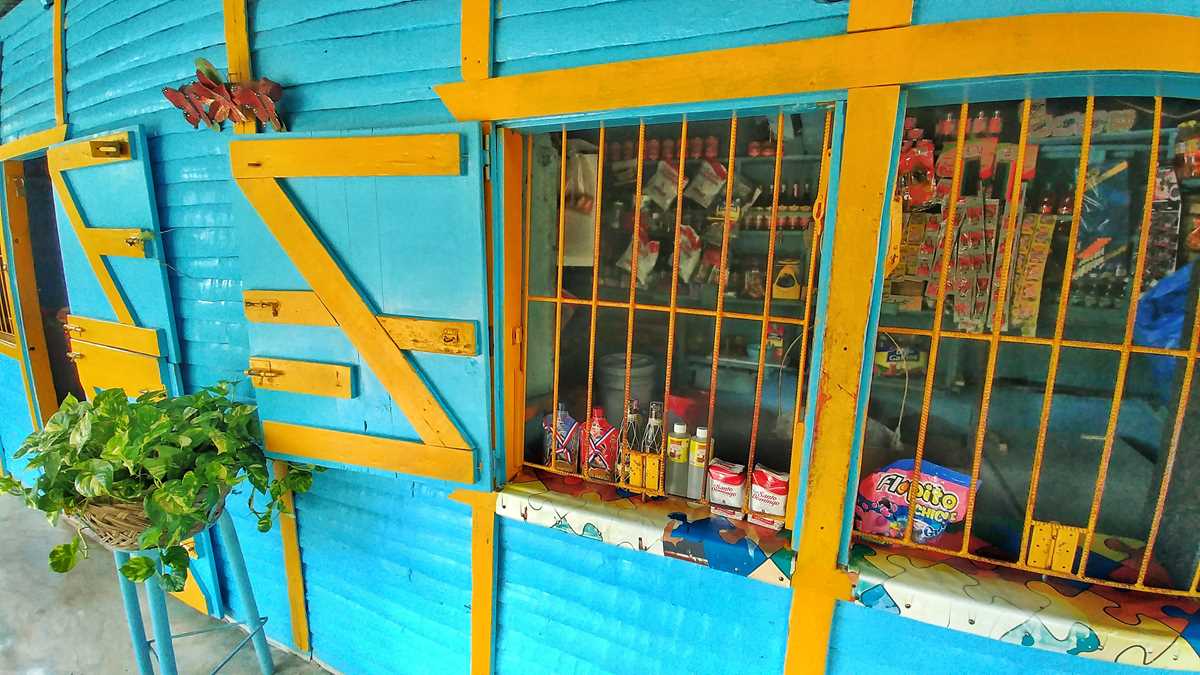 From here, you'll continue your journey to a giant cave system. While this cave does NOT have a lagoon to swim in, it is absolutely off-the-beaten-track and it is 99.9% guaranteed that you won't meet other Punta Cana buggy adventure tours here. When you go inside you also know why it is the exclusive cave of the Flintstone Buggy Adventures: a part of the cave was redecorated like the home of the famous Flintstones. But you can also see the natural part of this huge cave system, which is no less impressive.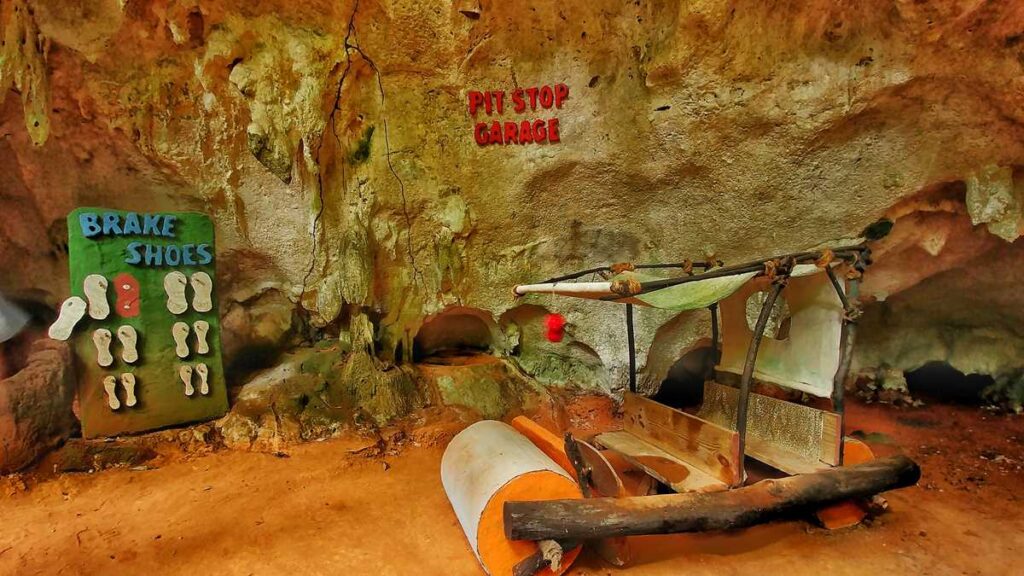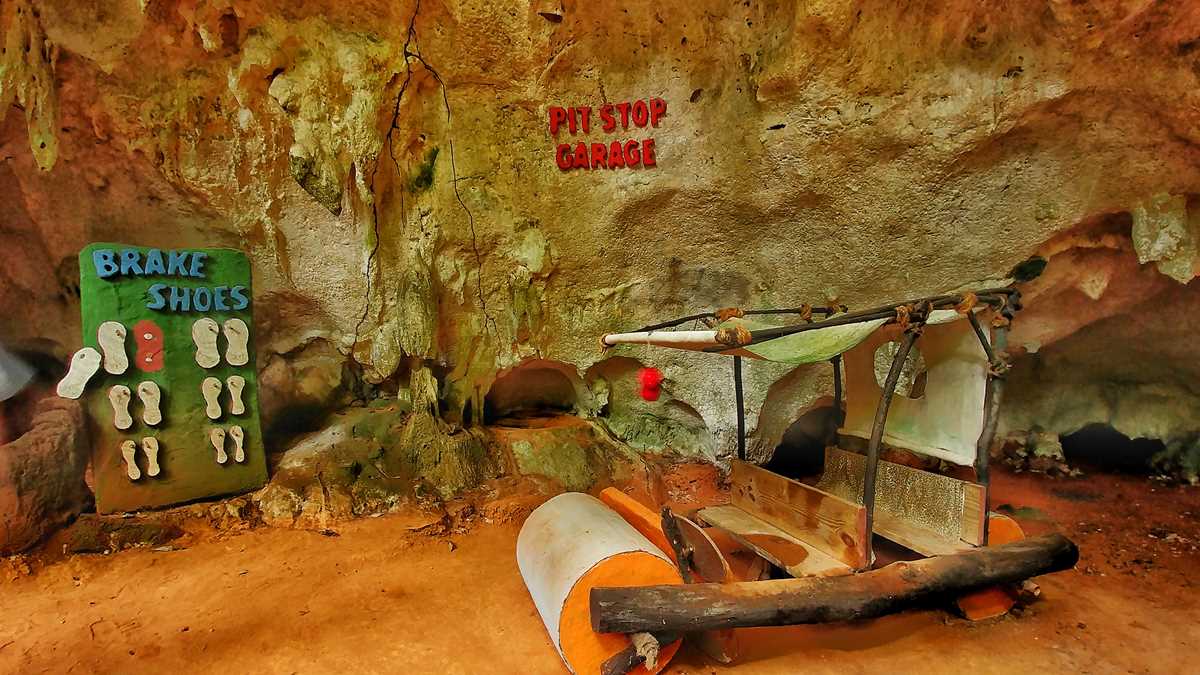 As you can see, Flintstones Buggy Adventures is offering you a unique dune buggy tour around areas of Bavaro and Punta Cana, where even I as a local haven't been before. It is far away from where all the other Punta Cana tours are going and therefore gives you a particular authentic buggy experience. Considering the low price, it is one of the best dune buggy adventures in Punta Cana you can find.
When booking this tour, you can decide between a typical dune buggy and a more comfortable Polaris ATV, which costs a little bit extra. If unsure, you can also book the dune buggy to get yourself a spot on the tour and upgrade on the day of your excursion once you have seen the differences between the vehicles.
A unique full-day buggy adventure with Punta Canas' most spectacular hidden gems (Xtreme Buggy)
Flintstones Buggy Adventure can be called a soft adventure in Punta Cana. If you are looking for a real (extreme) buggy adventure in Punta Cana, you should check out the guys of Xtreme Buggy Punta Cana*. This is not just a buggy tour, it is a full immersion into the countries' culture, people and hidden gems. If you want to see places where no other guided excursion in Punta Cana is heading, then this is your pick.
TRAVEL COACHING
Save money and time!
Do you need help planning a customized vacation in Punta Cana and the Dominican Republic? Is it difficult for you to decide what and where to book? Would you like to take advantage of someone with years of experience in the tourism industry (knowing all the travel hacks 😉 ) and living right in the place where you would like to spend your holiday?
That's what my personal travel coaching is for. I will design your tailor-made itinerary, tell you how to save money on your trip and send you the best insider tips and recommendations. All the information I send you are crafted with love and passion – and are coming with a money-back guarantee. Let me know how I can help you (check my packages here) and send me a request here!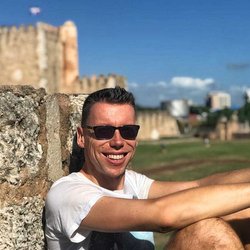 But it is not only about the places this unique buggy adventure tour is visiting, it is also about the way they are doing it. Xtreme Buggy is the only dune buggy excursion in Punta Cana that has road-certified vehicles, meaning that you can drive on public roads with their vehicles. This allows completely different routes compared to what other buggy tour operators can offer.
Furthermore, Xtreme Buggy is (as far as I know) the only tour operator in Punta Cana that includes lunch, drinks and snacks during the tour – another added value. Well, the dune buggy tour presented further below in combination includes lunch as well but that's because it's a combo package. Last but not least, their dune buggies are maintained by German technicians – and we all know about the quality of German cars. 🙂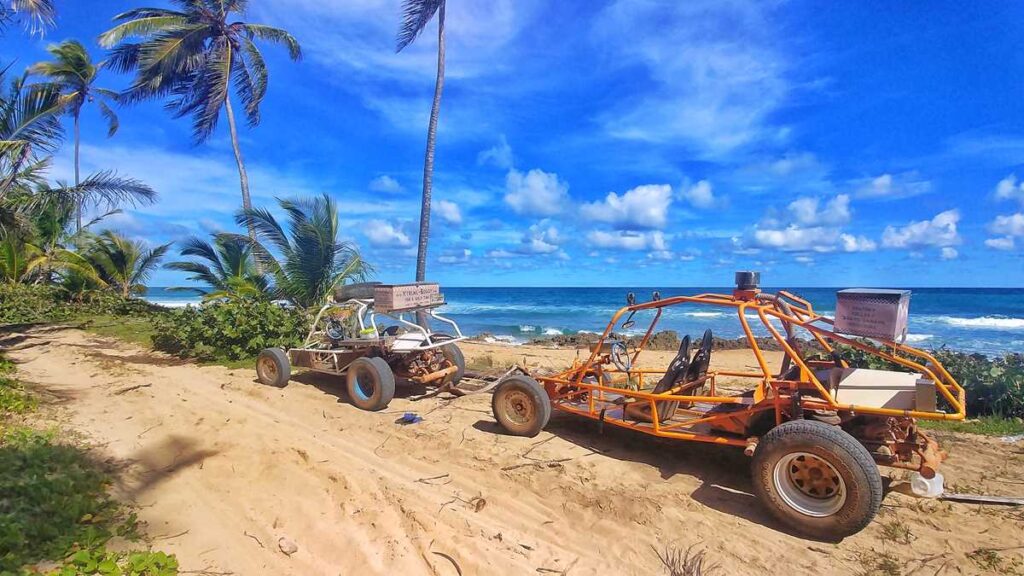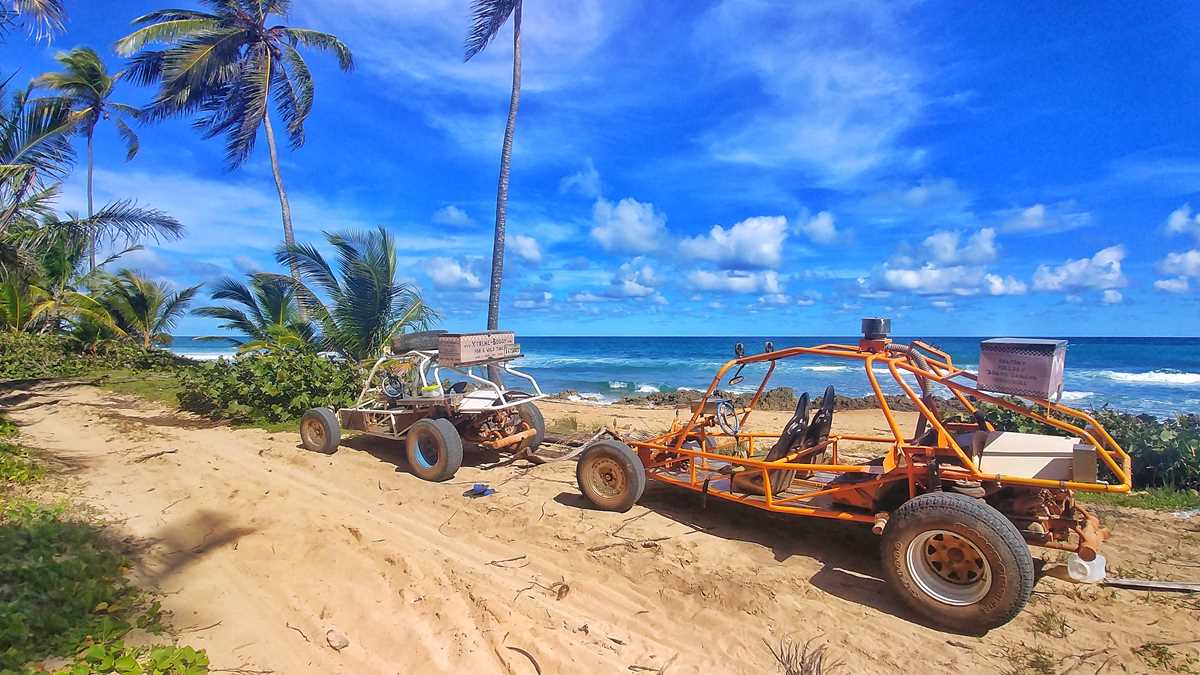 So what can you expect on this full-day buggy tour with Xtreme Buggy Punta Cana?
The first stop is a Colmado in a bustling little town, where you can watch the daily life of the Dominicans. The store is a Christian Colmado, so you won't find any alcohol in there (which is a huge exception in the Dominican Republic), but you are going to try some snacks, such as local cheese or vegetables of the day.
The next part is the most spectacular section of the tour: La Vacama. While this beach is also home to one of the best "eco-lodges" in Punta Cana, the fantastic part about this section is driving along a little pathway next to the beach (not on the beach). The views are absolutely stunning, especially with the thousands of coconut palm trees and the beach on the side. It could easily get a spot in the most scenic locations in Punta Cana.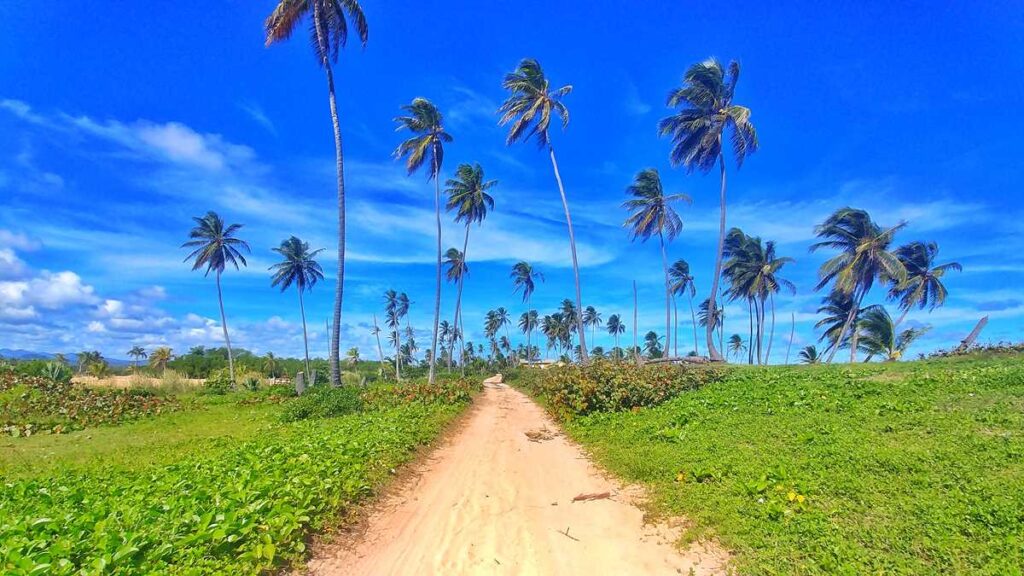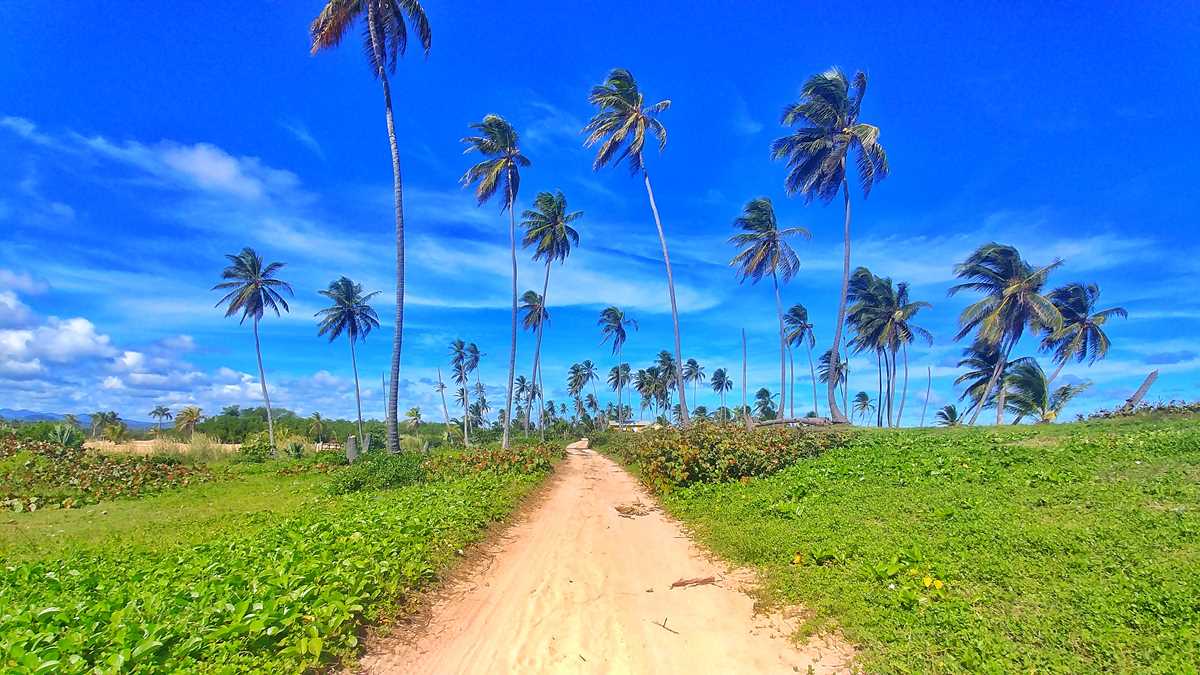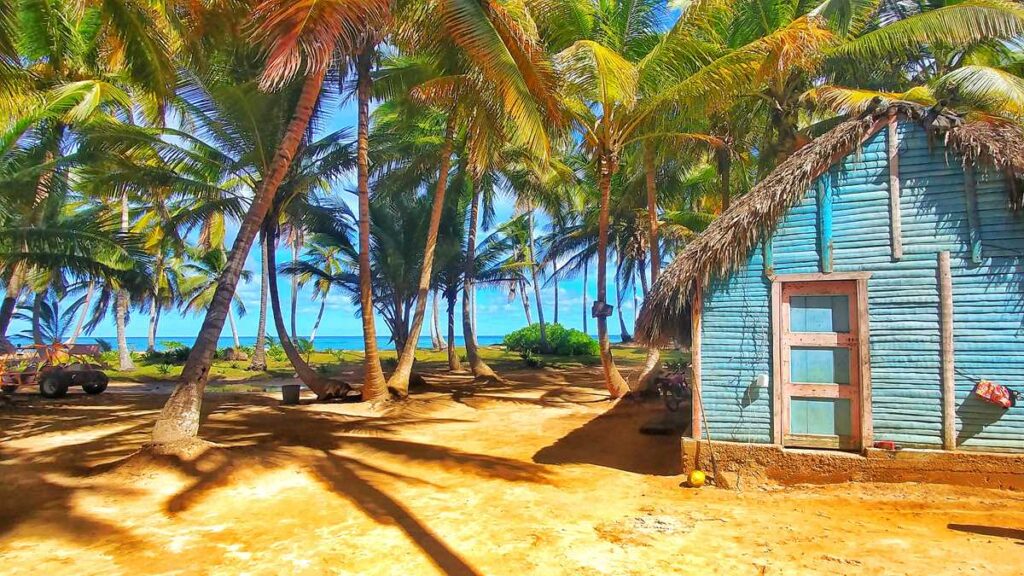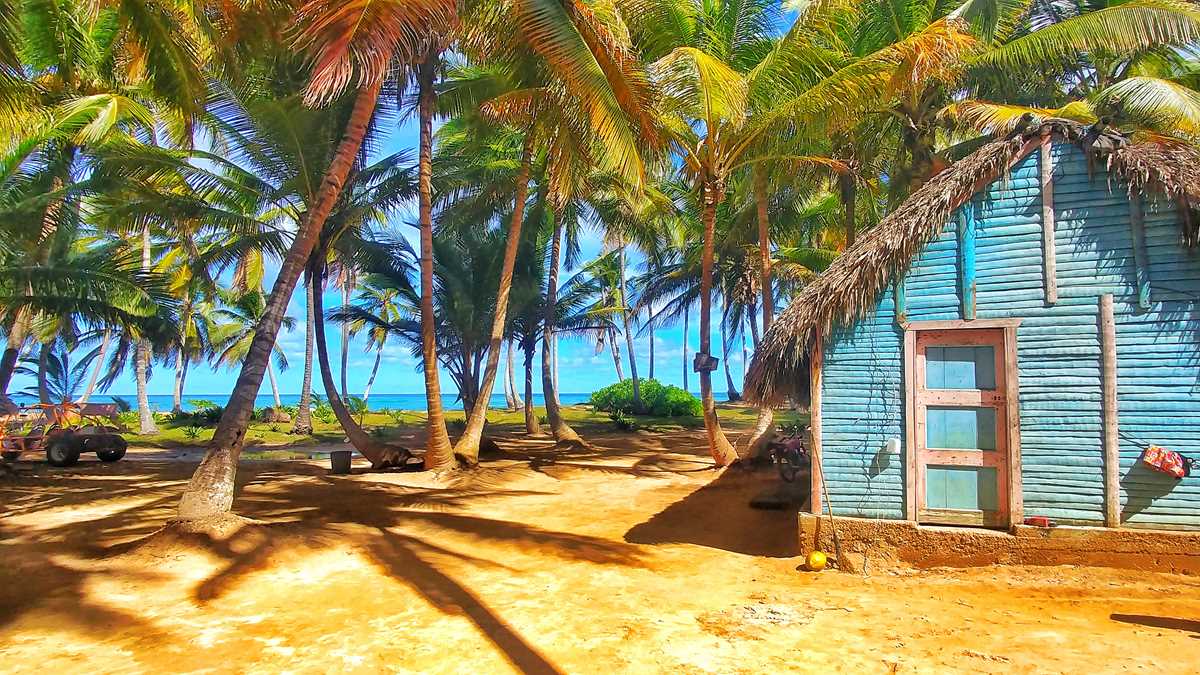 As mentioned, this tour also includes lunch, which is served in a Dominican countryside ranch far away from Punta Cana (the whole tour is around 100 miles driving your buggy). You'll get a typical Dominican lunch in a very local and remote community.

After a stop at Playa Limón, one of the wildest beaches in Punta Cana's wider surroundings, you'll head to a small ranch to get to know more about the coffee and cocoa processing – of course, you can also try it. Finally, passing the Anamuya Mountains, you're heading back to Punta Cana.
Compared to other tours, this Xtreme Buggy doesn't focus on getting you as wet and dirty as possible – but you will get your fair share of mud. 😉 It is definitely the road-trip feeling and the stunning nature that sets this tour apart. Xtreme Buggys' excursions are not cheap, but it is absolutely worth the money, especially if you are looking for dune buggy excursions in Punta Cana with smaller group sizes and a unique Punta Cana adventure. The maximum amount of buggies for this tour is just 4, hence private service and personal attention are guaranteed.
Important: you need to know how to drive a stick shift with manual transmission for this Xtreme Buggy tour in Punta Cana.
If you think that the full-day tour is too much for you, you can also check out the half-day tour Xtreme Buggy Punta Cana is offering. It leads you off-the-beaten-track, through the countryside of Punta Cana, passing local villages and beaches, including some information about the culture and the people. It is much shorter and cheaper than the full-day tour and might be a great alternative if you feel that the full-day tour is too demanding.
Macao Dune Buggy Excursion – Punta Cana standard tour (Macao Buggy Experience)
If you are just looking for some cheap dune buggy tours in Punta Cana without too much personal attention and added value, you can also book the typical buggy adventure excursions offered by so many tour operators, the Macao Buggy Experience. Especially considering the price of around 50 USD (or even cheaper when on sale), they are an incredible bargain, even you might have to accept that groups are bigger and vehicles are some years older.
This Punta Cana dune buggy adventure is starting after a short safety briefing about the buggies and the roads. Remember to bring a face covering and glasses as you will get (really!) wet and muddy.
The tour (usually) has three stops: a typical Dominican Colmado (see explanation above), a cave where you can swim and the beach of Macao. You can try and buy local products at the first stop, but prices tend to be higher than in an original Colmado, as this shop is mostly receiving tours. However, it is still a lot cheaper than buying in a souvenir store or your all-inclusive resort, so it is worth having a look in case you are interested in buying something. If you do so, bring a water-repellent bag with you, as otherwise your newly shopped goods might get muddy as well. 😉
The second stop of your Punta Cana buggy adventure is a lagoon in a cave (also called "Cenote"), where you can swim. It is not the most beautiful lagoon we have in the Dominican Republic, but it is a nice opportunity if you have never seen one. Sometimes it gets a bit crowded. If you want to visit other cenotes around Punta Cana, you can check Hoyo Azul at Scape Park Punta Cana or Hoyo Claro in Punta Cana.
After getting wet and muddy again (did I mention this already? 😉 ), your last stop is Macao Beach, one of the most beautiful beaches in Punta Cana. Here you can take some photos or have a dip into the ocean, but please be very careful about the currents and the waves, as they can be particularly strong at this beach. Be prepared that there are a lot of vendors at Macao Beach.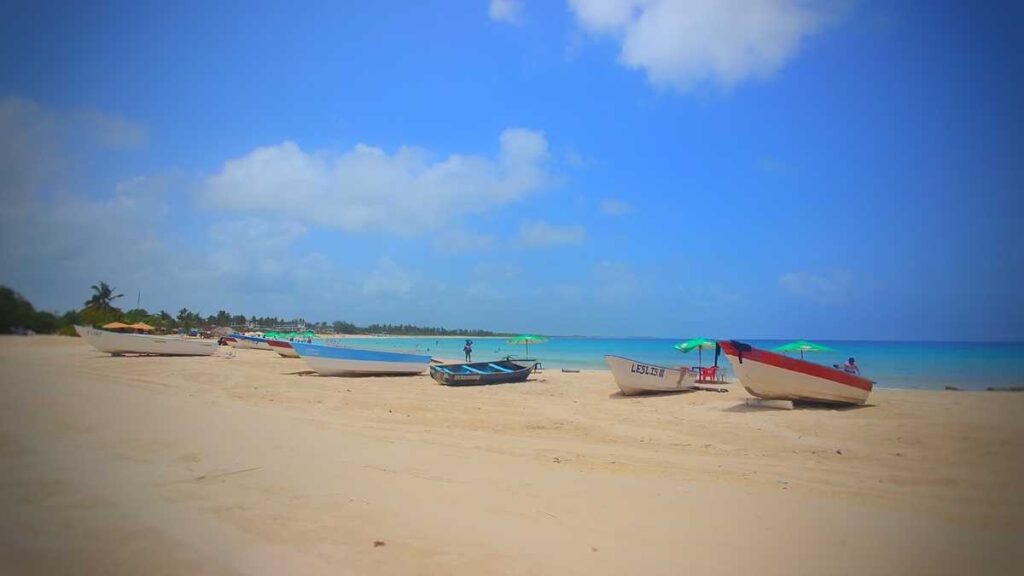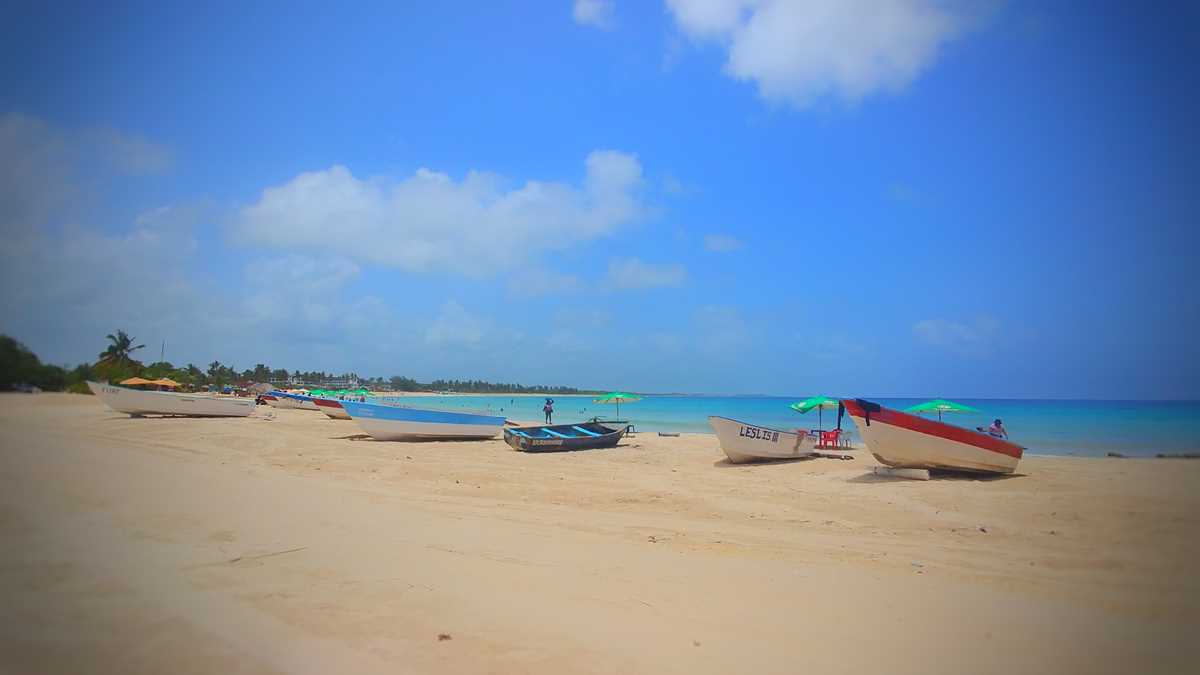 Interested in this tour? Check out the details here!
It is particularly recommendable if you just want a cheap excursion with a lot of fun, so be prepared!
If you want to upgrade on some Polaris or Terracross vehicles, you can do so as well – check out the tours here.
Best reviewed ATV tour in Punta Cana through the Anamuya mountains incl. river swim
Another great option when looking for the best dune buggy tour in Punta Cana is the Jungle Buggy Experience in the Anamuya Mountain*. This is not your typical tour with a buggy in Punta Cana as this is rather a full ATV excursion. You can get some really nice Polaris buggies here which is definitely an upgrade compared to some of the rickety dune buggies you can find in Punta Cana.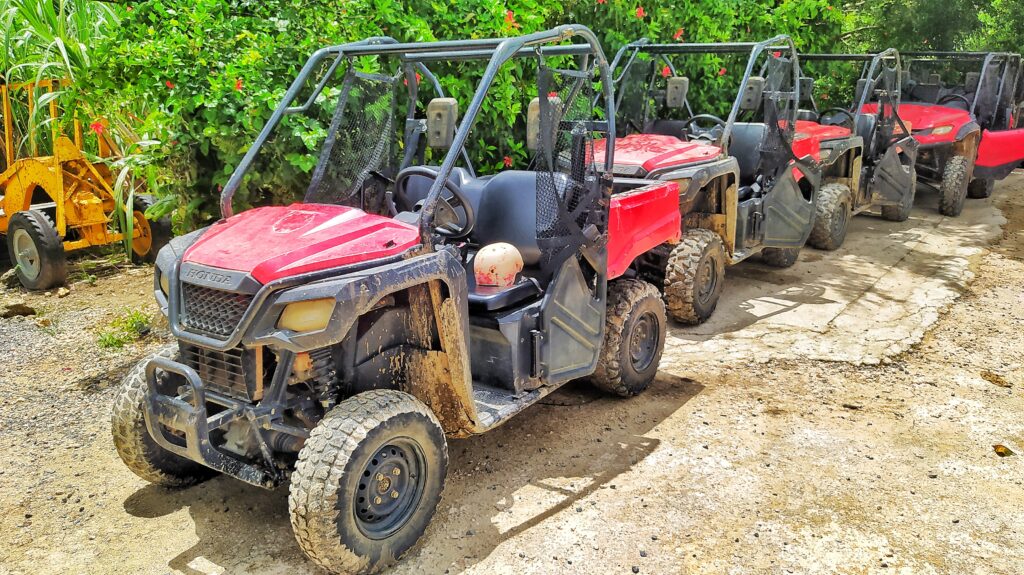 The tour starts in the foothills of the Anamuya Mountains, among lush tropical vegetation and marvelous mountain views (on a lower scale, don't expect the Dominican Rocky Mountains to be here 😉 ). You'll first head over some secondary roads to reach some farmer's land, where you drive over old plantation trails through various (natural) rivers and mud puddles. The scenery here is super green and it is most likely the lushest vegetation you will see among all Punta Cana buggy tours.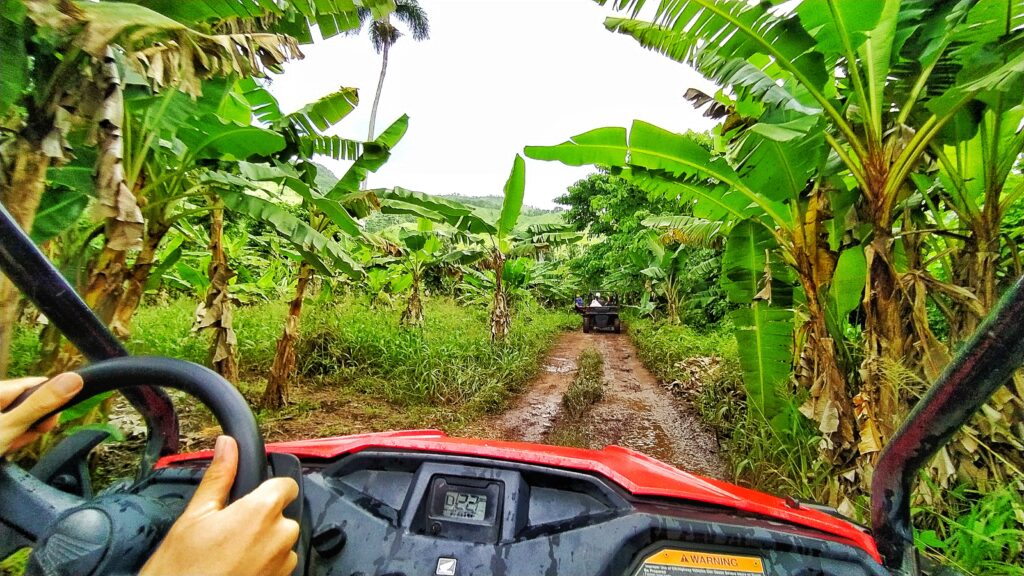 After getting completely soaked you continue the journey to the Anamuya River, where you'll stop on a natural swimming pool. You can enjoy the refreshing water and rinse the mud off if you want. There are some smaller cascades and a large natural swimming pool.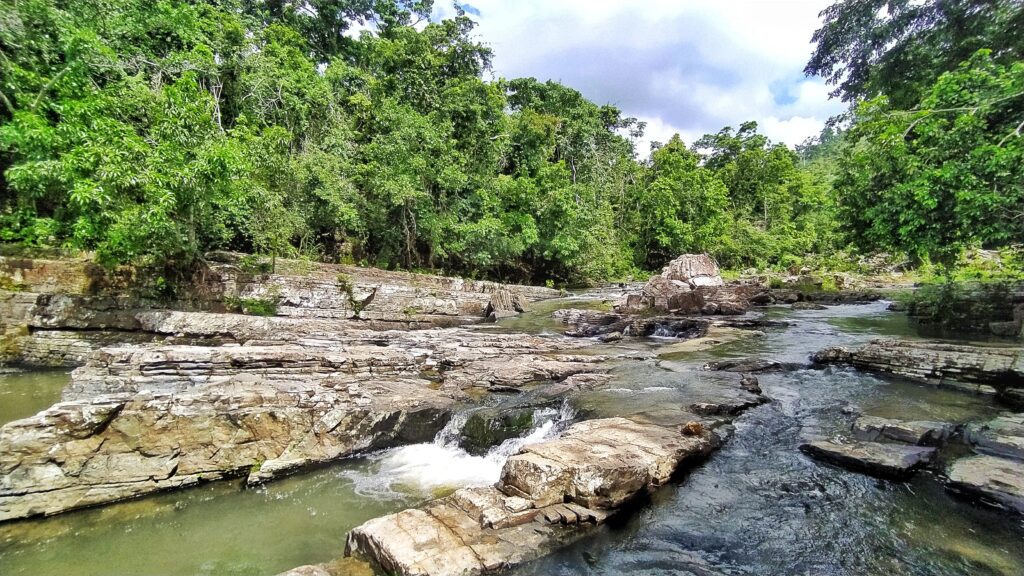 Before heading back you have another stop in the House of Coconut, where you can try local delicacies such as empanadas and coconut as well as local coffee, chocolate and Mamajuana. You can buy these Dominican products afterwards, along with natural coconut oil, cinnamon or other local products, all harvested respectively produced from the neighboring plantations, but there is no pressure or any hard sell tactics.
This Punta Cana ATV Tour is a great option if you want to see the authentic countryside in combination with some of the most beautiful mountains we have close to Punta Cana. Considering the rather high price, the tour could be a tad longer, but the great reviews confirm how attractive this tour is.
To make the trip into the Anamuya Mountains more worth it, you usually book this buggy adventure in Punta Cana in combination with the equally popular zipline in Punta Cana in the Anamuya Mountains. This is one of the best multi-activity packages you can book in Punta Cana and is highly recommended – twice the fun in just one excursion. You can see further Punta Cana ATV combo packages below.
ATV tour (Polaris/Terracross) through coconut groves, abandoned roads and hidden beaches (Off-Riders Punta Cana)
This ATV-Tour starting at Hard Rock Resort Punta Cana is more a Polaris/Terracross adventure than a dune buggy tour, but it is absolutely worth to go, as you see beautiful scenery usually off-limits for most visitors.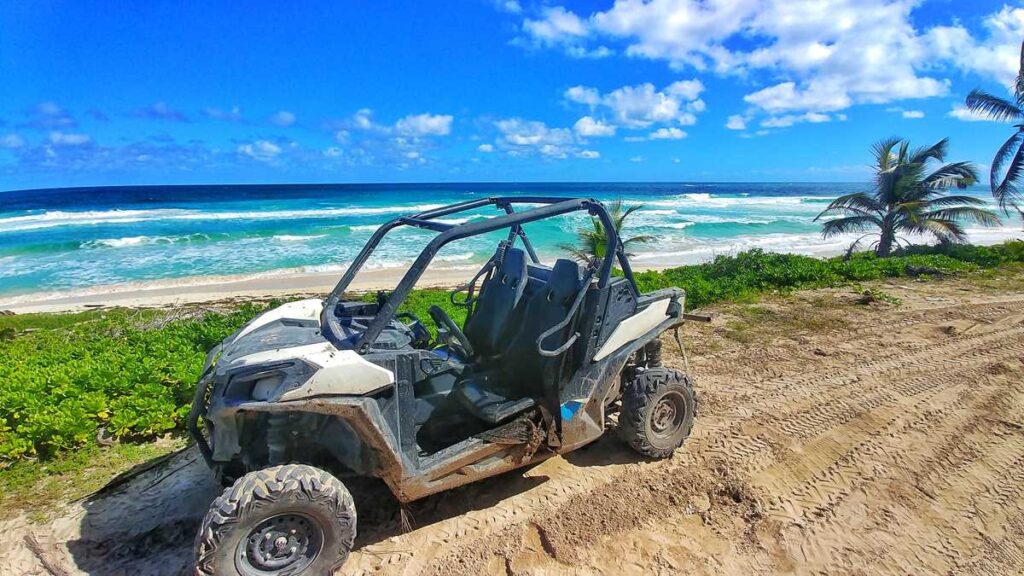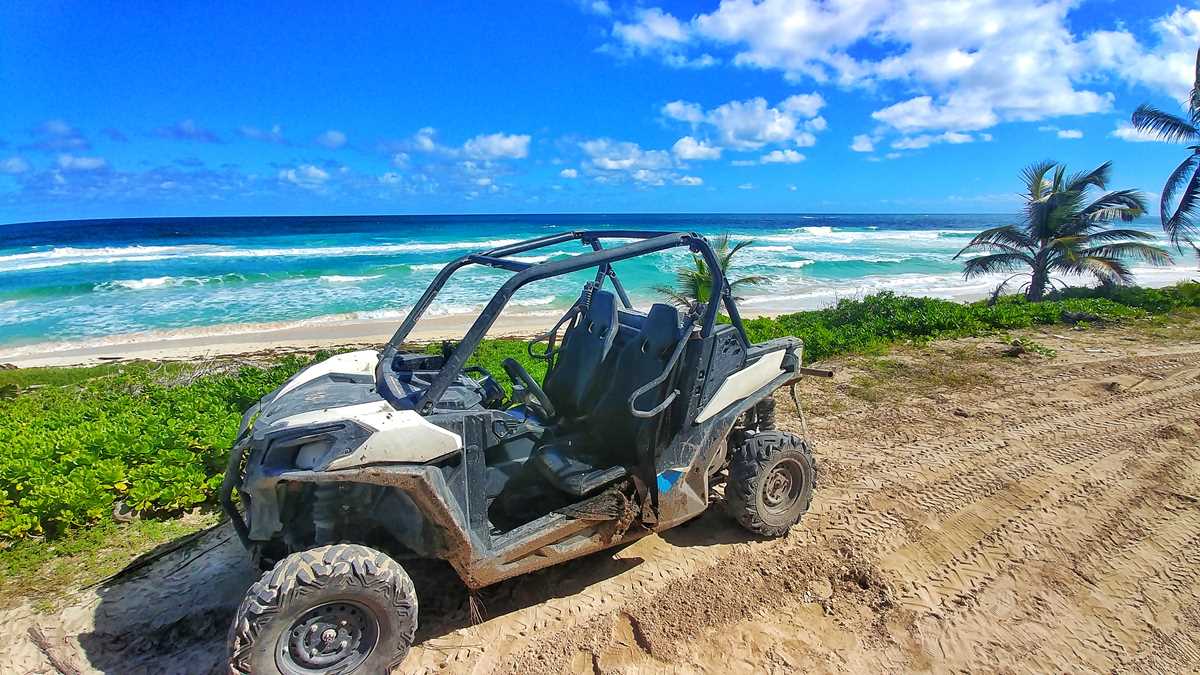 Compared to dune buggies, Polaris vehicles have a higher clearance and are closed at the bottom, resulting in less water and mud at your legs. You still get your fair share of action when driving full speed through the water, so don't worry, you will get (very) wet. 😉
Another advantage of those Terracross/Polaris vehicles is that the suspension is much better than at most dune buggies, resulting in the potholes and rocky underground being less impacting on your body.
This buggy excursion starting from Hard Rock Punta Cana has three main attractions in terms of nature:
– an abandoned road that is overgrown by tropical vegetation, which just leaves a green tunnel to pass with the Polaris vehicles
– driving through a beautiful, shady and untouched coconut grove
– an absolutely pristine stretch of beach between Macao and Hard Rock Resort, which gets no visitors at all and shows you how Punta Cana has been around 40 years ago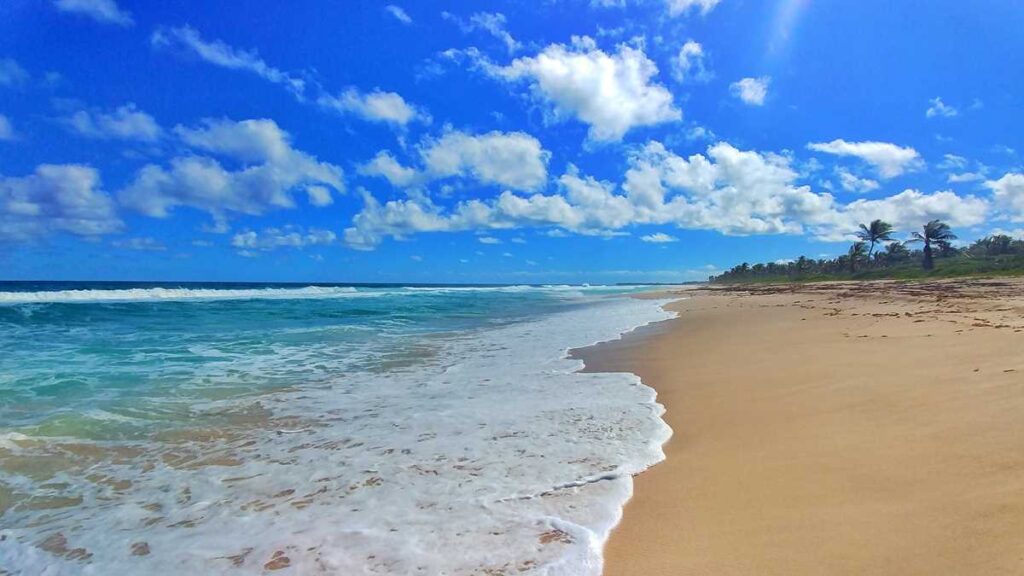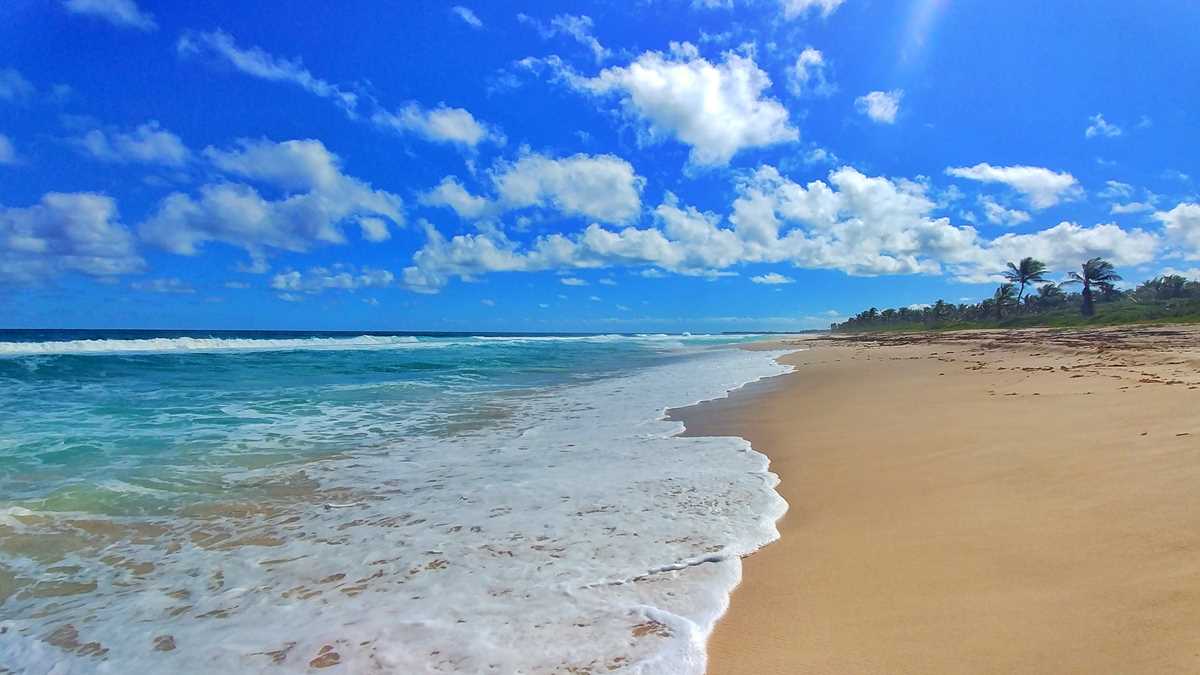 This tour is a big plus for nature lovers, as you pass areas in Punta Cana which are hardly accessible and utterly beautiful. Unfortunately, this Punta Cana tour is only bookable for guests of Hard Rock Resort & Casino. Hence, if this is a place where you can imagine yourself staying, check out the prices for your travel dates to Hard Rock here.
Dune buggy adventure combination packages (with other excursions)
A buggy tour is not enough? Combine a dune buggy adventure with other exciting Punta Cana excursions.
Punta Cana Buggy Tour + Isla Saona
Isla Saona is the most famous destination in the Dominican Republic – thousands of tourists are visiting the beautiful island every day. And despite the many excursions going there with groups of tourists, it is indeed super beautiful. Isla Saona is a true paradise and it is absolutely gorgeous, as you can read in this comprehensive article about the island.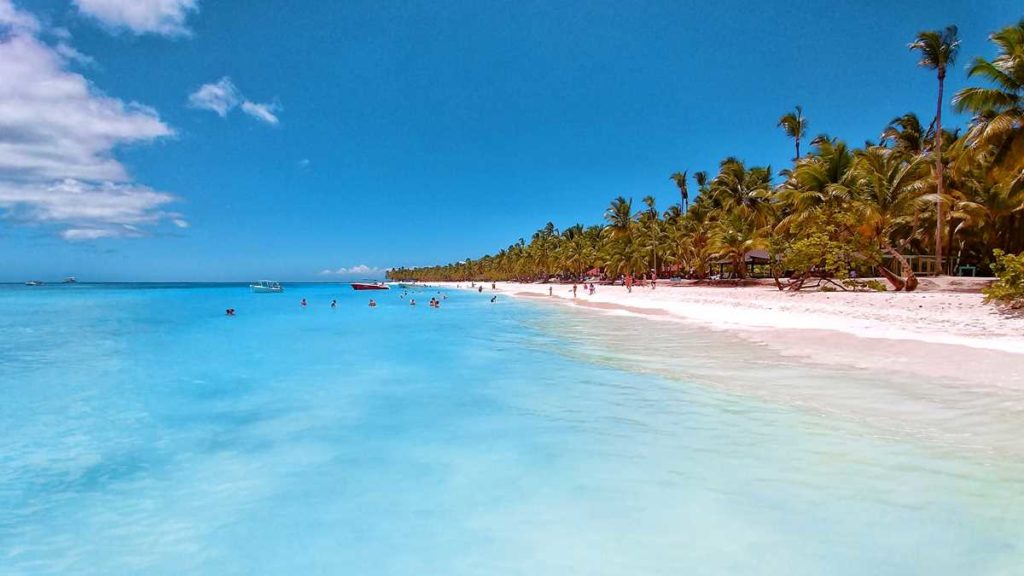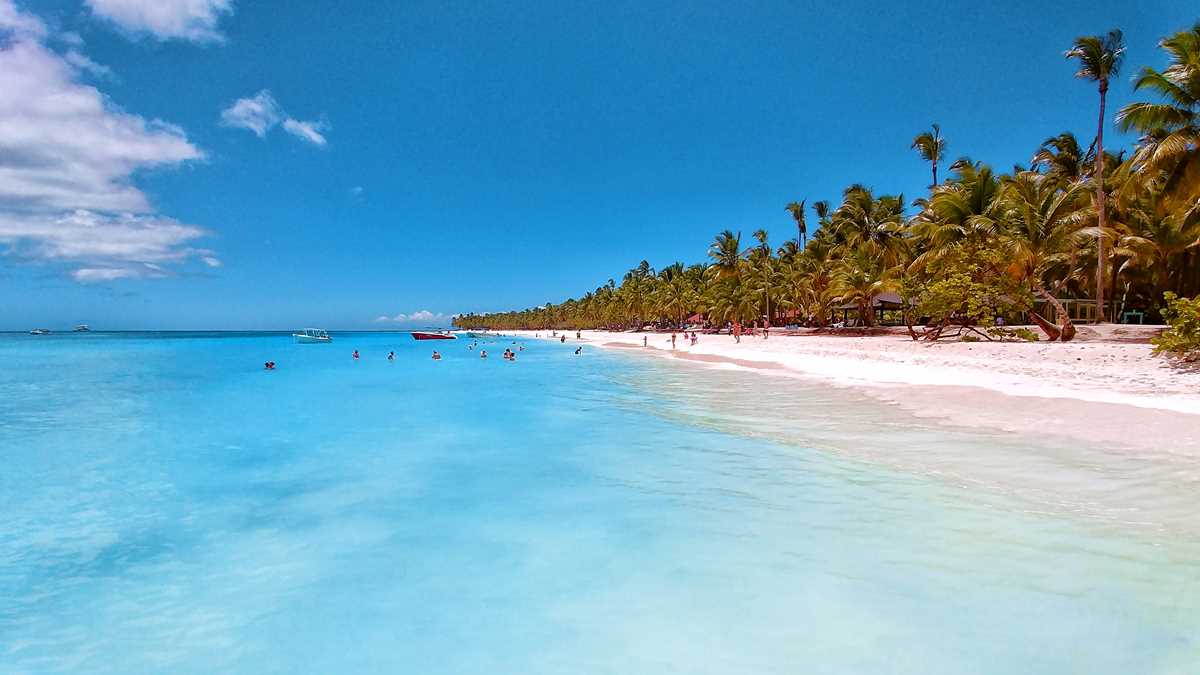 So why not combining a buggy tour in Punta Cana with a fantastic boat and catamaran excursion to Isla Saona*?
You will have 2 amazing experiences and will pay only for 1, as the price for this combination is nearly the same as what you pay for just a stand-alone Saona Island excursion. That's an amazing deal, especially taking into consideration that it is a full-day AND a half-day excursion, so you're busy for 1.5 days.
Both tours in this package – Isla Saona and the Dune Buggy Tour – are just the standard version of both activities, but you still can have tons of fun during this combined excursion.
Dune Buggy Adventure + Snorkeling Cruise
If you don't want to head until Isla Saona but still want to have some water fun, why not booking a dune buggy adventure with a snorkeling cruise in Punta Cana*? This full-day combination package is perfect if you first want to get muddy and afterwards "rinse-off" in the ocean during a catamaran tour along the beaches of Bavaro.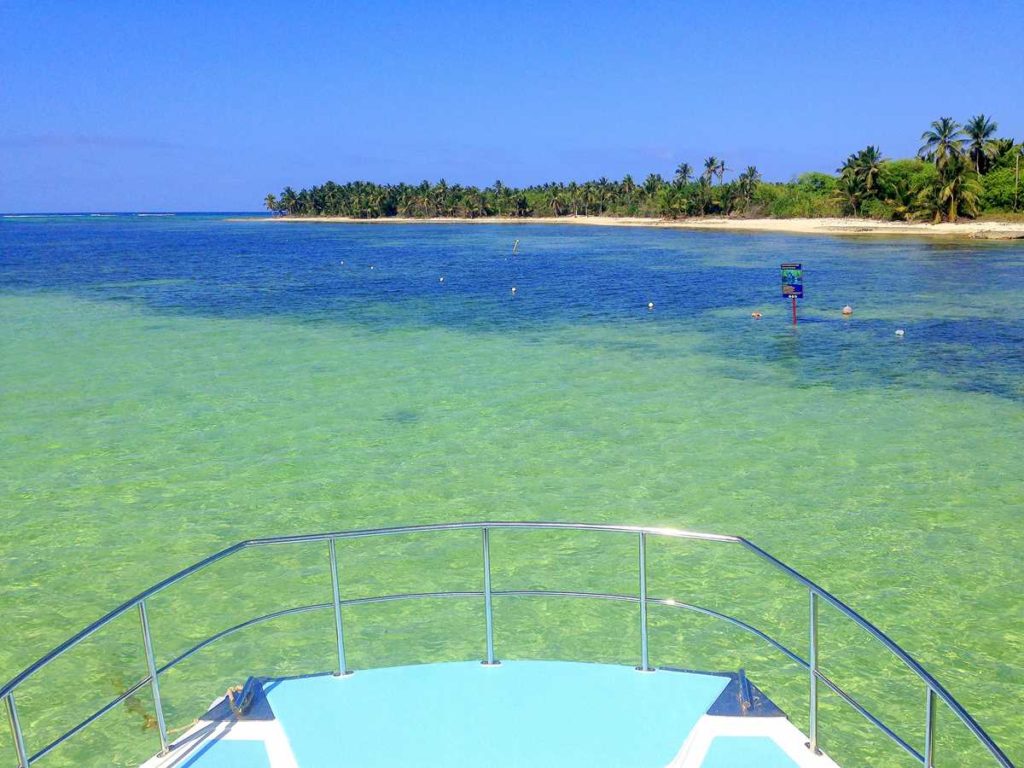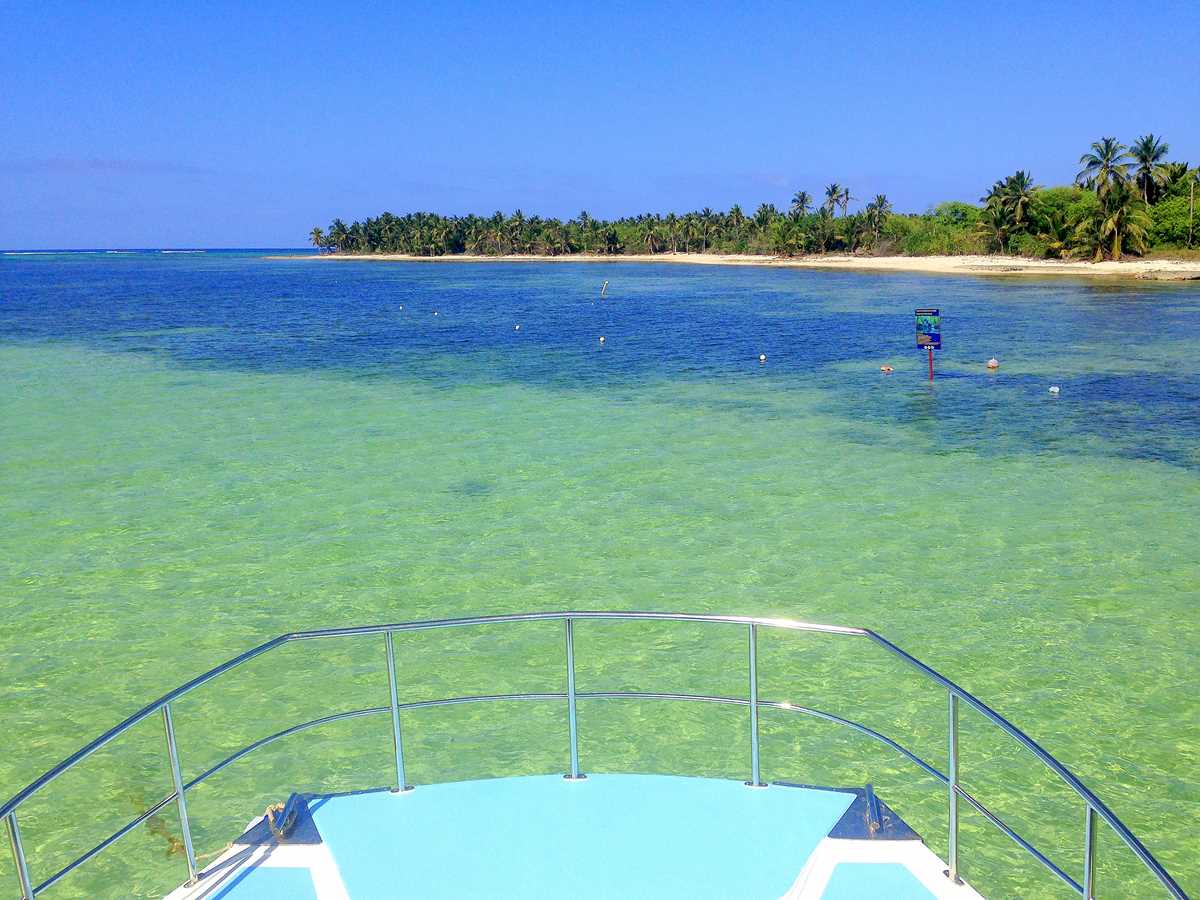 Even snorkeling in Punta Cana is not the most attractive in the Caribbean (check out here why), you still will have a lot of fun as you cruise along the coastline of Punta Cana while enjoying Caribbean music, local drinks and some great entertainment. At the reef, you'll see a couple of colorful fish and afterwards you head to the natural swimming pool to relax, swim and have some fun.
The buggy tour in this package will lead you to the Colmado, the cave where you can swim and Playa Macao. It is the same as described above.
5-in-1 combination: Dune buggy tour with Ziplining, Horseback Riding, Safari and City Tour
This package is an awesome combination of 5 different activities*. Usually, you pay around 50 to 80 USD for each of these activities, but here you get all 5 experiences within one day. However, it shall be noted that everything is more packed, so it is rather a short horseback ride than an extensive 2- or 3-hour ride. The same goes for the ziplining or the city tour.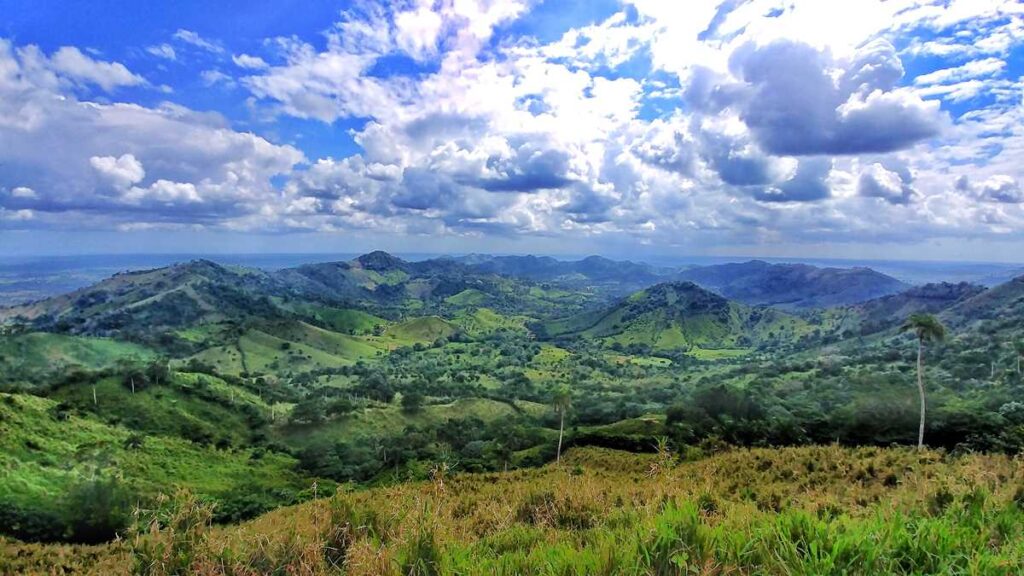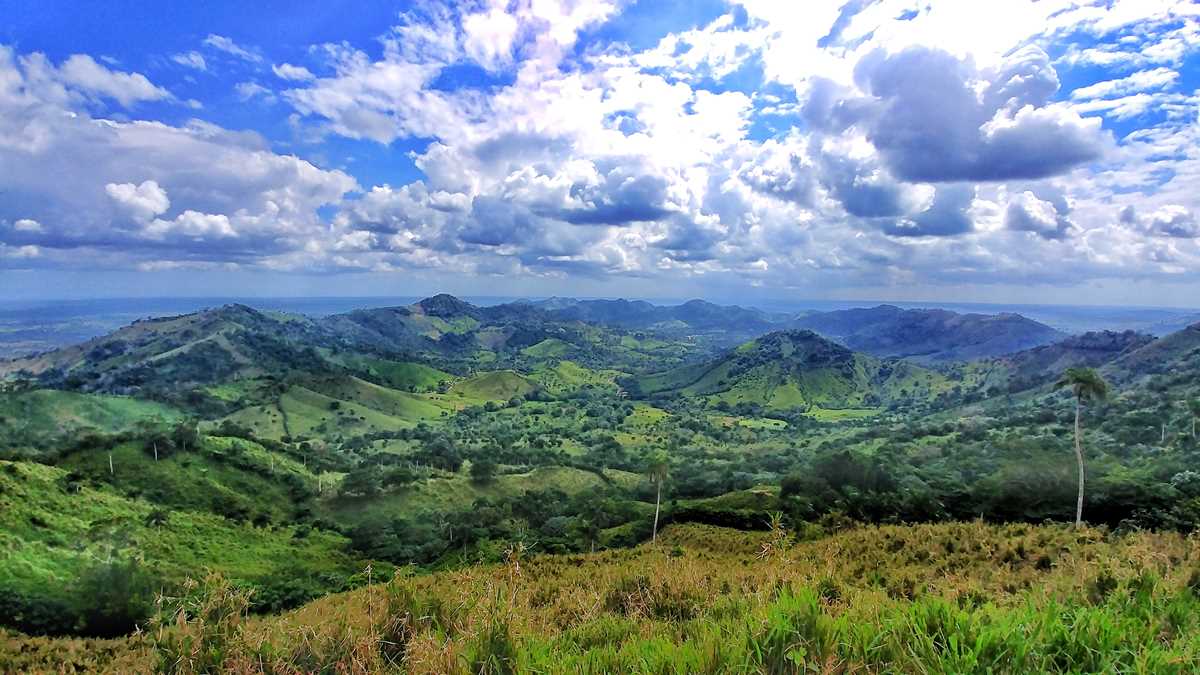 Still, you will learn and see as many things as you hardly get on any tour. Think of having a sneak peek into all the different aspects the Dominican Republic has to offer. Besides the activities, you will also see local products and a typical Dominican plantation.
The dune buggy ride in this package will lead you to the lagoon in the cave (cenote) and Macao Beach.
I would particularly recommend this package if you just have very few days in Punta Cana and want to see as much as possible with limited time. If you want to have the most comprehensive buggy experience off-the-beaten-track, probably one of the other tours recommended above is better for you.
Frequently Asked Questions (FAQ) about buggy adventures and dune buggy excursions in Punta Cana
SHARING IS CARING! IF YOU ENJOYED THIS ARTICLE, PLEASE SHARE WITH YOUR FRIENDS – I WOULD APPRECIATE IT A LOT.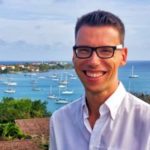 CHRIS
Author, Travel Coach & Punta Cana based digital nomad
Hey, I am Chris, a born and raised German, travel-addictive and Caribbean Soul. Since 2011 I have been living in the Caribbean, among them 5 years in the Dominican Republic. Punta Cana is my home-base here in the country and I'd love to tell you more about how to experience Punta Cana off-the-beaten-track and give you all the advice you want to know for your vacation in Punta Cana.