If you check weather forecasts or climate graphs of Punta Cana and the Dominican Republic, you can get the impression that the weather always is the same: high temperatures, some rain, always sun. But there are some differences which you should know if the weather is important for you as all seasons have their advantages (and some disadvantages). If you are planning a trip to Punta Cana and are not sure which month to pick, here is everything you need to know about the weather in Punta Cana.
The weather in Punta Cana – general information, experiences and thoughts
In general, you can expect the perfect Caribbean weather when you come to Punta Cana. I am living in the Dominican Republic for 5 years now and can confirm that the weather here is simply amazing, fully loaded with tropical temperature, (nearly) endless sunshine and only a few severe weather disruptions.
However, the weather in Punta Cana deserves a little further explanation. One of them is that a rainy day in the Dominican Republic is not the same as a rainy day in other countries. Another truth is that there are only a few weather forecasts on the internet you can trust because most of them are showing just generic data not considering the specific weather characteristics of the Caribbean.
Let us start with some general information, facts and figures. The temperature in Punta Cana year-round is between 66°F (lowest nightly average temperature) and 90°F (highest daily average temperature). This sounds like a huge difference, but in fact, the daily temperatures are always varying between 80°F and 90°F while you have typically between 66°F and 73°F at night. The hottest months are between June and August, the "coolest" between December and February. Depending on the humidity, sun, wind and your personal sensation, temperatures in Punta Cana can seem and feel as high as 100°F.
Monthly rainfall cumulates between 2 to 5 inches per month, with February and March being the driest months and May to October being considerably wetter. However, even during the rainy season, Punta Cana and the Dominican Republic are perfect travel destinations as I am going to explain in the next chapter.
When is rainy season in Punta Cana?
The rainy season in Punta Cana lasts from May to November when rainfall amounts are more or less doubled compared to the dry season from December to April. However, the rainy season in the Dominican Republic is not comparable to the monsoon season in Asia as you still can experience a lot of sunshine during these months.
The rainy season in Punta Cana distinguishes itself by a couple of daily, super heavy showers, which lasts usually between 10 and 20 minutes, often in the morning, in the afternoon and at night. Between those showers, you will have a lot of sunshine and can enjoy the Caribbean heat. Humidity is quite high in those months so be prepared to sweat a lot.
On the other hand, you also can and will have showers in the dry season, just less frequent.
Furthermore, it is important to note that – even in the rainy season – it is quite rare that you have a full day of clouds and rain. It can happen, but from my personal experience at maximum once or twice a month. Therefore also the rainy season is a great time to travel to Punta Cana.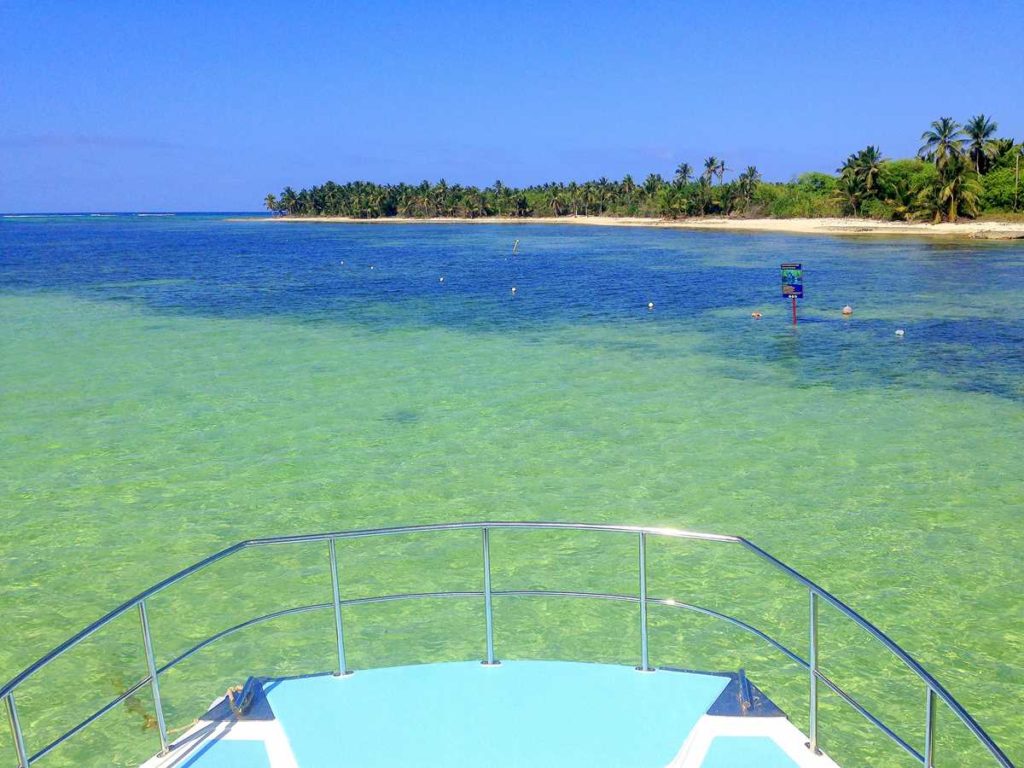 When is hurricane season in Punta Cana?
Another frequently asked question is the one about when the hurricane season in Punta Cana starts respectively ends. Similar to the rainy season, the hurricane season in Punta Cana (and in the Dominican Republic) lasts from June to November. However, it is important to note that most local storms and hurricanes occur quite locally which is why I have only experienced side effects of 1 tropical storm in my full 8-year track-record of living in the Caribbean. The chances of being affected by a tropical storm or a hurricane are exceptionally low. It is hard to predict, but assuming that one disturbance per year is affecting Punta Cana – usually for around 2-4 days – and the hurricane season officially lasts 180 days, chances are in the single-digit area of being affected by bad weather and some serious rain. The probability of getting hit by a hurricane is even lower than 1% and probably lower than in some areas of the United States.
That's why in my opinion Punta Cana and the Dominican Republic are a great year-round travel destination. We never had problems venturing out also during the wetter months and it is always a pleasure to see the lush nature of the Dominican Republic in its full abundance. As an additional plus, prices from May to November are significantly lower. Find more information about this topic in my article about the best time to travel to Punta Cana.
How is the Punta Cana weather in the different months?
Punta Cana weather in January
The weather in Punta Cana in January is usually dry and sunny. While a few showers and partly rainy days from December might overlap, January is a great month to enjoy the best of the Dominican weather.
Punta Cana weather in February
The weather in Punta Cana in February is one of the most stable throughout the year with the maximum amount of sunshine and rain-free days. Usually, temperatures are very pleasant in their low 80's and at night it might get a little bit chilly if you are sensitive to non-tropical temperatures.
Punta Cana weather in March
Similar to February, the weather in March is distinguished by its stability. A few showers are common during every time of the year in the Dominican Republic but you can expect at least 70% to 80% sunshine while enjoying your vacation in Punta Cana on its picture-perfect beaches.
Punta Cana weather in April
In April, the weather in Punta Cana continues to be favorable for worry-free holidays and sufficient beach time without any rain interruptions. However, some rainy days might move in in the second half of April, but depending on the general weather conditions this might also be delayed into May or June.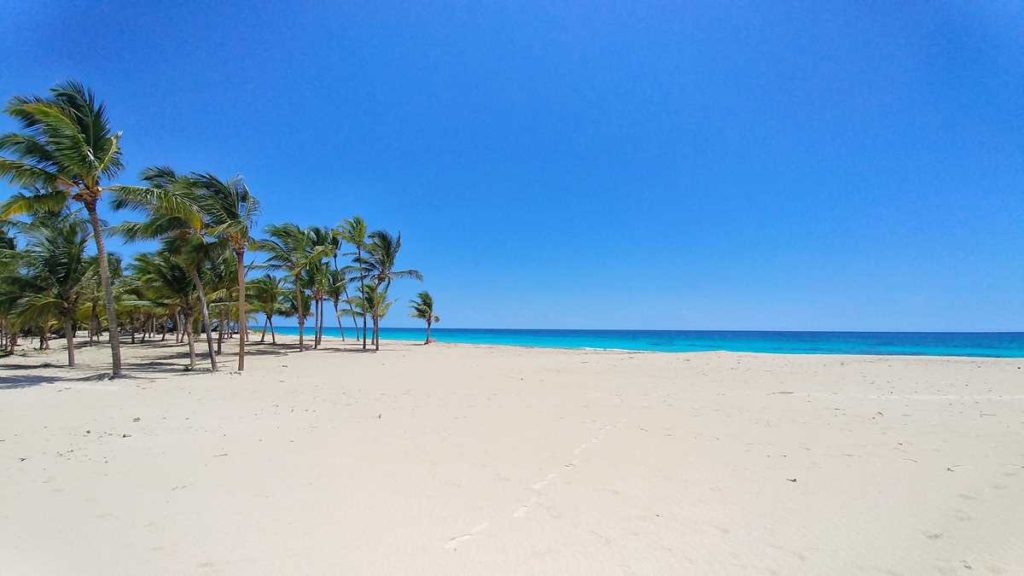 Punta Cana weather in May
Usually, May brings some more rainy days in Punta Cana, but everything is still on a very reasonable level. Showers and sunshine are alternating with less share for the liquid part of it. 😉
Punta Cana weather in June
In June you can start to feel the summer heat in the Dominican Republic as temperatures are regularly climbing over the 90°F mark. June also is the beginning of the hurricane season.
Punta Cana weather in July
The weather in Punta Cana in July continues to be a mix of hot and sunny days, interrupted by heavy, but short tropical showers. The highest temperatures each day should always be in their 90s and above.
TRAVEL COACHING
Save money and time!
Do you need help planning a customized vacation in Punta Cana and the Dominican Republic? Is it difficult for you to decide what and where to book? Would you like to take advantage of someone with years of experience in the tourism industry (knowing all the travel hacks 😉 ) and living right in the place where you would like to spend your holiday?
That's what my personal travel coaching is for. I will design your tailor-made itinerary, tell you how to save money on your trip and send you the best insider tips and recommendations. All the information I send you are crafted with love and passion – and are coming with a money-back guarantee. Let me know how I can help you (check my packages here) and send me a request here!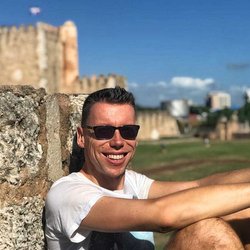 Punta Cana weather in August
August is one of the warmest months in Punta Cana. If you are looking for real Caribbean heat, that is your month to travel. Shower activity is similar to the months before, averaging 5 inches of rainfall per month.
Punta Cana weather in September
This month the weather in Punta Cana continues to be hot and humid, but still with loads of sunshine. Furthermore, September is statistically the most active month for hurricanes and tropical storms. While it is still perfect to travel, it pays off to have a little bit of flexibility in your plans (rental car to move to another area in the Dominican Republic or flexible cancellation conditions in case you'd like to wait for better weather) in case a strong weather disturbance is arriving.
Punta Cana weather in October
In October, you will have a typical mix of tropical weather in Punta Cana: sunshine, rain showers, high temperatures (but not too high), not too chilly nights.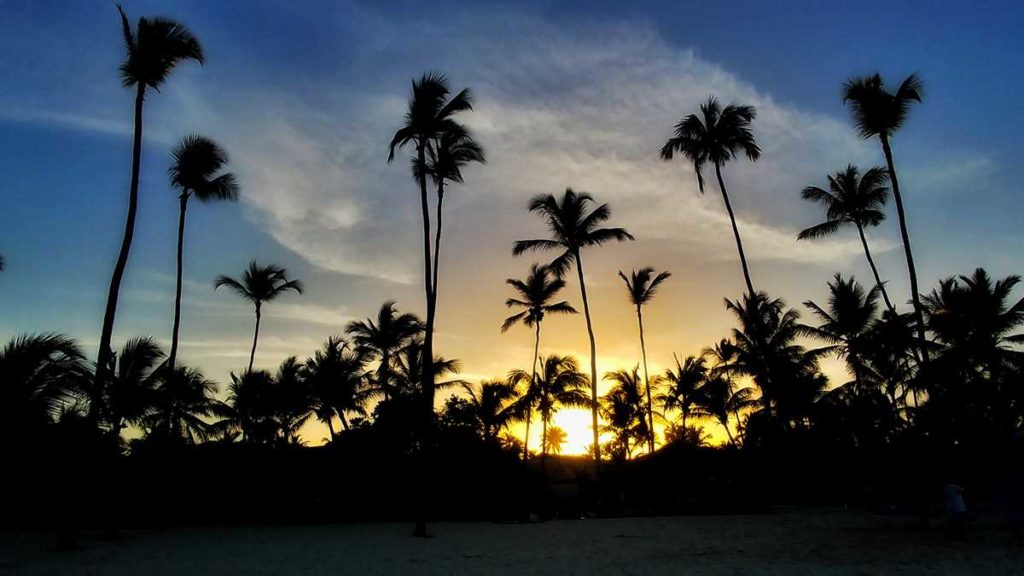 Punta Cana weather in November
If you are looking for an average month of weather in Punta Cana, it might be November. Hurricane and rainy season are ending, so it is unlikely to get affected by any kind of severe weather. Temperatures are dropping a little bit, making it more comfortable to travel for those not preferring the highest Caribbean humidity.
Punta Cana weather in December
December is a wonderful month to travel to Punta Cana weather-wise as we are arriving into the season with stable and dry weather. However, my experience of 8 years in the Caribbean showed me that especially in the second half of the month some heavier showers are somewhat likely.
SHARING IS CARING! IF YOU ENJOYED THIS ARTICLE, PLEASE SHARE WITH YOUR FRIENDS – I WOULD APPRECIATE IT A LOT.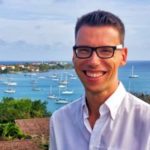 CHRIS
Author, Travel Coach & Punta Cana based digital nomad
Hey, I am Chris, a born and raised German, travel-addictive and Caribbean Soul. Since 2011 I have been living in the Caribbean, among them 5 years in the Dominican Republic. Punta Cana is my home-base here in the country and I'd love to tell you more about how to experience Punta Cana off-the-beaten-track and give you all the advice you want to know for your vacation in Punta Cana.