Hoyo Azul is one of the most famous tourist attractions in Punta Cana – if you look at the photos, you know why. An incredible blue lagoon is waiting for you here, with water as clear as the freshest spring water and some colors which are just too hard to believe. Those are just some of the reasons why Hoyo Azul in Punta Cana is one of the top things-to-do in the area. If you'd like to know how much the entrance fee for Hoyo Azul is, how to get to this amazing cenote and what's the connection between Scape Park Cap Cana and Hoyo Azul, this full guide about the unique Blue Lagoon in Punta Cana is for you.
This is an article about Hoyo Azul, located at Scape Park Punta Cana. If you are interested in a full review of the entire theme park in Punta Cana, check out this article about Scape Park Punta Cana.
Are you interested in further Punta Cana tours? If so, check out our comprehensive Punta Cana Excursion Guide with the most exciting 40+ activities for your vacation.
Completely UPDATED: June 2023
Where is Hoyo Azul?
Hoyo Azul is located in the south of Punta Cana, which is called Cap Cana, an exclusive community with high-end resorts, luxury villas and picture-perfect beaches, located in the east of the Dominican Republic. From most all-inclusive resorts in the Bavaro Beach area, it is around a 30-minute drive. If you stay in a hotel in Cap Cana (such as Sports Illustrated Resorts Cap Cana, Sanctuary Cap Cana, Secrets Cap Cana or Hyatt Ziva / Zilara) it is just a quick 5-10 minutes hop.
What is Hoyo Azul?
Hoyo Azul, also widely known as Blue Lagoon or Blue Hole in Punta Cana, is a crystal-clear freshwater lagoon similar to some of the famous cenotes in Mexico. It is located inside Scape Park Punta Cana and is available for swimming and some moderate cliff jumping (approx. 12-15 feet). This Punta Cana lagoon is particularly famous for its incredible turquoise color, which makes it a unique photo opportunity.
Hoyo Azul Punta Cana and Blue Lagoon Punta Cana are the two most common names, but people sometimes call it a lot of different other names, such as Blue Hole Punta Cana, Ojo Azul Punta Cana, Cenote Hoyo Azul, Laguna Azul, Blue Lake Punta Cana or Punta Cana Cenote.
How to get to Hoyo Azul?
As Hoyo Azul is part of Scape Park Cap Cana, you have two options in going there.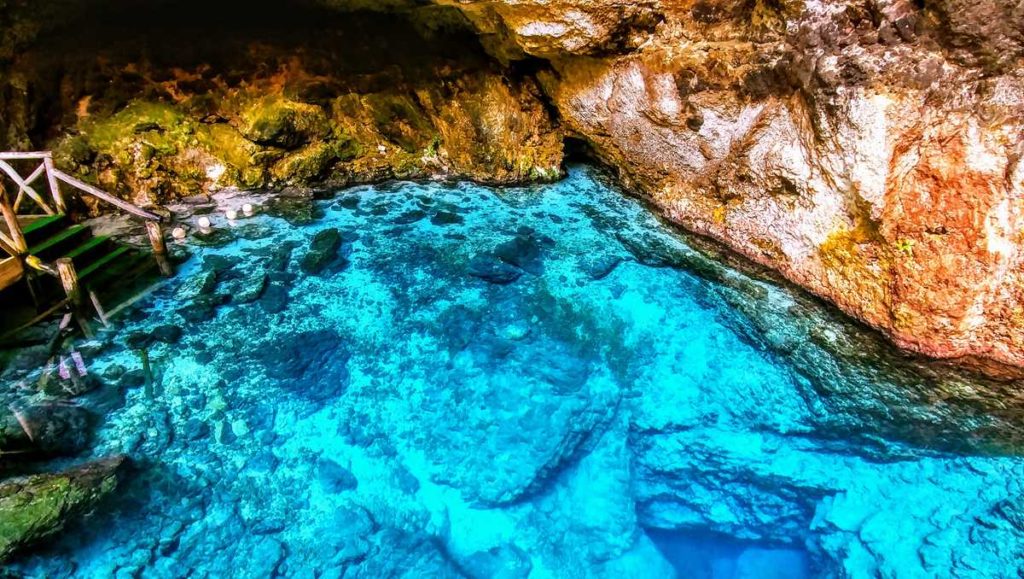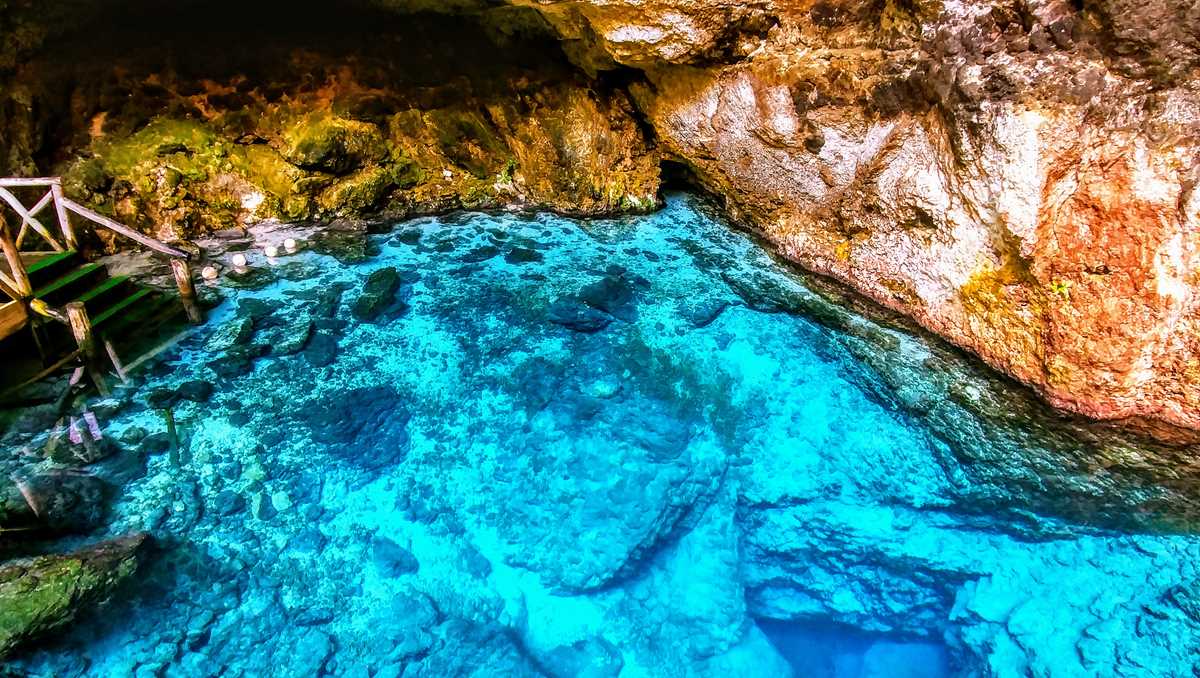 First, you simply can book a Punta Cana excursion to Scape Park Cap Cana*. They are not on the cheap side, but besides visiting the Hoyo Azul in Punta Cana, you have also an exciting ziplining tour included, can visit an interesting cave system, learn more about the Dominican culture and enjoy the waterfalls which are part of the park. Below you can find more about the additional activities at Scape Park Cap Cana.
If you decide to book a full-day excursion to Scape Park Cap Cana*, you also have round-trip transfers included, so it's very easy to get from your all-inclusive resort or alternative accommodation to Hoyo Azul. Just be there at the pick-up time and you get shuttled right to Scape Park Punta Cana.
The second option – especially when you have a rental car (check prices for rental cars from/to Punta Cana here*) – is to head to the Blue Lagoon on your own. You can easily drive to Scape Park Punta Cana and park your car there. It is not more than a 30-minute drive from most areas in Punta Cana. However, you still have to pay the full-day entrance fee for Hoyo Azul and Scape Park Cap Cana (see below for details).
Hoyo Azul Entrance Fee
The Hoyo Azul entrance fee is the same as for Scape Park Punta Cana (get your Scape Park full-day ticket here*). Unfortunately, it is not possible to buy just a ticket for Hoyo Azul, you need to buy a full-day ticket for Scape Park Cap Cana. Besides the Blue Lagoon, this entrance fee includes ziplining, a cave tour, another cenote, a cultural introduction, waterfalls and much more.
The full-day ticket and entrance fee for Scape Park Cap Cana, which includes Hoyo Azul as well, is usually around 130 USD. In the case of promotions, the Hoyo Azul entrance fee might be lower. You can check the current price here*.
If you only want to see the Blue Lagoon cenote in Punta Cana, this is a hefty entrance fee, but considering that you get so many other activities for one price, it is at least reasonable. Read further below if you're looking for a suitable and cheaper alternative to Hoyo Azul Punta Cana.
Visiting Hoyo Azul
Once you have entered Scape Park Cap Cana, you can head straight to the Hoyo Azul. It is approximately a 15-minute walk to the Blue Lagoon, which takes you through lush vegetation and a beautiful botanical garden. If you are a nature lover, you will enjoy this walk.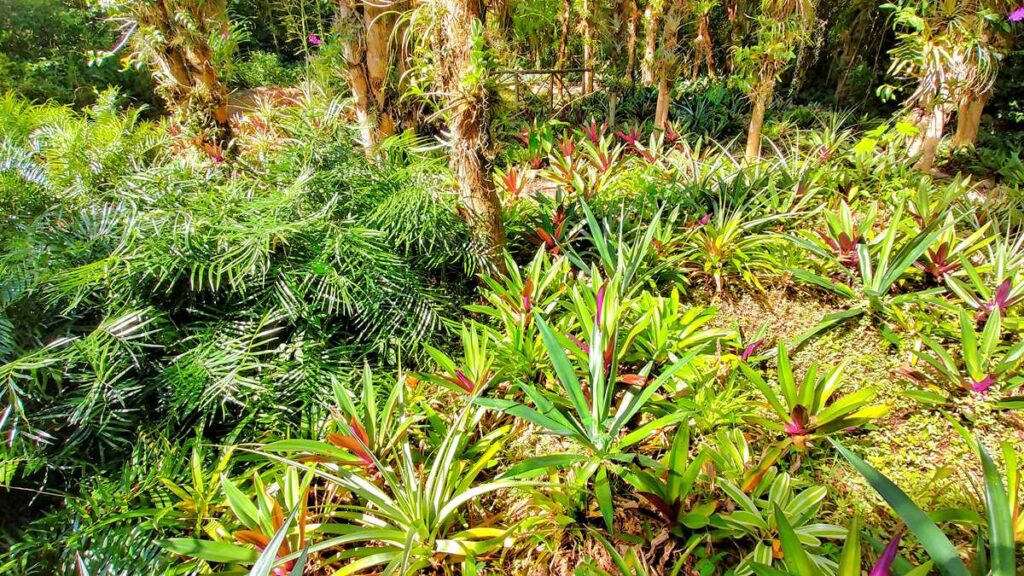 The last part of the journey before reaching Hoyo Azul leads you along some wooden bridges. Once you have passed those, you can see the stunning beauty of the Blue Lagoon cenote. Incredible blue colors, crystal-clear waters like you might have never seen before and impressive scenery dominated by a more than 200 feet high rock wall is what you can expect.
The water of Hoyo Azul in Punta Cana is more than 40 feet deep, but even this depth doesn't refrain you from looking until the ground. But don't worry, even if you can't swim, there are a few areas with shallow waters. Furthermore, Scape Park Cap Cana provides lifejackets free of charge.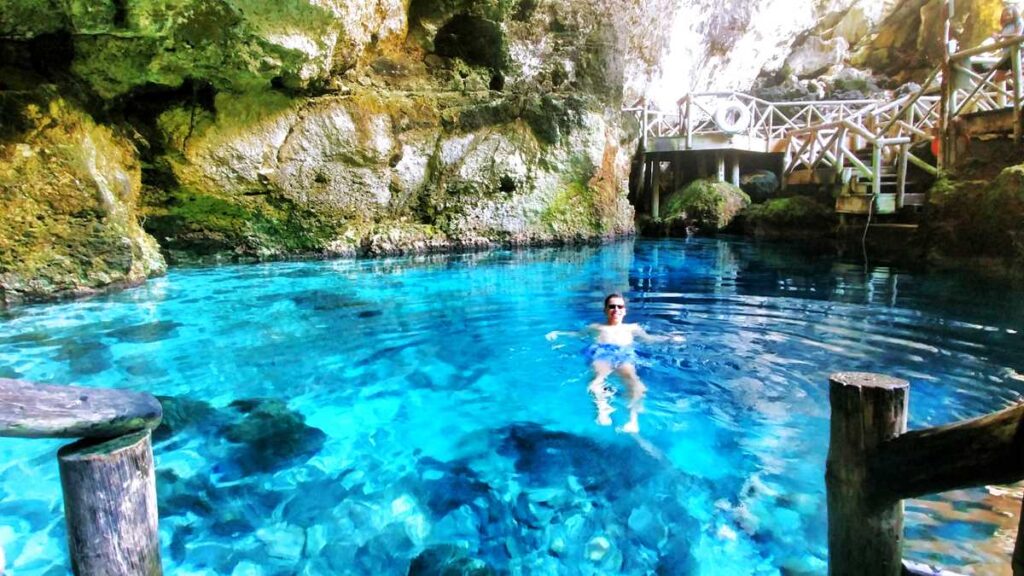 To enter the water of the Hoyo Azul cenote, you can either use the picturesque staircase (make sure to take a photo) or jump from an elevated platform (approx. 5-6 feet) into the Blue Lagoon.
When visiting Hoyo Azul, I am highly recommending coming as early as possible in the morning or later in the afternoon, to maximize your chances to be at the Punta Cana Blue Lagoon without any other people. For stunning pictures, the time of your visit doesn't matter, as the place is shaded nearly all day long due to the lush vegetation in the surroundings and the adjoining rocks.
You can spend as much time as you want at the cenote. Take your time to enjoy Hoyo Azul as long as you want. However, usually the visit to the Blue Lagoon – including the walk through the gardens – takes around 1-2 hours in total.
Other activities at Scape Park Cap Cana
When visiting Hoyo Azul, your entrance fee for Scape Park Cap Cana also includes several other activities, as already briefly mentioned above. Your full-day ticket includes free access to all Scape Park Cap Cana attractions.
The most exciting activity besides Hoyo Azul is the zipline adventure through the entire park. The circuit consists of 8 cables, including some of the fastest and most spectacular ziplines in Punta Cana. There is another separate super cool zipline (included in your ticket as well), which sends you right into the water – fun and joy for the entire family. Check out this article for more information on this and all the other Punta Cana ziplines.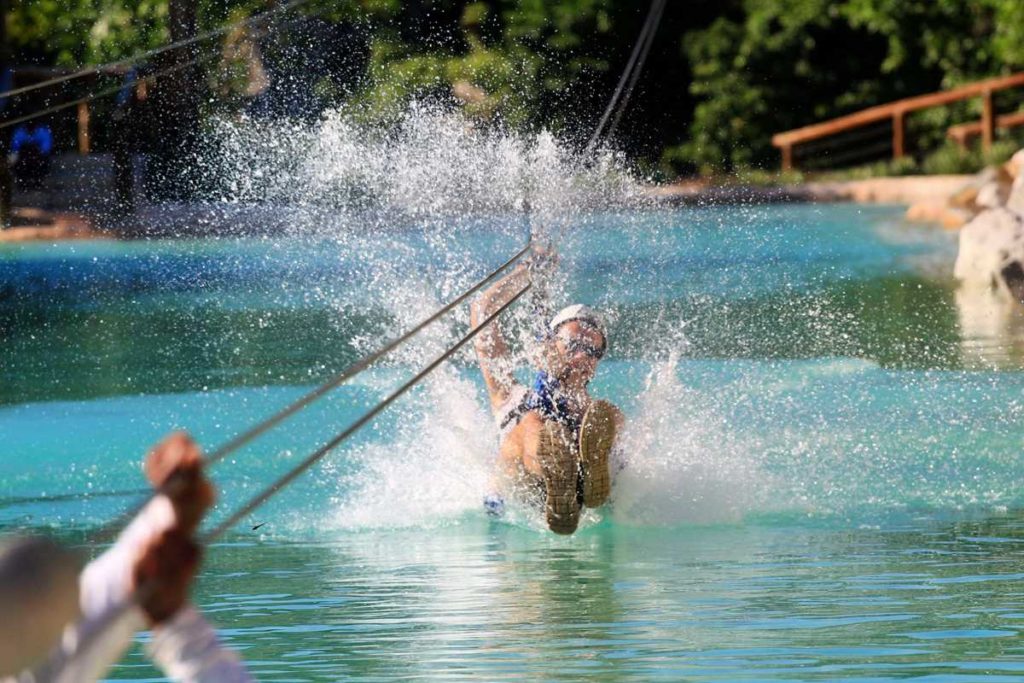 Another interesting attraction next to Blue Lagoon is Cueva Las Ondas. Especially if you love these cenote-style lagoons like Hoyo Azul, you will also like Cueva Las Ondas. It is a subterranean underground lake, beautifully illuminated and perfect for a quick dip. If you have visited Mexico, you will feel reminded of their cenotes. It is also recommended here to either come super early, during lunch time or very late as otherwise the cave might be pretty full – this was at least my experience during my last visit.
Saltos Azules is another water attraction at Scape Park Cap Cana. Enjoy these artificial waterfalls in tropical surroundings and use the water games like flying hammocks to jump into the water. If you want to visit natural waterfalls in the area, check out this guide with the best waterfalls in Punta Cana.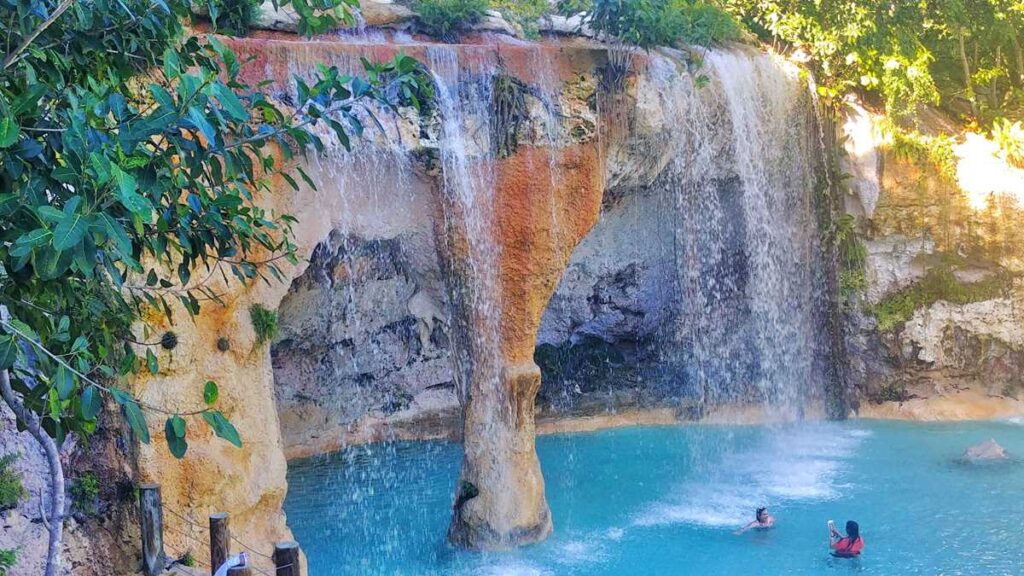 If you want to visit Iguabonita Cave, you can use the turnoff right on the way to Hoyo Azul. It is a secluded and complex cave system, which is illuminated attractively and shows you some of the secrets these centuries-old rock formations have to offer.
Last but not least, you can also have a so-called village walk and learn more about the people and the culture of the Dominican Republic.
As you see, when you buy the full-day ticket for Scape Park Cap Cana, there is so much more included than just the Hoyo Azul entrance fee. You can visit the Blue Lagoon and enjoy all the other activities and excursions of this Punta Cana theme park.
What is included when booking Hoyo Azul?
If you decide on an excursion to Hoyo Azul, you usually have the following services included:
Return transfer from your accommodation in Punta Cana
Hoyo Azul entrance fee (full visit to Blue Lagoon), incl. life vests and orchid gardens
A zipline circuit with 8 cables
Eco-Splash, a zipline that sends you right into the water
Water hammock and rope swings – additional water adventures at Scape Park Punta Cana
Cultural Route (Village Walk) through a bit of Dominican history including the visit of a typical remodeled countryside house
Iguanaland, kind of an iguana zoo
Saltos Azules, artificial waterfalls with blue water in a beautiful setting
Iguabonita Cave, a guided tour through a cave system
Cueva Las Ondas, another cenote, but located in a cave
How to book your ticket to Hoyo Azul
The easiest way to visit Hoyo Azul is to book your Scape Park Cana ticket here*.
Alternatively, you can just head on your own to Hoyo Azul as described above, but you still have to pay the entrance fee for Scape Park.
What is the best Hoyo Azul Excursion?
As described above, Hoyo Azul Punta Cana can only be visited as part of Scape Park Punta Cana. You can't visit the Blue Lagoon individually. Therefore, any Hoyo Azul Excursion you book will lead you to Scape Park Punta Cana.
For the best Hoyo Azul excursion, you can check out this tour inkl. transfer* directly operated by Scape Park Cap Cana. This includes the Hoyo Azul Lagoon, all other activities and attractions as described above and the transfer from and to your resort in Punta Cana.
If any other tour description (particularly any tour which is combined with a dune buggy excursion) mentions Hoyo Azul but not Scape Park Punta Cana, you will most likely visit another random cenote in Punta Cana. There are a couple of other freshwater lagoons and water caves in Punta Cana, but there is just 1 original Hoyo Azul excursion with the ultra-turquoise water – the Blue Lagoon at Scape Park Punta Cana. The other cenotes have darker and less photogenic water.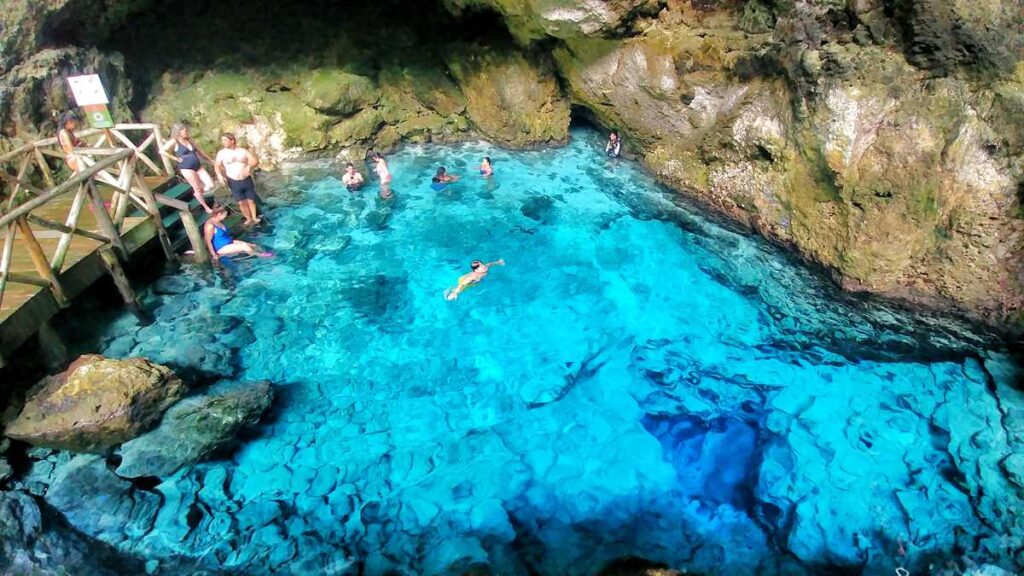 The best alternative for Hoyo Azul: Hoyo Claro
If you feel that Blue Lagoon Punta Cana is too expensive or too touristy for you, you can also check out Hoyo Claro in Punta Cana. It is close to Punta Cana International Airport and only costs around 5 USD entrance fee.
When comparing Hoyo Azul and Hoyo Claro, it has to be noted that Hoyo Claro is by far not as picturesque and photogenic as the Blue Lagoon. Still, Hoyo Claro is a freshwater lagoon and the water is pretty clear. You can also snorkel a bit here, mostly to see the big branch which sunk into the water.
If you want to decide if it is better to visit Hoyo Azul or Hoyo Claro, it is mainly the decision between an organized and fun excursion with lots of other activities such as ziplining, a cave swim, a guided cave tour and cultural experiences (Hoyo Azul) vs. a DIY-adventure where you most likely need a rental car, have to hike around 25 minutes with your own GPS and get to know a local experience (Hoyo Claro). Pick the option which suits you most!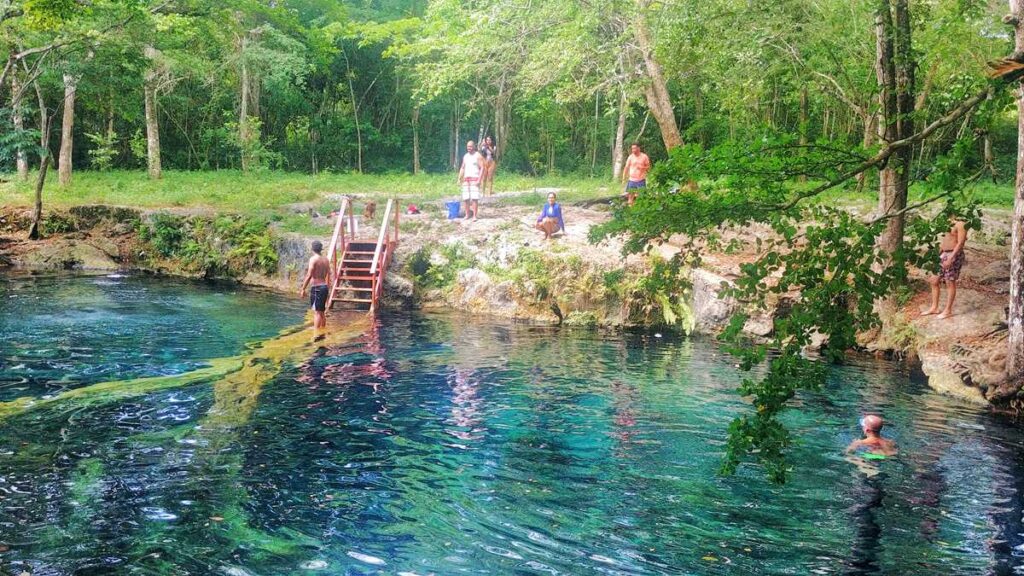 Summary: is it worth visiting Hoyo Azul?
If you can afford the price: absolutely yes!
To be honest, Hoyo Azul is not one of the cheapest things-to-do in Punta Cana. Especially when you just want to have a quick dip into the Blue Lagoon and take a few photos of the cenote, the Hoyo Azul entrance fee seems outrageous. Usually, for lagoons like this, you just pay a few dollars.
However, this is just half of the truth. If you consider that the admission ticket includes a full day of exciting activities at Scape Park Punta Cana and a round-trip transfer as well, the price seems much more reasonable. If you would book a single-day excursion to waterfalls, caves, ziplines and cenotes in Punta Cana, you would easily pay more than 200 USD per person.
From this point of view, it is absolutely worth visiting Hoyo Azul in Punta Cana. It is one of the clearest waters you will find in the Dominican Republic and its color is just so unique and amazing. You definitely feel like in another world when you arrive at the Blue Lagoon.
If you still feel that Hoyo Azul is too expensive, there is another cenote in Punta Cana that is much cheaper. Hoyo Claro is a great alternative to Hoyo Azul Lagoon in Punta Cana, even though the colors and scenery can't compete with the Punta Cana Blue Lagoon.
SHARING IS CARING! IF YOU ENJOYED THIS ARTICLE, PLEASE SHARE WITH YOUR FRIENDS – I WOULD APPRECIATE IT A LOT.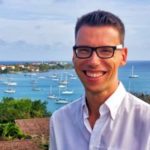 CHRIS
Author, Travel Coach & Punta Cana based digital nomad
Hey, I am Chris, a born and raised German, travel-addictive and Caribbean Soul. Since 2011 I have been living in the Caribbean, among them 5 years in the Dominican Republic. Punta Cana is my home-base here in the country and I'd love to tell you more about how to experience Punta Cana off-the-beaten-track and give you all the advice you want to know for your vacation in Punta Cana.