Los Haitises National Park is one of the most popular national parks in the Dominican Republic and thanks so its sheer size also one of the most diversified. With its dozens of islands, rolling hills, ancient caves and endless bays it offers a habitat for countless species, making it the most important area for flora and fauna in the Dominican Republic. On a trip to Los Haitises National Park – doesn't matter if on a guided excursion or an independent road trip – you can enjoy this unparalleled natural backdrop.
Los Haitises is part of the most exciting attractions in the area. To check out more amazing things to do in Punta Cana, continue reading here.
Are you interested in further Punta Cana tours? If so, check out our comprehensive Punta Cana Excursion Guide with the most exciting 35+ activities for your vacation.
Completely UPDATED: July 2021
What to expect at Los Haitises National Park?
Especially if you are coming from Punta Cana the change of scenery will be awe-inspiring. Busy all-inclusive resorts along the shoreline on the one side, a quiet untouched national park on the other side. Crowds of tourists strolling up and down the beaches in Punta Cana, curious marveling and intense nature and wildlife watching in Los Haitises. But also if you are arriving from other parts of the Dominican Republic, the contrasts can't be bigger which is why Los Haitises National Park is such a worthwhile trip for a day or two.
What you definitely should expect when visiting Los Haitises National Park (Parque Nacional Los Haitises in Spanish) is a superb day out in nature, with sightings of endless mangroves, secluded islands, mystic cloud forests, spectacular views and lush bays. If you watch close enough, you might also spot fantastic wildlife such as frigate birds, manatees and pelicans. If you are passionate about birdwatching, Los Haitises will be your heaven as it is home to two endemic species, the Ridgeway Hawk and the Ashy-faced Owl.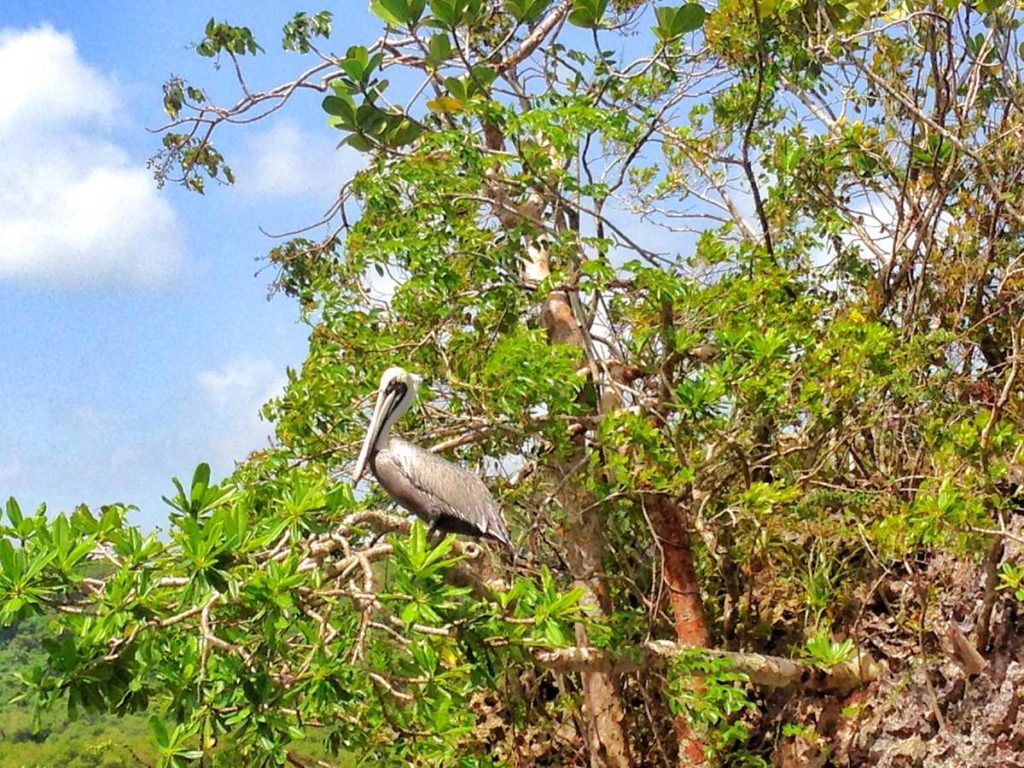 What to do at Los Haitises National Park?
The Los Haitises National Park can be explored by various means: by foot, by boat, by kayak or even (partly) from the air by ziplining. In general, you have a choice between the following activities at Los Haitises:
Sightseeing tours by boat
Guided hiking tours
Kayak tours through the mangroves
Birdwatching tours
Ziplining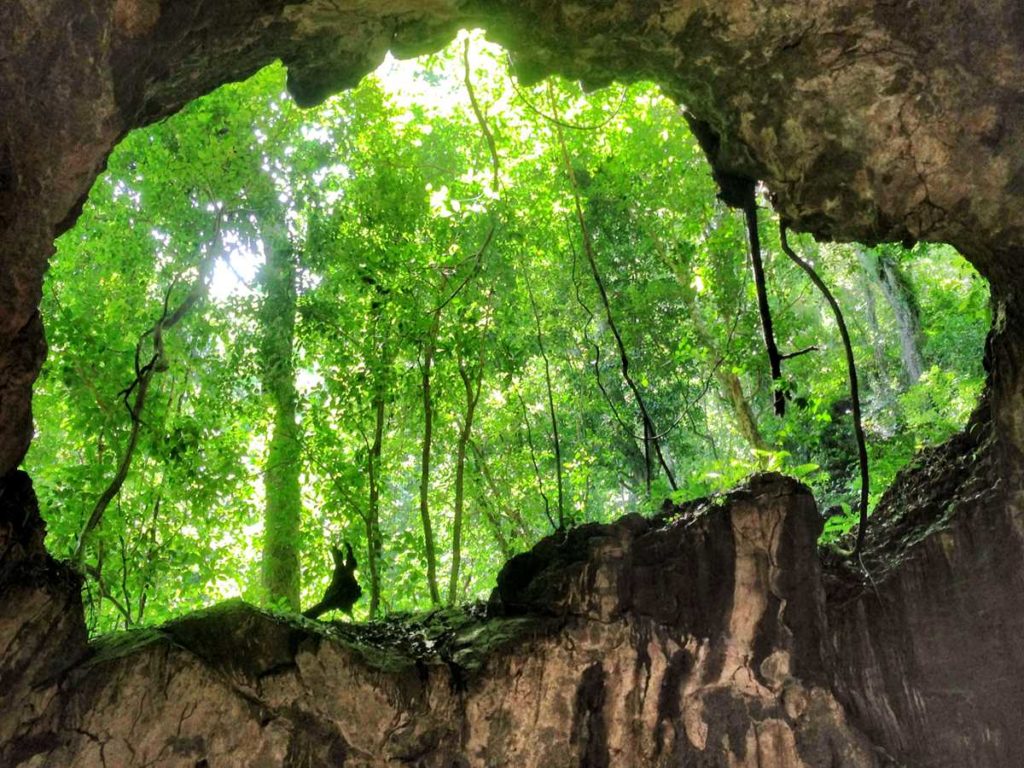 Getting to know the park by boat is the most common way of sightseeing and that's also the way we have done it twice. You board the boat at the little ramshackle jetty of the national park and head off on an impressive journey through the mangroves. When arriving at the vast bay of San Lorenzo, you will get a first impression of how big this unique ecosystem is. When boating through the secluded bays and islands, you might be accompanied by several frigate birds and pelicans. Check the sections below for the best Los Haitises excursions by boat from Punta Cana, Samaná, Las Terrenas and Santo Domingo.
Another big attraction in Los Haitises is the big number of historic caves, where the old native inhabitants, the Taínos, used to live and protect themselves many centuries ago. Nowadays, you still can see cave paintings from these ancient times.
If you would like to explore the national park on foot, I would recommend hiring a guide as the trails are not marked and you might get lost. Vegetation is abundant and you can hike to a cloud forest, the spring of a river or the secluded bays inside the park. Take snacks and plenty of water with you when you head off. See below for the best hiking tours at Parque Nacional Los Haitises.
Kayaking and ziplining are further interesting activities, especially if you would like to explore Los Haitises in an alternative way. While the zipline in the park is more a low-key attraction (better book one of the proper ziplining excursions in Punta Cana) and not comparable to the 12-cable adventure parks you find in Punta Cana and elsewhere in the country, the Los Haitises kayaking tours are an adventurous option for those loving the water. Read on to the following sections if you would like to know how to organize this.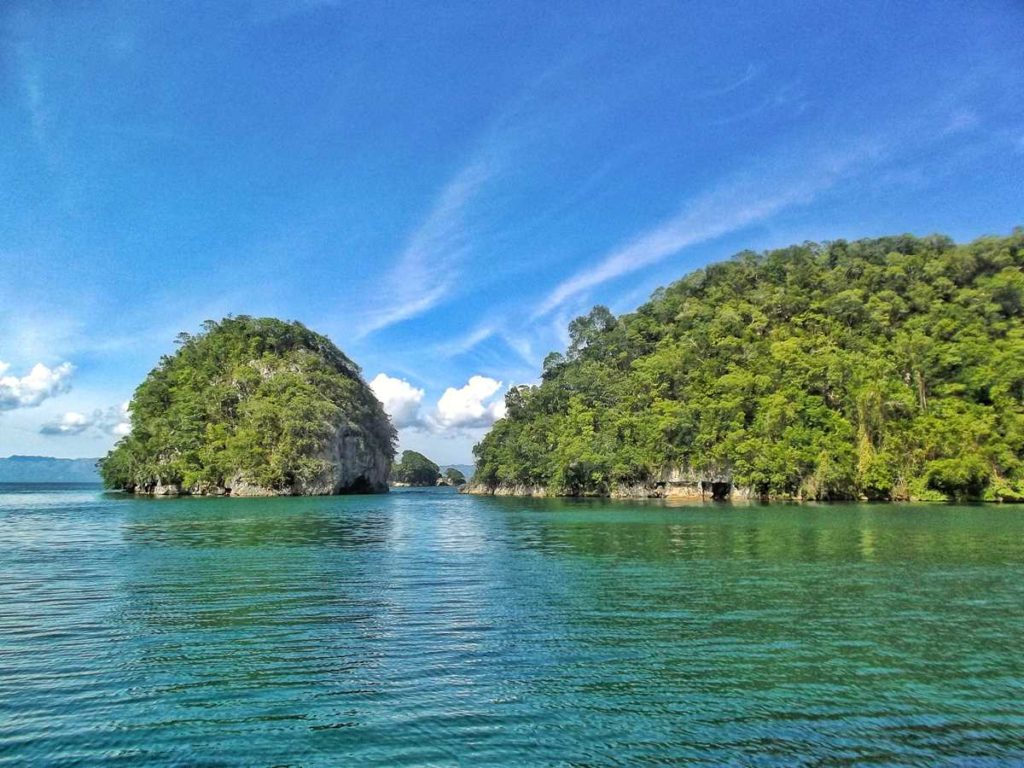 How to organize your Los Haitises National Park tour?
Depending on where you are staying, you have different options of visiting Parque Nacional Los Haitises. Most of them include a Los Haitises excursion, but it is also possible to plan a road trip and stay in one of the Los Haitises National Park hotels*.
Los Haitises National Park tour from Punta Cana
If you are staying in an all-inclusive resort in Punta Cana, booking a guided excursion to the national park incl. transfers from and to your hotel is the most viable option. You get picked up directly in the lobby of your hotel or at your accommodation, have an English-speaking guide plus lunch and drinks included. Usually, those tours include the boat tour mentioned above, a little bit of free time in the park and sometimes a stop in between. There are also Los Haitises tours from Punta Cana combining the national park with other attractions on the way, such as Montaña Redonda, a unique mountain close to Miches you can read more about here. Check out the following Punta Cana excursions to Los Haitises National Park to see if one suits your needs.
Please note that it is a 2.5-hour drive from most all-inclusive resorts in Punta Cana to Los Haitises National Park (3 hours if you one or two stops). It is still an interesting Los Haitises excursion though, but note that it will be a long day. Or in other words, you get good value for money. 😉
If this is too long for you, check out the information below regarding a Los Haitises road trip, so you can split up the trip in 2 days. The long journey is also one of the reasons why Los Haitises tours from Punta Cana are a bit more expensive than the usual Punta Cana excursion. Expect to pay around 140-170 USD per person for a full-day tour incl. lunch, transfer, drinks, boat tour and national park fee.
Los Haitises National Park tour from Samaná
If you are staying in Las Terrenas or Las Galeras, a Los Haitises National Park tour from Samaná is one the best things to do. There are various options available with the combination of Los Haitises and Cayo Levantado being the most popular one.
Most Los Haitises Samaná excursions start from the small bustling capital of the peninsula, Santa Barbara de Samaná. You board the boat, cross the Samaná Bay and head over to the national park, where you are particularly focusing on the several islands, the Taino caves and the wildlife of the park. Some Los Haitises tours from Samaná also enter the mangroves, some don't, this depends a little bit on the specific tour operator and the boat being used. On the way back from Los Haitises, Cayo Levantado is usually a stop on the itinerary (check your tour description), including lunch and free time on the beach.
Cayo Levantado is also known as Bacardi Island and a famous tourist attraction in the Dominican Republic. Even though it might be sometimes a bit crowded (especially when cruise ships are anchoring in the Bay of Samaná) it is a beautiful beach in Samaná with turquoise waters and marvelous views.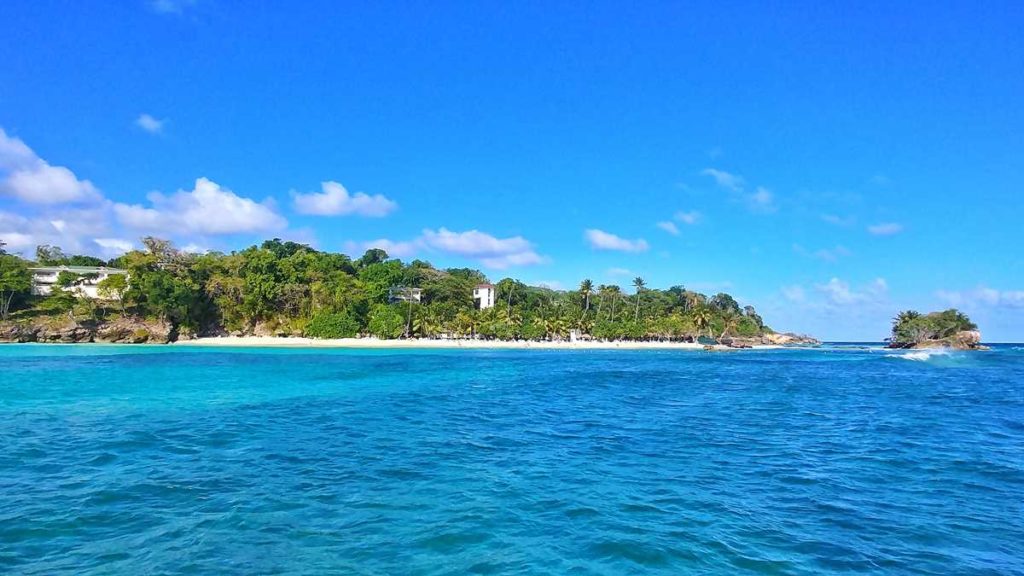 Another option, which focuses more on the nature of the park and is especially suitable if you'd like to skip Cayo Levantado, is a Los Haitises National Park excursion from Samaná including Caño Hondo. In this case, after touring the mangroves, islands, bays and caves of Los Haitises, you continue your journey by boat to Paraiso Caño Hondo*, a beautiful eco-lodge surrounded by waterfalls and natural swimming pools. It is one of only two Los Haitises national park hotels (see further details in the section below). When booking this Caño Hondo + Los Haitises tour* (see the widget below) you have lunch and can enjoy the natural waterfall pools before heading back to Samaná. It is a more off-the-beaten-track tour than the usual Los Haitises + Cayo Levantado excursion.
Los Haitises National Park tours from Las Terrenas can be booked as well. Usually, in this case, you get picked up from your accommodation in Las Terrenas and head to the port of Sanchez, another little town on the Samaná peninsula. From here, you head towards Parque Nacional Los Haitises to enjoy stunning nature before returning to Samaná.
Los Haitises National Park tour from Santo Domingo
Santo Domingo is not much further away from Los Haitises Park than Punta Cana, hence it is a viable option to book a Los Haitises excursions from the capital of the Dominican Republic as well. However, as there are by far not as many tourists in Santo Domingo than in Punta Cana, usually only private tours to Los Haitises National Parks are offered. Those are obviously more expensive but offer a more private experience.
Road trip to Los Haitses National Park
Another option, especially when staying in Punta Cana or Santo Domingo (not so much for Samaná), is to go on a road trip to Los Haitises National Park. You can rent a car (check prices for rental cars here*) and head (from Punta Cana) northwest towards the Los Haitises national park. It is the more adventurous way to do it and gives you more options to customize your tour and to take part in several local experiences and activities presented in the widget below.
When coming from Punta Cana, the drive to Los Haitises National Park in the Dominican Republic is pretty easy as you just have to follow a well-maintained and recently upgraded highway towards Sabana de la Mar. From here it's a bumpy dirt road to get to the park, but after 20-30 minutes you will have reached the two Los Haitises National Park hotels (Paraíso Caño Hondo* and Altos de Caño Hondo*), the only ones in the park.
If coming from Santo Domingo to Parque Nacional Los Haitises, it is a 3-hour drive to the entrance of the park. Especially the part from Hato Mayor to Sabana de la Mar is a little bit more difficult to drive due to a lot of constructions and the road being in a bad condition. If everything goes well, this section shall be completed by 2022 or 2023.
Where to stay at Los Haitises National Park?
In case you decide on the self-drive option, you might consider staying one night at Los Haitises park. Not only because it gives you more time to explore the magnificent area, but also because you can stay at one of the most unique eco-lodges the Dominican Republic has to offer. It is called Paraíso Caño Hondo* (or you can also check out their sister property Altos de Caño Hondo*) and is surrounded by natural swimming pools which are recharged by waterfalls right on the property. Saying this, you can imagine a nearly unreal picturesque scenery with a couple of natural waterfalls right next to your accommodation. Of course, you can also swim in all these pools and refresh yourself in the streams.
Interested? Check out prices and availabilities here:
If you need further information, you can also check out this article about the best eco-lodges in Punta Cana.
Both Los Haitises national park hotels also offer great food (considering the remote location), even though the service is a bit slow sometimes.
A pleasant side effect of staying at Paraíso Caño Hondo is that you can take advantage of all the activities they offer (yet they are not included), among them the aforementioned kayaking, ziplining, birdwatching and hiking, as they have their own guides for everything.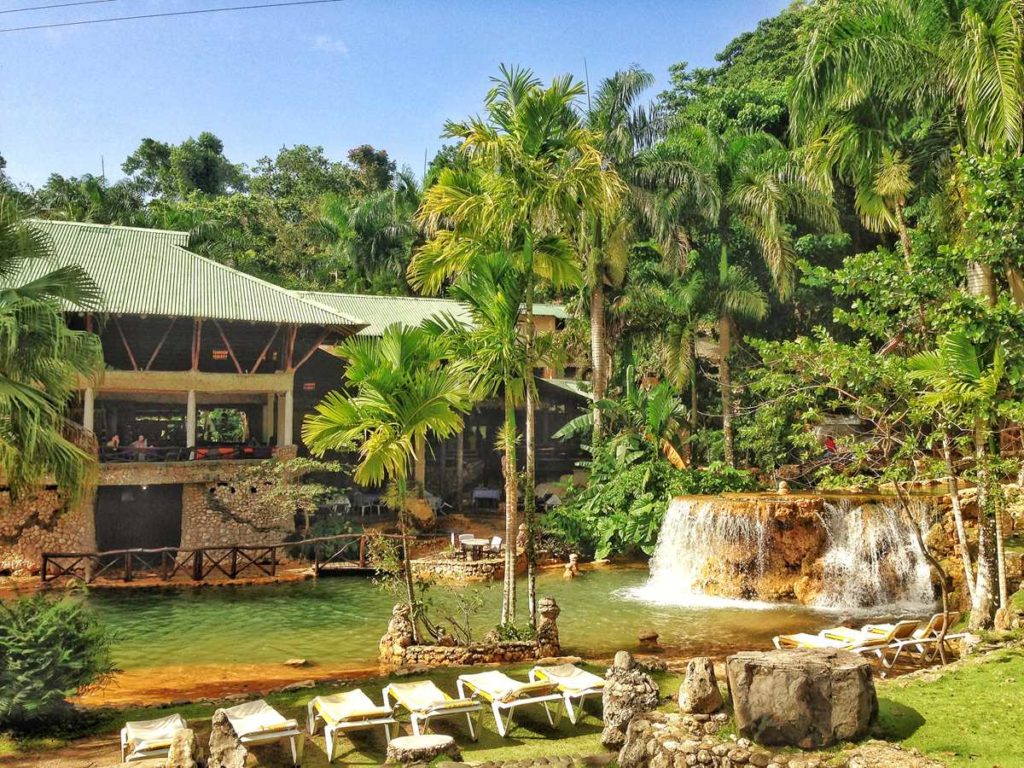 Kayaking Los Haitises (+ other local experiences)
 Kayaking Los Haitises becomes increasingly popular – and deservedly so. It is one of the best places to go kayaking in the Dominican Republic and one of the best ways to explore Los Haitises National Park. With a guide you are going to explore the mangroves of Los Haitises on a kayak tour and will paddle to the impressive Bay of San Lorenzo. Depending on your pace and experience you might make it to the first islands of the bay, but even if not it is a fantastic, peaceful and active way to explore the park. A Los Haitises kayak tour is one of my favorites in the park.
If you are staying at one of the Los Haitises National Park hotels presented above, you can book a kayak tour right on the spot when you arrive. This is also possible without accommodation, but you should call before for availability. Alternatively, you can book one of the following local experiences, even though they are a bit more expensive than booked directly at the hotel.
As you can see, besides kayaking Los Haitises, there are other local experiences available to explore the national park. There are hiking trips, cave visits and Los Haitises birdwatching tours available, which are perfect when you are visiting the national park on a road trip as you have more time than when just booking a Los Haitises excursion from Punta Cana as a day trip.
TRAVEL COACHING
Save money and time!
Do you need help planning a customized vacation in Punta Cana and the Dominican Republic? Is it difficult for you to decide what and where to book? Would you like to take advantage of someone with years of experience in the tourism industry (knowing all the travel hacks 😉 ) and living right in the place where you would like to spend your holiday?
That's what my personal travel coaching is for. I will design your tailor-made itinerary, tell you how to save money on your trip and send you the best insider tips and recommendations. All the information I send you are crafted with love and passion – and are coming with a money-back guarantee. Let me know how I can help you (check my packages here) and send me a request here!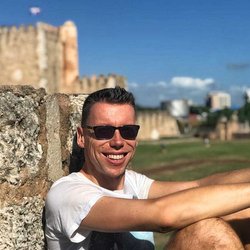 Summary – why to go to Los Haitises National Park?
If you are still doubting if Los Haitises National Park is the right for you, have a look at why it is so unique and why you shouldn't miss this opportunity, especially if staying in Punta Cana:
Los Haitises is the closest national park from Punta Cana offering wildlife, animal watching and a tropical lush environment (there is one national park that is closer but it is not as accessible and is usually just visited for Isla Saona)
Los Haitises offers you an unspoiled, natural and authentic insight into this unique Dominican ecological system
Los Haitises has plenty of wildlife and nearly guarantees you sightings such as pelicans or frigate birds
Even Los Haitises receives regular tourist groups it is by far not crowded and you really can enjoy the beautiful nature and its surroundings
If you go there in your car rental, you can spend the night in one of the most exciting eco-lodges in the Dominican Republic*
Convinced? You will not regret it!
Let me know in the comments if you have any questions.


SHARING IS CARING! IF YOU ENJOYED THIS ARTICLE, PLEASE SHARE WITH YOUR FRIENDS – I WOULD APPRECIATE IT A LOT.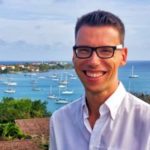 CHRIS
Author, Travel Coach & Punta Cana based digital nomad
Hey, I am Chris, a born and raised German, travel-addictive and Caribbean Soul. Since 2011 I have been living in the Caribbean, among them 5 years in the Dominican Republic. Punta Cana is my home-base here in the country and I'd love to tell you more about how to experience Punta Cana off-the-beaten-track and give you all the advice you want to know for your vacation in Punta Cana.