Bayahibe is the (very) small counterpart of Punta Cana: a few all-inclusive resorts, turquoise waters and a small fishing village. When visiting Bayahibe, one could imagine how Punta Cana was 30 years ago – peace, relaxation and tranquility. But why should you consider Bayahibe vs. Punta Cana?
There are a couple of interesting things to do in Bayahibe, all-inclusive resorts are usually a bit cheaper and two of the most beautiful islands in the Dominican Republic are right next to the little town close to La Romana – doesn't this sound interesting? This Bayahibe Travel Guide explains to you all the differences to Punta Cana and shows you what to do and where to stay in Bayahibe, among much other helpful information.
Bayahibe vs. Punta Cana: the numbers
Bayahibe is a small sleepy fishing village with just 2000 inhabitants. There are only a few hotels, all-inclusive resorts and guesthouses, a lot of excursion tour operators for trips to Isla Saona and Isla Catalina, and a couple of restaurants and locals bars. Everything in Bayahibe is much more low-key and down-to-earth than in Punta Cana.
Just look at the numbers and you'll see the difference:
| | Bayahibe | Punta Cana |
| --- | --- | --- |
| Inhabitants | 2000 | 100000 |
| All-Inclusive Resorts | 10 | more than 70 |
| Airbnbs | approx. 800 | more than 5000 |
| Miles of Beach | approx. 3 | approx. 25 |
| Restaurants/Bars/Food Stalls | more than 50 | more than 300 |
Just from the numbers, you can already see a big difference.
But this doesn't mean Bayahibe is not worth a visit. Contrary, especially if Punta Cana is too busy for you and you like a low-key vibe, it might be the perfect spot particularly if you have already been to Punta Cana. Furthermore, as there is currently (June 2021) some seaweed in Punta Cana (only occurring during the summer months), you have much better chances in Bayahibe of a picture-perfect beach as the water is always super turquoise and the seaweed is close to non-existent, due to the different currents in the ocean. At the end of this article, I am writing a little bit more about the seaweed situation in Punta Cana and Bayahibe.
Why should you visit Bayahibe?
Let's have a look at some of the reasons why you should visit Bayahibe compared to Punta Cana.
You'll find additional information on each point further below in this Bayahibe Travel Guide.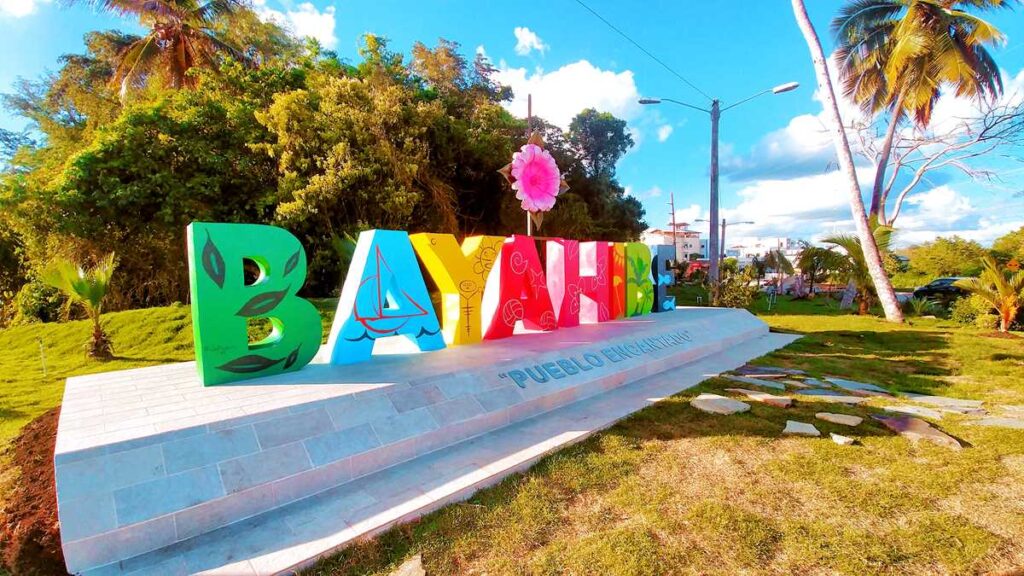 Bayahibe is certainly not for everyone, but it is a more unknown alternative to Punta Cana. You could (theoretically) even count it as part of Punta Cana as the airport transfers to Bayahibe* are not much longer than to the Punta Cana resorts located in Uvero Alto.
Obviously, there are some disadvantages as well. Punta Cana is not for any reason the No. 1 holiday destination in the Dominican Republic. Bayahibe has fewer choices when it comes to accommodation and hotels, most of the all-inclusive resorts in Bayahibe cater to a general crowd. There is just one specific family resort in Bayahibe (Hilton La Romana Family*), only 2 adults-only hotels (Hilton La Romana Adults-Only* and Catalonia Royal*) and no high-end resort.
TRAVEL COACHING
Save money and time!
Do you need help planning a customized vacation in Punta Cana and the Dominican Republic? Is it difficult for you to decide what and where to book? Would you like to take advantage of someone with years of experience in the tourism industry (knowing all the travel hacks 😉 ) and living right in the place where you would like to spend your holiday?
That's what my personal travel coaching is for. I will design your tailor-made itinerary, tell you how to save money on your trip and send you the best insider tips and recommendations. All the information I send you are crafted with love and passion – and are coming with a money-back guarantee. Let me know how I can help you (check my packages here) and send me a request here!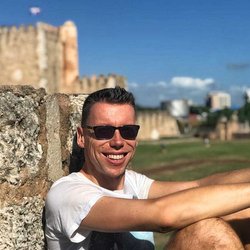 Furthermore, fewer Bayahibe excursions are offered (but there are still many things to do in Bayahibe, as you can see below) and renting a car or moving by public transport is more complicated compared to Punta Cana as well. But this shouldn't prevent you from considering Bayahibe for your vacation in the Dominican Republic.
Airport transfers to Bayahibe (from Punta Cana and Santo Domingo)
 To reach Bayahibe, you have a couple of options which I am explaining briefly here. For further options and information, you can visit my detailed posts about the airport transfers from Santo Domingo and the airport transfers from Punta Cana. There is also a new separate post about all the options for getting from Santo Domingo and Punta Cana to La Romana and Bayahine here.
From Punta Cana International Airport to Bayahibe
Getting from Punta Cana to Bayahibe by private transfer:
The easiest way to get to Bayahibe from the airport is by booking a private transfer from Punta Cana to Bayahibe. It takes less than an hour, brings you right to your Bayahibe resort and costs less than 100 USD per vehicle. You can check out a recommendable operator here*.
Getting from Punta Cana to Bayahibe by a shared shuttle:
If you are traveling to Bayahibe on a budget, you can also consider taking a shared shuttle from Punta Cana Airport to Bayahibe*. They are much more economic but are only worth the money if you are traveling alone or as a couple. If you travel with more than 2 people from Punta Cana Airport to La Romana/Bayahibe, it always pays off to book a private transfer than a shared shuttle.
Getting from Punta Cana to Bayahibe by rental car:
Driving to Bayahibe on your own is also very easy as you just have to follow the highway until the Bayahibe turnoff and continue the road for another 15 minutes. You can check out here if it is recommendable to rent a car in the Dominican Republic.
Getting from Punta Cana to Bayahibe by public transport:
Getting from Punta Cana Airport to Bayahibe by public transport is theoretically possible, but not recommended, as it is pretty complicated (and only possible without big luggage). You have to change busses at least twice (usually even three times) and it takes you an eternity to reach Bayahibe. You can get a first impression here of how the public transport system in Punta Cana works.
Getting from Punta Cana to Bayahibe by Uber:
It is still not fully solved if Uber is allowed at Punta Cana International Airport. Usually, they are not, and the taxis are doing their best to keep their monopoly. Therefore it is not recommended to take an Uber from Punta Cana Airport to reach Bayahibe.
Getting from Punta Cana to Bayahibe by taxi:
A taxi from Punta Cana to La Romana and Bayahibe is a viable option, but the service is not the best. Expect to pay at least 100 USD per way + be prepared to haggle if you end up getting a driver not sticking to the official rates. It is more recommendable to prebook your transfer to Bayahibe*.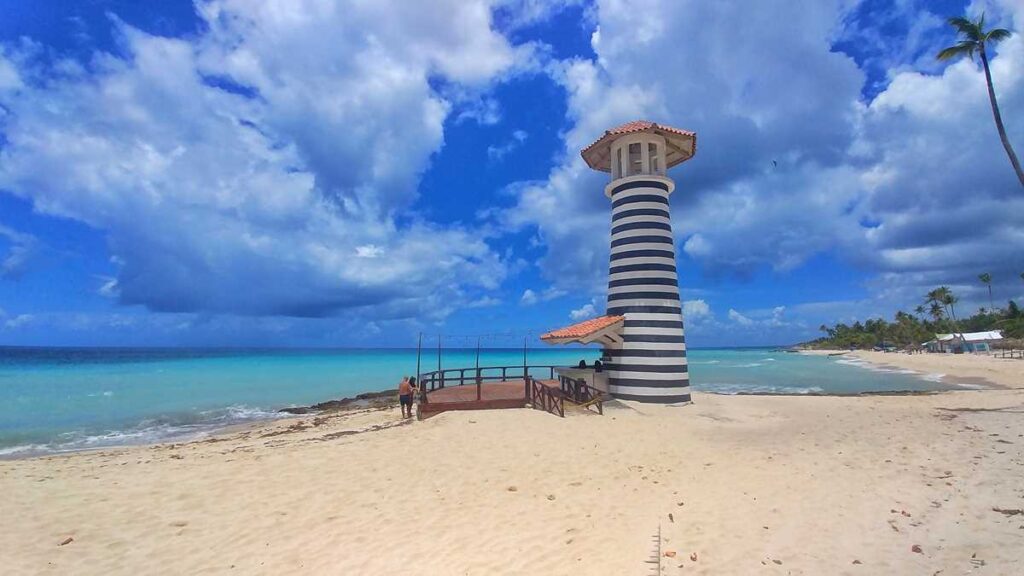 From Santo Domingo International Airport to Bayahibe
Bayahibe is located nearly halfway between the two major airports in the Dominican Republic, Punta Cana and Santo Domingo. From Las Américas International Airport in Santo Domingo, it is a less than 90-minute drive to Bayahibe.
Getting from Santo Domingo to Bayahibe by private transfer:
When arriving at Las Américas International Airport, your easiest option is to take a private transfer from Santo Domingo to Bayahibe (resort or any other Bayahibe hotel & accommodation), which are usually not that much more expensive than from Punta Cana International Airport. They shall be around 100-140 USD per vehicle per way and you can pre-book them here*.
Getting from Santo Domingo to Bayahibe by shared shuttle:
Even when you are arriving at Las Américas International Airport in Santo Domingo, you have the option of choosing a shared shuttle. This option will put you together with other travelers arriving at the same time, allowing a more economic method of airport transportation to Bayahibe.
Getting from Santo Domingo to Bayahibe by rental car:
If you want to see more from the Dominican Republic than just your resort, it is also an option to rent a car in Santo Domingo. The journey from Santo Domingo to La Romana and Bayahibe has just a few twists and is mainly a very easy drive hence a rental car is an option.
Getting from Santo Domingo to Bayahibe by public transport:
Taking public transport from Santo Domingo Airport to Bayahibe is a bit easier than from Punta Cana Airport, but you still need some flexibility, time and only a backpack to make it happen. You can find more information on public transport options from Las Américas here in this article. To get to Bayahibe, you have to get into Santo Domingo. From here, take either one of the few direct busses to Bayahibe or board a La Romana-bound bus and change there to a small Bayahibe van.
Getting from Santo Domingo to Bayahibe by Uber:
Ubers are present at Santo Domingo Airport, but usually, drivers won't take you for the price quoted in the app, especially for long-distance trips as the prices are ridiculously low, particularly taking into consideration the hefty 35% Uber fee. Therefore, be prepared for some negotiations if you really want to use Uber from Santo Domingo to Bayahibe.
Getting from Santo Domingo to Bayahibe by taxi:
Taxis at Santo Domingo Airport are better organized than their Punta Cana counterparts. Rates are starting at around 100 USD to get to Bayahibe.
All-Inclusive Resorts in Bayahibe
Once you are in Bayahibe, you need a place to stay. As mentioned, Bayahibe can't compete with the sheer endless amount of resorts and Airbnbs Punta Cana has to offer, but you still can find a good selection of all-inclusive hotels, guesthouses and other accommodation.
In Bayahibe it is not too complicated to publish a list of ALL all-inclusive resorts in town. There are not more than a dozen, most of them either in the low-budget or medium-class segment. There are no proper high-end hotels yet in Bayahibe, so if you are looking for the best of the best, you better check out those luxury all-inclusive resorts in Punta Cana.
List of all-inclusive resorts in Bayahibe
Bayahibe Resorts sorted alphabetically:
The best all-inclusive resorts in Bayahibe
Not the right resorts in Bayahibe for you? In this case, the Punta Cana all-inclusive resorts offer much more selection.
Accommodation in Bayahibe
If you are not into all-inclusive resorts, why not looking for some other Bayahibe hotels, such as guesthouses, apartments or simply a beach hotel without all-inclusive? All of those options are existing in Bayahibe. Thanks to its small town center, you also have a couple of attractive options when it comes to restaurants and bars. Don't miss the happy hour at the beach bar with a sunset view!
The following Bayahibe hotels are Punta Cana Travel Blogs' recommendations when staying in the La Romana area outside of all-inclusive resorts.
If those are not suitable for your Bayahibe vacation, you can also check this link for further accommodation recommendations*.
Airbnbs in Bayahibe
As nearly everywhere in the world, especially at expat destinations, Airbnb got pretty famous in the country as well. If you are looking for some of the most spectacular Airbnbs in the Dominican Republic, check out this post, but if you are looking to stay at an Airbnb in Bayahibe (or an Airbnb-like apartment), the following options are some of your best picks.
Gorgeous Duplex Loft with Rooftop
This luxury 2-bedroom rooftop apartment is one of the best Bayahibe Airbnb-like apartments in the area. It has a gorgeous decoration, modern design, a fully equipped kitchen and plenty of space to relax and unwind. The highlight of this duplex loft is the rooftop with its comfy seating area and plenty of furniture where you can enjoy a tropical Caribbean breeze. Furthermore, this Airbnb in Bayahibe features two wonderful bedrooms with Asian-inspired elements and beautiful wooden décor. The duplex loft is located in the small Dominicus center and an 8-minute walk away from the beach.
Why it is a unique Airbnb in Bayahibe: one of the most luxurious apartments with a beautiful rooftop is waiting for you
Perfect for: couples and families looking for a gorgeous one-of-a-kind apartment in Bayahibe
Price Range: $$$$
Review Score (as of June 2021): n/a
Further information: check prices and availability here*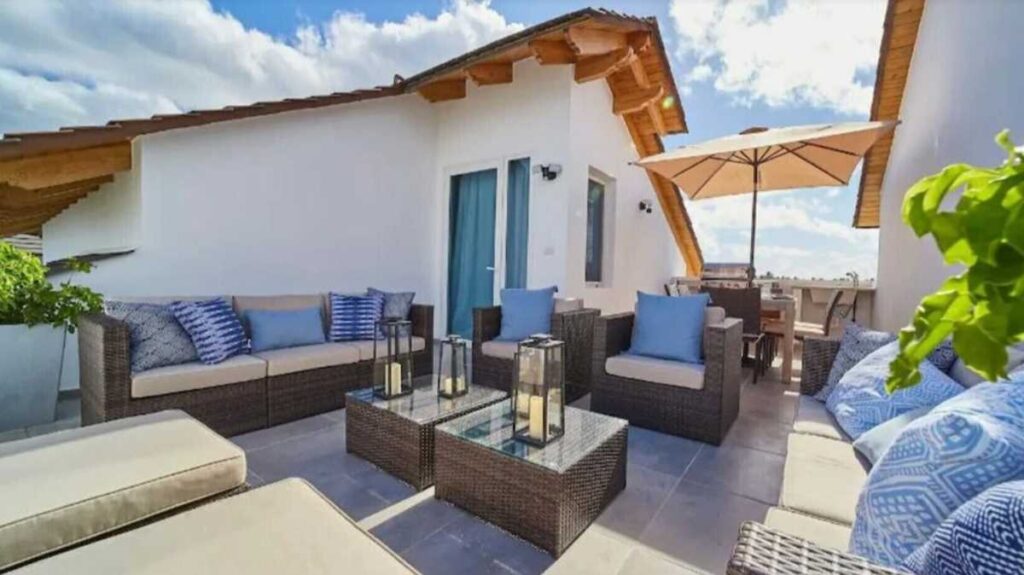 Wonderful apartment with a 270-degree view
If you are looking for a romantic 700 ft² apartment in Bayahibe, you shall give this fully-equipped Airbnb-like unit a shot. Located in the tiny and quiet town center of Dominicus with a couple of restaurants, bars and little stores around, the highlight of this 1-bedroom apartment is its gorgeous balcony open to three sides, allowing wonderful views of the garden, the pool and the surrounding. The coconut palm trees on the property and the beautiful decoration in the apartment and on the balcony are intensifying the perfect Caribbean vibe of this Airbnb.
Why it is a unique Airbnb in Bayahibe: enjoy your breakfast on a top-floor balcony open to three sides
Perfect for: couples looking for a non-all-inclusive romantic getaway in Bayahibe
Price Range: $$$
Review Score (as of June 2021): 9.4/10
Further information: check prices and availability here*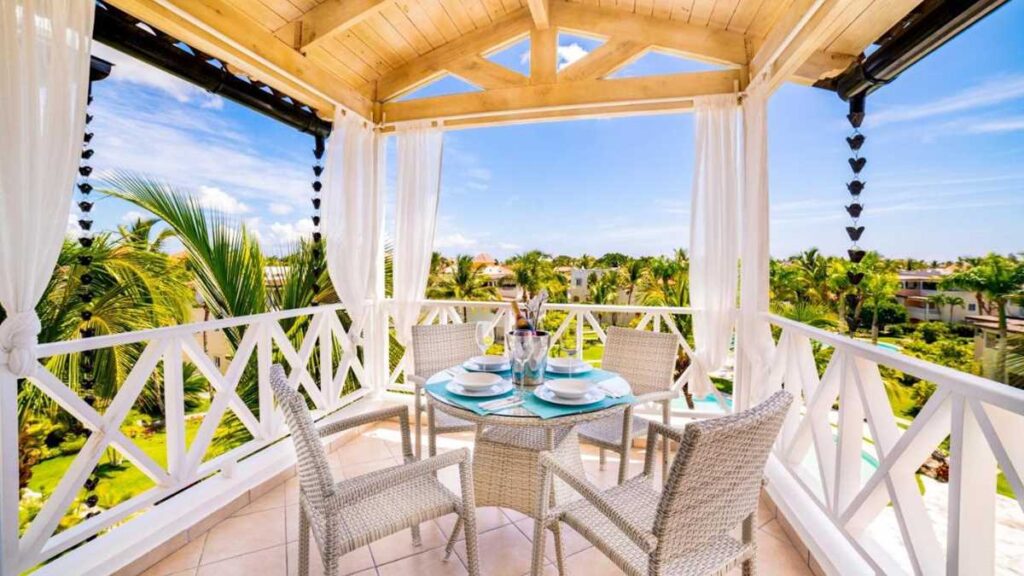 Oceanfront apartment in Bayahibe
If you already want to wake up enjoying the smell of the ocean, this oceanfront apartment in Bayahibe is the perfect choice for you. Featuring two bedrooms, a living room, a fully equipped kitchen and a veranda with unobstructed ocean views, you can't be much closer to the sea when looking for a vacation rental in Bayahibe outside of the big all-inclusive resorts. With several pools and a beach club belonging to the property of this Bayahibe Airbnb, you can also relax without going to the beach, which is just a quick walk away.
Why it is a unique Airbnb in Bayahibe: similar to Punta Cana, there aren't many (affordable) oceanfront apartments in Bayahibe, but this one is a great pick!
Perfect for: travelers wanting to stay right at the ocean, but not in an all-inclusive resort
Price Range: $$$$
Review Score (as of June 2021): n/a
Further information: check prices and availability here*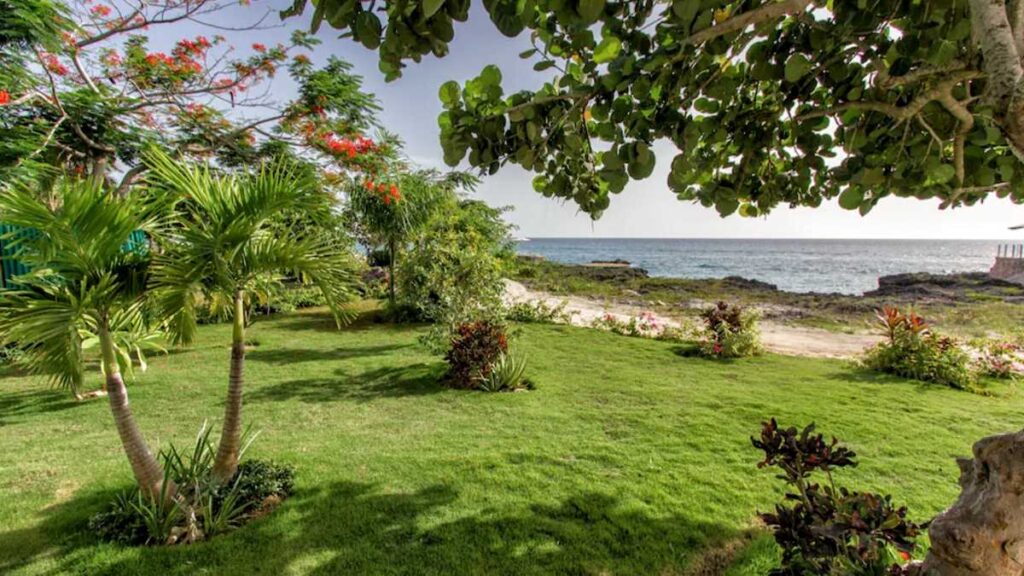 Beaches in Bayahibe
Bayahibe has two public beaches, Bayahibe Beach and Dominicus Beach. Both offer very clear water with a turquoise color. You even have some off-the-beach snorkeling opportunities, even it isn't anything spectacular.
What makes Bayahibes' beaches unique is that they are a great alternative in the current Punta Cana seaweed situation (which is a problem of the entire Caribbean incl. Central America). While the beaches at Punta Canas' all-inclusive resorts are usually getting cleaned as good as they can, the public beaches in Punta Cana are sometimes swamped with seaweed (usually during the summer months only and only during certain years). That's not the case at Bayahibe Beach nor at Dominicus Beach as the currents protect them from being exposed to the Atlantic Ocean.
Bayahibe Beach
Bayahibe Beach is the one located closest to the town center of Bayahibe and is most popular among locals. It has just one all-inclusive resort on the western end, the other parts of the beach are scattered with coconut palm trees, local seafood restaurants and some souvenir shops. The water is pretty shallow and clear and there is a reef close to the beach which you can explore snorkeling.
Where to stay at Bayahibe Beach: Hilton La Romana is the only accommodation at Bayahibe Beach. Depending on your travel group, you can either book the family section* or the adults-only hotel*. It is one of the best and most popular Bayahibe all-inclusive resorts.
Where to eat at Bayahibe Beach: There are several informal beach shacks where you can get a typical Dominican beach lunch: fried fish, salad, fried plantains (called Tostones), rice, beans and some other side dishes.
What to do at Bayahibe Beach: The watersports center of Hilton La Romana is also available for outside guests, so you can book your diving excursion* here or have a ride on the banana boat. All the excursions to famous Isla Saona are also starting at the southern end of Playa Bayahibe.
How to get to Bayahibe Beach: From the town center of Bayahibe, there is a road leading right to the beach. You can park your car at the end of the road. If you are staying in a hotel in Bayahibe close to the village, you can also walk to Bayahibe Beach.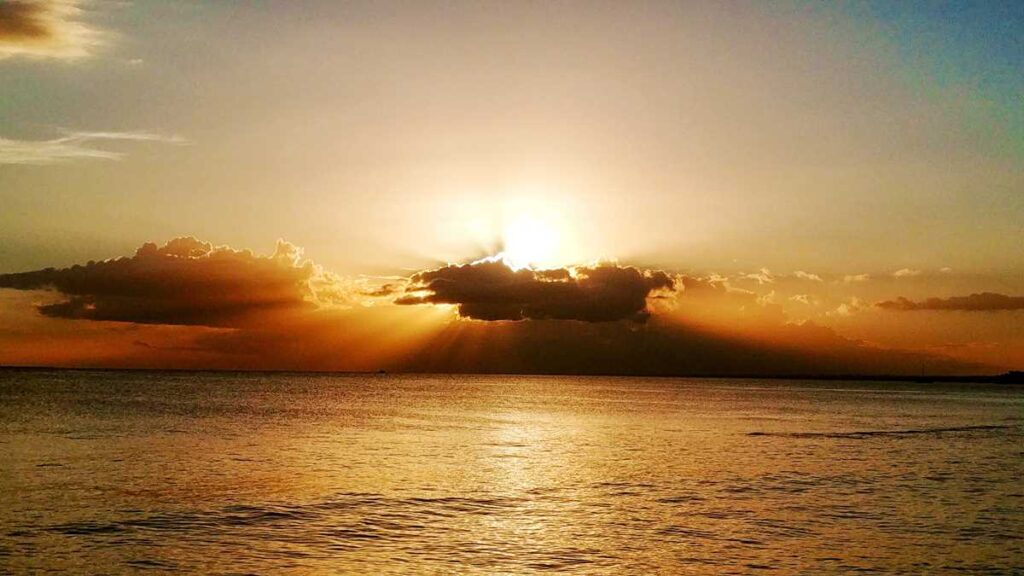 Dominicus Beach
Dominicus Beach is the second public beach in Bayahibe and is home to the famous Bayahibe lighthouse, which can be easily visited walking. Furthermore, Playa Dominicus offers a beautiful setting, turquoise water and some decent snorkeling opportunities. While most of the beach is lined by Bayahibes' all-inclusive resorts, there is a public section with restaurants and shops. As all beaches in the Dominican Republic are public, you can also walk along the resorts' beaches, but there aren't any amenities.
Where to stay at Dominicus Beach: The majority of Bayahibe's resorts is located at Dominicus Beach, but unfortunately not a single individual accommodation. For the best all-inclusive hotels along Playa Dominicus, you can check out Iberostar Hacienda Selection Dominicus* or Dreams Dominicus.
Where to eat at Dominicus Beach: Restaurant Los Lagos is a local restaurant with a proper seating area. There are some further local shacks and snack shops selling local food and fried fish.
What to do at Dominicus Beach: A must-do is to visit Faro Bayahibe, the lighthouse of the town. It is a beautiful photo opportunity (see the photo in the upper part of this Bayahibe Travel Guide) and can be reached walking along Dominicus Beach.
How to get to Dominicus Beach: Head to the center of Dominicus and look for Avenida Eladia, which brings you right to the beach. If coming by car, you can park your car at the parking lot at the end of the road, if you are staying in one of the several Airbnbs in Dominicus, you can easily walk to the beach in 5-10 minutes.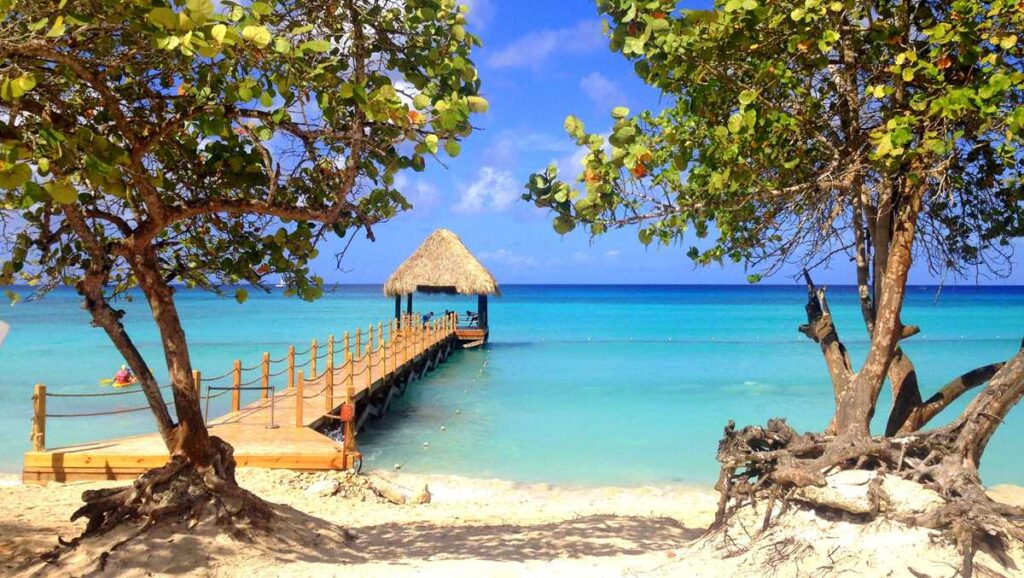 The 10 best excursions in Bayahibe
Even Bayahibe can't compete with the diversity and variety of the things to do in Punta Cana, there are plenty of tours and excursions in Bayahibe you can do. For a better overview, we have put together a list of the best Bayahibe excursions you can do during your holiday.
(mobile users: please turn your device to landscape mode to enjoy the best view of this table)
| Bayahibe Excursion | Description | Further information |
| --- | --- | --- |
| Isla Saona Excursion | Isla Saona is the No. 1 excursion in Bayahibe and the Dominican Republic. And that's not without a reason as Saona is the most beautiful island in the Dominican Republic with its endless and fantastic beaches. Furthermore, you can enjoy a catamaran cruise, the natural swimming pool and many beautiful views – a perfect day in the Caribbean. You can read more about Isla Saona here. | |
| Isla Catalina Excursion | Isla Catalina excursions are usually starting in La Romana, but this shouldn't stop you from checking out the little sister of Isla Saona as some providers offer transfers from Bayahibe included for this excursion. Catalina Island is less visited, offers better snorkeling and a full-day catamaran experience. Check out more information about Isla Catalina here. Isla Catalina is also the better excursion compared to Isla Saona when it comes to snorkeling. | |
| Diving Trip | If you'd prefer to enjoy the ocean under the water instead of over the water, diving in Bayahibe is your activity to choose, especially as this area is known to offer some of the best diving in the Dominican Republic, thanks to high visibility and plenty of wrecks and reefs – much better than in Punta Cana. | |
| Ziplining Excursion | If you rather prefer to pour out some adrenaline on land, ziplining might be your best choice. Fly like a bird and enjoy the tropical scenery in the Anamuya mountains, including a beautiful river and lush vegetation. There are couples' ziplines as well, so you can have a little competitive race who is flying faster. | |
| Buggy / ATV-Tour Excursion | Not less action-packed is this Bayahibe Excursion with ATVs respectively buggies. On this trip, you can discover the backcountry of Bayahibe and the La Romana area with its remote villages, endless sugar cane plantations and plenty of dirt tracks. Be prepared to see the real Dominican Republic on this Bayahibe excursion. | |
| E-Bike Tour | For a more relaxed experience, an e-bike tour is another option for an exciting excursion from Bayahibe. You see similar areas like during the ATV tour, but everything is a bit smoother. On this tour, you'll get to know Bayahibe's appearance behind the walls of its all-inclusive resorts. In the end, you can enjoy a refreshing dip into one of Bayahibes' secret underground lagoons. | |
| Excursion to Santo Domingo | If you are interested in the cultural heritage of the Dominican Republic, Santo Domingo is a must-see for you. It is available as an excursion from Bayahibe, and compared to the Santo Domingo tours from Punta Cana, the transfer time is much shorter, which gives you more time to enjoy the stunning Colonial Zone with its colorful buildings and colonial architecture. | |
| Rio Chavon River Tour | Rio Chavon is a legendary river close to La Romana where you can enjoy an upriver cruise through the tropical vegetation with a wooden riverboat. Most of these River Chavon Excursions from Bayahibe are combined with other activities, such as an Isla Saona tour or a trip to Altos de Chavon. | |
| Altos de Chavon Excursion | Altos de Chavon is a famous village resembling a Meditteranean town high above the River Chavon. It can be accessed through Casa de Campo and is an exclusive area with picturesque and photogenic spots, even though it doesn't fit into the Dominican Republic. It is a little bit artificial, but it is not far away from Bayahibe. | |
| Countryside Excursion from Bayahibe | If you want to learn more about the culture, traditions and people in the Dominican Republic, this countryside safari is a recommendable excursion from Bayahibe. You'll learn everything about the different products originating from here (sugar cane/rum, cacao/chocolate, tobacco/cigars, fruits, etc.) and visit different areas, such as the provincial capital of Higuey. | |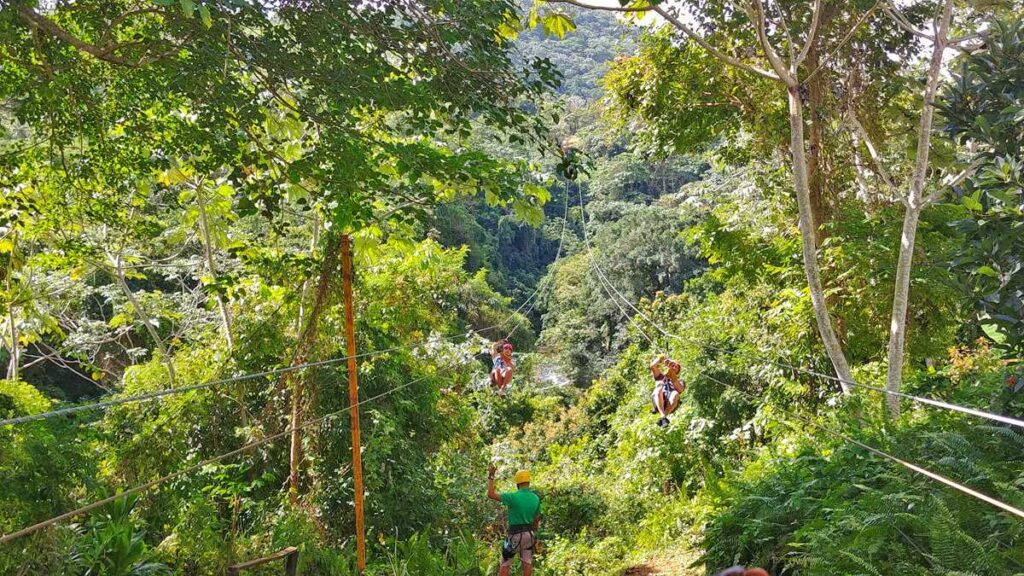 Things to do in Bayahibe
Besides organized excursions from Bayahibe, you can also venture out on your own and explore different areas. Even the town is not full of adventures, but there are some interesting things to do in Bayahibe you shouldn't miss and where a guided tour is not necessarily required.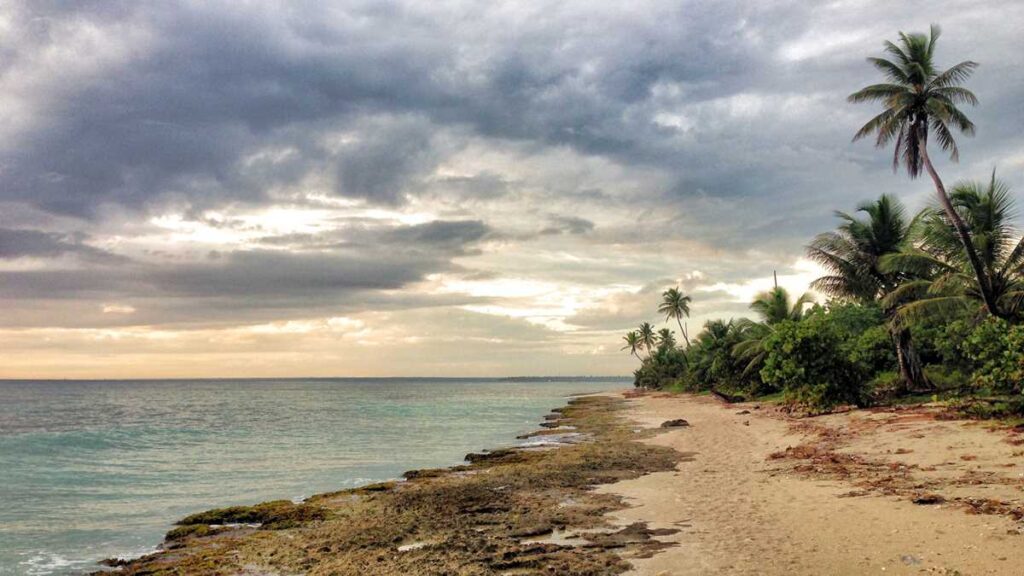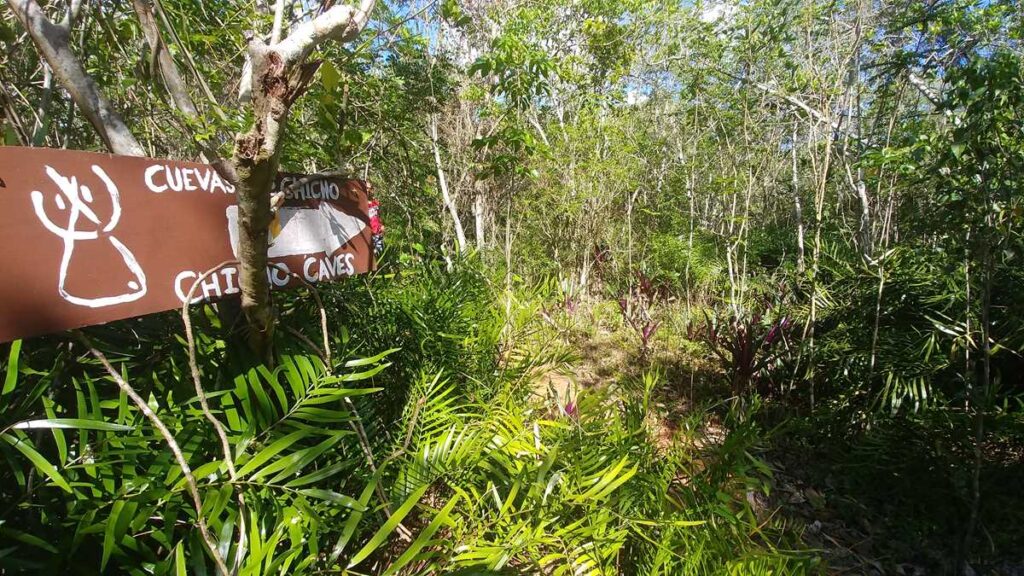 Restaurants in Bayahibe
If you are staying outside of the usual all-inclusive resorts and are looking for some restaurants, Bayahibe gets you covered. Even you might not find the top-notch beach clubs and fine dining experiences Punta Cana is famous for but you won't have a problem finding some good Dominican and International fare. Besides local eateries, there are particular many Italian restaurants, as Bayahibe is highly frequented by Italian expats and tourists.
Some of the best Bayahibe restaurants include:
Las Palmas, as close as it can get for a fine-dining restaurant in Bayahibe
Chez Lolo, a French-Spanish fusion restaurant in Bayahibe
Mama Mia, very affordable Italian fare in Bayahibe
La Bahía, a Bayahibe restaurant with typical Dominican seafood and fresh fish
Tracadero, an upscale restaurant with a beach club vibe
The weather in Bayahibe
The weather in Bayahibe is similar to other parts of the Dominican Republic, although in general a little bit drier, especially when comparing to the mountain areas of the country or the beautiful and tropical Samaná peninsula. I won't give you any scientific explanations as I am not a meteorologist, but the vegetation of Bayahibe, mostly arid not as tropical as other areas in the Dominican Republic, can act as proof.
Therefore, if one doesn't look at every single detail, you can easily assume that the weather in Bayahibe is similar to the weather in Punta Cana, which you can read here in detail.
In few words, it can be characterized by a tropical climate, always warm, sometimes hot, with occasional showers throughout the year. Officially, the dry season runs from December to April, with daily temperatures ranging between 79 and 85°F, dropping to around 68°F at night. Showers in Bayahibe are rare, there might be some liquid sunshine the one or other day for a few minutes.
Bayahibe temperatures during summer – from May to September – are slightly higher and can be up to 94°F. The rainy season officially lasts from May to November but is not comparable with the typical monsoon season in Asia. The rainy season in the Dominican Republic is characterized by a few showers a couple of days per week, usually quite heavy in the morning and the evening or at night, with a lot of sunshine in between. Completely overcast days are quite rare, maybe 3-4 per month.
The major months for the hurricane season in Bayahibe are from August to October.
Seaweed in Punta Cana – is Bayahibe the better option?
One of the main reasons to come to Bayahibe is the ocean – it is so clear, turquoise and like a Caribbean dream. Even Punta Cana has the better beaches, the tranquility and color of the sea in Bayahibe can compete and probably even beat Punta Cana. But in the end, you are fine with either option.
However, there is one reason why you might consider Bayahibe over Punta Cana, especially now in the summer months of 2021: the Punta Cana seaweed. After some easy-going years with just some light occurrence of seaweed, 2021 has hit Punta Cana and the entire Caribbean including Central America pretty hard. Tons of seaweed is on its way from the Atlantic to get stranded everywhere in the Caribbean Sea, especially at east-facing beaches. So Punta Cana is not alone with its seaweed, it is an entire Caribbean problem.
However, the good news is that Bayahibe usually doesn't have any seaweed as the bay is protected by the peninsula home to the Cotubanama national park. Bayahibe opens up to the west, so it is cut off from the typical Atlantic currents, which is the reason why the ocean is so super calm in Bayahibe – and why there is no seaweed, as opposed to Punta Cana.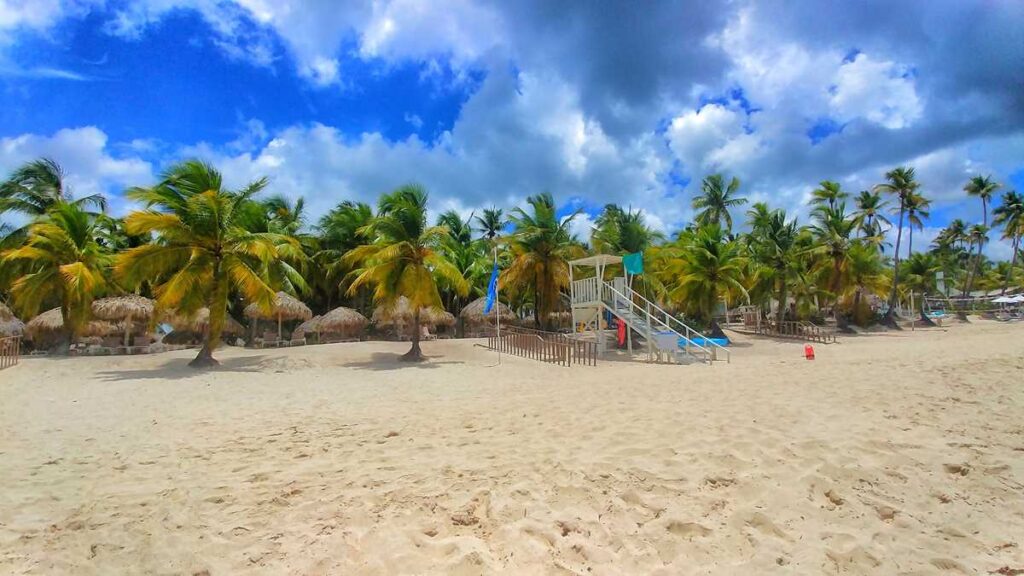 Further information and next destinations
Alright, do you feel well informed about Bayahibe after reading this Bayahibe Travel Guide? It features all the important information to plan your vacation in this little fishing village.
If you are looking to save some money while planning your all-inclusive vacation in Bayahibe, you can continue reading here where I am explaining how to save money during your holiday in the Dominican Republic. And if you are wondering about pricing, you can check this post about the prices in Punta Cana, which mostly applies to Bayahibe as well.
You can also find articles here on Punta Cana Travel Blog about additional destinations in the Dominican Republic. Thus if you like to continue your trip to the capital city, check out the best things to do in Santo Domingo and 10 reasons why to visit the Colonial Zone. If you are planning to book a car hire in the Dominican Republic, you shouldn't miss reading my road trip ideas for the Dominican Republic, among them a 1-week itinerary to the Central Mountain Range and a multi-day road-trip itinerary to Samaná.
For whatever option you decide, make sure to stop by in Bayahibe and enjoy your holiday in the Dominican Republic.
SHARING IS CARING! IF YOU ENJOYED THIS ARTICLE, PLEASE SHARE WITH YOUR FRIENDS – I WOULD APPRECIATE IT A LOT.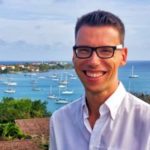 CHRIS
Author, Travel Coach & Punta Cana based digital nomad
Hey, I am Chris, a born and raised German, travel-addictive and Caribbean Soul. Since 2011 I have been living in the Caribbean, among them 5 years in the Dominican Republic. Punta Cana is my home-base here in the country and I'd love to tell you more about how to experience Punta Cana off-the-beaten-track and give you all the advice you want to know for your vacation in Punta Cana.