Some time ago we visited Scape Park Cap Cana, a new and exciting theme park in the south of Punta Cana, around 30 minutes away from most of the areas all-inclusive resorts. Instead of roller coasters, white-water rides or bumper cars this amusement park is designed around a tropical theme with activities such as ziplining, blue lagoons and lots of other water attractions. Have a look at the following post to see if it is worth to visit Scape Park Cap Cana and what you can expect in this unique theme park in the Dominican Republic.
Scape Park and its Blue Lagoon are part of the most exciting attractions in the area. To check out more amazing things to do in Punta Cana, continue reading here.
If you only would like to visit the Blue Lagoon, continue reading this comprehensive article about Hoyo Azul.
Are you interested in further Punta Cana tours? If so, check out our comprehensive Punta Cana Excursion Guide with the most exciting 35+ activities for your vacation.
What is Scape Park Cap Cana?
Scape Park Cap Cana is an amusement park designed around a tropical and Caribbean theme. Even it has the organizational and pricing structure of a theme park (the entrance fee allows you to stay in the park the whole day and to use all the attractions as much as you want) it is not the typical kind like Six Flags, Disney World, etc.
Instead, Scape Park offers attractions related to warm and tropical temperatures, among them a lot of water action, ziplining, cenotes, tropical panorama views and (artificial) waterfalls (check out this article here about all other waterfalls in Punta Cana). Some of the activities are guided, which gives it a more personal and interactive touch than a regular visit to a theme park.
The whole area is very well maintained and spacious. You can see that the park is just a few years old and is trying to achieve superb quality. Furthermore, you can get an authentic impression of the rather dry vegetation in the south of Punta Cana, even if the park itself is relatively tropical.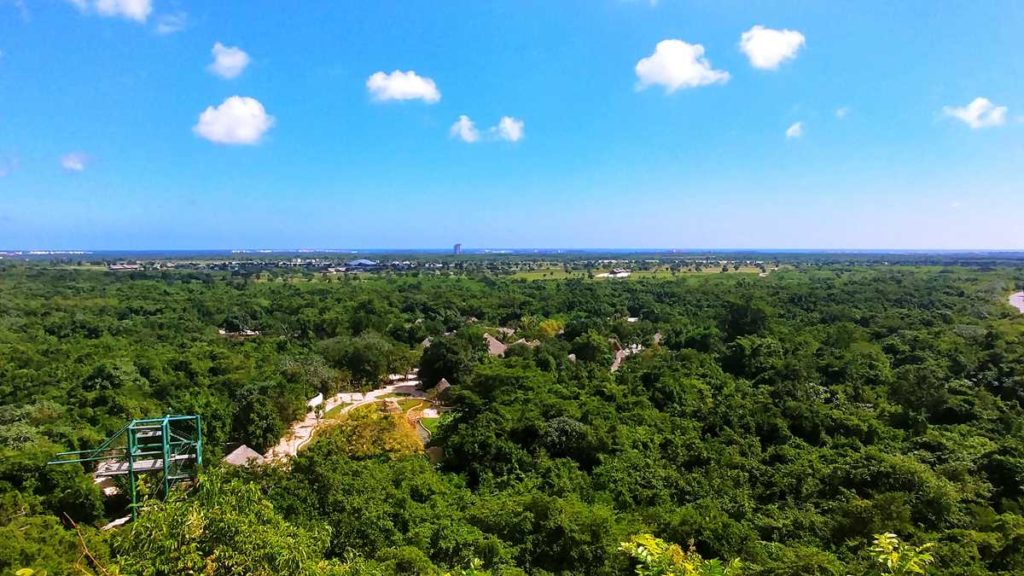 Where is Scape Park Cap Cana located?
Scape Park Cap Cana is in the south of Punta Cana, a few kilometers south of Punta Cana Village and the Punta Cana International Airport. It is part of the gated luxury project Cap Cana. It takes around 30 to 45 minutes from most all-inclusive resorts in Bavaro and Punta Cana to reach Scape Park Cap Cana. If you book your tour online in advance* and indicate your hotel with the booking, you will be picked up accordingly from your resort, so you do not have to worry about anything.
Prices for Scape Park Cap Cana
Scape Park Cap Cana is not cheap, but if you compare the entrance fee to the price of a ticket for Disney World or one of the Six Flags Parks and add transfer, parking, lunch buffet and drinks (during lunch) to the ticket price (all included in Scape Park), Scape Park is not as expensive as the price of around 150 USD might appear at the first moment.
Furthermore, if you consider that a typical excursion in Punta Cana usually costs around 70-120 USD per person and Scape Park is comparable to a combo package of various activities (as Scape Park offers Ziplining, a cave visit, animal shows, cultural guided tours and much more), the entrance fee is not as expensive anymore. If you would book all those excursions separately you would certainly pay more than that.
As an additional plus, some of the activities are guided, so you are led by a guide through certain parts of the park.
Still, Scape Park does not belong to the cheapest of the attractions in Punta Cana.
If you book in advance, the fee for Scape Park Cap Cana includes transfer from and to your resort, lunch, drinks during lunch and all the guided and non-guided attractions as listed in the next chapter.
If you have your dates already set, you can check the current best price for the park with the following link.
What are the attractions at Scape Park Cap Cana?
So what can you experience at Scape Park Cap Cana?
The park offers the following attractions:
Zipline Eco-Splash: a zipline with 12 cables that end up in the water (amazing!)
Cultural Route Guided Tours: a guided tour with a local through a bit of Dominican history including the visit of a typical remodeled countryside village
El Rancho: a Dominican ranch with horses
Iguanaland: kind of an iguana zoo
Saltos Azules: artificial waterfalls with blue water in a beautiful setting
Iguabonita Cave: a guided tour through a cave system
Cueva Las Ondas: a cave with a crystal-clear underground lake, similar to the cenotes in Mexico
These are the main attractions in Scape Park Cap Cana, which you can visit throughout the day and according to your pace.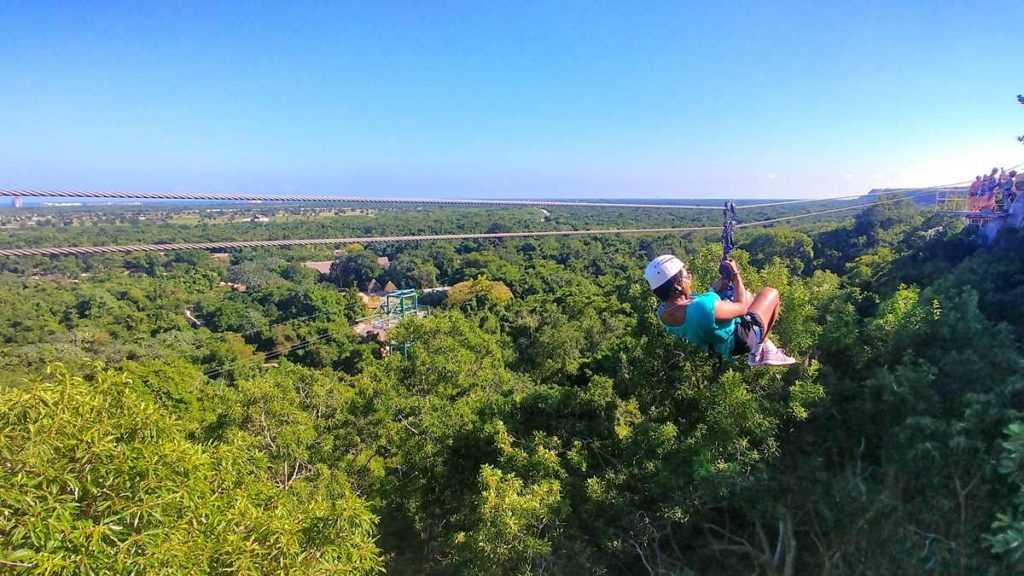 There are further smaller things-to-see, such as a flower garden, some historical information or a few hiking paths through the tropical vegetation.
A very interesting add-on is the park-owned photo system. High-tech cameras can be found throughout the park and thanks to the personalized and electronic bracelet, the photos are shot right when you visit each attraction and saved onto your personal account. At the end of the day, you can see all your photos and buy different photo packages.
The cameras do an amazing job of capturing the right moments during your day at Scape Pak Cap Cana. The moment you fly high during zip lining, the splash when you jump into Hoyo Azul (the blue lagoon) or the second when you dip into the water from "Salto Azul", the photos are indeed outstanding and great memories.
The only downside: the prices for those photos are extremely high. Just for a CD, you have to pay 49 USD for 2 people, each additional person in your group pays an additional 20 USD. A family of four hast to pay nearly 100 USD for a simple CD of photos after already having spent 600 USD (for 4) on the entrance fee. That is quite hefty! Yes, the photos are amazing but please check carefully if the price is worth it for you.
My experience at Scape Park Cap Cana
So how did I like our visit to Scape Park in Punta Cana?
Let us start with the zipline, which is definitely the main attraction in the park. It consists of 12 cables and runs completely through the whole area. Many cables are located on the edge of some rock formations which allows for some spectacular views of Cap Cana, including the ocean. So if you are looking for an ocean view zipline in the Dominican Republic, Cap Cana is your place to go (even there is another one at the other end of the country, close to Puerto Plata).
TRAVEL COACHING
Save money and time!
Do you need help planning a customized vacation in Punta Cana and the Dominican Republic? Is it difficult for you to decide what and where to book? Would you like to take advantage of someone with years of experience in the tourism industry (knowing all the travel hacks 😉 ) and living right in the place where you would like to spend your holiday?
That's what my personal travel coaching is for. I will design your tailor-made itinerary, tell you how to save money on your trip and send you the best insider tips and recommendations. All the information I send you are crafted with love and passion – and are coming with a money-back guarantee. Let me know how I can help you (check my packages here) and send me a request here!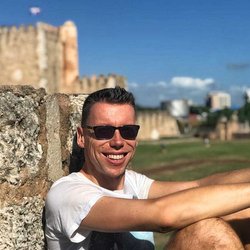 Unfortunately, after some cables, it felt that there was a little lack of variety, which only changed with the 8th cable: the longest zipline with a length of around 1500 feet (!) and very fast speed. The adrenaline was pumping here, it was an awesome ride. It is also one of the fastest ziplines in Punta Cana, as you can see in this ziplining comparison.
The following cables are more of the longer type as well, but the highlight is the last one: it leads you straight into the water! After all the sunshine and adrenaline, you get a very welcomed water cool down when splashing into the pool waiting at the end of the zipline. An awesome feeling with a lot of fun and laughter. Check out this article for some more details about this and other ziplines in Punta Cana.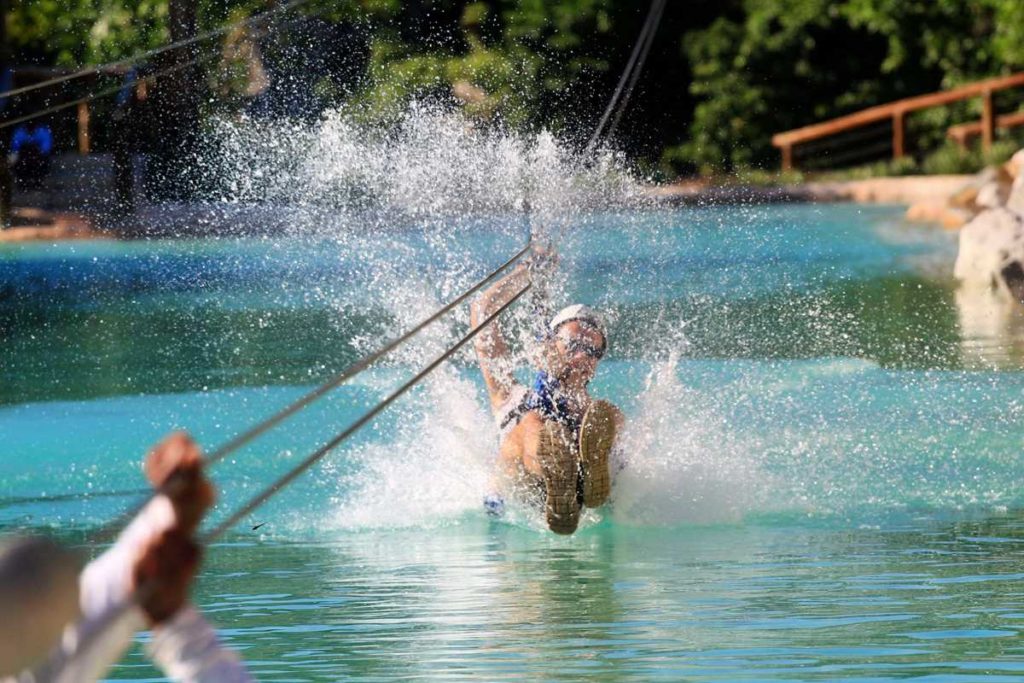 The second highlight for me was the blue lagoon, the so-called Hoyo Azul. There are several of these lagoons throughout the Dominican Republic and also a few of them in the area of Punta Cana (among them the "Hoyo Claro" and the "Ojos Indigenas"), but the color of the Hoyo Azul is extraordinary and hard to believe. Blue lagoon is basically an understatement for the blue color which is expecting you here and besides that, the water is extremely clear. You can see several meters deep, which adds to its fascination as the water originates in an underground cave system. Last but not least, the jump into and swim in the cold water of the blue lagoon was very refreshing.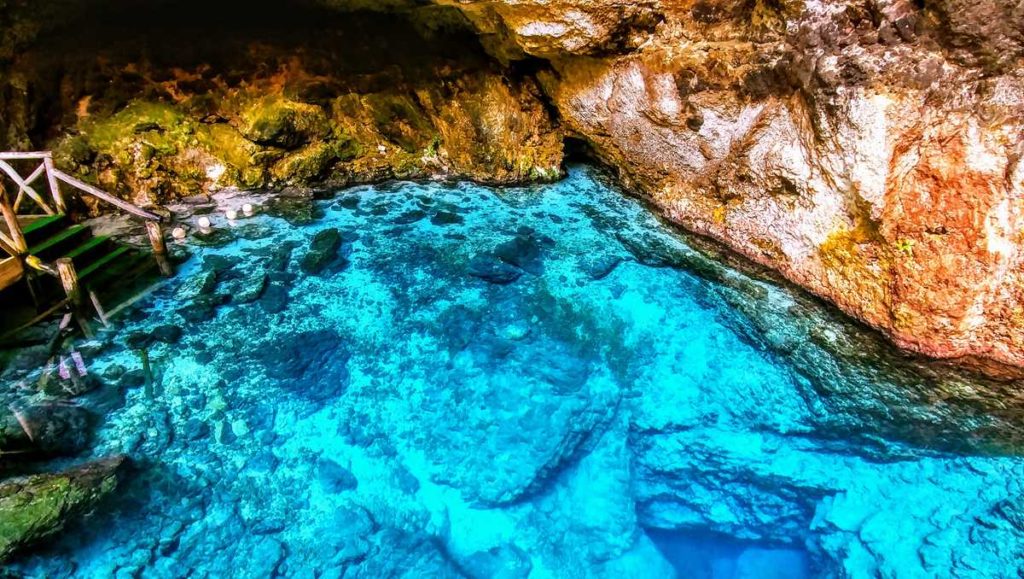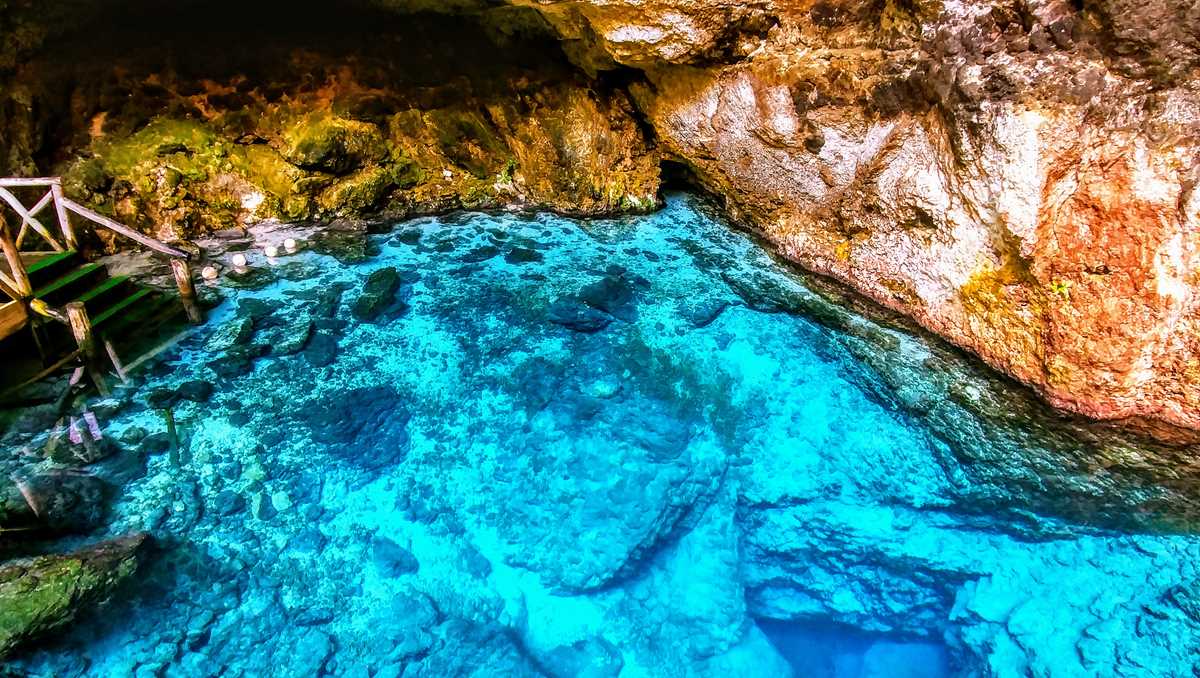 The "Cueva Las Ondas", a cave for swimming with crystal-clear water similar to a Mexican cenote, was also very pretty, especially since it reminded me of my exciting experiences at the Yucatan Peninsula.
Those were my top 3 while visiting Scape Park Cap Cana, which made up for some great and unforgettable memories. The other parts of the park were nice as well, but by far not as spectacular.
The Saltos Azules (the blue waterfalls) counted for a welcoming refreshment as well and it was fun to fall into the water, but the scenery was by far not as pretty as the many natural waterfalls I have already seen in the Dominican Republic.
The Iguabonita Cave, a cave at Scape Park Cap Cana, definitely cannot compete with other caves in the Dominican Republic. Neither does a visit to "Iguanaland" replace a trip to the south-west of the country, where dozens or even hundreds of iguanas roam around Lake Enriquillo and Laguna Oviedo, to name just a few examples. The small botanical nature trail to Hoyo Azul was nice too, but nothing compared to what you can expect when traveling road-trip style through the Dominican Republic. Finally, the visit to the typical Dominican village was interesting, although of course artificial and only semi-authentic.
On the other side, all those attractions can give you a good glimpse of the Dominican Republic when you are planning to visit Punta only Cana, because waterfalls, typical villages, caves and tropical jungle are usually quite far from the resorts and hotels of Bavaro & Co.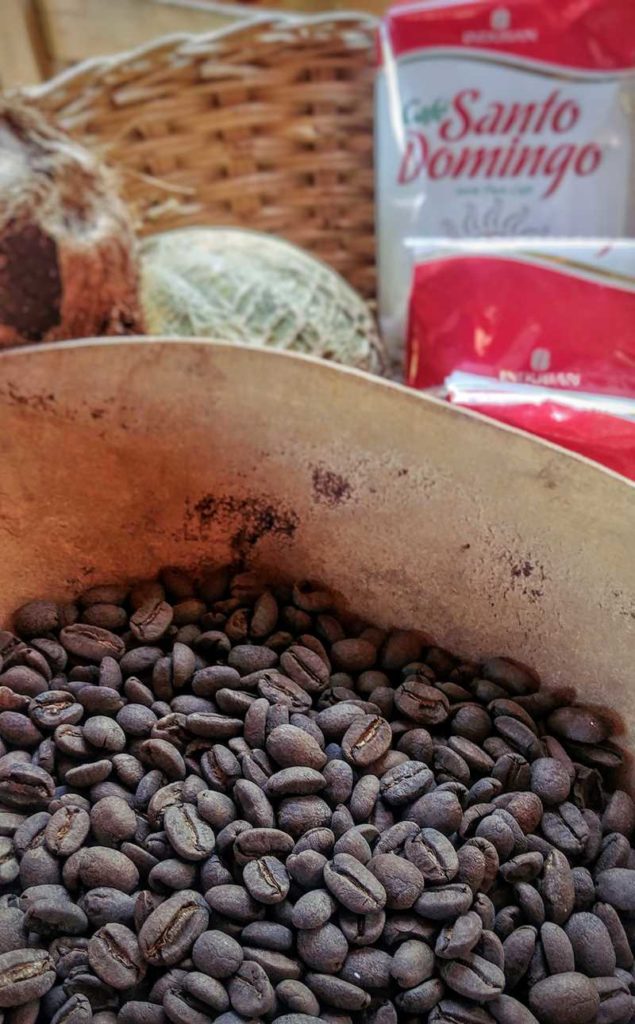 Therefore it's a great way to see more from the Dominican Republic than just your resort and you even can see all of these parts in less than one full day.
Besides that, you can expect a well-maintained theme park with clean facilities, paths easy to walk and a dedicated service staff, which makes your visit as pleasant as possible. A lunch buffet is also included, which consists of a small but hand-selected and delicious buffet incl. soft drinks.
Summary: is it worth to visit Scape Park Cap Cana?
After all, you can have a super fun day at Scape Park Cap Cana, it doesn't matter if you are a family or an individual traveler. Especially the zip lining and the blue lagoon are belonging to the must-visits of Punta Cana and guarantee unique experiences. Furthermore, Scape Park Cap Cana is fitting in the tropical environment and offers some great fun and water action with all the water-based activities. Children will love all of this. The park also has an amazing photo system, which unfortunately is a little bit expensive, so better do not count on that and bring your own phone. Cameras are officially not allowed in the park and I would not bring my DSRL due to all the action and water involved, but a water-proof smartphone is doable.
In case Punta Cana is just the start of your holiday and you are planning to explore the Dominican Republic on your own pace during a self-drive tour or a road-trip then you have the chance to get most attractions of Scape Park Cap Cana elsewhere in a more natural environment (and usually cheaper). So in this case, I would recommend you a well-crafted itinerary to see all the things the Dominican Republic has to offer.
However, if you are only staying in the Punta Cana area and are planning multiple activities during your stay in Bavaro and surrounding, plus zip lining (the main attraction) is one of them, then Scape Park is a good deal for you. It is also recommendable if you are visiting with children, as they simply will love all the different water activities.
Alternatives to Scape Park Cap Cana
In terms of a similar amusement park, Bavaro Adventure Park* is a suitable option you can check. It is older than Scape Park Cap Cana and has different attractions.
La Hacienda Park is another full-day adventure park with ziplining and it even has more tropical and lush vegetation than Scape Park Cap Cana. Furthermore La Hacienda Park offers very competitive pricing*.
If you are looking for alternatives to the single elements of the park, you can have a look at the various zip lining offers in the area of Bavaro and Punta Cana*.
For the Hoyo Azul you can visit Hoyo Claro instead – nearly for free. Check out my article about this alternative blue lagoon.
If you would like to learn about Dominican culture I recommend you either a self-drive tour through the country (click here for customized itinerary proposals) or – in case you just want to stay in the Punta Cana area – one of the several countryside & culture excursions*.
And last but not least, if you'd like to see waterfalls in the area of Punta Cana, you can visit Salto de la Jalda, Cascada Blanca or Los Haitises National Park with its unique waterfall eco-lodge.
SHARING IS CARING! IF YOU ENJOYED THIS ARTICLE, PLEASE SHARE WITH YOUR FRIENDS – I WOULD APPRECIATE IT A LOT.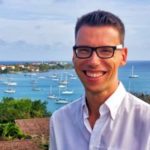 CHRIS
Author, Travel Coach & Punta Cana based digital nomad
Hey, I am Chris, a born and raised German, travel-addictive and Caribbean Soul. Since 2011 I have been living in the Caribbean, among them 5 years in the Dominican Republic. Punta Cana is my home-base here in the country and I'd love to tell you more about how to experience Punta Cana off-the-beaten-track and give you all the advice you want to know for your vacation in Punta Cana.