This is your guide with all the information you need to know before booking a whale watching excursion in the Dominican Republic, especially when staying in Punta Cana, but also when traveling through the peninsula of Samaná. Each year between January and March the mating of the humpback whales in the Samaná Bay is one of the most important not-to-miss highlights in the entire Dominican Republic. As there are usually many questions asked and many tours offered, I am giving you a full overview here about all the important things you should know when staying in Punta Cana, Samaná or beyond – your ultimate guide for whale watching in the Dominican Republic.
Whale watching is one of the most exciting activities in the area. To check out more amazing things to do in Punta Cana, continue reading here.
When is the whale watching season in the Dominican Republic?
Generally spoken, whale watching season in the Dominican Republic lasts from January to March. Interestingly enough, when you browse through the internet, you find different dates as of when whale watching excursions from Punta Cana or in Samaná are operated. Some start as early as the 15th of December but finish already on 15th March, others only start on the 15th of January but have their tours running until the 31st of March, some even until mid-April. These differences seem weird as all the tours are operated into the same territory of the whales, the Bay of Samaná.
According to my experience from selling customized vacation packages to clients for 5 years and working closely together with many whale watching tour operators (including having been on several of their excursions), December seems quite early to me and I would not book a tour in this month, as the chance that it gets canceled is pretty high.
If you book your whale watching excursion between the 15th of January and 25th of March, you get the best time for whale watching in the Dominican Republic. During these days your tour definitely takes place and won't get canceled (as long as the weather permits), it doesn't matter if you start from Punta Cana, Santo Domingo or Samaná.
Everything before or after those dates, so before mid of January or after the end of March, is subject to the whale watching conditions in the year of your vacation as the humpback whales in the Dominican Republic don't have a calendar, so they might arrive already late December or only after some days in January.
The more you stick to the best time for whale watching in Punta Cana and Samaná (15th of January until 25th of March), the better are your chances of many whale sightings. Just because there a dozen whales at the end of December or the beginning of January, it doesn't mean that you see as many humpback whales as in the whale watching season when there are hundreds to thousands of whales in the Samaná Bay.
This being said, your chances of seeing whales on an excursion are nearly at 100% when sticking to those dates.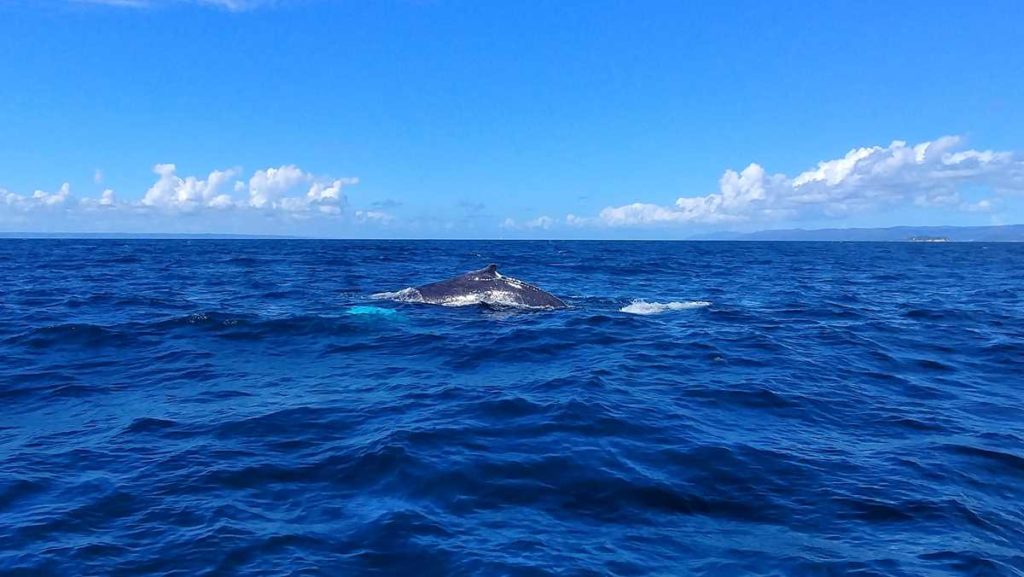 What kind of whales can you see in the Dominican Republic?
The vast majority of whales in the Dominican Republic are humpback whales, one of the largest mammals in the world. The adults can get as big as 52 feet and weigh as much as 30 tons. You can imagine that it is a true show to watch these giants playing in the open ocean, especially when their large fins – which makes up to a third of their body lengths – are splashing into the water. The other particular characteristic of the humpback whale is that it comes to the surface to breathe, which makes it particularly interesting to watch the whales in their daily life during a whale watching excursion in the Dominican Republic.
The humpback whales are coming to the warm waters of the Samaná Bay each year, as the conditions of the Caribbean are much more favorable for breeding and the birth of their babies. Here in Samaná, the babies – which get born with a bodyweight of just 1 ton – have sufficient time to eat enough and get strong to follow the mother on the return trip to the colder waters.
The humpback whales travel up to 16.000 miles (!) each year for migration purposes, that's more than 10 times the distance from New York to Punta Cana.
Because of the special relationship between the mother and their baby, you often can see them together when going on a whale watching tour from Punta Cana in the Samaná Bay. Observing them swimming together in the ocean is a particularly heartwarming moment.
Rules and regulations for whale watching in the Dominican Republic
The humpback whales were once an endangered species, especially in the 60s, when their population dropped by 90%. They still have to be protected and that's why there are rules and regulations set by the Dominican Republic to ensure sustainable tourism and a non-harming approach to these mammals. Some of these rules are:
– It is forbidden to swim or snorkel with or close to the whales in the Samaná Bay.
– A maximum of 3 boats is allowed for watching a group of whales at the same time. All other boats must wait at least 250 meters behind.
– A boat is allowed to watch a group of whales for a maximum of 45 minutes. If other vessels are waiting, it is limited to 30 minutes.
– There is a minimum distance to be respected, a boat can approach a group of whales not closer than 50 to 80 meters.
– Vessels need to be sensitive with their engine when whale watching, so the engines should be put in neutral.
– It is forbidden to watch whales from the air (so no helicopters or airplanes close to the breeding grounds).
Furthermore, as the waters of Samaná are located in a dead-end (water-wise), there is no through-traffic of any other boats which further protects the humpback whales in the Dominican Republic.
Interestingly enough, while in tourism money often counts more than sustainability (particularly in the Dominican Republic) and regulations are usually just treated as recommendations (and are not enforced if you pay a little "tip"), the whale watching rules are pretty strictly enforced, which is absolutely supportable. If tour operators don't have a whale watching license, they get pulled out pretty quickly and if they don't respect the distancing rules concerning the whales, they get fined and might lose their license. This is why whale watching in the Dominican Republic is one of the very few animal encounters in the Dominican Republic I can recommend.
All of these rules guarantee that you see a high amount of mammals when going on a whale watching excursion in the Dominican Republic.
Where can you go whale watching in the Dominican Republic?
The Dominican Republic has two of only a few breeding grounds in the entire North Atlantic. One of those is the much more difficult accessible area of Silver Banks between the Dominican Republic and the Turks and Caicos Islands. To go on a whale watching tour here, you need to take an expensive 7-day-cruise-expedition, which I have described here a little bit further, as it is allowed to swim with the whales in Silver Banks.
The second spot for whale watching in the Dominican Republic is the Bay of Samaná, which you can reach on day-trips from Punta Cana, Santo Domingo or Puerto Plata. 99% of all tourists are going to whale watch in this area as it is much easier accessible and doable as an excursion.
Both areas are fully protected by the Dominican government and the rules as outlined above are applying.
Whale watching from Punta Cana (Dominican Republic)
Whale watching excursions by bus and boat from Punta Cana
Whale watching by bus and boat is the most popular excursion in Punta Cana when it comes to observing these spectacular mammals. They offer the best price-value-ratio and are usually leaving every day during whale watching season (see above best time for whale watching). You can check out the departure days right here*.
If you are traveling from April to December – outside of whale watching season – you can continue reading here about the excursion to Salto El Limón, as this is kind of a substitute excursion with similar areas during this season.
Most excursions from Punta Cana are not including just the whale watching in the Samaná Bay, but also a visit to Cayo Levantado, which is widely known as Bacardi Island. Hence you can combine this amazing nature experience with some relaxing time at a gorgeous beach on the Samaná peninsula. On the other side, be prepared for a long day out of your resort as most tours are lasting between 10 and 12 hours.
Most whale watching excursions from Punta Cana start in the morning between 6 to 7 am, 07:30 am if you are lucky. 😉
You board the bus and head northwestward on a scenic but not spectacular journey. You drive along a newly built road between the mountains of the Cordillera Oriental (which is also home to Montaña Redonda) and the coastline, passing small villages and abundant rice terraces. The journey from Punta Cana by bus takes around 1.5-2 hours. One of the small ports along the Miches – Sabana de la Mar route is your destination (which one depends on the tour operator you book), where you change over to your boat. The boat, usually a medium-sized vessel with a capacity for 40 to 100 passengers, brings you closer to the Samaná peninsula, where most of the breeding grounds of the whales can be found. Depending on the wind and the waves, the ride might be choppy so take some seasickness pills with you in case you are sensitive to these influences.
Once you are in the center of the whale watching area, your captain and your guide are observing the area to spot some of the humpback whales. This might take a few minutes but once spotted, you usually can see several of them – either different groups acting differently or some whales playing with each other. Often you can also see a mother with their baby swimming together or two males splashing with their fins to attract the females. If you are lucky, you even see those big mammals right next to your vessel.
Usually, the whole whale watching "action" lasts around 60 to 90 minutes, depending on the sightings, the other boats and the remaining itinerary. That's the time you fully spend within the observing area of the humpback whales. Afterwards, you head towards Cayo Levantado, the island which is already part of Samaná and features a picturesque beach. Here you can relax, have lunch, drink some tropical cocktails and swim in the turquoise ocean. Were you dreaming of drinking a Piña Colada right from a fresh Caribbean pineapple? Here on Cayo Levantado, you can get it.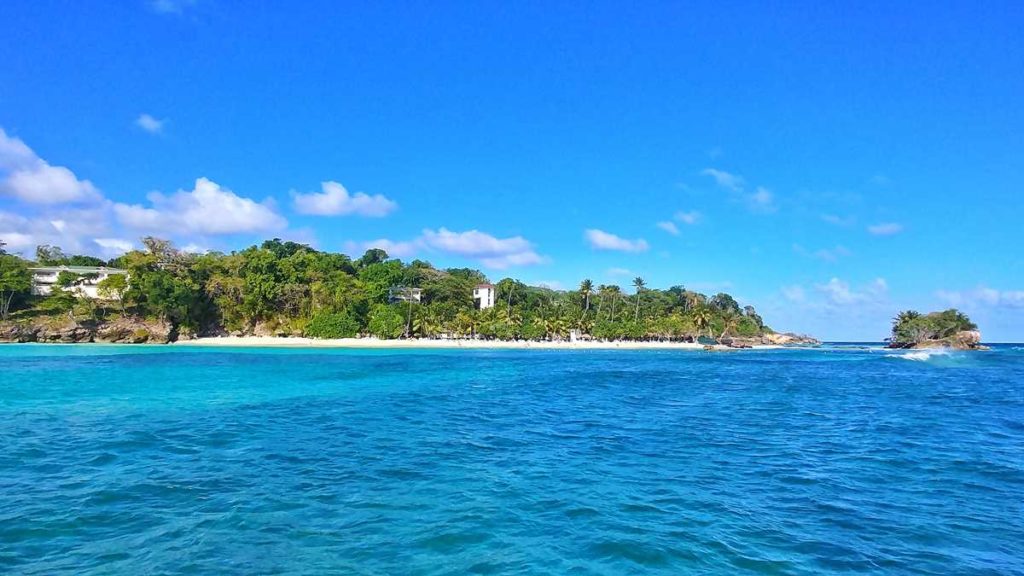 After approx. 3 hours on Cayo Levantado you board your boat again, head back to the mainland (a ride of about 30 minutes) and change to your bus for the remaining 1.5-2 hours to Punta Cana.
When booking your excursion, I would recommend picking a non-cruise day, as otherwise, the beach of Cayo Levantado is very crowded. You can check the cruise ship days of Samaná here*. Furthermore, check that your tour includes lunch (which is usually the case).
Prices for whale watching from Punta Cana usually range from 150 USD to 200 USD. If you book here you get onboard with a recommended tour operator*.
Whale watching excursions by plane and boat from Punta Cana
Are you tired of riding a bus for such a long time, including the pick-up and drop-off from various hotels? Then a whale watching excursion from Punta Cana by plane might be the best option for you. Instead of the bus ride along the northeast coast of the Dominican Republic and the boat trip across the Samaná Bay, you board a plane and fly directly to Samaná, where it is just a 10-minute hop from the airport to the port. This port is much closer to the whale watching area than the port you use when coming from Punta Cana by land, so the boat ride will also be much shorter. Interested? Then check out the departure days here*. Same as for all whale watching excursions, these tours are only available between January and March.
The biggest advantages of those tours by plane are the much quicker travel time to the Samaná Bay as well as that you go in much smaller groups – usually, the planes are fitting between 8 and 19 passengers. This reduces the tour time significantly, giving you more quality time in your hotel, less time in the bus and more focus on the highlight of this excursion – the humpback whales in the Dominican Republic.
After the whale watching, you also head to Cayo Levantado to relax and enjoy the tropical surrounding. After this quality beach time – instead of heading back 30 minutes by boat and around 2 hours by bus – you just have a 10-minute boat ride, a short 10-minute airport transfer and afterwards a 20-30-minute scenic flight to Punta Cana, where you can admire the natural beauty of the Dominican Republic from above. That's another big advantage of these tours as the views are amazing. Air Excursions from Punta Cana are not as expensive as one would think considering it is a trip by plane. Check out the best prices here*, usually they range between 250 USD and 350 USD per person.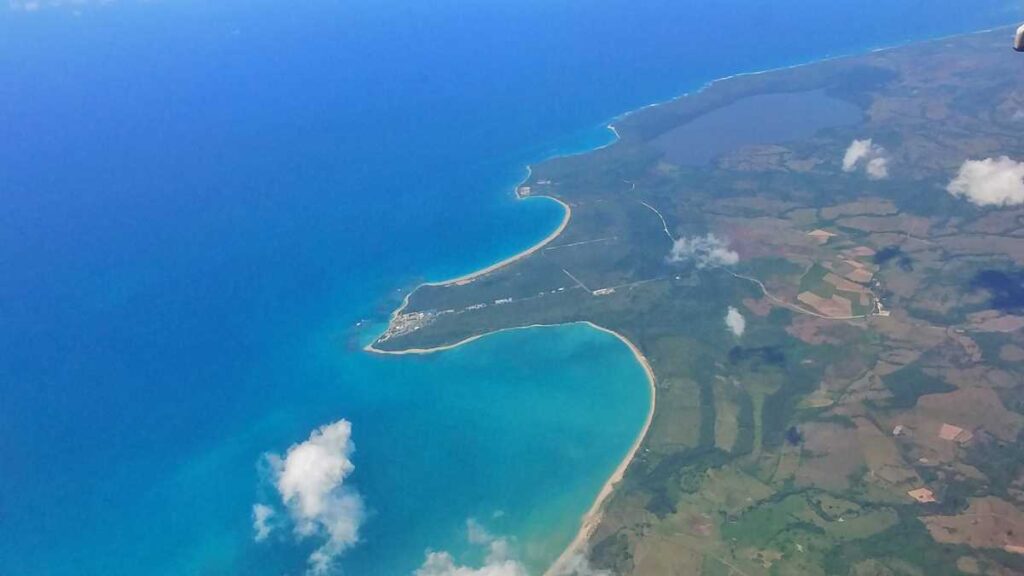 Whale watching excursion from Punta Cana on your own
You'd like to organize your own whale watching excursion from Punta Cana because you don't like long bus rides or big groups? Well, this is a bit difficult. Tours for individual travelers are only starting at the port of Samaná, which is between 4-5 hours driving away. If you'd like to do this, please read on in my article about Salto El Limón how you can organize a road-trip or multi-day itinerary from Punta Cana to Samaná.
Unfortunately, the closest port to Punta Cana, between Miches and Sabana de la Mar (where the group tours are starting with the boats), doesn't offer tickets for individual travelers.
Therefore, if you don't want to charter a full van AND a private boat, your best bet is to book one of the tours described above.
TRAVEL COACHING
Save money and time!
Do you need help planning a customized vacation in Punta Cana and the Dominican Republic? Is it difficult for you to decide what and where to book? Would you like to take advantage of someone with years of experience in the tourism industry (knowing all the travel hacks 😉 ) and living right in the place where you would like to spend your holiday?
That's what my personal travel coaching is for. I will design your tailor-made itinerary, tell you how to save money on your trip and send you the best insider tips and recommendations. All the information I send you are crafted with love and passion – and are coming with a money-back guarantee. Let me know how I can help you (check my packages here) and send me a request here!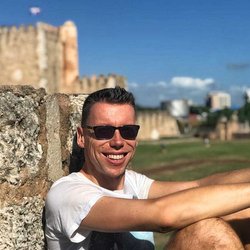 Whale watching from Samaná (Dominican Republic)
You are already in Samaná or on vacation in Las Galeras or Las Terrenas? Congratulations, you completed the majority of the journey and are so close seeing the humpback whales in the Dominican Republic.
Guided whale watching excursions from your hotel
If you are staying in a hotel without a rental car, I recommend a whale watching tour which includes pick-up and drop-off, so you don't have to worry about anything. It doesn't matter if you stay in Las Terrenas or Las Galeras, from both beach towns it's approximately 30 (Las Galeras) to 60 minutes (Las Terrenas) driving time until you reach the port of Santa Barbara de Samaná, where your whale watching excursion by boat is going to start.
From here, it is a similar tour than the option by air from Punta Cana – you have a 10-20-minute boat ride until you reach the observing area of the whales. Once there, you also spend around 60 to 90 minutes looking for the humpback whales, seeing them jumping or accompanying them on their journey through the open ocean.
P.S.: My photos just show 10% of what you can actually see from the whales. Sometimes it's just difficult to take photos, especially as I am only traveling with my smartphone camera. The actual encounters during your whale watching excursion in Samaná are much more impressive and a lot closer than this photo.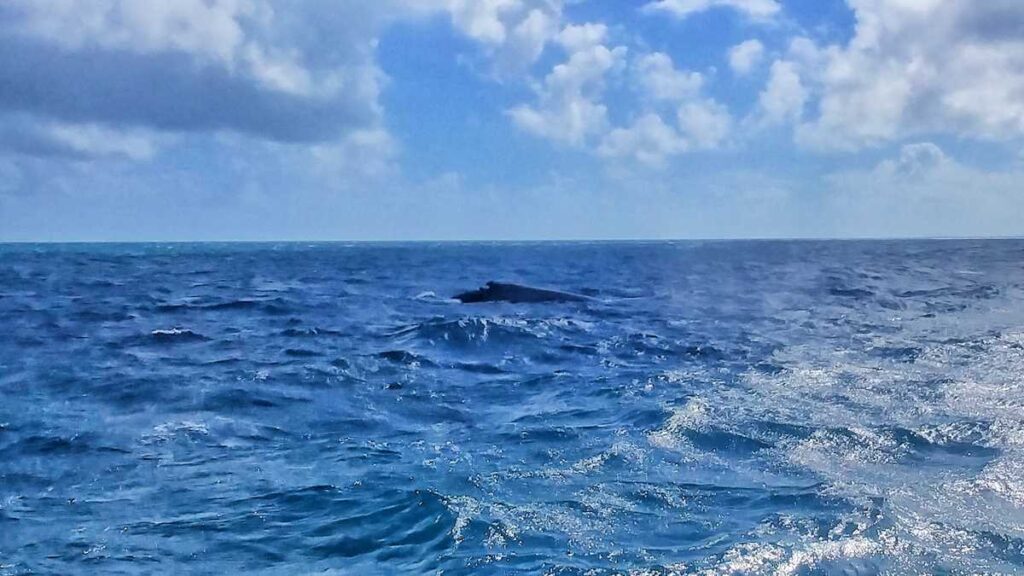 Most of the tours also include the stop at Cayo Levantado, where you can relax, swim, sunbath and eat. In the afternoon you head back to the mainland of Samaná and get shuttled back to your hotel. The biggest difference when staying in Samaná compared to Punta Cana: your tour only lasts around 8 hours instead of 10 to 12 hours, so you spend much less time on the bus. Tours run daily during whale watching season and the best time to go for an excursion is the same as explained initially: mid of January until the end of March. Check out the available departures here*.
The price of those tours is usually between 75 USD and 90 USD per person. You can book with recommendable tour operators here*.
Whale watching excursion directly from the port of Samaná / on your own
You are based in Samaná or elsewhere along the North Coast and have your own rental car? In this case, you can head straight to the city of Santa Barbara de Samaná, the home base of nearly all whale watching tour operators. Park your car at the oceanfront promenade (the "Malecón") of the city and head straight to one of the offices from those tour operators. Moto Marina, Whale Samaná or Ozeanic Caribbean are a few operators I have experiences with and I can recommend. Most tours are starting in the morning between 09:00 and 09:30, sometimes there are also afternoon tours starting at noon or 1 pm. The best is to check with the individual tour operators or you have a look at the following offers.
The whale watching excursions starting directly from Santa Barbara de Samaná are similar to the ones described in the section above, just without transfer. The only difference is that Cayo Levantado is optional for most tours – so if you want, you can just have the whale watching experience and are back to explore other highlights of the Samaná peninsula by noon or 1 pm.
My experiences with whale watching tours from Punta Cana and Samaná
Since my first tour in the Samaná Bay, I did the whale watching tour three times, among them two excursions from Punta Cana. Organization, transfers and boat rides were spotless all the time and I am always surprised how many whales you can actually see.
I would say that you have a 99% guarantee to see some (a lot!). And if not, don't worry, most tour operators give you a second tour for free if you haven't seen humpback whales on your first occasion.
Furthermore, I am always stunned by how close you can see the whales. They are sometimes jumping out of the water just a few meters in front of the boat.
In total, I would say that I had around 15-20 sightings on average on each tour, maybe even more That's a pretty good opportunity I would say. 🙂
So make sure you seize the chance and book a whale watching excursion during your Punta Cana vacation*, of course only if you are visiting the Dominican Republic during whale watching season (January to March).
The visit on the island of Cayo Levantado is a nice add-on to explore a different beach than the area around your accommodation. Especially if you go on days when there are no cruise ships, it is also not too crowded. If you already went on the excursion to Isla Saona, you might not be too excited, as Cayo Levantado can't compete with Isla Saona.
I never did the whale watching excursion by plane but would recommend doing so if money is not too much an issue. Especially the views from the air on the mountains of the Cordillera Oriental are amazing ( I was lucky enough to fly the same approach on commercial flights a couple of times) and you also get a bird's eye view of the Samaná Bay. Furthermore, those groups are smaller and more exclusive.
What do you think about whale watching in the Dominican Republic? Are you interested to go? Have you seen humpback whales on other occasions? What was your favorite encounter? Let me know in the comments, I am happy to hear about it.
SHARING IS CARING! IF YOU ENJOYED THIS ARTICLE, PLEASE SHARE WITH YOUR FRIENDS – I WOULD APPRECIATE IT A LOT.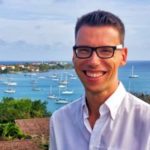 CHRIS
Author, Travel Coach & Punta Cana based digital nomad
Hey, I am Chris, a born and raised German, travel-addictive and Caribbean Soul. Since 2011 I have been living in the Caribbean, among them 5 years in the Dominican Republic. Punta Cana is my home-base here in the country and I'd love to tell you more about how to experience Punta Cana off-the-beaten-track and give you all the advice you want to know for your vacation in Punta Cana.