Santo Domingo is the capital of the Dominican Republic and just a bit more than two and a half hours away from Punta Cana. While the city itself is a chaotic, loud and gigantic Latin American metropolis with very few attractions, it features a special district that is the complete opposite: the "Zona Colonial". The historic center of the city with its ancient cobblestone streets, centuries-old buildings and creative art scene is a place not to miss in Santo Domingo and one of the top highlights in the entire Dominican Republic. Considering this unique way of experiencing history it is absolutely worth the journey from Punta Cana. I am showing you 10 reasons why you have to visit the Colonial Zone of Santo Domingo during your vacation in the Dominican Republic.
If you are looking at how to get from Punta Cana to Santo Domingo, check out the following comprehensive article (or the section below) – and for the way back there is also a separate article on how to get from Santo Domingo to Punta Cana.
For some unique places to stay in the city, check out this list of the 27 best Airbnbs in Santo Domingo.
For the best excursions and activities in the city, check out this comprehensive list of amazing things to do in Santo Domingo.
For transport from the city, check here how to get from Santo Domingo to Punta Cana.
Completely UPDATED: May 2023
What is the Zona Colonial?
The Zona Colonial is the historic district of Santo Domingo and the oldest continuously inhabited European-established settlement in the Americas, dating back more than a half-millennium, to the years around 1500. When speaking about the Zona Colonial in Santo Domingo, people also often refer to "La Zona", "Ciudad Colonial", "Colonial District" or "Colonial Zone".

In 1990, the colonial district was awarded by UNESCO as a world heritage, making it one of the most important historic sites in the entire Caribbean. The colonial zone was an important hub for the Spanish conquerors to discover Hispaniola, other Caribbean islands and many countries in Latin America. A considerable amount of the old buildings from the 16th century are still existing, which makes the area so special.
Today, the Colonial Zone is the most important tourist attraction in Santo Domingo, however, it is not touristy. The colonial district is mainly dominated by locals, who also love to enjoy the alternative vibe and colonial atmosphere of "La Zona". Many small cafés, cute bars, international restaurants and creative shops are lining the streets, along with historic accommodation (see the FAQ section below for some examples and unique recommendations) and many interesting things to do.
Where is the Zona Colonial?
The Zona Colonial is located in Santo Domingo, the capital of the Dominican Republic. The colonial district is protected by water from two sides, the Ozama River to the east and the Caribbean Sea to the west.
Officially, Santo Domingo consists of two cities, Santo Domingo de Guzman and Santo Domingo Este. The Colonial Zone is part of the first one, which is located on the right bank of the Ozama River.
The Zona Colonial just has a size of around 0.4 square miles, which means that everything is walkable. Its dimensions are 1×1 kilometers, so you hardly walk more than 15 minutes from one end to the other. Even the Colonial Zone is not car-free, it has designated pedestrian zones and doesn't suffer from the crazy traffic congestion you experience in the rest of Santo Domingo.
If coming from Punta Cana, you can reach the colonial district in approximately 2.5 hours by car. If coming by bus, it is a 3-hour drive. Check out below for further information on how to get to the Colonial Zone in Santo Domingo. You can also book a guided tour from Punta Cana* if you'd like to visit the Ciudad Colonial in Santo Domingo.
13 Reasons to visit the Zona Colonial – things-to-do in the colonial district
1) The Zona Colonial is like an open-air museum
 For 4 years I was living permanently in Santo Domingo's Colonial Zone and each day I was admiring the beautiful streets and historic buildings. The colonial atmosphere here is one of a kind. Therefore, it is a real pleasure to stroll around the ancient streets and to look what hidden gem or secret view you can discover next. Furthermore, the Zona Colonial is the most historic part of the Dominican Republic as it was founded in 1502 as a city after a hurricane destroyed the initial settlement on the other side of the river. Since then, some buildings, the design of the roads and other elements are still preserved and used in daily life so that your walk through the Colonial Zone in Santo Domingo is like strolling around in an open-air museum.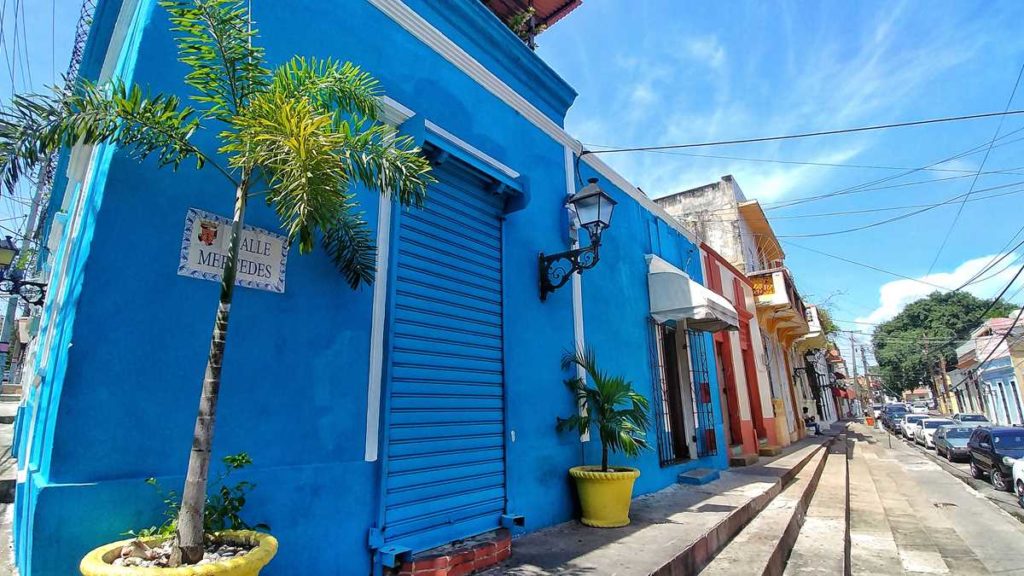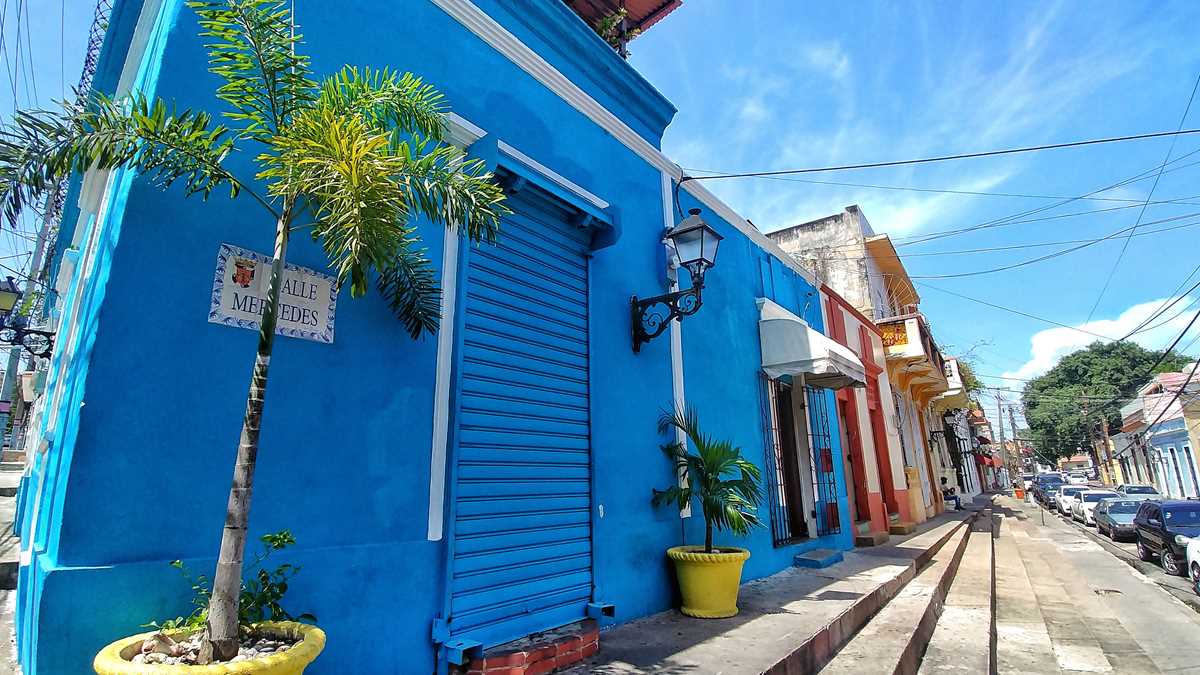 2) Famous sights and historical buildings in the Colonial Zone
The Colonial Zone in Santo Domingo is home to the highest concentration of historical sights and attractions in the entire Caribbean, especially considering that all of the following sights are within walking distance of 15 minutes. When you are around, make sure to have a closer look at the following things-to-see in the Zona Colonial:
Alcázar de Colón (or "Casa Colón" or the "House of Columbus"), the first castle residence in the Americas, which nowadays features one of the most popular museums in Santo Domingo
Altar of the Nation at Parque Independencia, where you can see the tombs of the founding fathers of the Dominican Republic
Basilica Cathedral of Santa María la Menor, the most important religious building in Santo Domingo and the First Cathedral of the Americas
Calle Las Damas, a historic cobblestone road and the oldest street of the Americas
Church and Convent of the Dominican Order next to Parque Duarte, the oldest church in the New World
Fortaleza Ozama with views on the Ozama River, the oldest fortress in America
Monasterio de San Francisco, original burial place of Alonso de Ojeda and Bartholomew Columbus
Museo de las Casas Reales, a very beautiful building and extensive museum on the colonial history of the Dominican Republic (and Haiti)
Parque Colón, the Columbus Park with the Columbus statue
Plaza de España, with magnificent views on the surrounding colonial buildings and the Alcázar de Colón
Most of the attractions in the Ciudad Colonial are open again after the Covid-19 pandemic. Particularly the famous cathedral "Basilica of Santa Maria la Menor" and other open-air attractions of the colonial district, such as Parque Colón, Plaza España, Monasterio de San Francisco or the pedestrian zone Calle Conde can be visited without problems.
If you are looking for more tourist attractions, check out this comprehensive list of the most amazing things-to-do in Santo Domingo.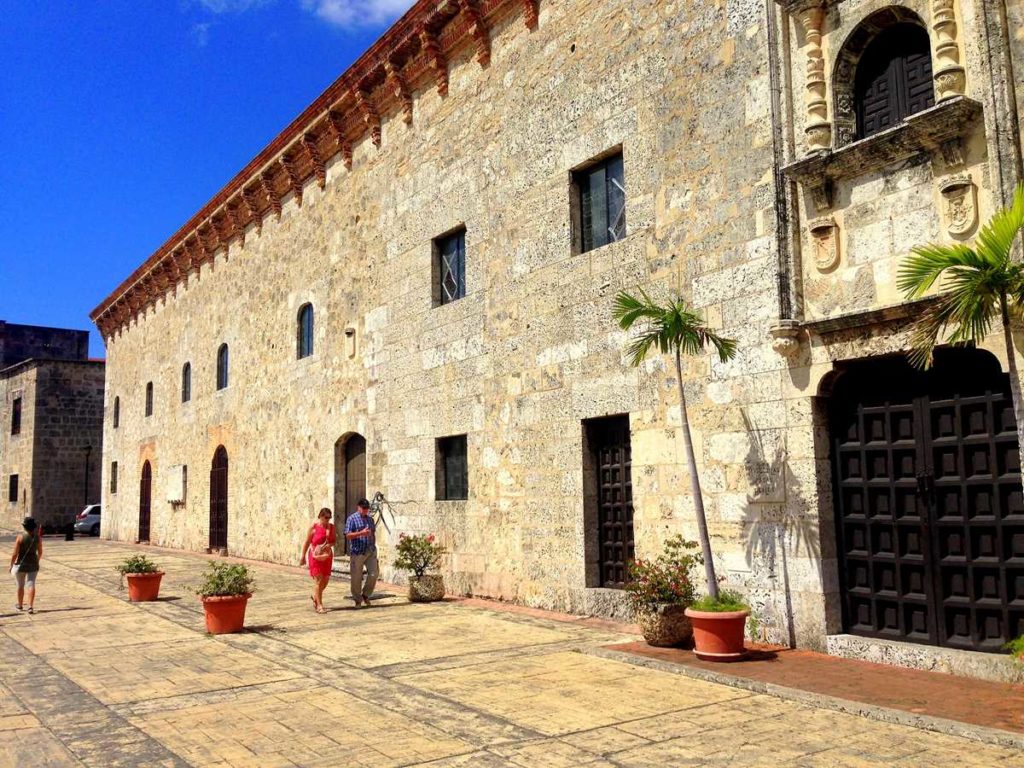 3) Plenty of alternative guided tours for more entertainment
If you don't want to explore all of these on your own and instead are looking for someone who can show you the hidden treasures of the Ciudad Colonial, a guided tour through the Colonial Zone of Santo Domingo might come in handy. Professional guides can enrich your experience with historical information, interesting information, their own experiences and compelling stories. Furthermore, they can show you their very own insider tips and make your experience in the Zona Colonial a long-lasting and entertaining one.
 The cool thing is that there are not only typical and boring guided tours. There are some special interest excursions through the Colonial Zone such as slavery tours or chocolate tours, but also bicycle tours and family-friendly guides are more fun than a typical walking tour. Check out the options in the following widget for your special experience in the Zona Colonial.
4) Join a free walking tour in Santo Domingo
 If none of the tours above fit your needs (and especially when traveling on a budget to Santo Domingo), you can also join a Free Walking Tour in the Colonial Zone of Santo Domingo. While I have not experienced the Santo Domingo version yet, I have joined many Free Walking Tours worldwide. Those have been – with very few exceptions – always a pleasure, particularly as the guides tend to be very energetic and entertaining.
In case you don't know the principle of Free Walking Tours: independent guides offer walking tours in their hometown and get rewarded with tips by the participants. The tip is totally flexible and depending on how you have liked the tour, you can adjust the amount of your tip.
 Free Walking Tours in Santo Domingo's Zona Colonial start every day (except for Mondays) but to make scheduling for the guides easier, a previous registration (book your spot at the Free Walking Tour here*) is necessary.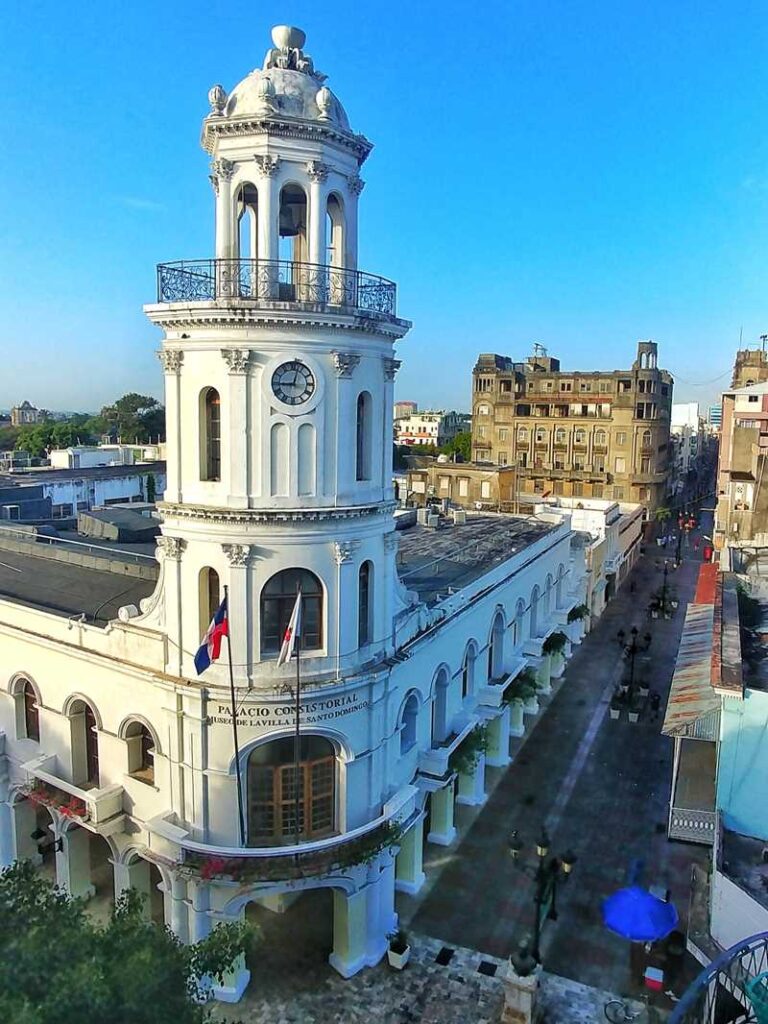 5) Small cafés and individual restaurants all over
 When strolling around and exploring the ancient secrets the Colonial Zone has to offer, you might get hungry or require a break. Nothing better than that! The historic city of Santo Domingo offers dozens of cute little cafés, breezy open-air terraces, delicious hidden holes-in-the-wall and elegant fine-dining restaurants. Especially the abundance of casual eateries and cafés makes it a pleasure to stop by and rest a bit. Furthermore, it allows you to stay hydrated and explore the Zona Colonial also from its culinary side. Some of my favorite eateries, coffee shops and local restaurants in the Zona Colonial are the following. You shouldn't miss them when visiting the colonial district in Santo Domingo 2023:
Mix Empanadas: best empanadas in town (now with a new prominent location at Calle Conde)
La Azotea Colonial: good and cheap wine with tapas in a casual atmosphere
Corner Café: romantic café behind a historic church
La Moricette: best sandwiches and pastry
Falafel: cozy restaurant with Libanese focussed food (see picture below)
EatWise at La Espiral: healthy food options in an alternative setting
Omeroliza D' Comer: my favorite Comedor (local lunch restaurant) in the Colonial Zone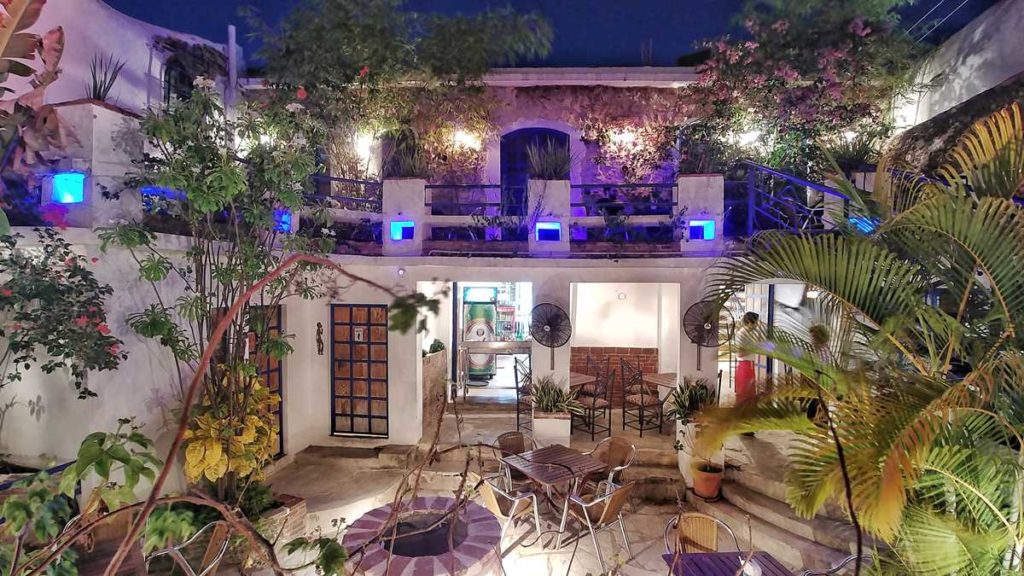 6) Dominicans love their Zona Colonial
 Though it has its touristy share, the Zona Colonial is still a lively spot for the Dominicans which means you can get a good dose of daily Dominican life. When I first moved to Santo Domingo I initially did not want to live in the Colonial Zone as I thought it was way too touristy. But I was completely wrong! 
When Dominicans are meeting up, they often head towards the Zona Colonial, the majority of houses here are still inhabited by locals and during the weekend you can't count the hundreds of Dominican families who are visiting the area to enjoy some free time.
Although the Zona Colonial might not be an authentic Dominican barrio, it still is a place mainly influenced by locals and therefore one of the best places to be and to live in Santo Domingo.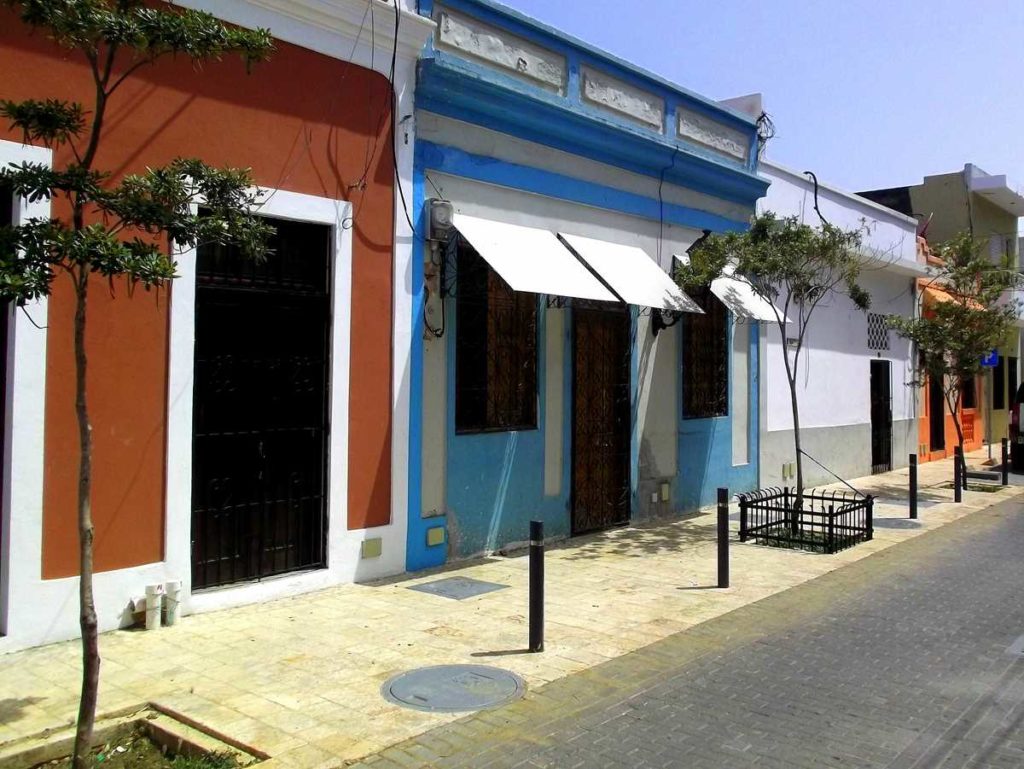 7) Sit back, relax and watch what's happening!
 People-watching is one of the most interesting things to do in the Zona Colonial if you want to relax for half an hour or more during your discovery tour of the area. First of all, because there are tons of options to sit down for a while, either in the several public parks (Parque Duarte, Parque Colón, etc.) with its benches or in the aforementioned cafés and terraces where you have a great view of the daily life. Second, you can see so many amazing things when observing daily life for a bit: Dominican families on their weekend getaway, artists giving creative performances, all kind of tourists wandering around, young locals on their shopping trips, multi-cultural couples having their daily drink, expats coming home from work and so much more … 
If you sit down for an hour and watch the life happening you probably see a very good profile of the variety of the Zona Colonial and its people.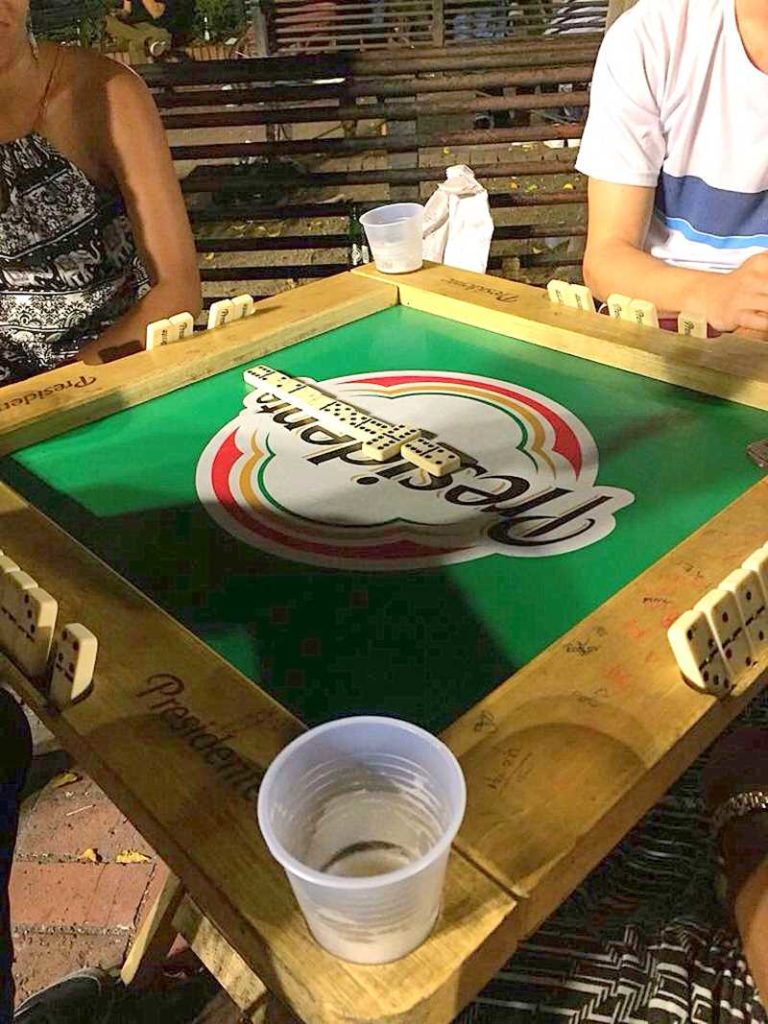 8) Vibrant nightlife in the Zona Colonial
 As mentioned, Dominicans love to go out to the Zona Colonial, which is why it has vibrant nightlife. Especially from Thursday to Sunday you will see the several parks populated by hundreds of locals, sipping on their beer or rum and chatting with their friends or simply strangers. Alternatively, you can visit one of the multiple bars for delicious cocktails – usually rum-based, if you stick to the original Dominican ingredients. Afterwards, clubs and dancing bars are opening for everyone to dance the night away to Merengue, Salsa and Bachata. The Dominicans are crazy about music and dancing. They are happy to show you some steps and moves as well, especially as the nightlife here in the Zona Colonial is quite relaxed and low-key, compared to other locations in Santo Domingo.
Of course, right now during the Coronavirus pandemic, nightlife options are mostly non-existent, especially as a nightly curfew is existing since March 2020. However, you can be sure that the nightlife in the Zona Colonial of Santo Domingo will be back to normal as soon as the clubs and restaurants are allowed to open again.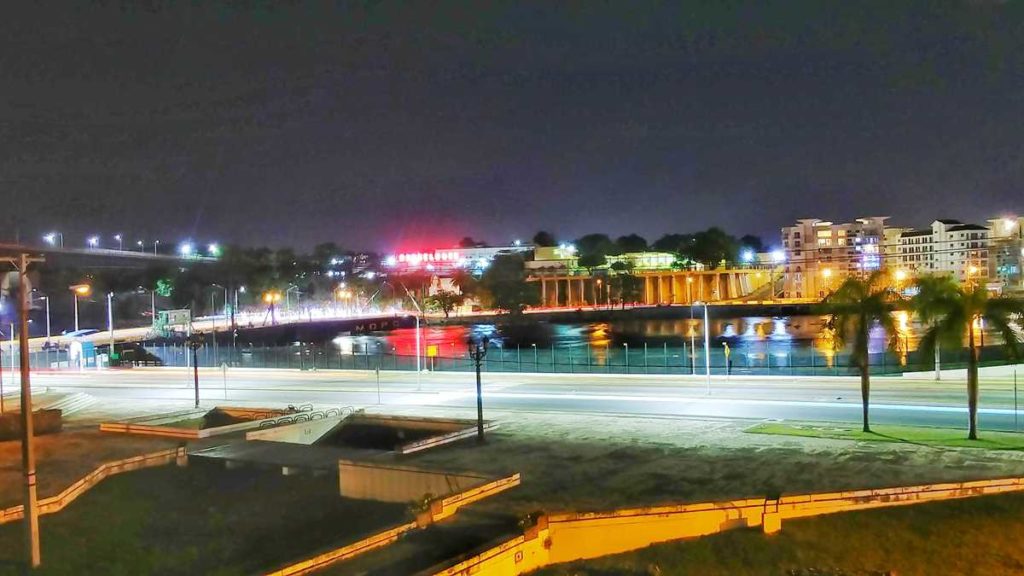 9) Bonye, the biggest party of Santo Domingo
 However, there is one dancing respectively nightlife event which earns its separate reference here in this article about the reasons why to visit Santo Domingos Zona Colonial: Bonye. This is the name of an extremely popular and long-standing Dominican band that is performing every Sunday evening in an amazing historical setting next to the ruins of San Francisco.
While just the location is worth a visit, the Bonye band guarantees that every event is a big street party for everyone. When you get there, you will see hundreds of Dominicans and tourists alike dancing to the typical Bachata, Merengue and Salsa music, while the bars and colmados next door are open to sell drinks and snacks. The event is for free, an unparalleled highlight and a must-see when visiting Santo Domingo.
Now, as of May 2023, Bonye is running again for more than a year after the Covid-19 pandemic in the Dominican Republic officially ended.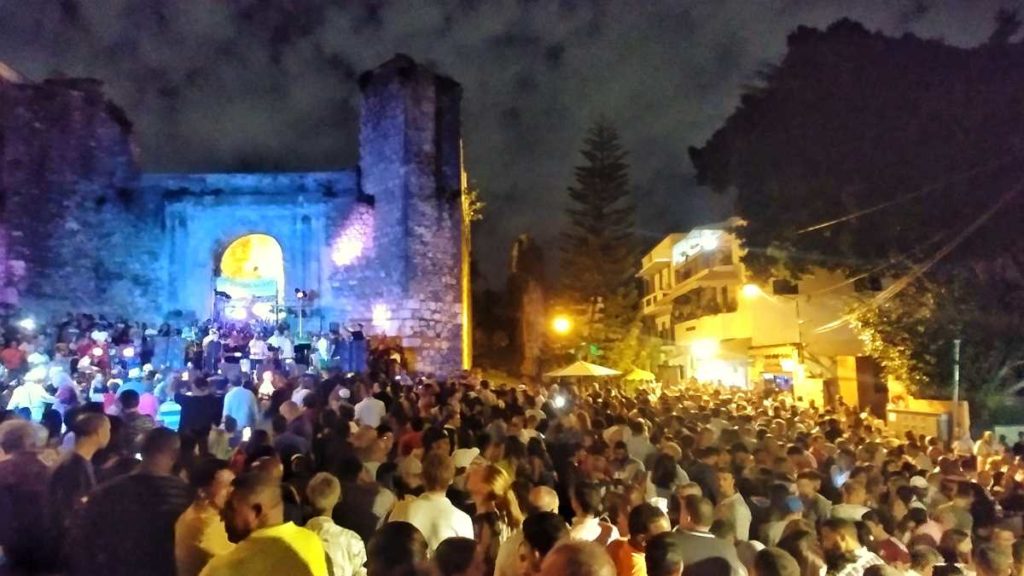 10) Photo opportunities in the Colonial Zone
 If you are a photographer, the Zona Colonial will be your heaven, thanks to the historic buildings, the little alleyways and especially the abundant colors. Not only can you take photos of the popular sights, but also of hidden spots, creatively painted buildings and ancient streets. There are also dozens if not hundreds historic and picturesque courtyards to discover. For a serious photographer, it might take several days to explore all the secrets the Zona Colonial has to offer.
When you visit the colonial district of Santo Domingo and are looking for photo opportunities, the streets Calle Las Damas, Calle Padre Billini, Calle Isabel La Católica and Calle Arzobispo Meriño offer the highest density of beautiful buildings and colorful houses. To explore some little hidden treasures and further photo opportunities, you can also check out the very short alleys Callejón Parmenio Troncoso, Callejón Macoris or Callejón de los Curas.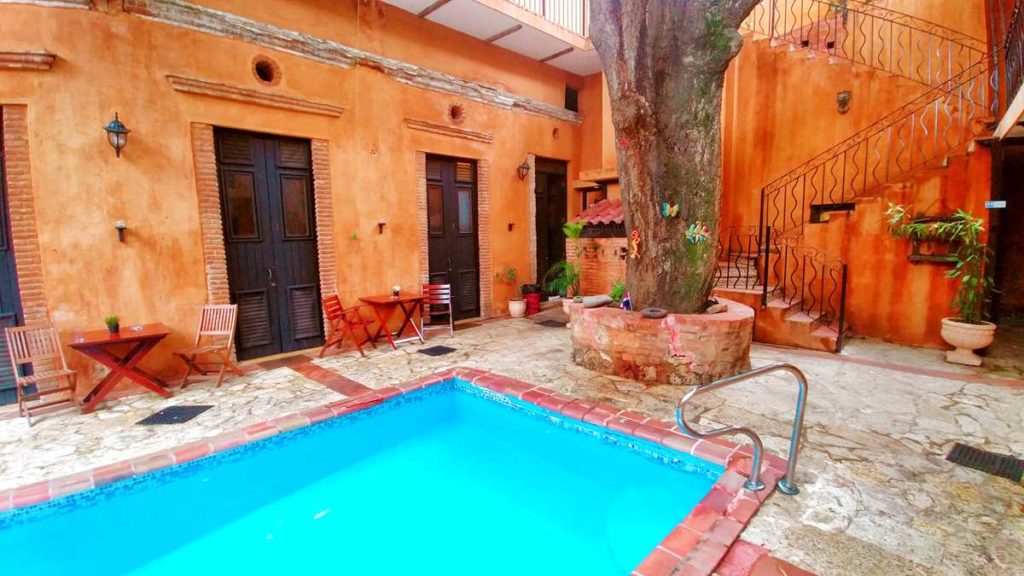 11) The best museums in the Dominican Republic
Especially on a rainy day (which rarely happens in the Dominican Republic – check the weather for each month here), museums are a great way to spend your day, particularly as the museums in the Colonial Zone are top-notch and some of the best in the entire Dominican Republic. There are various museums for different kinds of interests with the Ambar Museum, the Resistance Museum and the Museo de las Casas Reales being the most famous ones.
Here are some of the museums in the Zona Colonial that you should consider visiting:
Museo de las Casas Reales (Museum of the Royal Houses):
Prepare to step back in time as you explore this magnificent museum housed in a restored colonial palace. Discover the rich history of the Dominican Republic, from the days of Spanish colonization to the present, through captivating artifacts, artwork, and interactive displays.
Museo Alcázar de Colón (Alcázar de Colón Museum):
Venture into the former residence of Diego Columbus, the son of Christopher Columbus, and his wife Maria de Toledo. This splendid palace-turned-museum in the Zona Colonial showcases luxurious furniture, exquisite artwork, and period decorations, immersing you in the opulent lifestyle of the early Spanish colonial elite.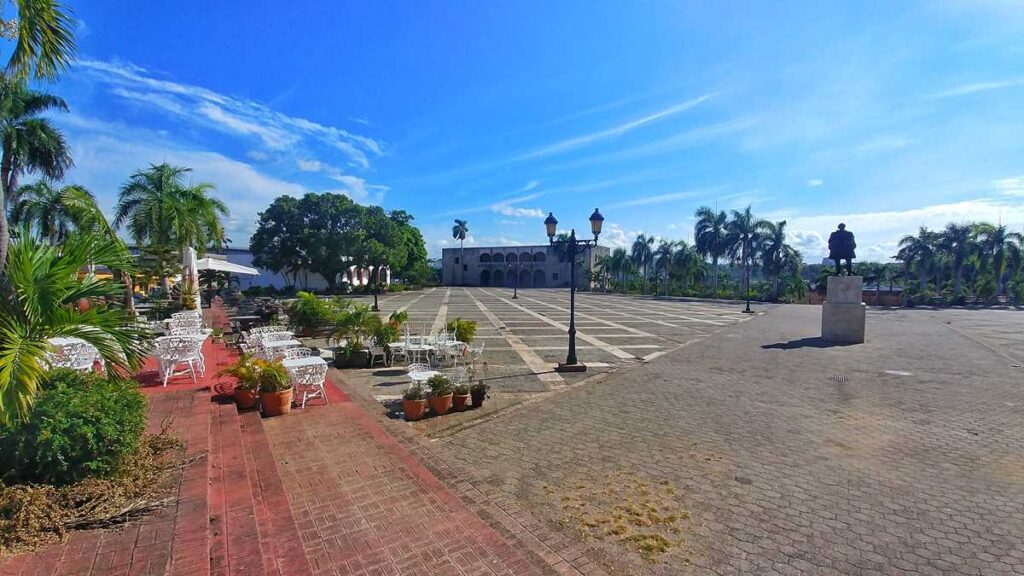 Museo del Ron y la Caña (Rum and Sugarcane Museum):
Indulge your senses in this aromatic museum dedicated to the beloved Dominican rum and its sugarcane origins. Learn about the rum-making process, from harvesting the sweet cane to the final distillation.
Museo de las Telecomunicaciones (Museum of Telecommunications):
Discover how the Dominican Republic embraced modern technology through this fascinating museum. Explore the evolution of communication, from telegraphs to smartphones, and marvel at vintage equipment, historical photographs, and interactive displays that illustrate the country's connectivity journey. This is definitely an interesting museum for a rainy day in the Colonial Zone.
Museo de la Resistencia Dominicana (Museum of Dominican Resistance):
Step into the era of the Trujillo dictatorship and the struggle for freedom in this thought-provoking museum in Santo Domingo. Uncover the stories of resistance fighters, view powerful photographs, and engage with immersive exhibits that shed light on the country's fight for democracy.
Museo de la Moneda (Museum of the Currency):
Journey into the fascinating world of money and numismatics at this unique museum in the Zona Colonial. Admire ancient coins, rare banknotes, and historical artifacts that offer insights into the country's monetary history. Engage with interactive exhibits that allow you to create your own currency designs.
Museo del Ámbar Dominicano (Dominican Amber Museum):
Embark on a prehistoric adventure as you explore the captivating world of amber, fossilized tree resin, at this museum. Marvel at mesmerizing amber specimens, including ancient insects trapped in time, and learn about the amber extraction process and its cultural significance in the Dominican Republic.
There are even more museums in the Colonial Zone, such as the Museo de la Catedral Primada de América (Museum of the Primatial Cathedral of America), Museo de la Porcelana (Porcelain Museum) or the Museo de la Familia Dominicana (Museum of the Dominican Family).
12) The Zona Colonial is perfectly safe
 Safety sometimes is an issue when talking about the Dominican Republic (mostly unjustified due to a lack of knowledge or experience). While Santo Domingo indeed has some crime issues, the Zona Colonial is perfectly safe, as long as you keep your eyes open and are not moving around carelessly. There is a high presence of police (ordinary and tourist police), the streets are always busy and there are even surveillance cameras in the area. You can walk around without worries, can ask any person for advice if in doubt and you can even enjoy the nightlife without problems as long as it doesn't get too late (after midnight you should take a taxi everywhere) or you are getting too drunk (and therefore vulnerable).
If you are still worried, check out the section "which things not to do" in this Santo Domingo article. There is also plenty of information about safety in Santo Domingo and the Dominican Republic and this article about if it is safe to travel to Punta Cana.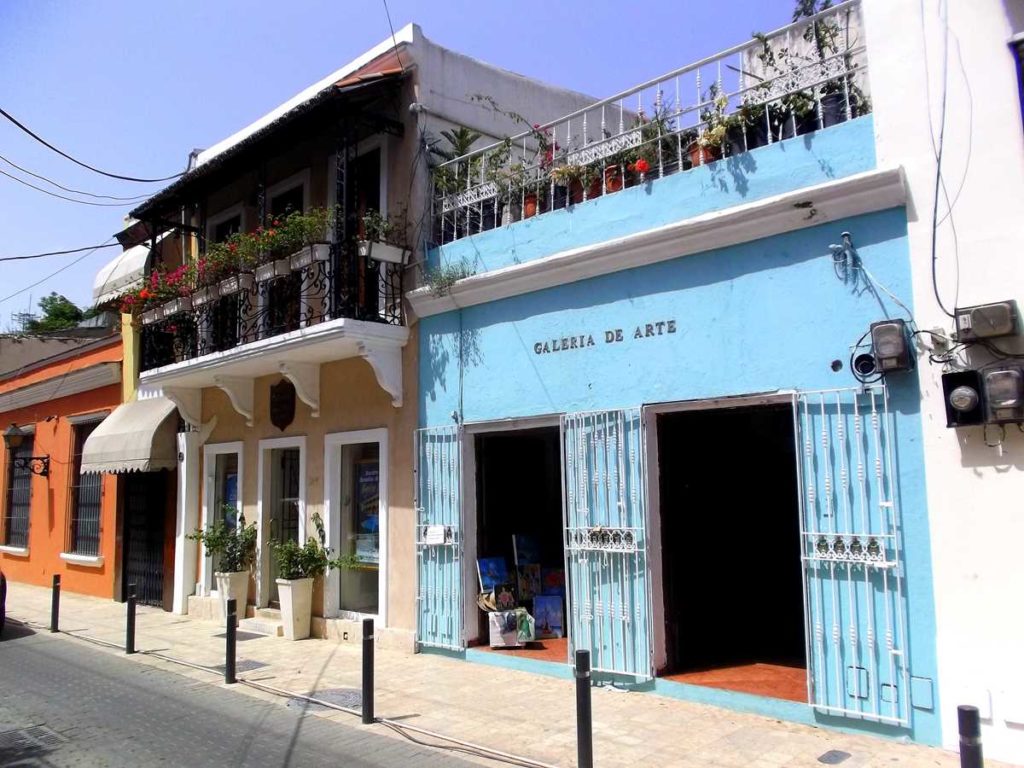 13) Starting point of great adventures in the Dominican Republic
 If you are not only coming for a day trip from Punta Cana to Santo Domingo but are planning several days (or even a full road-trip through the Dominican Republic), the city will be your perfect starting point to venture out to the country. Due to the logistical structure of the Dominican Republic (busses, highways, etc.) and the geographical location you can reach nearly all interesting regions (Southwest, mountains, North Coast, Samaná) from Santo Domingo in around 2-4 hours – it doesn't matter if you are planning to travel by bus or by Punta Cana car rental. Therefore Santo Domingo marks a great starting point if you are planning to see more from the Dominican Republic than just Punta Cana.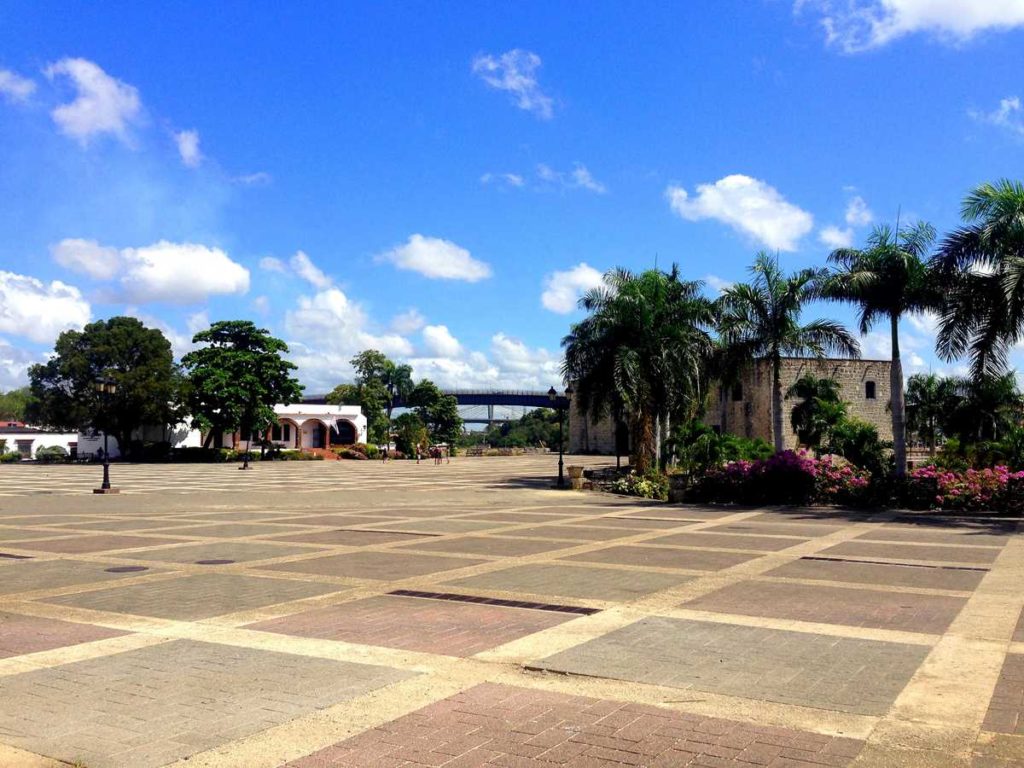 The ideal option is to spend 2-3 nights in Santo Domingo's Zona Colonial first (1-2 full days are perfect) and afterwards start your road-trip in the Dominican Republic.
Frequently asked questions
How to book an organized excursion from Punta Cana to the Colonial Zone in Santo Domingo?
 If you are on an all-inclusive vacation in Punta Cana (or Bayahibe, La Romana, Uvero Alto, Bavaro, etc.) and just would like to visit Santo Domingo for a day, the easiest option is to book a guided excursion. Most of the tours in Punta Cana are starting quite early in the morning to allow you sufficient time in Santo Domingo as you will spend at least 6 hours on the bus on the way from and to Punta Cana (approximately 3 hours each way). After arriving in the Colonial Zone, you will have a guided tour with a lot of the sights mentioned above, incl. entrances to some of them, depending on the tour finally booked.
In the afternoon, you have either a tour by bus to other sights of the city or some free time to explore some of the highlights I described above before heading back to Punta Cana. It is definitely a must-do excursion for all those who are interested in the history of Santo Domingo and the culture of the Dominican Republic. You can check out some recommendable offers here. Even private tours can be pretty affordable* especially when traveling in a party of more than 2 people, so make sure to have a look at this option as well.
How to get to Santo Domingo from Punta Cana (on your own)?
 If you would like to visit Santo Domingo from Punta Cana on your own I would recommend you at least two days. This gives you more time to enjoy the unique atmosphere of the Colonial Zone and stretches the travel time to two different days. Furthermore, you'll also have the chance to experience Santo Domingos great dining and vibrant nightlife. Particularly the Bonyé event is spectacular and unique, hence if you can, plan your trip to Santo Domingo on a Sunday (even though some of the museums in the Colonial Zone are closed on Sundays).
To get from Punta Cana to Santo Domingo, you have three options:
 1) Private Transfer: If you would like to have it relaxed and with peace of mind, you can book a private transfer. Prices for a door-to-door transfer (from your resort in Punta Cana to your hotel in Santo Domingo (see further below for accommodation recommendations in the Ciudad Colonial) should range between 150 and 180 USD one-way incl. taxes and fees. If interested, you can book those transfers with the following links: 
 2) Rental Car: In case you are planning multiple excursions on your own anyway, you should consider renting a car. Driving in the Dominican Republic might sometimes be a bit chaotic but is doable. However, please note that traffic in Santo Domingo is a little crazy so it is best to leave the car in the garage once you have arrived in Santo Domingo. You can check out attractive rental car prices here*. If driving with your own car, you need around 2.5 hours between both cities (avoiding rush hour). If you are a newbie in the Dominican Republic or have never driven in other countries, it is not recommendable to head to Santo Domingo by rental car.
 3) Bus: Quite often I see people taking the bus from Bavaro/Punta Cana to Santo Domingo (which I do as well). As there is a direct express service 7 times a day between both cities (see departure times for the Punta Cana – Santo Domingo bus here), it is quite easy. On top, the journey is very comfortable as the buses are new and modern. The journey costs around 8 USD per way (450 Dominican Pesos as of May 2023). Depending on your mobility you might need taxis or motoconchos to get to and from the bus station.
You can find all the information about traveling between Santo Domingo and Punta Cana in this article, incl. bus departure times and further options for your journey – also depending on where your accommodation is located.
TRAVEL COACHING
Save money and time!
Do you need help planning a customized vacation in Punta Cana and the Dominican Republic? Is it difficult for you to decide what and where to book? Would you like to take advantage of someone with years of experience in the tourism industry (knowing all the travel hacks 😉 ) and living right in the place where you would like to spend your holiday?
That's what my personal travel coaching is for. I will design your tailor-made itinerary, tell you how to save money on your trip and send you the best insider tips and recommendations. All the information I send you are crafted with love and passion – and are coming with a money-back guarantee. Let me know how I can help you (check my packages here) and send me a request here!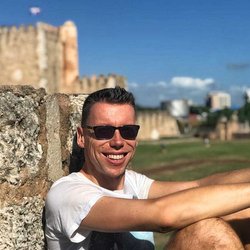 How to get to Santo Domingo from elsewhere?
In case you are not vacationing in Punta Cana, you can put Santo Domingo as your first travel destination in the Dominican Republic. It is very suitable to be your first stop, as there are a lot of flights from various cities in the United States to Santo Domingo*, among them Atlanta, Miami, Fort Lauderdale, New York, Boston, Philadelphia, Charlotte and Orlando. If you're coming from Canada or the UK, it's usually easier to fly to Punta Cana and take one of the transport options mentioned in the previous point.
In case you are already in the Dominican Republic, just take a bus to Santo Domingo. There are direct busses from nearly every corner of the country to the capital.
Where to stay in Santo Domingo?
If you are deciding for the two-day-option (or longer) I absolutely recommend you to stay within the limits of the Zona Colonial. One reason is for safety, but the main reason is that with your accommodation being in the Zona Colonial, everything is within walking distance. Furthermore, there are dozens of hotels in old colonial buildings and with a unique historic charm. If you pick a good hotel, your accommodation might already be an attraction for itself where you can feel the atmosphere of 300 years ago.
If you're looking for some highly recommendable hotels within the Zona Colonial in Santo Domingo, the following options are some of the best options:
Casa Naemie ($$ – check prices*): one of the best budget places to stay in the Colonial Zone in a typical colonial house with intertwined hallways and different patios
Colonial 154 H Boutique ($$$ – check prices*): a stylish but affordable boutique hotel with the full charm of colonial accommodation
Casa Sanchez ($$$$ – check prices*): colonial architecture meets contemporary design. This comfortable hotel combines history and modern times
Billini Hotel ($$$$$ – check prices*): using structures and walls from the 17th century and being located right next to a 300+ years old church, you can't be closer to the feeling of living back in these old times
Alternatively, an Airbnb in Santo Domingo is also a great option to give your city trip a personal touch, especially as there are a lot of unique places to stay in Santo Domingo and the colonial district. Check out a comprehensive list of the 27 best and most spectacular Airbnbs in Santo Domingo here.
Is it safe to visit Santo Domingo?
 As described above, it is absolutely safe to visit the Zona Colonial of Santo Domingo. Also, the way from the bus station or when arriving by car is no problem. In case you'd like to explore further parts of Santo Domingo please ask a local for advice or send me an email on where to go and not to go.
What to do when visiting the colonial districtof Santo Domingo?
As mentioned above, there are plenty of things-to-do to explore on your own, such as the various historical attractions, the ancient cobblestone streets or the several cafés, bars and art shops. My top 3 when it comes to visiting the colonial district is to have a look at Plaza España, explore the ancient streets (especially Calle Las Damas, Calle Padre Billini, Calle Isabel La Católica and Calle Arzobispo Meriño) and have a coffee or a beer at Parque Colón or Parque Duarte to enjoy people-watching.
If you'd like to explore the Colonial Zone in Santo Domingo the more entertaining way, you can also book a guided bicycle tour, take part in a chocolate workshop, visit the 4D-cinema to see a movie about the history of the city or join an interactive tour through the history of rum in the Dominican Republic. Have a look at some of the following options:
Alternatives to Santo Domingo and the Zona Colonial
Honestly, the Zona Colonial is top-notch if it comes to history, nightlife, culture and sightseeing, so there aren't any equivalent alternatives to this area. Within Santo Domingo, the Zona Colonial is by far the most interesting part.
If you are looking for alternative historic buildings and a colonial old town, Puerto Plata on the north coast of the Dominican Republic is another option, but not as spectacular as the Colonial Zone in Santo Domingo.
In terms of nightlife, Piantini in Santo Domingo is another hotspot for the night, especially for posh and elegant bars and clubs. Outside of Santo Domingo, Cabarete on the North Coast has some decent nightlife, especially on the beach. If you don't want to venture out from Punta Cana, the center of Bavaro does have a few nightlife options.
However, due to the unique characteristic of Santo Domingos Zona Colonial, there is hardly any full alternative and it is absolutely worth the trip, especially if you stay overnight and spend at least 2 or 3 days in the city.
If you don't want to overnight in Santo Domingo but feel that the city is too far for a day trip, you can check out other day trip ideas from Punta Cana here.
SHARING IS CARING! IF YOU ENJOYED THIS ARTICLE, PLEASE SHARE WITH YOUR FRIENDS – I WOULD APPRECIATE IT A LOT.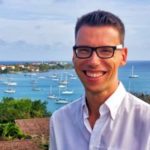 CHRIS
Author, Travel Coach & Punta Cana based digital nomad
Hey, I am Chris, a born and raised German, travel-addictive and Caribbean Soul. Since 2011 I have been living in the Caribbean, among them 5 years in the Dominican Republic. Punta Cana is my home-base here in the country and I'd love to tell you more about how to experience Punta Cana off-the-beaten-track and give you all the advice you want to know for your vacation in Punta Cana.