Ziplining in Punta Cana is one of the most popular excursions among visitors of the Dominican Republic. It combines fun, some action and the feeling of flying with breathtaking views from above. What's interesting about the Punta Cana ziplines is that they are very different, each canopy adventure has its very own highlight, among them the longest zipline in Punta Cana or exhilarating cables which send you full-speed to the water. Therefore it is important to book the right zipline excursion for your needs. For this reason, you'll find all the different information about ziplining in Punta Cana here in this article, the pros and cons and our experiences with each canopy adventure in Punta Cana, so that you can decide which is the best ziplining excursion for you.
Are you interested in further Punta Cana tours? If so, check out our comprehensive Punta Cana Excursion Guide with the most exciting 35+ activities for your vacation.
For further adventurous activities incl. some DIY activities, check out the best Punta Cana adventures here.
Completely UPDATED September 2022
Overview: what to expect when ziplining in Punta Cana
When you go ziplining in Punta Cana, you can prepare for a day with a lot of fun. Some of the highlights you can expect when booking a canopy adventure in Punta Cana are:
– the longest zipline cable in the Dominican Republic with 2500 feet
– Eco-Splash ziplines which send you straight into the water
– a couples' zipline for spectacular photos together
– an adventurous suspension bridge in between the cables
– ocean view ziplines in Punta Cana
The best ziplines in Punta Cana are the following, which are all described in detail further below.
Bavaro Runners Zipline
Bavaro Adventure Park Zipline
Scape Park Punta Cana Zipline
Character of this Punta Cana zipline
The longest zipline circuit in Punta Cana with 12 cables; features stunning mountains, lush vegetation and tropical views
Family-friendly zipline in Punta Cana with 6 cables and 1 suspension bridge + mega fun as it is ending in the water
Most diversified zipline adventure with 8 cables in a theme park including a Via Ferrata + 1 water zipline + 2 hammock ziplines
Suitable for
everyone
everyone
everyone
Price per person
90 USD*
90 USD*
130 USD*
Duration
half-day (3-4 hours)
half-day (3-4 hours)
full-day (8-10 hours; including other activities)
Group size
medium (approx. 20-40)
medium (approx. 20-40)
medium (approx. 20-40)
Drinks included
no
no
no
Meals included
no
no
no
Transfers from hotel included
yes
yes
yes
All details in this table are for informational purposes only and can change without further notice. Please check the description of the tour offer for binding information. Punta Cana Travel Blog can't be held responsible for any errors or changes.
As you can see, there is a lot to explore when going on a zipline adventure in Punta Cana. But it is important to know which tour to book as all zipline excursions in Punta Cana are different. Some are very family-friendly and great for beginners, others are perfect for nature lovers and adrenaline junkies. Continue reading to see which is the best zipline in Punta Cana for you.
But all the Punta Cana Ziplines also have some things in common: they are all super safe, they all have between 6 and 12 cables and they are all surrounded by (a different kind of) tropical vegetation.
What is very interesting about canopy adventures in Punta Cana as well is that you can combine them with other Punta Cana excursions, such as horseback riding, dune buggy tours, catamaran excursions or countryside tours. The advantages of these zipline combinations are obvious: you pay a discounted price instead of paying two full Punta Cana excursions, you only have a hotel pick-up once (which saves time) and you get to see more of the Dominican Republic besides just the zipline.
With all of these options, it pays out to find the right tour for your preferences. Therefore check out the following guide of the best ziplines in Punta Cana and pick your favorite excursion. As I have done all the tours in Punta Cana on my own, they also include real zipline experiences, so make sure to check these tours out!
Different zipline adventures in Punta Cana
Canopy Adventure with Bavaro Runners
As Punta Cana is mostly flat, many people don't know that there is a mountain range with lush and tropical vegetation closeby, approximately 45 minutes from most all-inclusive resorts. This area is called Anamuya Mountains, and that's exactly the place where the Bavaro Runners Zipline is located. Think rolling hills and abundant vegetation and imagine yourself admiring this landscape while flying from platform to platform. It can be said without a doubt that this is the zipline in Punta Cana with the most beautiful views of nature, as you also fly over a natural river and can see the stunning mountains of Anamuya.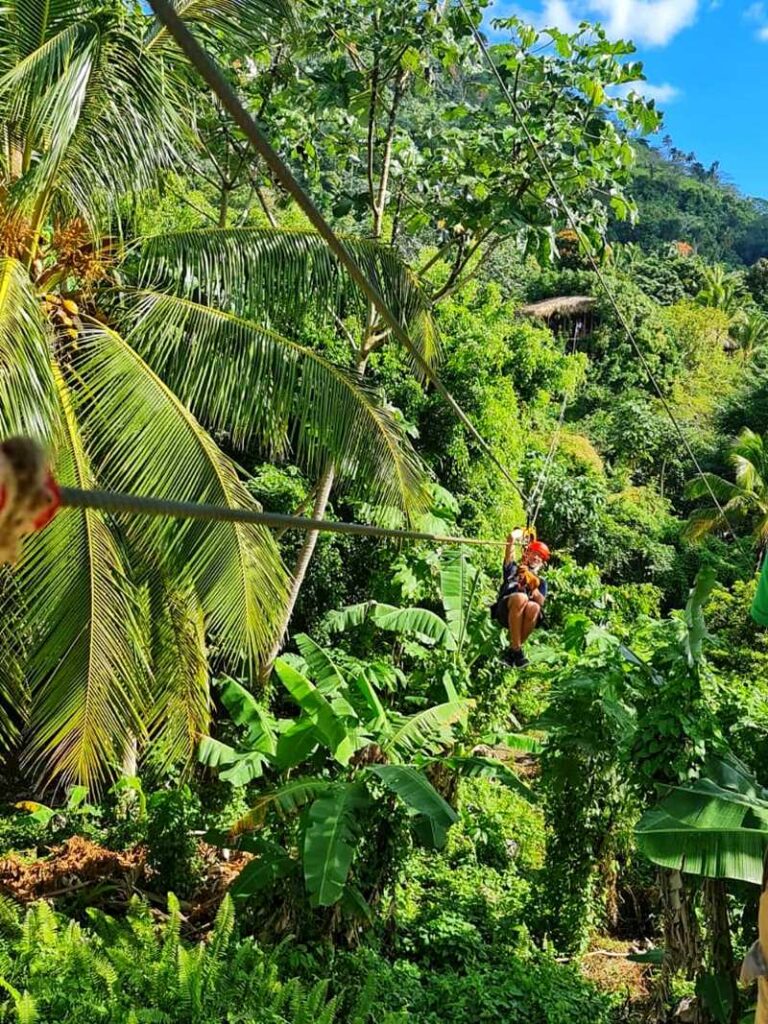 Speaking about the technical details, this Punta Cana zipline consists of 12 cables and 18 platforms. It includes the longest zipline of the Dominican Republic with 2500 feet and also offers one of the coolest couples' cable (where you fly side by side) of all canopy adventures in Punta Cana. You are getting equipped with a helmet, harness and gloves, which are important as you are using them for slowing down at the end of each cable.
TRAVEL COACHING
Save money and time!
Do you need help planning a customized vacation in Punta Cana and the Dominican Republic? Is it difficult for you to decide what and where to book? Would you like to take advantage of someone with years of experience in the tourism industry (knowing all the travel hacks 😉 ) and living right in the place where you would like to spend your holiday?
That's what my personal travel coaching is for. I will design your tailor-made itinerary, tell you how to save money on your trip and send you the best insider tips and recommendations. All the information I send you are crafted with love and passion – and are coming with a money-back guarantee. Let me know how I can help you (check my packages here) and send me a request here!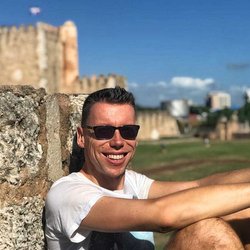 I can highly recommend this Punta Cana zipline especially if you'd like to see different scenery than just the resorts in Punta Cana. I have been to the Anamuya Mountains at least a dozen times and simply love this beautiful area. The ziplining here is a lot of fun and doesn't include a lot of waiting time as they have tons of staff on all the platforms to keep you going. The views are excellent, you can enjoy the longest zipline of the Dominican Republic and the race at the couples' cable is great fun. There are 8 cables where you have to steer and brake on your own and 4 freestyle ziplines, so there is a bit of everything to keep you entertained.
Pros: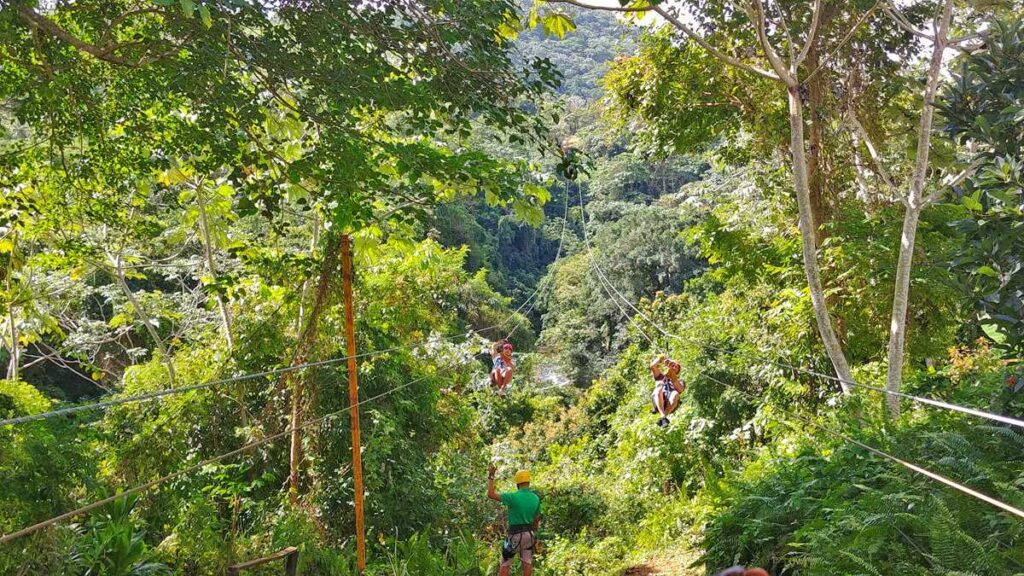 Cons:
Combo Packages with the Bavaro Runners Zipline Adventure
If you'd like to go ziplining but want to make more out of your day, you can combine your Punta Cana zipline adventure in the Anamuya Mountains with other excursions in Bavaro and Punta Cana. This means you'll only have one transfer, save time and money (compared to when booking two separate activities) and see more of what the beautiful Dominican Republic has to offer. Check out the following Zipline Combos if interested in this particular zipline course.
As you can see, the combo packages with the Runners Adventures zipline in Punta Cana are pretty popular and get exclusively stunning reviews. About all of them, including the Punta Cana Monkeyland and Zipline package, customers are raving. Unfortunately, some of them include the use of animals, which you always shall see as very critical. In our opinion, it is not necessary to hold animals in captivity, especially not in a country like the Dominican Republic, which has so many natural wonders, stunning sceneries and gorgeous landscapes. Therefore we can for example not recommend the Punta Cana Monkeyland and Zipline package and would rather recommend the Punta Cana Zipline + Jungle Buggies combination* which guarantees a whole day of fun and adrenaline.
Punta Cana Zipline at Bavaro Adventure Park
 Let's continue with Bavaro Adventure Park, a theme park in Punta Cana that offers more than 15 different activities, among them a canopy adventure with 6 cables + an exciting suspension bridge. At this multifaceted amusement park, you have the choice if you just book the zipline as a single excursion or if you buy multiple activities at once. See further below for the current offers.
This Punta Cana ziplining excursion offers very easy ziplines, which makes it very family-friendly. There is a pretty cool suspension bridge in between two cables, which is an interesting Punta Cana adventure by itself (and not too easy by the way). However, the highlight of Bavaro Adventure parks' zipline is the last one called Zipline Mega Splash. It is not only the longest cable of this canopy adventure, it also sends you right into a well-tempered pool, where you'll make a fun and refreshing (full-body) dip into the swimming pool. This is definitely my favorite way to end a ziplining excursion in Punta Cana.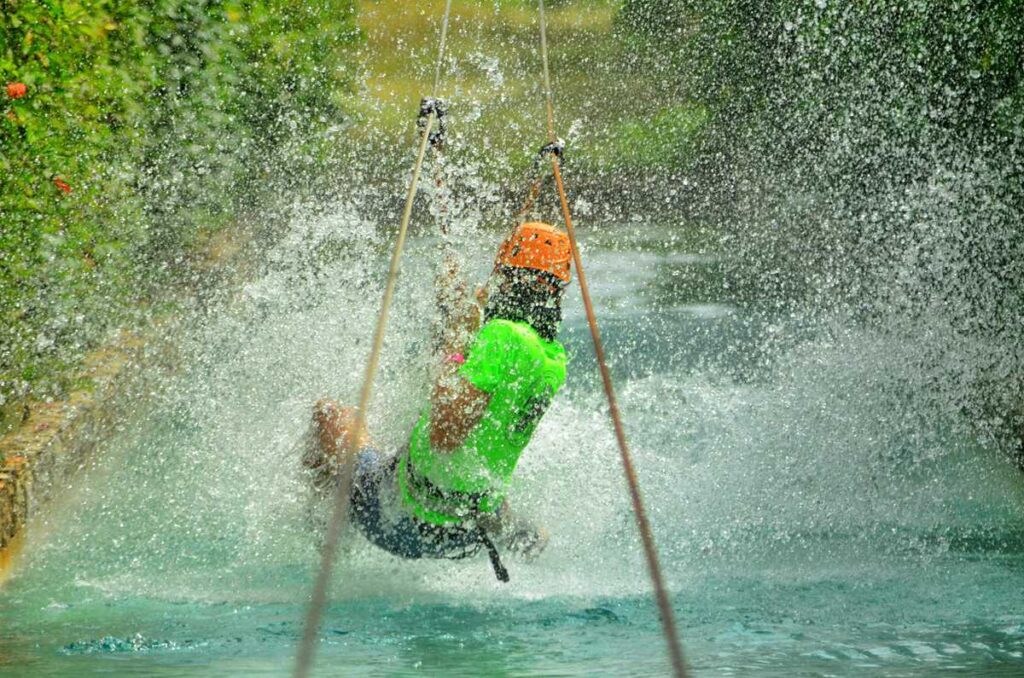 When talking about the technical details of this zipline in Punta Cana, it is important to note that the cables have an automatic braking system, so you don't have to do any steering or braking on your own. That's why it is also the only ziplining adventure in Punta Cana where you go without gloves. You have your hands free to do any positions you want. Furthermore, there is not a single second in the entire circuit where you are not latched with your harness into the security rope system, so it is super safe and very easy, even if you are a bit nervous or if it is your first time ziplining. The cables are more of the shorter kind and are between 300 and 800 feet long, except the longer Mega Splash which ends in the water.
After finishing the zipline circuit, you can enjoy some more relaxing time in the separate waterfall pool, with sun chairs, a bar and surrounded by tropical vegetation. The waterfall pool is included in your Punta Cana zipline adventure as well.
The canopy adventure at Bavaro Adventure Park is a perfect excursion for families and ziplining beginners. It is the best choice if you want to enjoy some easy ziplining fun without thinking too much about how to do it (you can do it freestyle!) and not too far away from your accommodation, as Bavaro Adventure Park has a very centric location in Bavaro. You'll get some nice views of the surrounding area of Punta Cana, even the view can't compete with the other ziplining options.
Pros: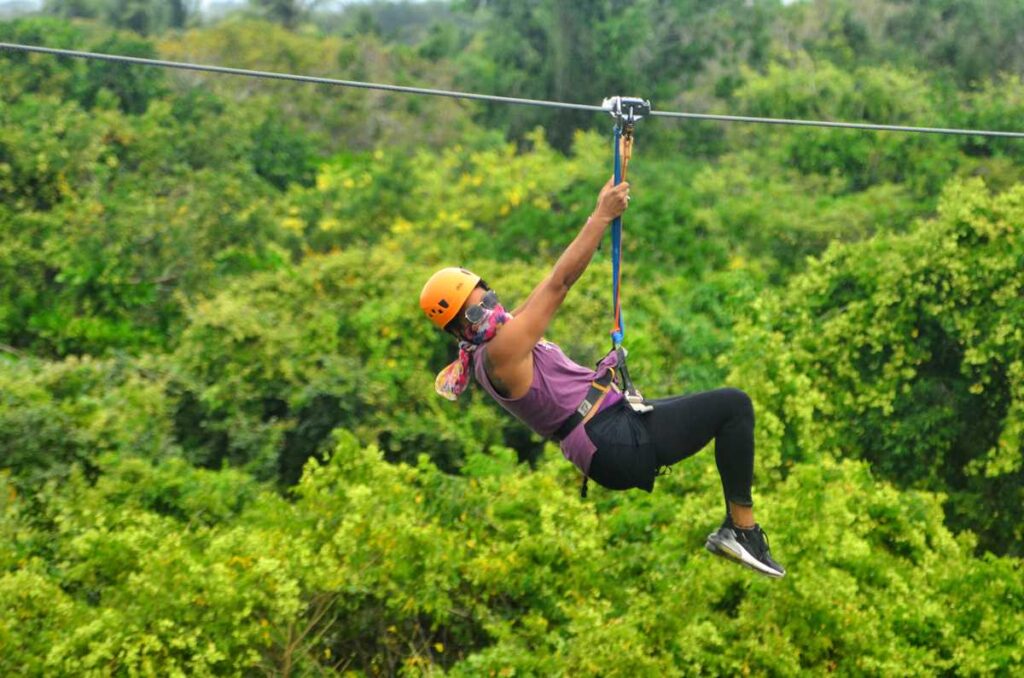 Cons:
Combo Packages with the Punta Cana Zipline at Bavaro Adventure Park
Once you are at Bavaro Adventure Park, it's easy to combine your zipline excursion in Punta Cana with many other thrilling activities. Segway, Horseback Riding, Zorbing, Bungee Dome and a buggy adventure are just a few of the adventures in Punta Cana you can book at Bavaro Adventure Park. While not all of the activities are open right now due to the impacts of Covid-19, you can combine your zipline excursion with a buggy adventure – either in a dune buggy or a Polaris ATV. This also includes return transfers from your all-inclusive resort or Punta Cana Airbnb to the park.
Eco-Splash Ziplining in Punta Cana at Scape Park Can Cana
You are excited by the idea to have a zipline into the water but prefer to have it a bit more adventurous? In this case, check out the eco-splash zipline in Punta Cana, located at Scape Park Punta Cana (the popular theme park you can read a review about here). This exciting canopy adventure is the only ocean view zipline in Punta Cana. You can admire the turquoise ocean of Cap Cana and its adjacent all-inclusive resorts (even it is quite far away from the ocean, to be honest). Even the first cables are pretty short, they are getting longer over time the last one, where you speed above the whole park.
The zipline at Scape Park Punta Cana is divided into two parts. The first 8 cables can be called the dry section as they are located along the cliffs which are characteristic of Scape Park Cap Cana. Afterwards, you take off the equipment and have the chance (if you want) to get changed into your bathing suits for the wet section of the ziplines. First, similar to Bavaro Adventure Park, you land into the water, which is not only refreshing and great fun, but it is also hilarious watching the others dipping first with their butt and later with the entire body into the water. Second, there are another two zipline cables where you get a hammock and can enjoy flying into the water while being conveniently seated and watching the surrounding – another option that guarantees great fun. Obviously, the wet part of this Punta Cana zipline is optional, hence if you don't want to get wet, you can easily stop after the first 8 cables, which also include a short Via Ferrata.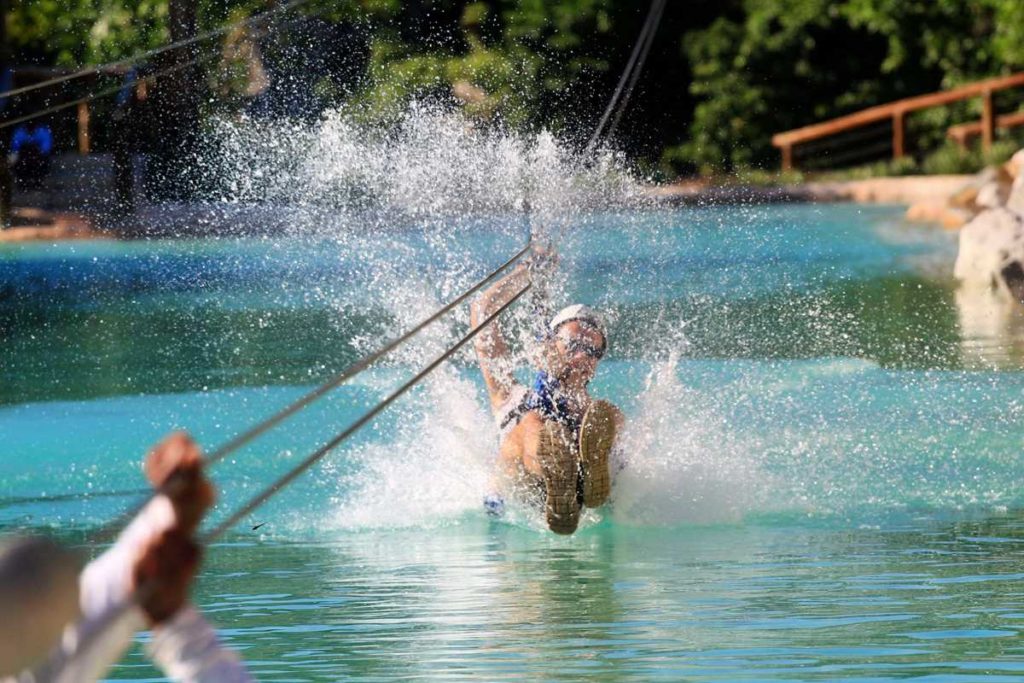 In total, the zipline at Scape Park Punta Cana consists of 11 cables divided into two parts, spanning around this Punta Cana amusement park, located at the brim of a rock formation, rising nearly 100 feet over the ground. This allows for some significant inclines when ziplining through this circuit. At the start of this Punta Cana zipline tour, you'll get equipped with a helmet, harness and gloves by the ever-attentive staff, which also helps you to switch cables at the platforms. You need the gloves to steer a bit, while other cables allow having both hands free. There is a short hike of a couple of minutes involved in between one of the platforms, so make sure to wear adequate shoes.
Overall, this zipline adventure at Scape Park Punta Cana is great fun. Some of the quite boring, very short ziplines get compensated by the long and speedy ziplines, which brings your adrenaline to another level. In the end, the big water splash is waiting for you, which is the highlight of the entire excursion. With all those unique features, it might be the most unique zipline in Punta Cana, but unfortunately, it is also the most expensive canopy adventure in Punta Cana, as you can go only ziplining here when you buy a full-day pass for Scape Park Punta Cana.
Pros: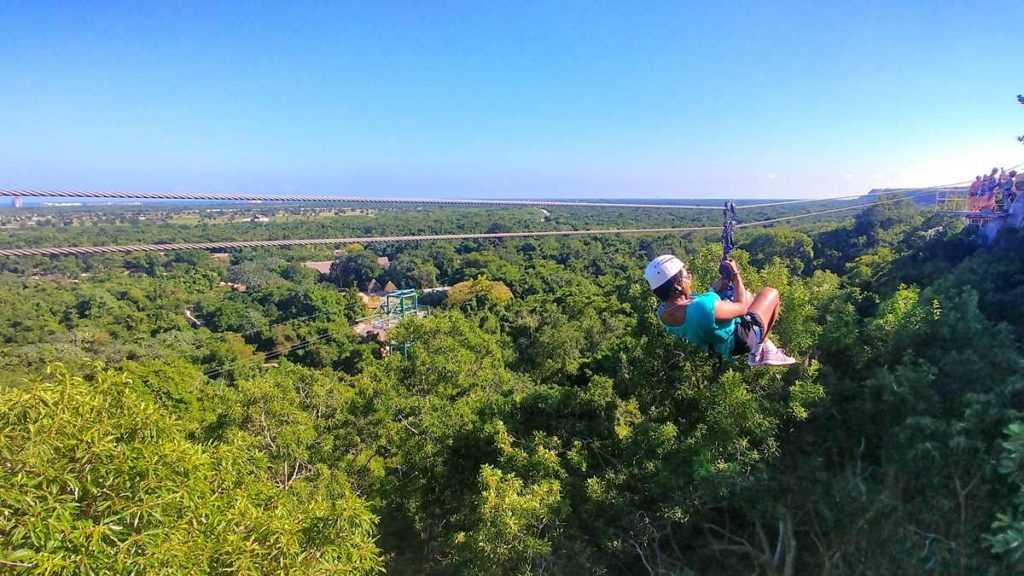 Cons:
Combo Packages with the Eco-Splash Zipline at Scape Park Cap Cana
Once you decide on a full-day pass at Scape Park Punta Cana, you'll also enjoy many other activities, such as visiting the famous blue lagoon (Hoyo Azul), have a tour through a cave, visit another Mexican-style cenote or get to know a bit more about the culture of the Dominican Republic. There are also a couple of artificial waterfalls at Scape Park. Combining your zipline adventure at Scape Park Punta Cana with other activities is not a question of if you want to do it, you simply have no other choice than to get the full-day access pass*. You can also visit the Scape Park beach club at the beautiful Juanillo Beach or – for a little surcharge – include a catamaran cruise along the shores of Cap Cana.
Other ziplines in Punta Cana
The selection above is just showing the most important and best ziplines in Punta Cana. There are more of them in the area. As we haven't tried them, I can't serve with my own experiences, but if you'd like to, you can check out the following other Punta Cana ziplines:
La Hacienda Park (book your ticket here*): a theme park similar to Scape Park Punta Cana, but located in the lush countryside of the Anamuya Mountains. Besides the zipline with 5 cables and a total of 2 kilometers, where you reach up to 70 km/h, they have buggies, a countryside safari and a freefall jump.
Jungle Experience Punta Cana (former Horse Play Range) (book your ticket here*): This zipline course is hidden in the Anamuya Mountains and features 5 cables with 10 platforms. As it is sold together as a package with horseback riding, we recommend the other Punta Cana ziplines presented in this article to avoid unnatural animal encounters.
Conclusion: what is the best Zipline in Punta Cana?
So, you are probably asking now what is the best zipline in Punta Cana and the Dominican Republic. Well, it depends!
If you have never done ziplining before, the shorter circuit at Bavaro Adventure Park might be perfect for you, especially combined with one of the other activities. The whole excursion is very family-friendly, so it is perfect for your kids, who will love the waterfall pool as well (included in every ziplining excursion).
If you are craving for the water splash, which is indeed great fun and my most favorite part of the entire Punta Cana ziplining, Scape Park Punta Cana and Bavaro Adventure Park* are your zipline excursions to book.
For the most beautiful vegetation, you should book the excursion presented first in this ziplining guide for Punta Cana. The Anamuya Mountains are just gorgeous and ziplining through this natural habitat comes closest to what canopy adventures were initially invented for.
Furthermore, the zipline circuit at Anamuya with Bavaro Runners* is also the perfect multi-purpose excursion and offers a little bit for everyone: beautiful nature, the longest zipline, amazing views, a couples' zipline – you name it!
As you can see, there is not THE best zipline in Punta Cana, but all canopy adventures are guaranteeing a lot of fun, all have their unique features. So make sure to check out one of the tours above when looking for a ziplining excursion in Punta Cana.
SHARING IS CARING! IF YOU ENJOYED THIS ARTICLE, PLEASE SHARE WITH YOUR FRIENDS – I WOULD APPRECIATE IT A LOT.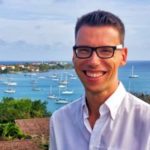 CHRIS
Author, Travel Coach & Punta Cana based digital nomad
Hey, I am Chris, a born and raised German, travel-addictive and Caribbean Soul. Since 2011 I have been living in the Caribbean, among them 5 years in the Dominican Republic. Punta Cana is my home-base here in the country and I'd love to tell you more about how to experience Punta Cana off-the-beaten-track and give you all the advice you want to know for your vacation in Punta Cana.