Are you planning your honeymoon in Punta Cana? It hardly can't get any better! Great price-value ratio, romantic resorts, gorgeous beaches, top-notch service and affordable prices for excursions and extra services make it an unforgettable Caribbean honeymoon. To help you plan this once-in-a-lifetime vacation, the following article will show you the most romantic resorts in Punta Cana, the best (free) honeymoon packages in Punta Canas' all-inclusives, the most elegant honeymoon suites as well as unique experiences you shouldn't miss for your romantic getaway – all written by someone who is living in Punta Cana and who has spent his honeymoon in Punta Cana.
Flights to Punta Cana
Throughout this Punta Cana Honeymoon Guide, you'll find a lot of reasons why Punta Cana in the Dominican Republic is a perfect honeymoon destination, among them – for sure – the excellent flight connections. Currently, there are direct flights to 42 (!) North American Airports, including the following (as of November 2023):
Year-round non-stop flights from Punta Cana to the US: Atlanta, Austin, Baltimore, Boston, Charlotte, Chicago–Midway, Chicago–O'Hare, Cleveland, Fort Lauderdale, Houston, Miami, Newark, New York–JFK, Orlando, Philadelphia, San Juan, Tampa, Washington–Dulles
Seasonal non-stop flights from Punta Cana to the US: Dallas/Fort Worth, Detroit, Houston–Hobby, Minneapolis/St. Paul, St. Louis
Year-round non-stop flights from Punta Cana to Canada: Montréal–Trudeau, Québec City, Toronto–Pearson
Seasonal non-stop flights from Punta Cana to Canada: Bagotville, Calgary, Edmonton, Fredericton, Gander, Halifax, Hamilton (ON), Kitchener/Waterloo, London (ON), Moncton, Ottawa, Regina, St. John's, Saskatoon, Vancouver, Winnipeg
As you can see, Punta Cana is never far away. If you want to check for some special deals, have a look at this page* where you can see the current lowest price from your closest airport.
If you want to treat yourself to something special for your Punta Cana honeymoon, you could also check the business-class flight prices for your trip. Sometimes, this is just some 200-300 USD more expensive, especially if you compare the rate to an Economy Class ticket with all extra costs, such as seat reservations, baggage, meals, etc. This makes more sense for longer flights than just for some short hops from Florida.
The best honeymoon suites in Punta Cana
After you have booked your flight, it's time for your accommodation. There are more than 80 resorts in Punta Cana (check these resorts out on a map here in case you are interested in the location), hence it is worth checking out the best ones for you. While you can't go wrong with most of these all-inclusive hotels, it certainly makes up for a better honeymoon in Punta Cana if you book one of Punta Canas' romantic resorts instead of a family resort in the Dominican Republic or one of the cheapest hotels in Punta Cana, where food and service are not adequate to a once-in-a-lifetime holiday day in the Caribbean.
Instead of just randomly listing up upscale and elegant resorts, let's have a look at those honeymoon all-inclusives in Punta Cana which offer the best honeymoon suites and the best honeymoon packages.
Live Aqua Punta Cana Honeymoon Suite
Let's start with a honeymoon suite of a resort we have recently reviewed here at Punta Cana Travel Blog: the Live Aqua Punta Cana Honeymoon Suite. You can directly jump to the full review here in case you're interested.
The Live Aqua Honeymoon Suite not only offers a spacious suite with 626 square feet and state-of-the-art design and amenities, but it also comes with many additional privileges to make your honeymoon in Punta Cana unique.
Champagne and chocolate-covered strawberries in the room upon arrival
Access to the exclusive Aqua Club
One-day beach cabana free of charge
One romantic breakfast in the suite
One romantic dinner under the stars
One-day access to the humidity areas and water ritual at the spa
35 minutes couple massage at the spa
A la Carte Breakfast with a special Ocean View
15% discount on spa treatments
15% discount on cabana
As you can see, Live Aqua Punta Cana Adults Only particularly focuses on different experiences to ensure you have an unforgettable Caribbean honeymoon. All the experiences mentioned are included when you book the Live Aqua Punta Cana Honeymoon Suite.
In general, Live Aqua Punta Cana Beach Resort is an amazing honeymoon hotel in Punta Cana, as it combines an elegant atmosphere, upscale and contemporary suites, selected entertainment and high-quality food in all its restaurants. It is not a party resort in Punta Cana, it is rather a pretty relaxed and romantic all-inclusive hotel in Punta Cana, where you still can meet like-minded people at the swim-up bar, which even has extended opening hours (until 7 p.m.) compared to many other resorts.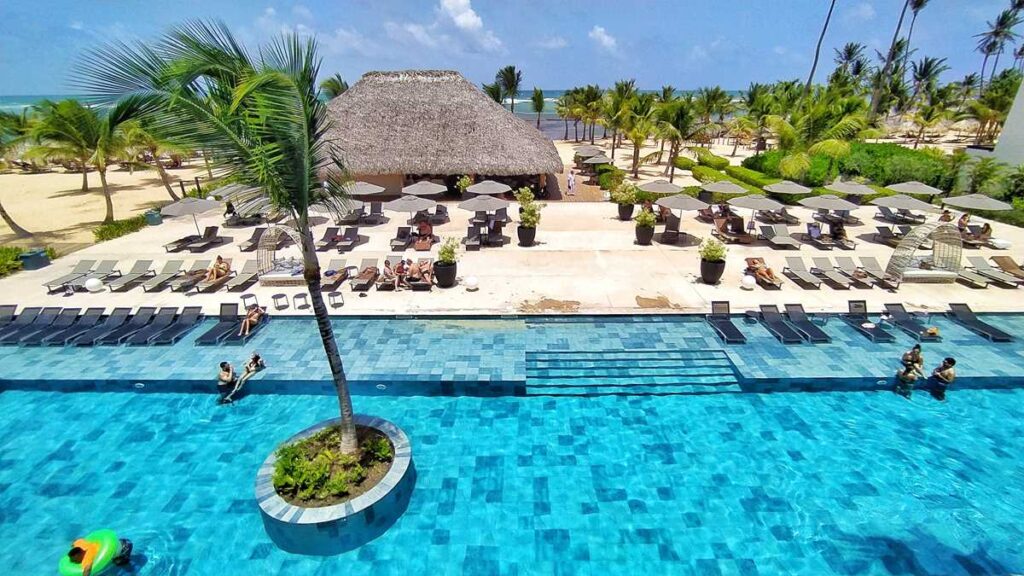 Where to book the Live Aqua Punta Cana Honeymoon Suite: Check prices here*
The general price range of Live Aqua: Rooms starting at 400 USD in the low seasons and 600 USD in the high season (check latest promotions here*)
Further information: Read the extensive Live Aqua Punta Cana review here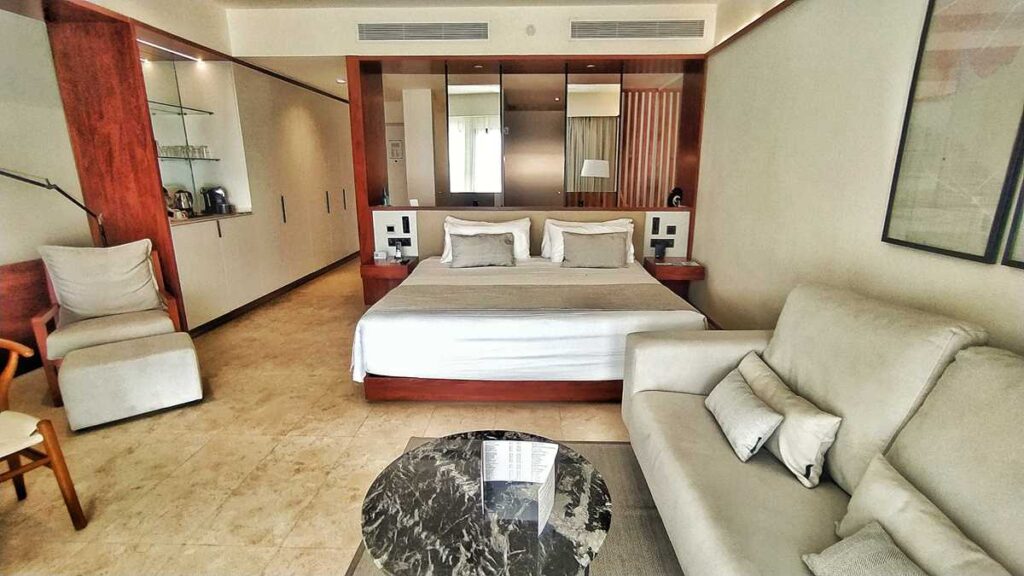 Sanctuary Cap Cana Honeymoon Suite
Suites at Sanctuary Cap Cana are in general pretty special and very suitable for a Punta Cana honeymoon as they have a lot of ocean views and private pool suites. However, there is one that combines the best of all worlds, the Castle Honeymoon Suite with a Private Pool. How cool is it to have a private pool for those very special romantic hours, a mesmerizing ocean view, special honeymoon services and a very elegant resort with top-notch service and first-class restaurants? The Sanctuary Cap Cana Honeymoon Suite has it all!
Special features of this room type are:
Butler service
Furnished terrace with direct access to a plunge pool
A bottle of champagne upon arrival
Shoe shining service
Luggage packing and unpacking service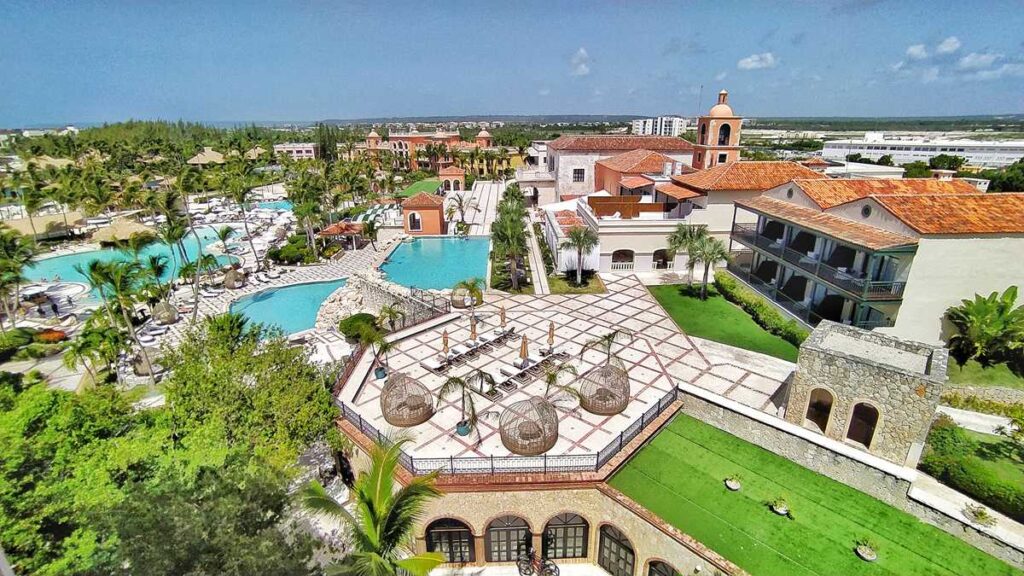 Sanctuary Cap Cana is a very suitable honeymoon all-inclusive in the Dominican Republic as it is one of the most upscale resorts in Punta Cana, particularly after its recent renovation in 2022. Views are impeccable throughout the resort and the adjacent Sanctuary Town with little shops, bars and restaurants to stroll (most of them included in your all-inclusive stay, except for shops and boutiques) makes for a great difference compared to the typical resort vibe. Furthermore, Sanctuary Cap Cana is a rather easy-going and relaxed hotel, hence you definitely will have enough quality time among the two of you in this romantic resort in Punta Cana.
Where to book the Sanctuary Cap Cana Honeymoon Suite: Check prices here*
The general price range of Sanctuary Cap Cana: Rooms starting at 550 USD in the low seasons and 800 USD in the high season (check the latest promotions here*)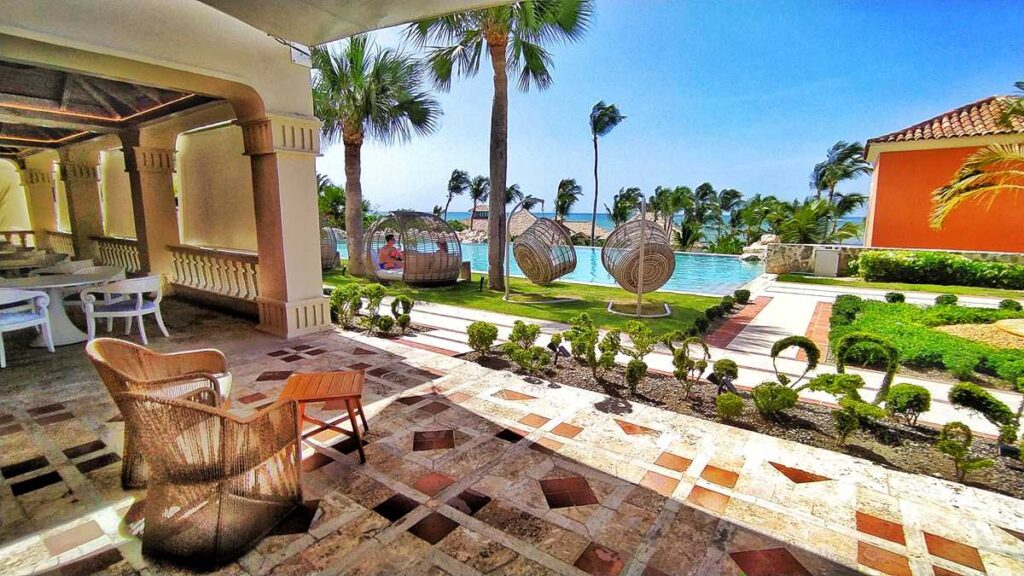 Excellence Punta Cana Honeymoon Suite
Excellence Punta Cana is another popular honeymoon resort in Punta Cana, particularly due to its excellent quality, personalized service, and intimate vibe without too much party and hustle and bustle around.
When deciding for the Excellence as your Punta Cana honeymoon all-inclusive resort, you can choose among three different honeymoon suites:
Considering you're choosing the most affordable of Excellence's honeymoon suites, the Excellence Club Honeymoon Suite Ocean View, you have, among others, a fully furnished living room, an in-suite jetted bathtub and a terrace with an amazing ocean view included. You also enjoy all the Club Level amenities, such as (among others) access to two private pools and two independent jacuzzis, fresh flowers and sparkling wine in your suite upon arrival, access to the exclusive Excellence Club lounge and fruits and petit fours in your suite every day.
If you decide on Excellence Punta Cana for your honeymoon you can't do much wrong as this is an all-time favorite upscale resort for couples, adults and groups of friends. Quality is outstanding, service unobtrusive and it is not without a reason that Excellence Punta Cana has been among Punta Cana's Top 10 resorts for many years. Particularly the drink selection and the food menu are outstanding, but also cleaning and the pool areas are top-notch. The beach is pristine and wonderful even though the ocean sometimes might have some smaller, but rougher waves.
Where to book the Excellence Punta Cana Honeymoon Suite: Check prices here*
The general price range of Excellence Punta Cana: Rooms starting at 300 USD in the low season and 550 USD in the high season (check the latest promotions here*)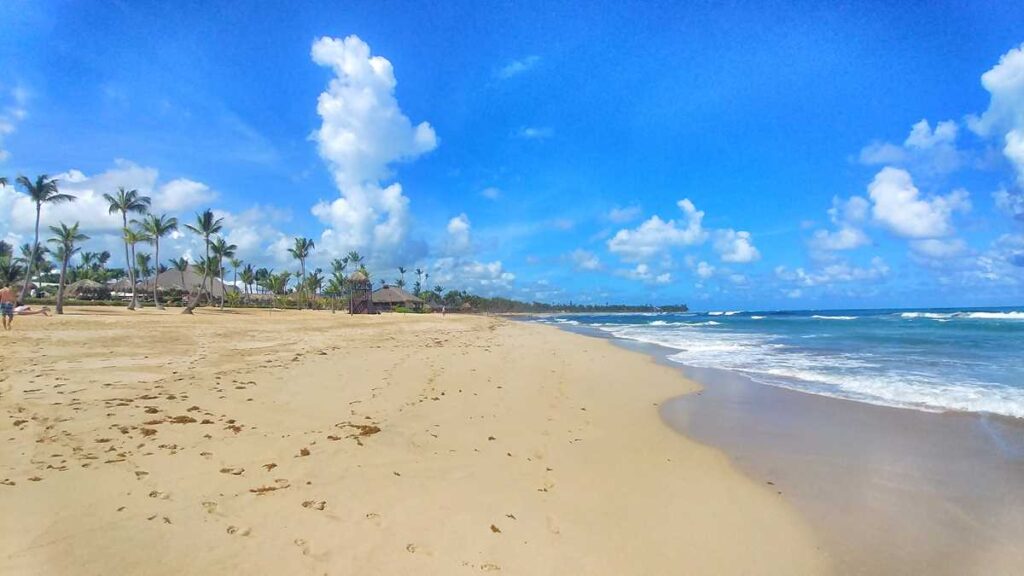 Free honeymoon packages in Punta Cana
Various resorts in the Dominican Republic are offering honeymoon packages, but mostly this just includes a gift in the room, the mandatory door decoration and maybe, if you're lucky, an upgrade to the next room category. The good thing is they are mostly free but still nothing to base your decision on – better pick the honeymoon resort in the Dominican Republic which completely suits your needs.
However, there are a few honeymoon packages in Punta Cana that are worth a closer look. We have selected three very special honeymoon packages, which are all FREE and include a bit more, hence you feel like a real truly valued Caribbean honeymooner.
Important: Please note that all honeymoon packages must be requested before arrival. Most resorts say that you need to request them at the time of booking, but usually, there is no problem if you add this later in case you forget it while booking. Just don't expect free honeymoon amenities if you're telling your hotel 1-2 days in advance. Furthermore, you must present your wedding certificate upon check-in. Usually, the honeymoon shall take place 3, 6, or 12 months (depending on the resort) after the wedding to be valid for a free honeymoon package in the Dominican Republic.
Dreams Resorts in the Dominican Republic
There is no way of planning a honeymoon in the Dominican Republic and not considering Dreams Resort in Punta Cana, Bayahibe and beyond. Those all-inclusive resorts simply offer one of the best combinations of price, value, amenities and exclusive environment. They are not as luxurious as other resorts, but also a have much cheaper price tag. Dreams Resorts are not adults-only all-inclusive but have a perfect balance among all kinds of travelers. Furthermore, the Preferred Club suites are usually not that much more expensive than the regular suites, hence you can enjoy additional amenities such as exclusive restaurants, upgraded liquor brands, butler service (in some resorts), à-la-carte breakfast and lunch and VIP services throughout your stay – a real royal honeymoon in the Dominican Republic. All this applies to all Dreams Resorts in the country, among them Dreams Royal Beach, Dreams Onyx, Dreams Dominicus in Bayahibe, Dreams Flora, Dreams Macao and the soon-to-be-opened Dreams Playa Esmeralda in Miches
But that's not all that makes Dreams Resorts a perfect honeymoon resort in the Dominican Republic. All the resorts are offering a free honeymoon package which consists of the following amenities:
Welcome letter
Fresh fruits
Bottle of sparkling wine
Special turn-down service
Breakfast in bed with Mimosas (Reservations must be made in advance with concierge)
15% discount on all spa treatments
In case you're staying at least 7 nights, you're also entitled to a honeymoon package with even more amenities. Note that the amenities might vary slightly among each Dreams Resort in the Dominican Republic, but here is the extended honeymoon package of Dreams Flora Punta Cana, just as an example:
Sparkling wine, fresh fruit and flowers in the room upon arrival
Breakfast in bed with Mimosas one morning of stay, reservation with concierge required
Tension Release Massage for two in our couple massage suite (25 minutes)
Choice of either a European Facial or a Salt Glow Scrub body treatment for two (25 minutes)
Private beachfront dinner one evening incl. romantic turndown service (includes a bottle of domestic wine and silver menu for two)
Private petit fours each evening at turn-down service
Free Anniversary Nights (stay a minimum of 5 paid nights over the first-anniversary date and receive 2 additional nights free or stay 4 paid nights over the first anniversary date and receive 1 additional night free)
This package is complimentary if you're staying for a minimum of 7 nights in a Preferred Club Swim-Up Junior Suite at Dreams Flora, a minimum of 7 nights in a Preferred Club Swim-Up Junior Suite at Dreams Royal Beach, or – in case you prefer Bayahibe for your honeymoon – a minimum 7 nights in a Preferred Club Suite Swim-Up at Dreams Dominicus. The conditions at the other Dreams Resorts in Punta Cana might vary slightly (leave me a comment if you're interested in them) but I think you get the idea.
In case Dreams Punta Cana is not your cup of tea because it is not an all-inclusive adults-only resort in the Dominican Republic, you can also check out their sister resorts, Secrets Royal Beach and Secrets Cap Cana (+ soon Secrets Playa Esmeralda). Their honeymoon packages are similar, but the resort is adults-only and offers in general even higher standards of service, food and room quality.
For further information, you can check prices and resort reviews here:
Dreams Dominicus: Check prices & honeymoon specials* | check reviews*
Dreams Flora Punta Cana: Check prices & honeymoon specials* | check reviews*
Dreams Macao Beach: Check prices & honeymoon specials* | check reviews*
Dreams Onyx: Check prices & honeymoon specials* | check reviews*
Dreams Playa Esmeralda: Approx. opening date 2024/2025
Dreams Royal Beach: Check prices & honeymoon specials* | check reviews*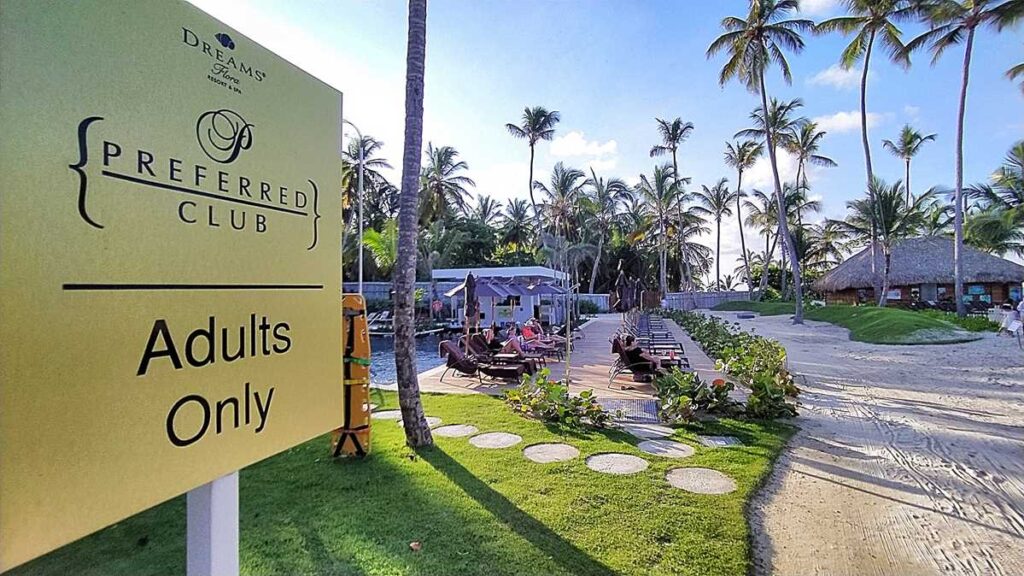 Excellence and Finest Punta Cana
The Excellence Group in the Dominican Republic also offers some amazing honeymoon packages – without any pre-conditions (except that you got married in the last 3 months and present your wedding certificate). Excellence in the Dominican Republic currently consists of three resorts:
There are two Punta Cana all-inclusive adults-only properties (Excellence El Carmen & Excellence Punta Cana) and one more family-oriented resort among Excellence Resorts, even though all three of them are perfect for a honeymoon in the Dominican Republic as Finest Punta Cana features a large adults-only section. In the end, we also spent our honeymoon at Finest Punta Cana and had an amazing time, hence we can highly recommend this hotel as a honeymoon resort in Punta Cana.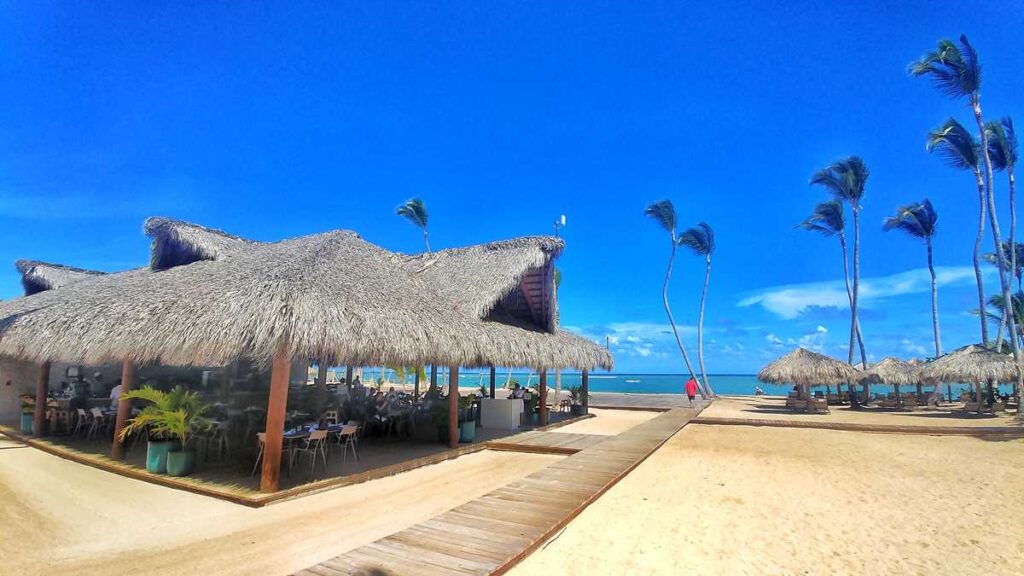 The free honeymoon package at any of the three Excellence Resorts includes the following services:
Welcome letter
A basket of fresh fruits in your suite upon your arrival
A bottle of sparkling wine
A special romantic dinner at one of our restaurants
Special turndown service
Champagne breakfast in bed (once per stay)
15% discount on your photo package (does not apply for wedding packages)
15% discount on all spa treatments
If you stay at least 6 nights at any of the Excellence Club categories, you can also take advantage of the following additional complimentary honeymoon services:
Petit fours with turndown service each evening
1 Private romantic beachfront dinner
1 bubble bath in the candlelight with essential oils in the jacuzzi
Look Inside Ritual Massage 40 min for the honeymoon couple
15% discount on the photo package with 5 complimentary digital pictures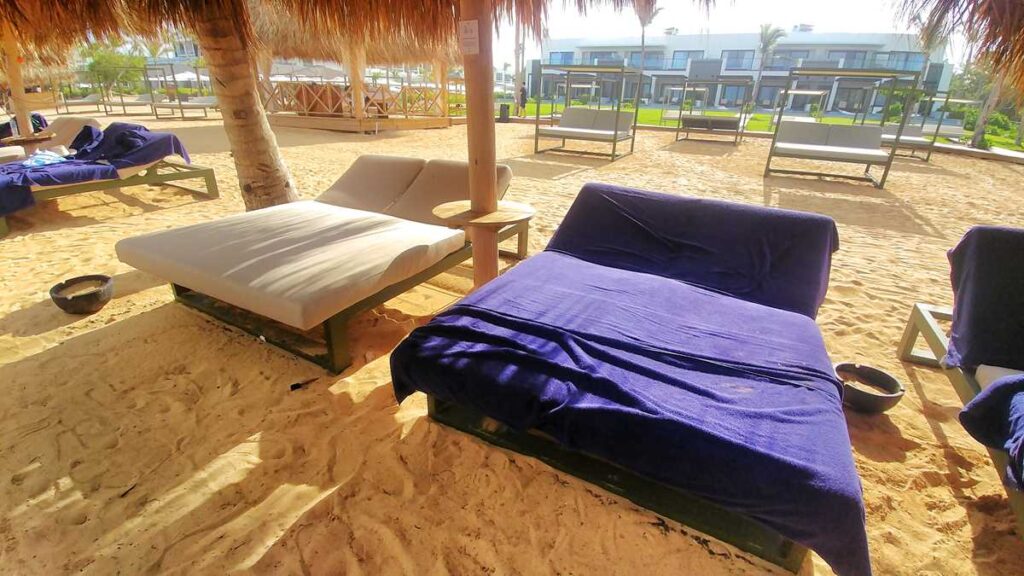 Margaritaville Cap Cana
The last honeymoon resort in Punta Cana we'd like to present here with its notable free honeymoon package is Margaritaville Cap Cana. This resort was just opened in 2022 and is a brand-new luxury property in the exclusive community of Cap Cana. In general, Cap Cana is perfect for an elegant honeymoon, especially when you want to splurge on a bit of luxury and prefer some of the top resorts in Punta Cana.
What we love about Margaritaville Cap Cana for honeymooners (and all other guests) is that the rooms are extremely stylish with some nice details such as flip-flops, a well-designed beach bag and tropical colors which gives a very special Caribbean vibe to the resort. You can also rent a Margarita station for your room and instead of resort credits, you get redeemable resort cash without any minimum purchases or requirements. Furthermore, the restaurants at Margaritaville Cap Cana all have their character and let you feel in another world each time you enter them. Margaritaville is also home to Punta Cana's first resort brewery, all guaranteeing a unique stay in the Dominican Republic without any dull moment.
But there are some additional extras why Margaritaville is not only a typical Punta Cana all-inclusive hotel, it is also one of the most romantic resorts in Punta Cana once you factor in their incredible honeymoon package which is free and includes the following services as long as you book at least 5 nights in a Swim-Up Luxury Junior Suite and above:
Personal Service of Romance Maître D
Private gourmet four-course candlelit dinner on the beach
Romantically decorated suite with rose petals and aroma therapy
Breakfast in bed
Beachfront sky massage 2 X 1 offer
In-room amenities upon arrival
15% discount on spa services
Floral arrangement in room
One-night anniversary return stay voucher
The candlelight dinner at the beach is worth checking the slightly higher room category, especially if you're anyway considering a swim-out suite in Punta Cana.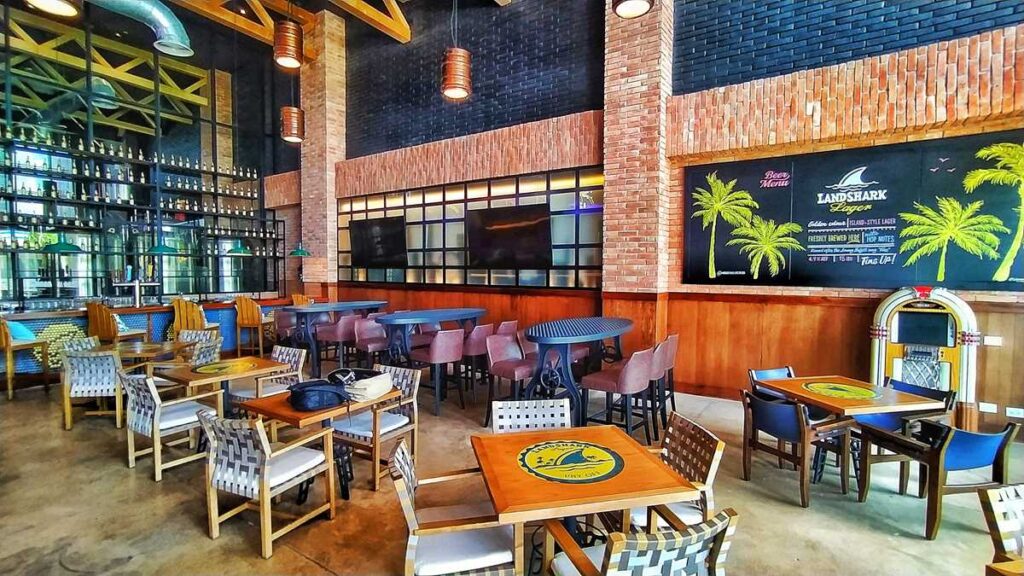 The best honeymoon experiences in Punta Cana
Assuming you don't want to stay the entire time at your resort, there are also some amazing experiences you can enjoy while on honeymoon in the Dominican Republic. For the following section, we have particularly focused on special adventures and day trips you might only do once in a honeymoon, not the typical Punta Cana excursions like a dune buggy ride, a ziplining tour, or a waterfall excursion.
Small Group Isla Saona Tour
Okay, to be honest, Saona Island is one of these typical excursions in Punta Cana that everybody should do. It is even one of the most beautiful places in the Dominican Republic. But, I don't want to recommend a typical Saona tour for your honeymoon in Punta Cana, I'd rather draw your attention to this special small-group Saona Island tour*, which offers small groups of a maximum of 15-20 people, quick transfers and a VIP experience with fresh food, good drinks and personalized service throughout the day.
This tour is more expensive than the typical Saona excursions, but it is worth the money. This is not only reflected by the amazing customer reviews of this tour (in fact, it is one of the best-rated excursions EVER in Punta Cana), but you also visit places most other Saona tours don't go, such as the beautiful village Mano Juan, the amazing beaches around Palmilla and Canto de la Playa (one of the best beaches in the Dominican Republic) and the turtle sanctuary on Saona.
Adults-Only Snorkeling Trip
The tour to Saona Island lasts the entire day and I can understand that not everyone wants to leave the resort for such a long time, especially when picking one of the more upscale honeymoon resorts in Punta Cana mentioned above. In this case, this amazing adults-only snorkeling trip in small groups* is the best option for you, as you can also enjoy the typical Caribbean experience of cruising on a catamaran on the blue and turquoise oceans while admiring the stunning coastline and hopping into the water for a relaxing swim or a thrilling snorkeling adventure.
TRAVEL COACHING
Save money and time!
Do you need help planning a customized vacation in Punta Cana and the Dominican Republic? Is it difficult for you to decide what and where to book? Would you like to take advantage of someone with years of experience in the tourism industry (knowing all the travel hacks 😉 ) and living right in the place where you would like to spend your holiday?
That's what my personal travel coaching is for. I will design your tailor-made itinerary, tell you how to save money on your trip and send you the best insider tips and recommendations. All the information I send you are crafted with love and passion – and are coming with a money-back guarantee. Let me know how I can help you (check my packages here) and send me a request here!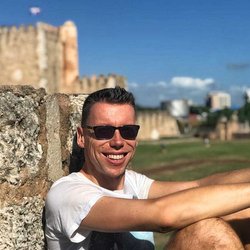 This best-rated Punta Cana snorkeling excursion is also running with small groups only, usually around 20 people maximum. Besides the snorkeling, you stop on a (more or less) pristine beach of Punta Cana for a fresh coconut and get served a delicious lunch right on board. After around 4 hours, you're back in your resort to enjoy the further honeymoon package amenities you booked.
Massage on the beach
If you don't want to venture out at all and just want to relax, a massage at the beach is one of the easiest and most rewarding options you can enjoy during your honeymoon in Punta Cana. Relax for 30 minutes or an hour and enjoy a back or a full-body massage. Hearing the crashing of the waves and feeling the ocean breeze on your skin adds to the wonderful experience of a massage right at the beach.
The easiest (but most expensive) option is you simply ask your resort if they offer massages on the beach. Most do but check the price before as they tend to be expensive. Alternatively, particularly if staying in Uvero Alto or along Bavaro Beach, you can also head to some local massage studios right at the beach, such as the well-rated Tropical Treasures or the Flavio Acuna Spa Natural Center. The third and cheapest option is to find one of the local ladies roaming along the beach. Even though the least expensive option (haggle well!), keep in mind that they give you the massage right on your beach lounger, hence it is not as comfortable as at a typical massage bed.
Last but not least, if you're looking for a super special honeymoon experience in Punta Cana, you can check out this unique moonlight couple massage at the beach*.
Honeymoon Photo Shoot at the Beach
The beaches in Punta Cana are incredibly gorgeous which is why they are not only perfect for long beach walks (or massages at the beach), but also for a spectacular photo shoot – ideally with a professional photographer. Being a hotspot for destination weddings and group travel, Punta Cana has an abundance of talented photographers and great artists who can help you capture these unique moments during your honeymoon in the Dominican Republic.
The best option is to book your honeymoon photo shoot in advance. Like this, you have a set price and can compare reviews and services. Here are two well-rated and talented photographers in Punta Cana which are worth a try: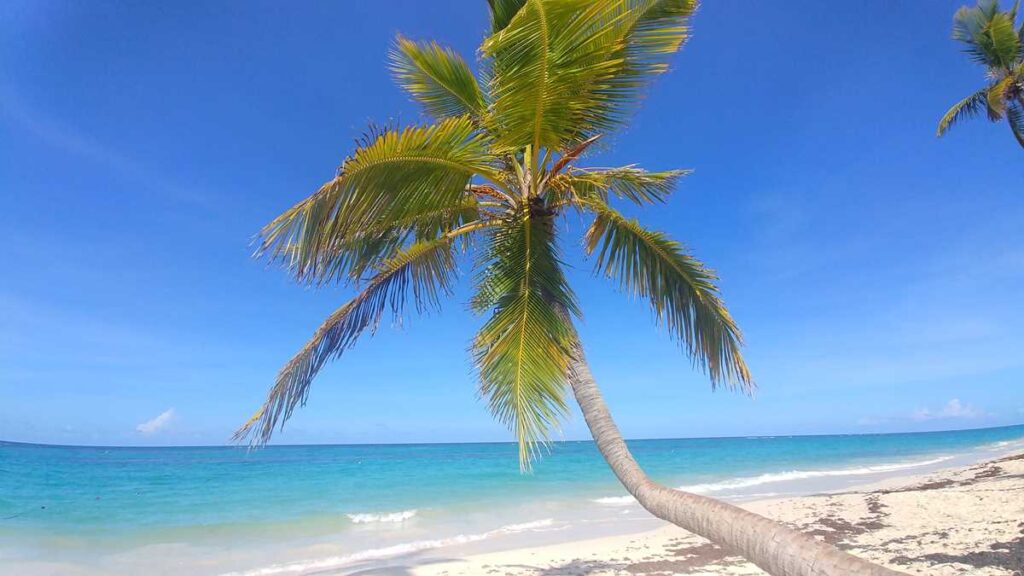 Airplane Excursion from Punta Cana
The last specific honeymoon experience I'd like to recommend is indeed something special – something you probably only do on special occasions such as a honeymoon or an anniversary trip. You can see the Dominican Republic from above, either on a helicopter excursion or with one of the airplane tours where you can explore unique destinations in the Dominican Republic which otherwise would involve a long bus transfer.
Particularly the airplane excursions in Punta Cana are worth having a look at, as they combine the exciting experience of seeing Punta Cana from above with exploring new destinations such as Samaná, Santo Domingo or Bahía de las Águilas. Particularly the latter one is an amazing honeymoon experience, as you can explore one of the most pristine beaches in the Dominican Republic (which would otherwise be an 8-hour drive from Punta Cana) and fly along the entire southern coastline of the country. It is a full-day excursion with lots of amazing memories and a one-of-a-kind trip you won't do on every single vacation
You can check out the best airplane excursions from Punta Cana here: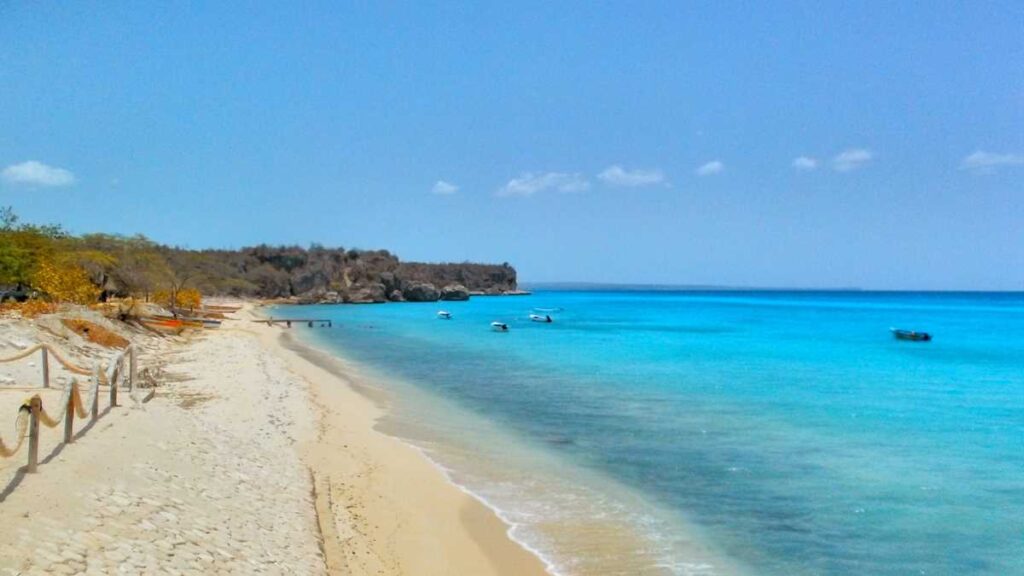 SHARING IS CARING! IF YOU ENJOYED THIS ARTICLE, PLEASE SHARE WITH YOUR FRIENDS – I WOULD APPRECIATE IT A LOT.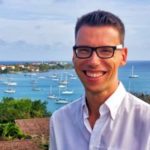 CHRIS
Author, Travel Coach & Punta Cana based digital nomad
Hey, I am Chris, a born and raised German, travel-addictive and Caribbean Soul. Since 2011 I have been living in the Caribbean, among them 5 years in the Dominican Republic. Punta Cana is my home-base here in the country and I'd love to tell you more about how to experience Punta Cana off-the-beaten-track and give you all the advice you want to know for your vacation in Punta Cana.