Islands are always worth an excursion, especially if they are home to beaches, turquoise water and shallow reefs. That is also why Isla Catalina is a popular destination in the Dominican Republic, as it offers unspoiled nature, beautiful views and easy access from Punta Cana or Santo Domingo. Unless its bigger neighbor Isla Saona, Catalina Island is not as crowded and therefore offers a more peaceful atmosphere. In the following post, I am showing you everything you need to know before your tour to Isla Catalina and am giving you tips on how to find the best excursion.
Isla Catalina is part of the most exciting attractions in the area. To check out more amazing things to do in Punta Cana, continue reading here.
If you are looking for some private tours to Catalina Island instead of group tours, you can check out this article.
And if you prefer Isla Saona over Isla Catalina, you'll find more information here.
Are you interested in further Punta Cana tours? If so, check out our comprehensive Punta Cana Excursion Guide with the most exciting 40+ activities for your vacation.
Completely UPDATED: April 2023
Where is the Isla Catalina located?
 Isla Catalina, or in English Catalina Island, is located on the south coast of the Dominican Republic, just 1 mile off the coast in La Romana, one of the biggest cities in the country. Driving distances from Punta Cana and Santo Domingo are around 1.5 hours. Access and starting point usually is the harbor of La Romana, which makes it a great excursion option from the entire south coast between Santo Domingo and Punta Cana, as it is reachable from both points as well as from Boca Chica, Juan Dolio and Bayahibe.
What types of Isla Catalina excursions are existing?
The standard excursion to Catalina Island from Punta Cana
 If you book one of the typical Catalina Island excursions from Punta Cana or from other areas in the Dominican Republic, either upfront online or in your hotel, you usually get picked up right in the lobby of your all-inclusive resort or guesthouse. The driving time from Punta Cana is around 1.5 hours, depending on where exactly you are located. If traveling from Santo Domingo to Isla Catalina, expect to drive around 1.5 hours as well. From Bayahibe it is just a short 30-minute hop to the harbor where your Isla Catalina tour is going to start.
When arriving in La Romana, you will board the catamaran which will bring you to Isla Catalina. Unlike the tour to Isla Saona, where you go one way with a speed boat and the other way with a catamaran, the tour to Catalina Island is a full catamaran excursion.
The sailing to Isla Catalina takes around an hour. Usually, you stop on a reef along the way to do some snorkeling (check out this article here for more information about snorkeling in and around Punta Cana). Once at Isla Catalina, you have plenty of time to enjoy the picturesque beach, turquoise water and stunning scenery.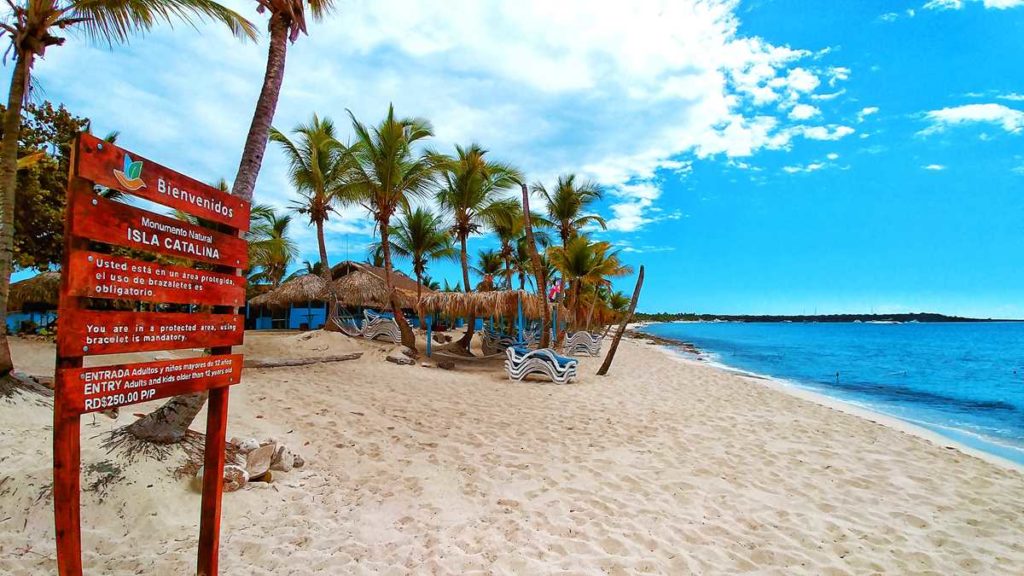 Usually, all snorkeling excursions to Isla Catalina include a lunch buffet and open bar (soft drinks, water and rum, sometimes also beer). You are free to walk around, even there are not many trails except the beach itself. The island is pretty small compared to Isla Saona, it just measures less than 4 square kilometers. However, you might be so amazed by the beach scene that you do not want to walk that far. 😉
The following tours are some of the options you have when visiting Catalina Island from Punta Cana.
Catalina Island tour from other places in the Dominican Republic
If you're not staying in Punta Cana and want to visit Isla Catalina, don't worry, you still can enjoy this beautiful island in the Dominican Republic. Isla Catalina tours are also offered from Santo Domingo, Boca Chica, Juan Dolio, La Romana and Bayahibe. The itinerary is similar to the one described above for Punta Cana to Isla Catalina, just the transfer to La Romana might be a bit longer or shorter. Check out the following table for the right Catalina Island excursion depending on where you stay.
| Catalina Island Excursion | Further information |
| --- | --- |
| Isla Catalina from Punta Cana | |
| Isla Catalina from Bayahibe | |
| Isla Catalina from La Romana | |
| Isla Catalina from Juan Dolio | |
| Isla Catalina from Boca Chica | |
| Isla Catalina from Santo Domingo | |
Combo Tour: from Bayahibe or Punta Cana to Catalina Island + Altos de Chavon/Rio Chavon
If you want to experience a bit more than just snorkeling and visiting Catalina Island as a day trip, you can combine your paradisical island trip with Altos de Chavon, the famous Mediterranean-style village in Casa de Campo close to La Romana, or Rio Chavon, a river bordered by abundant and tropical vegetation. Both sites are some unique attractions in the Dominican Republic and add some more diversity to your Catalina Island excursion.
While Altos de Chavon is more a cultural-based add-on, where you walk through the unique setting of this (artificial) village and enjoy breathtaking views of Rio Chavon from above, an Isla Catalina excursion combined with a river boat tour on River Chavon shows you two different sceneries: first the turquoise ocean and paradisical views, before you head on the river and enjoy the lush vegetation.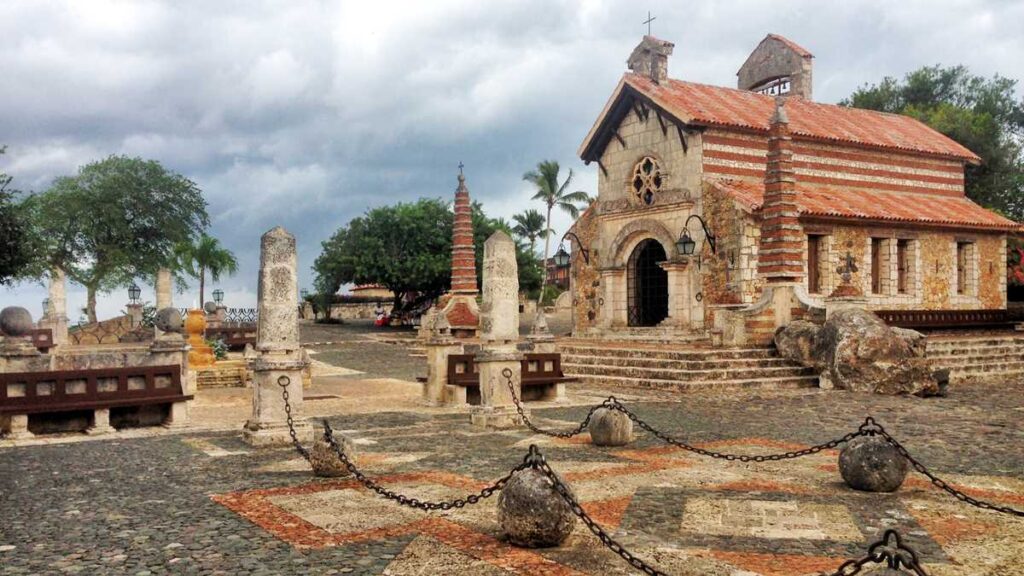 The diving excursion to Catalina Island
 If you are into scuba diving instead of a snorkeling excursion, then Isla Catalina is one of your best bets along the South Coast of the Dominican Republic, including the whole Punta Cana and Bayahibe region. With two dive sites, "The Wall" and "The Aquarium", the island features a tropical reef and a marine eco-system with several tropical fish, among them sergeant mayor, damselfish squirrelfish and stingrays. Catalina Island is one of the most popular dive sites around Punta Cana and the Dominican Republic.
After diving, you head to Isla Catalina for lunch and drinks and to enjoy the Caribbean beaches of the island.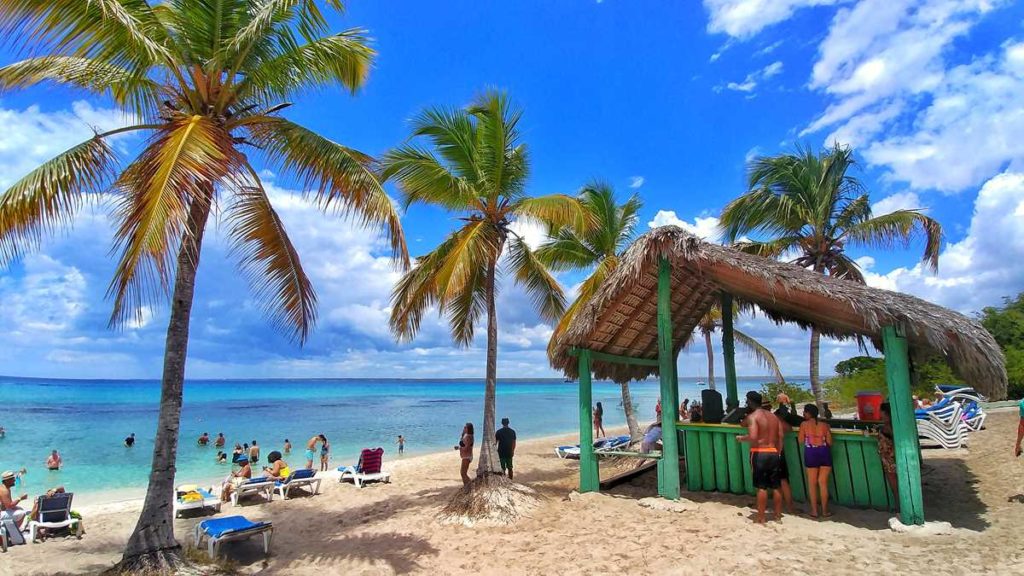 Due to the technical equipment, safety measures and smaller groups, diving excursions to Isla Catalina are in general more expensive than the regular tours.
Premium excursions to Catalina Island
If you don't want to head on a regular tour because you prefer a more intimate vibe with smaller groups, better food, quality drinks and personalized service, you should book a premium Catalina Island snorkeling excursion. Punta Cana or La Romana can be your starting points.
The procedure of these premium tours is the same as described above for the standard excursion from Punta Cana, just everything is a bit better.
Private excursions to Catalina Island
 For those looking for a particularly private experience, VIP tours to Isla Catalina are offered as well. Those are either with a private catamaran or a private luxury yacht and guarantee a sublime experience in style and elegance. Especially due to the proximity to Casa de Campo, the home of the rich and famous, there are many outstanding boats available. 
If you are interested in further information about private tours to Isla Catalina, check out this article.
My experiences at Isla Catalina
 We have been to Isla Catalina a while ago and we had a great time. I particularly liked that you go both ways with the catamaran. This feeling of cruising slowly on a boat, hearing nice music, having a drink and enjoying the surrounding views is for me the epitome of a perfect Caribbean excursion. 
 The snorkeling stop on the way was ok, but not spectacular. At least it was better than Isla Saona so we could see a few colorful fishes and some tropical reefs. However, I would not recommend an excursion to Isla Catalina if you just go because of the snorkeling, you might be disappointed. You are looking for better snorkeling options in the Dominican Republic? Have a look at this article here.
The best snorkeling excursion in Punta Cana is usually this one here for adults* and this one for families*.
TRAVEL COACHING
Save money and time!
Do you need help planning a customized vacation in Punta Cana and the Dominican Republic? Is it difficult for you to decide what and where to book? Would you like to take advantage of someone with years of experience in the tourism industry (knowing all the travel hacks 😉 ) and living right in the place where you would like to spend your holiday?
That's what my personal travel coaching is for. I will design your tailor-made itinerary, tell you how to save money on your trip and send you the best insider tips and recommendations. All the information I send you are crafted with love and passion – and are coming with a money-back guarantee. Let me know how I can help you (check my packages here) and send me a request here!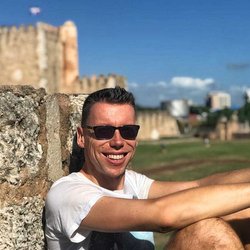 On the other side, you definitely should go on this tour for the mentioned catamaran cruise as well as the beautiful island. Once you arrive at Catalina Island, you will be able to enjoy a stunning scenery in the middle of the ocean, consisting of turquoise waters and a stunning beach with countless palm trees.
I also recommend you to walk a little bit along the beach. While it is not possible to walk around the whole island, it is worth exploring the surrounding, especially if you head a bit south to the beach where the cruise ships are usually anchoring. Of course, if you are there during a cruise ship visit it might be crowded but otherwise, you have some fantastic photo opportunities thanks to the colorful houses.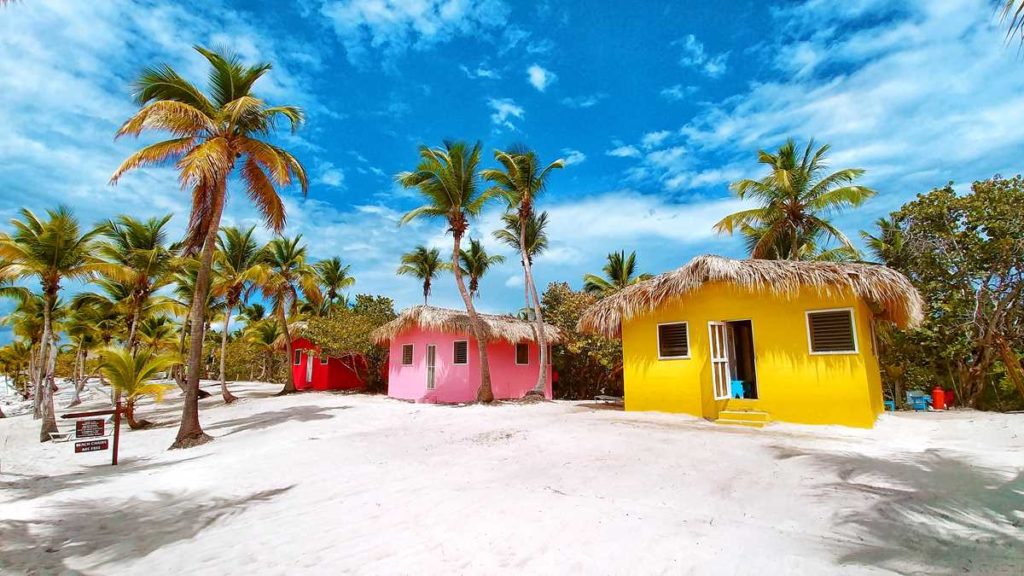 During your excursion to Isla Catalina, you also have drinks and lunch included. Both are nothing to write home about but are doing their job. Unless you book a premium or VIP excursion*, you'll (usually) get cheap rum that even a Dominican doesn't know and the lunch is a typical buffet with chicken, fish, salad, rice, fruits and so on. 
 After all, the excursion was a gorgeous day out in nature with plenty of sunshine, a great catamaran cruise experience and a beautiful island. It was way less crowded than Isla Saona which I definitely enjoyed. Everything worked out perfectly so that we had a lot of fun and kept some nice memories. The scenery is beautiful as well, even though it can't compete 100% with the paradise of Isla Saona. You can read my full review of Isla Saona here.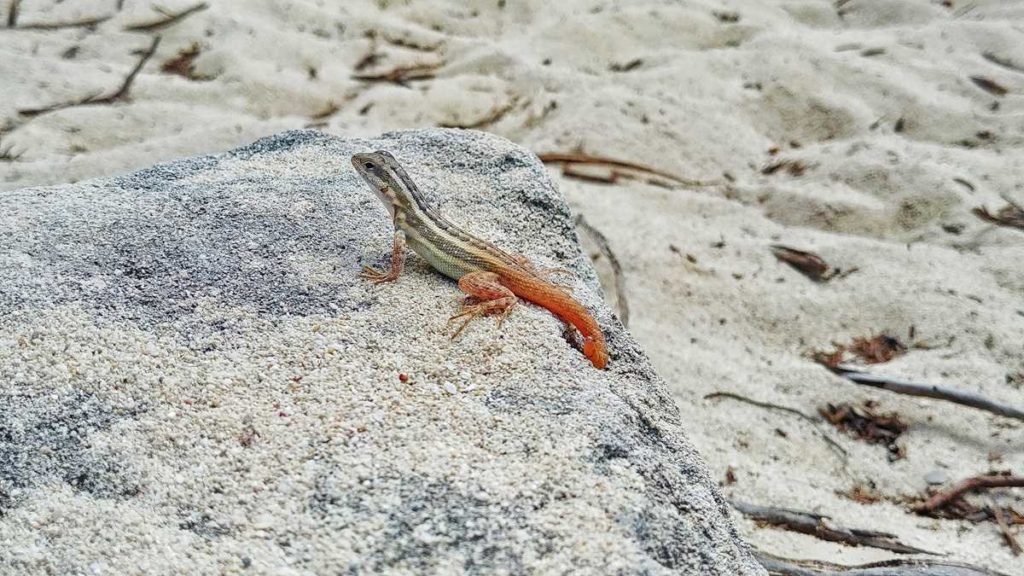 Frequently asked questions
How can I book a tour to Catalina Island?
 Excursions to Isla Catalina can be best booked by one of the various tour operators. I would recommend booking it online as you can check reviews before. It is probably even cheaper than booking it at your hotel. Another option would be to book a tour at the beach and the beach vendor might give you better prices as they don't have to pay for marketing, offices, etc. (and they don't have a license), but the quality is a hit and miss so I'd stick with the online offers.
If you want you can check out the options I outlined above when describing the various tour options.
 Tours are usually offered with a start in La Romana, Bayahibe and Punta Cana so please take care choosing the right departure point when you book an excursion to Isla Catalina. Santo Domingo, Boca Chica and Juan Dolio departures are also possible.
How to get from Punta Cana to Catalina Island?
The easiest way of getting from Punta Cana to Catalina Island are the excursions described above. Especially as there are no Isla Catalina hotels, there are also no other means of transport than guided tours. Of course, you could ask a fisherman to bring you over, but it will be pretty bumpy and expensive as well.
What to do on Catalina Island?
Like many islands in the Caribbean, Isla Catalina is famous for its beach(es) and turquoise water. You will have a great time admiring the scenery, having a dip in the warm water and getting some tan. There is also some snorkeling along the beach and during the tour, plus the catamaran cruise to the island is an attraction itself. Besides this, you can get a massage from local people or explore the island on foot.
How is the beach on Catalina Island?
Isla Catalina has a wonderful beach, even it might be a tiny bit less attractive than the one on Isla Saona. However, in the end, it probably equals out as there are fewer people at Catalina Island and you will have a great beach time on both islands.
Are there any hotels on Catalina Island?
 There is no option to spend the night at Catalina Island as there are no Isla Catalina hotels.
How is the weather on Catalina Island?
The sun is always shining in paradise, so it does at Isla Catalina. 🙂
Even the Dominican Republic has a dry and a rainy season, traveling is possible year-round – without a problem, which means you can also go on a Catalina Island excursion year-round. The same I have explained here about the seasons in the Dominican Republic is also valid for Isla Catalina. So even if there might be some showers the one or other day, you hardly have any day without sunshine, even in the rainy season.
How to get to Isla Catalina in the Dominican Republic?
Isla Catalina is located along the south coast of the Dominican Republic, hence it is easily reachable from Santo Domingo, Punta Cana and any point in between. For the best and easiest option in getting to Isla Catalina, check out the different recommendations given in the article.
Alternatives to Catalina Island
As already mentioned in the article, Isla Saona is the popular and more famous counterpart of Isla Catalina. The scenery there is even more paradisical. Picture-perfect beaches and photo opportunities are awaiting you there. However, you have to share it with more people than on Isla Catalina. You can find a full review of Isla Saona here.
Cayo Levantado is another island that is reachable from Punta Cana, but it is farther away and the crossing through the bay of Samaná might be a little bit rough, depending on the wind. Therefore I would not recommend going there just for the island, Isla Saona and Isla Catalina are more worth it. However, if you combine Cayo Levantado with a whale-watching excursion (from January to March) it is an amazing package and very recommendable.
How about you, have you been at Isla Catalina? Or do you have questions to your upcoming trip? Start the discussion and leave me a comment!
SHARING IS CARING! IF YOU ENJOYED THIS ARTICLE, PLEASE SHARE WITH YOUR FRIENDS – I WOULD APPRECIATE IT A LOT.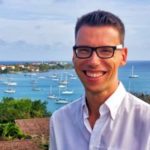 CHRIS
Author, Travel Coach & Punta Cana based digital nomad
Hey, I am Chris, a born and raised German, travel-addictive and Caribbean Soul. Since 2011 I have been living in the Caribbean, among them 5 years in the Dominican Republic. Punta Cana is my home-base here in the country and I'd love to tell you more about how to experience Punta Cana off-the-beaten-track and give you all the advice you want to know for your vacation in Punta Cana.