Are you planning your vacation in Punta Cana and would like to visit Macao Beach? Check out this extensive guide about Playa Macao, which is considered one of the most beautiful beaches in Punta Cana. It does offer an authentic taste of the Dominican Republic as it features plenty of local restaurants, a friendly village and an amazing beach setting. It is also one of the best surfing spots in Punta Cana and only features one Macao Beach Resort, making it more accessible to the public. But wait, that's not everything – Playa Macao also offers a few hidden gems which you won't find in any other Punta Cana guide. Check out all those recommendations from our first-hand experiences and make the best out of your stay at Macao Beach.
Macao Beach is one of the best beaches in Punta Cana, which are explained here. It is also part of the Dominican Republics' best beaches.
If you are interested in the only resort at Macao Beach, you can check out the comprehensive Dreams Macao Beach review.
For another popular beach in Punta Cana, you can read about Bavaro Beach here.
Where is Macao Beach?
Macao Beach, often also referred to as Playa Macao, is a public beach in the north-western area of Punta Cana, approx. 22 miles away from Punta Cana International Airport. It is boarding Arena Gorda Beach in the south and Uvero Alto in the north. The little village of Macao is located right next to Playa Macao. The Dreams Macao Beach Resort is (so far) the only all-inclusive resort located right in Macao.
What is Macao Beach?
Macao Beach is often considered as the most beautiful of Punta Canas' beaches and it is also the publicly most accessible one, as it is home to only one all-inclusive resort, the Dreams Macao Beach – compared to Bavaro Beach, Arena Gorda or Uvero Alto, which are lined with at least a dozen of all-inclusive resorts each. Therefore, Macao Beach is particularly popular among locals (usually during the weekend) and among individual travelers, who are staying in a guesthouse, villa or Airbnb rather than in a Punta Cana all-inclusive resort.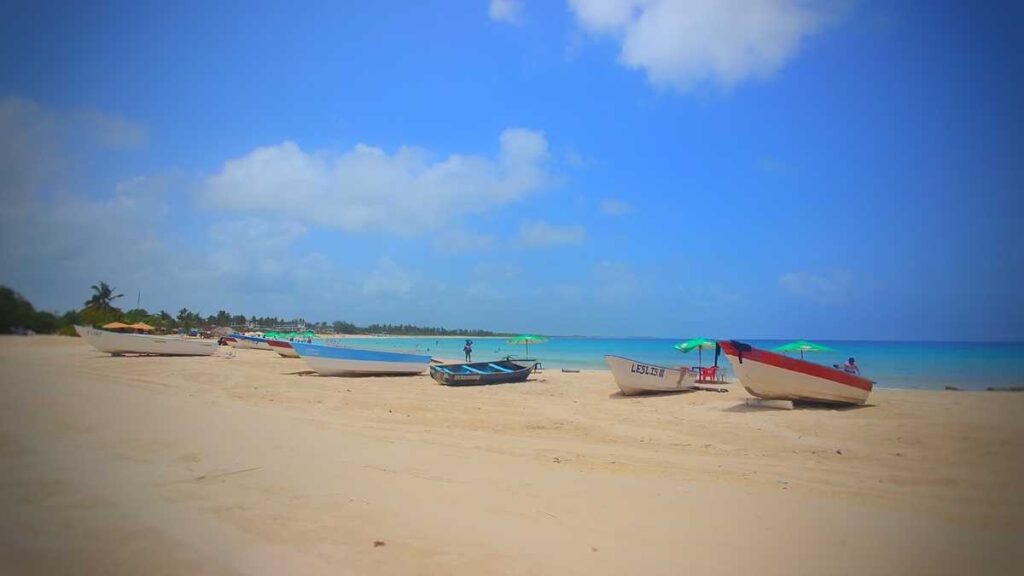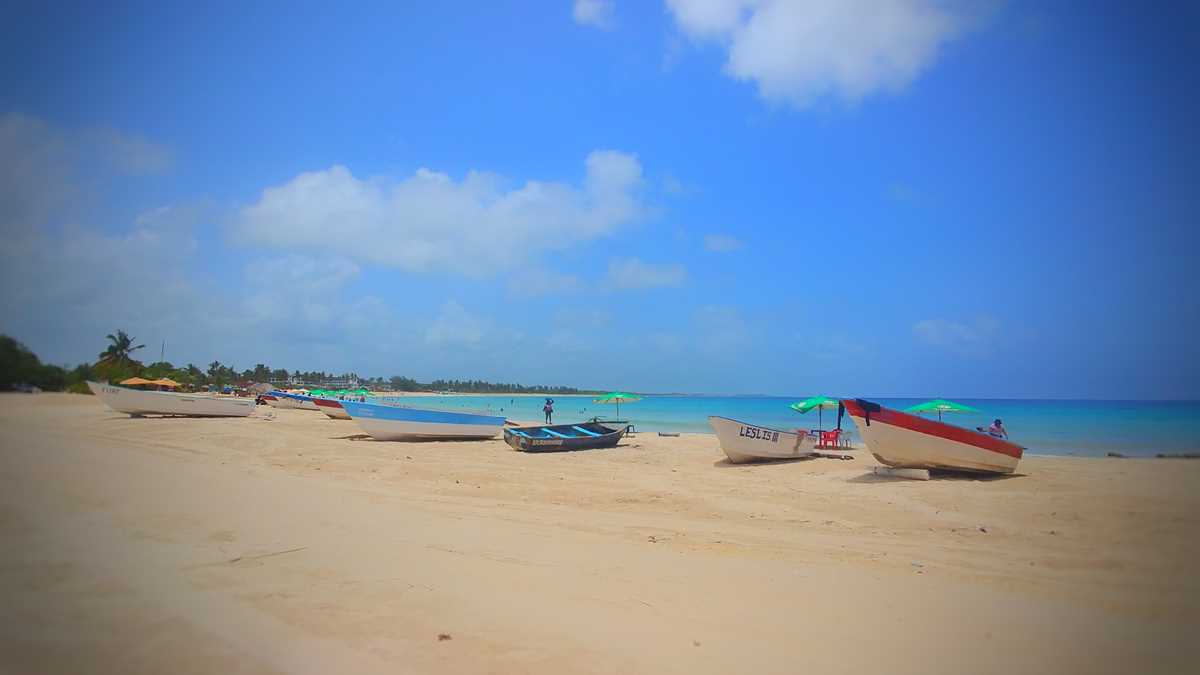 This public accessibility has also led to Playa Macao being the Punta Cana beach with the most local restaurants and most authentic vibe. Furthermore, the beach is a popular surfing spot, has a couple of hidden gems like the secret beach "Playa Escondida" (find further information below in this article) and is the best option in Punta Cana to eat freshly caught and grilled fish right from the fishermen. Macao Beach also marks a great stop on every road-trip itinerary, especially when exploring the east of the Dominican Republic by rental car. When you come back from some of the best attractions in this area, such as Montaña Redonda or Los Haitises National Park, Playa Macao marks a great stop to end the day with an ice-cold beer and a dip into the ocean.
Last but not least, Macao Beach is also one of the most beautiful beaches in Punta Cana. Its half-moon-shaped bay, the beautiful colors of the sand and the fishing boats, the rock formations in the back and the blueish to turquoise water are perfect for taking stunning photos and admiring the gorgeous scenery. If you are lucky, especially during the summer months, you can even view the sunset here, as the bay is slightly open to the west.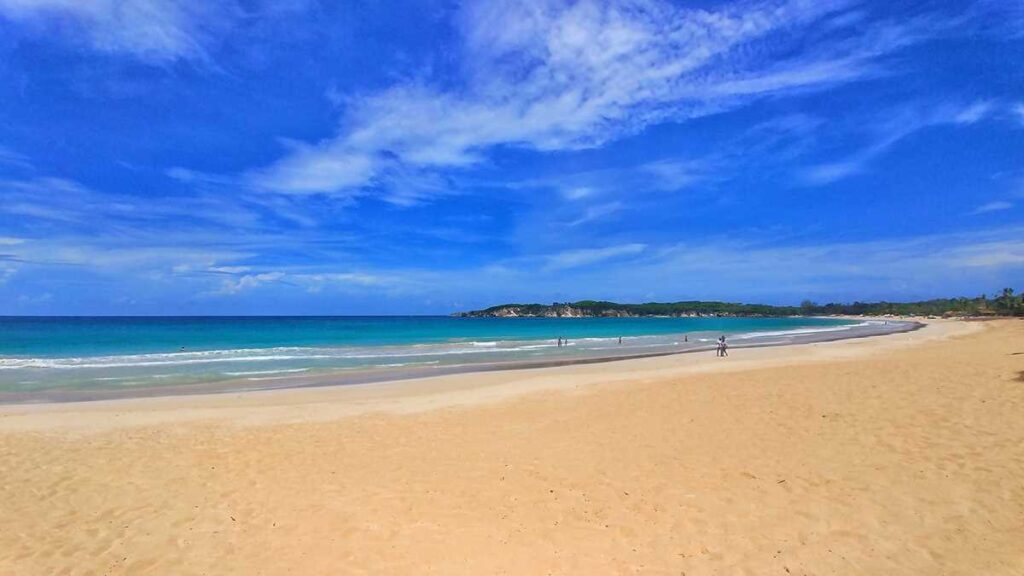 Macao Beach Resorts
Macao Beach is one of those Punta Cana beaches which has still been spared from the gigantic resort constructions which has been taken place on the other stretches around Bavaro Beach & Punta Cana. Therefore, accommodation options are very limited here, which is why it is one of the best day trips from Punta Cana. However, in 2020, the first Punta Cana resort has opened its doors right at Macao Beach (with a stunning location) and you can find a couple of other lodging options as well.
Dreams Macao Beach
As mentioned, there is only one all-inclusive resort at Macao Beach which is called Dreams Macao Beach Resort & Spa. It was newly built and opened only a few weeks before the pandemic hit the world and reopened its doors in the second half of 2020. Since then, it welcomes visitors with a perfect beach location, a no-reservation dining policy, unlimited premium drinks and a Punta Cana water park for toddlers and kids.
Dreams Macao does not only offer two water parks in Punta Cana, but it is also one of the best family resorts in Punta Cana, particularly due to having a separate kids club (3-12 years) and teens club (13-17 years) and for offering great surfing opportunities for those visitors willing to learn it for the first time. For adults, several bars are waiting to serve premium drinks, a spa is readily available and some rooms offer amazing views and/or luxurious swim-out options. Therefore, Dreams Macao Beach Resort is certainly not a family-only hotel, it offers more like a perfect mix between family amenities and comfort + convenience for adults.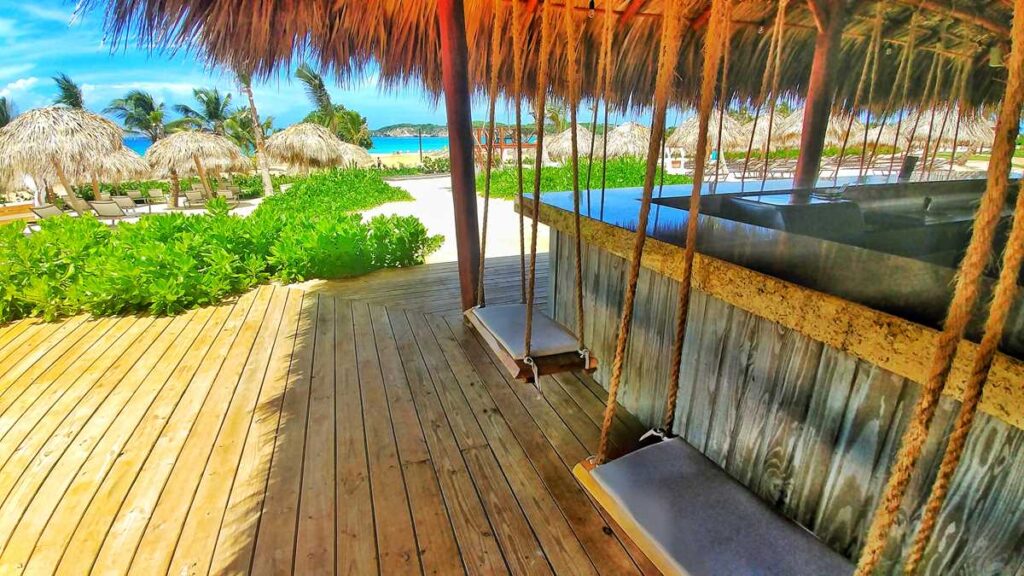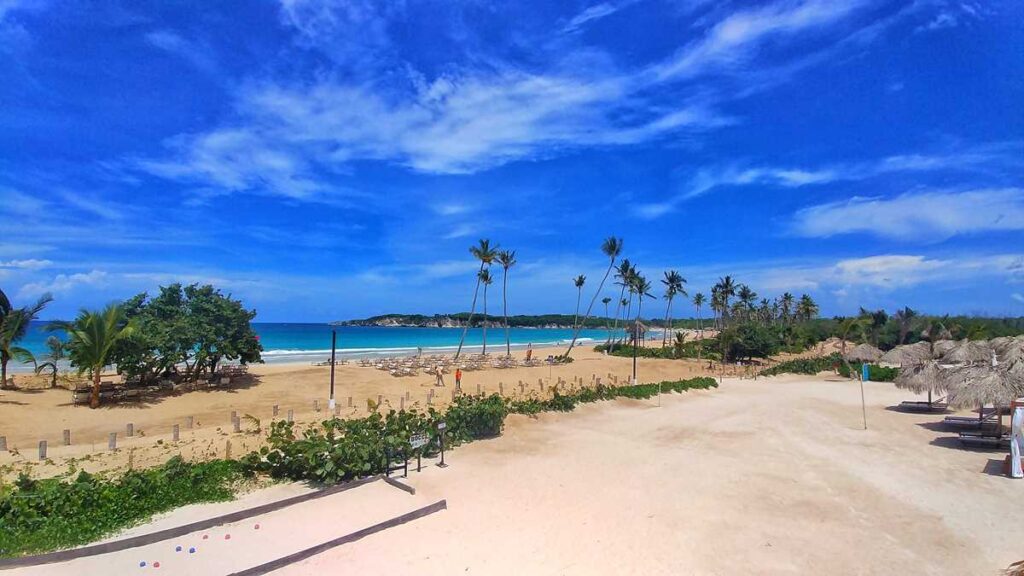 Playa Macao Hotels
As mentioned, Macao Beach is not a very commercialized area (opposed to the other Punta Cana areas), hence there are not a lot of accommodation. However, a few options are recommendable. Please note, in case you decide on one of these Playa Macao Hotels, it is highly recommended to rent a car in Punta Cana to stay flexible when staying here. Except for the beach itself, a few beachside restaurants for lunch and tiny grocery stores, there is not much around in Macao. Public transport to Macao is available, but also limited, hence a Punta Cana car rental comes in very handy when staying at one of the following Macao Beach Hotels.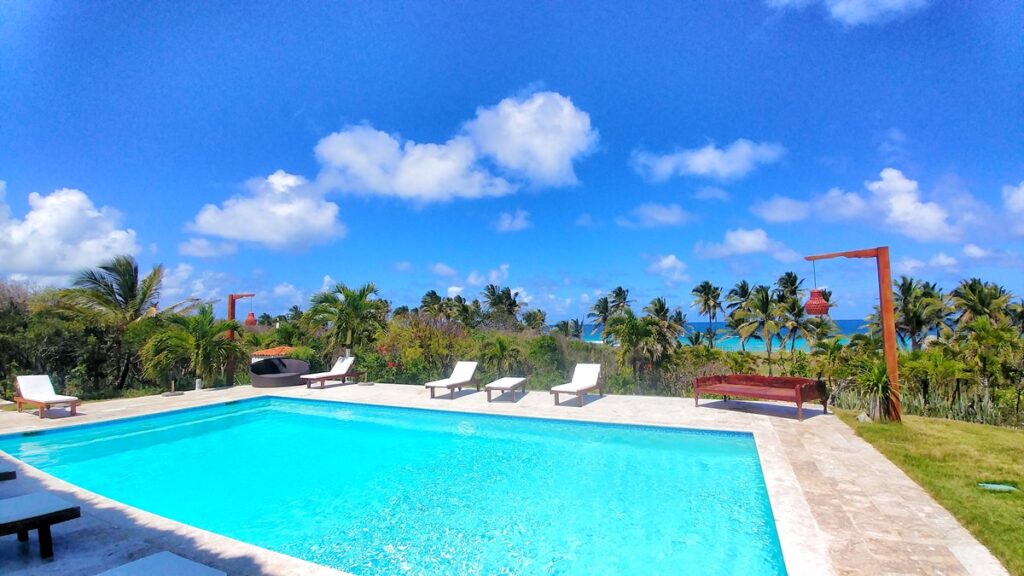 Macao Beach Hostel:
Before Covid-19 hit Punta Cana, Macao Beach Hostel was one of the most popular places to be for backpackers and budget travelers in Punta Cana. Unfortunately, Macao Beach Hostel is closed indefinitely and there are currently no other backpacking options in Macao. The best hostel-like accommodation in Punta Cana, therefore, is GAVA Hostel* in the heart of Bavaro, even though it doesn't feature the typical backpacking vibe other Dominican Republic hostels such as Island Life Hostel* in Santo Domingo or Manty's Guesthouse* in Las Terrenas offer.
Macao Beach Airbnbs & Villas
Given the limited amount of accommodation, there are also not that many Macao Beach Airbnbs or villas. Particularly compared to the nearly endless array of villas or vacation homes in Punta Cana, Macao Beach might appear nearly deserted.
However, you can check here if you find a proper vacation rental*, there are a few selected apartments available at Playa Macao.
Macao Beach Activities
When heading to Playa Macao, you might wonder what are the things to do in Macao. With the following list of attractions and activities, you will be fully prepared on how to visit this amazing beach in Punta Cana. Please note that some of the Macao Beach excursions have to be prebooked, while other activities can be done spontaneously.
Macao Beach restaurants and beach clubs
One of the biggest draws of Macao Beach are its multiple local restaurants and local food shacks – more than at any other beach in Punta Cana. Even there are no typical beach clubs at Macao Beach, you find a lot of places where you can eat, drink and relax.
The place which almost seems like a beach club is located at the western entrance of Macao Beach, west of Dreams Macao Beach Resort. Here you'll get cold drinks, a full lunch menu and a few sun loungers to relax. This is also the place where you can take your surf lessons.
If you'd like the most local experience, you shall head to the eastern part of Macao Beach. Entering Macao, you're turning right before Dreams Macao Beach and turning left right after you have passed the entire hotel. There is a parking lot afterwards and a scenic bridge over the mangroves, even though they are mostly dead, unfortunately.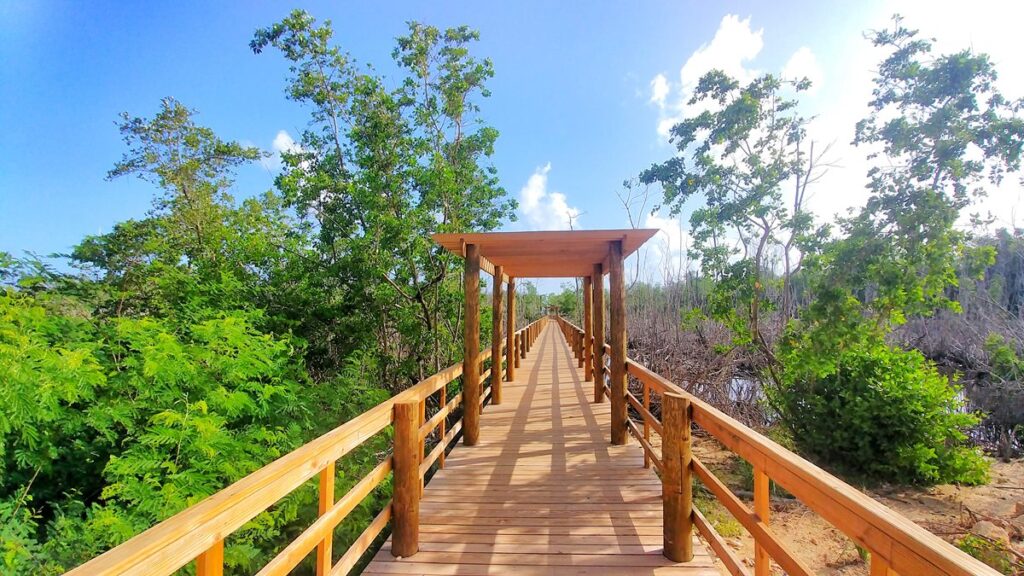 At this part of Playa Macao, you find endless local Macao Beach restaurants, most of them offering fish and chicken in all forms, usually served with the typical sides of the Dominican Republic, such as rice, beans, salad or plantains. Most of the restaurants offer similar menus and similar prices. Choose the one where you most like the location. This is also the place where you can find most of the locals, especially during the weekend. If you want to avoid crowds, try to go during the week and avoid particularly Sunday.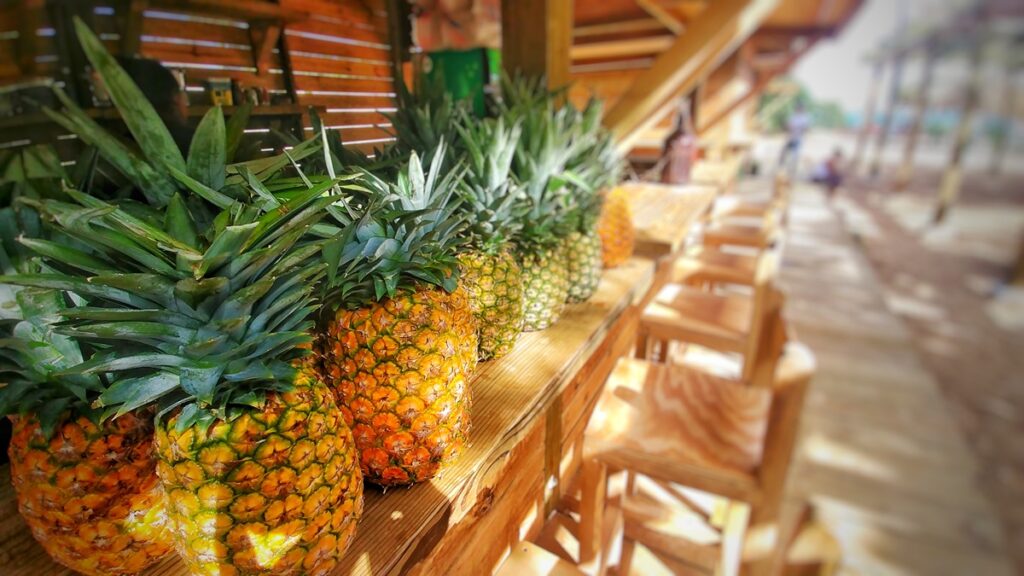 You can also find plenty of beach vendors here, who sell snacks such as empanadas, conch or typical sweet delicacies from the Dominican Republic at Macao Beach.
Insider tips and hidden gems for Macao Beach
With the information above, you are already well prepared for your visit to Playa Macao. You know the best activities at Macao Beach, know where to stay if looking for a Playa Macao Hotel and have an idea about the food and drinks in this area.
However, we don't want to finish this article without mentioning our three top hidden gems of Macao Beach – three things to do you shouldn't miss if you really want to get to know this part of the Dominican Republic.
Playa Escondida
This is a true hidden gem right at Macao Beach most people don't know about. Playa Escondida Beach in Punta Cana is only 10 minutes walking away from the eastern end of Macao Beach. The trail is not too complicated to find, just keep left in case of any doubt.
Playa Escondida is a very small but usually pristine beach (except on Sundays), where it is much easier to swim than at Macao Beach. It is also much quieter here. There are no food service and no beach vendors, but you have a great view of Macao Beach.
However, I like it more to stay at the main Playa Macao and to visit Playa Escondida just as a little side trip.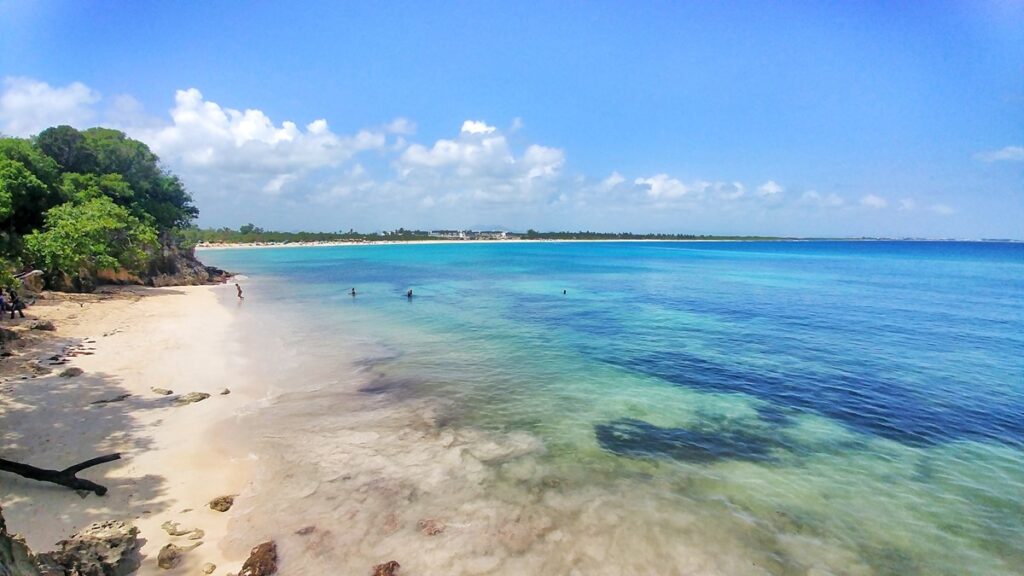 Walking towards Uvero Alto
If you prefer a longer walk than just a 10 minutes trail, you can also walk in the other direction towards Uvero Alto. There is a very nice trail parallel to Playa Macao, which offers nice views of the coast. You'll reach a small river that is flowing into the ocean and continue the trail on the side until you reach Uvero Alto, an area with a lot of all-inclusive resorts.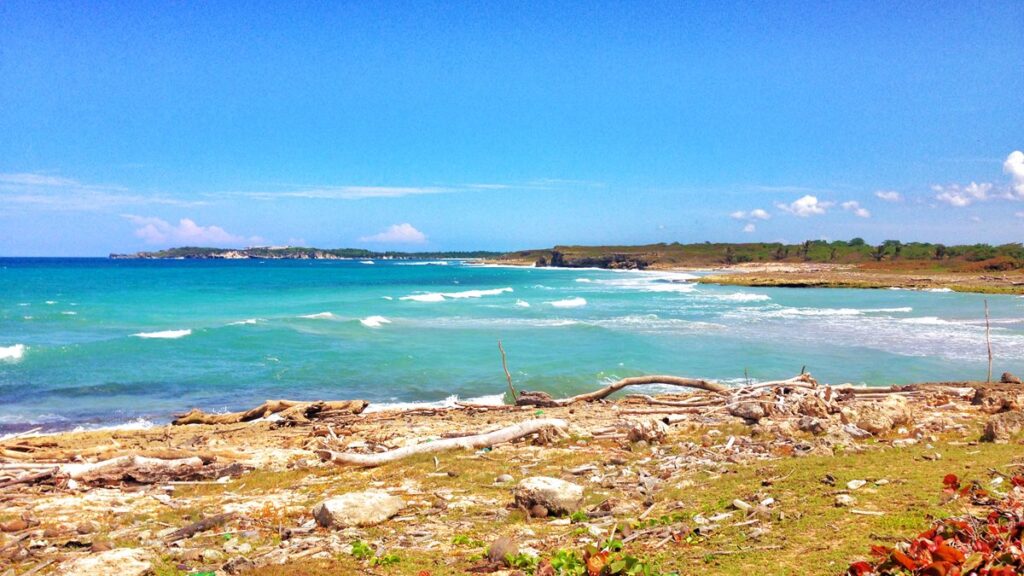 The village of Macao
For another deeper insight into the Dominican Republic's culture at Macao Beach, you can explore the little village of Macao, which is located right behind Playa Macao. Despite the closeby Dreams Macao Resort, It still has kept its authentic charm and local vibe, offering not much more than the typical Dominicans basics of a village: Colmados (mon-and-pop-stores), bars, local restaurants (Comedores), barbershops and a few more small businesses.
How to get to Macao Beach
To get to Macao Beach from Punta Cana or Punta Cana's International Airport, you have four options:
– book a private transfer to Macao Beach (check the best option here*)
– take an Uber or a taxi (but read this article first to pick the right option)
– take public transport from Punta Cana to Macao (it is complicated but doable – check out instructions in the Punta Cana public transport guide)
– rent a car in Punta Cana (best option, as you stay flexible during your holiday)
SHARING IS CARING! IF YOU ENJOYED THIS ARTICLE, PLEASE SHARE WITH YOUR FRIENDS – I WOULD APPRECIATE IT A LOT.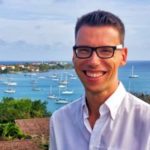 CHRIS
Author, Travel Coach & Punta Cana based digital nomad
Hey, I am Chris, a born and raised German, travel-addictive and Caribbean Soul. Since 2011 I have been living in the Caribbean, among them 5 years in the Dominican Republic. Punta Cana is my home-base here in the country and I'd love to tell you more about how to experience Punta Cana off-the-beaten-track and give you all the advice you want to know for your vacation in Punta Cana.