Grand Sirenis Punta Cana Resort is an all-inclusive resort in Punta Cana that is particularly famous for its on-site waterpark – one of the largest in the Dominican Republic and the Caribbean. But there is so much more why Grand Sirenis is worth a closer look. The hotel got fully renovated in 2018 and awaits you with modern rooms, a contemporary design and an ample tropical garden, where you and your kids can even spot some animals. Further child-friendly services are complementing this family all-inclusive resort in Punta Cana, which you shall consider for your family vacation in the Dominican Republic.
This is an extensive review of Grand Sirenis Punta Cana. If you'd like to know some general information about accommodation in Punta Cana, you can continue reading all the insider tips on how to find the best all-inclusive resort in Punta Cana and my recommendation on how to save money during an all-inclusive holiday in Punta Cana.
If you like more resort options with an outstanding price-value ratio, check out this list of the best affordable all-inclusive resorts in Punta Cana.
If you are looking for other family-friendly hotels in Punta Cana, you can see our hand-picked list of Punta Cana all-inclusive family resorts.
Where is Grand Sirenis Punta Cana Resort?
Grand Sirenis Punta Cana is located in Uvero Alto, the northernmost part of Punta Cana. The surrounding is sparsely populated, but the hotel is located directly at the beach so you can enjoy the best of the tropical world. A local bus serves the road in front of the hotel and connects Uvero Alto with the capital of the Altagracia Province, Higuey.
From Punta Cana International Airport, it's an approx. 40-minute drive to Grand Sirenis Punta Cana. You can check out all the options on how to get from the airport to your resort here, but to have a smooth ride, I would recommend pre-booking your airport transfer here*.
If you are wondering about the exact location of Grand Sirenis Punta Cana, you can check out its location on this map with all Punta Cana resorts.
Overview of Grand Sirenis Punta Cana Resort
Grand Sirenis Punta Cana is a medium-sized all-inclusive resort. It doesn't have a crazy size where you walk forever from your room to the beach, but it still offers you plenty of open space, tons of palm trees and a large tropical garden. The latter one even is home to a couple of animals, such as peacocks, ducks or birds.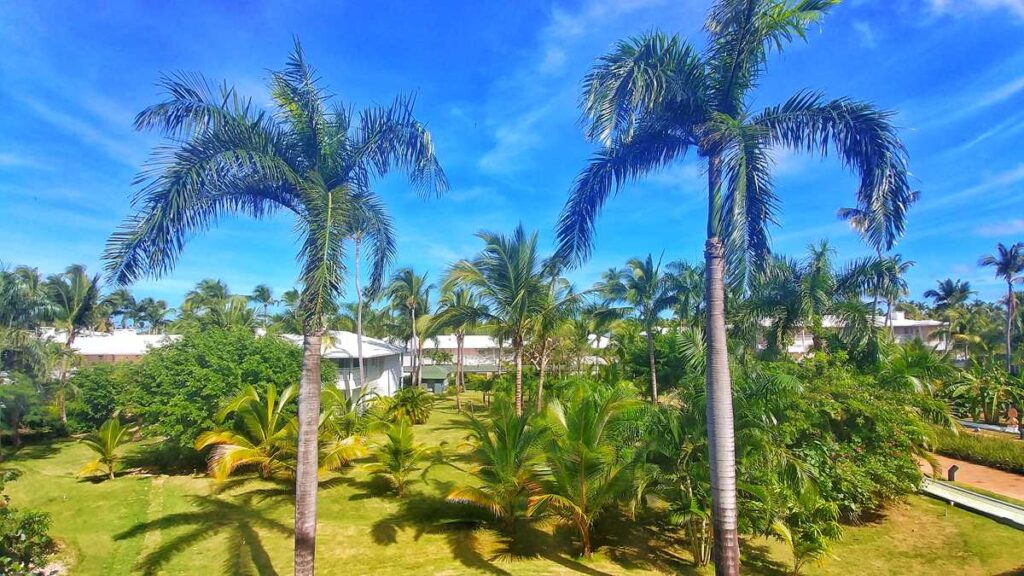 From the lobby, which welcomes all guests with a bright and shiny vibe since it got fully renovated in 2018, you have direct access to the two buffet restaurants of the resort, the lobby bar and the theatre. Behind the lobby, you can also find an open-air plaza with an evening entertainment area, a wonderful coffee shop, the gym and a couple of external shops.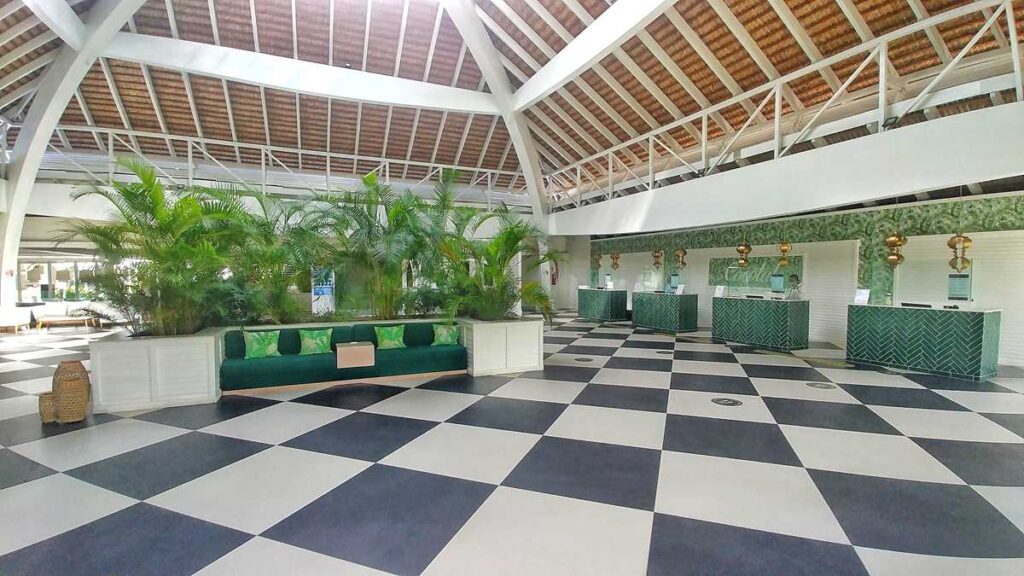 Once you head from the lobby in the direction of the beach, you'll find all the guest rooms of Grand Sirenis Punta Cana. There are two bigger buildings attached right to the main building, the remaining rooms are distributed over 31 buildings, which helps to give the resort a more private and personalized touch instead of if all rooms were allocated in one massive building. In between, you can find plenty of green areas, giving each room a tropical view with a Caribbean feeling.
Last but not least, the pool is located right in front of the beach. It has many areas for kids to play, run and splash around. There are a lot of sections with a very low water depth in the pool which the children will perfectly enjoy. There is also a bar and snack area close to the pool so that nobody gets hungry or thirsty.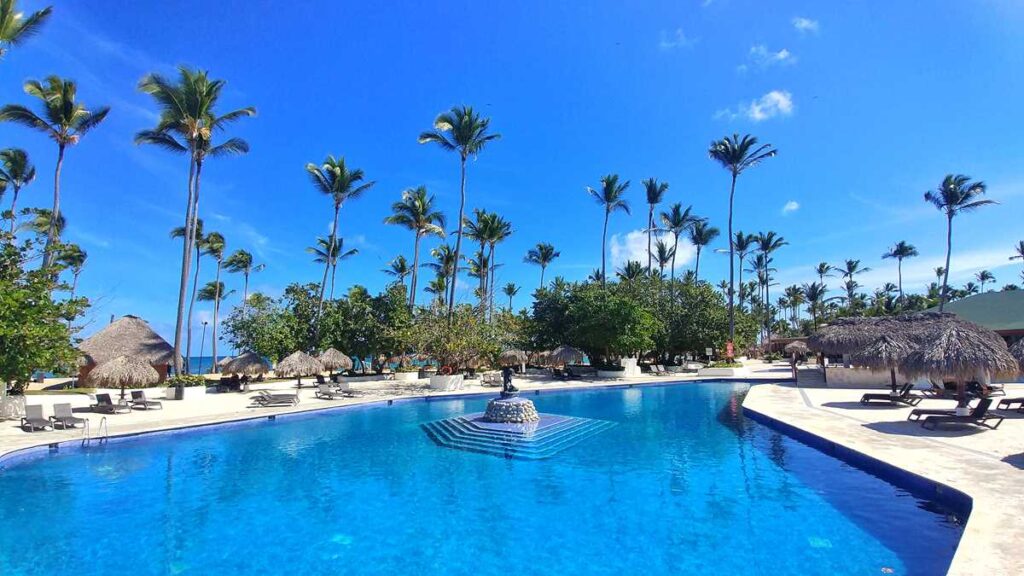 Please note that this pool area is not the waterpark of Grand Sirenis Punta Cana. The Sirenis Aquagames are located behind the lobby/plaza and feature another world for kids and families. You can find all the details of this in-resort water park further below.
The beach at Grand Sirenis Punta Cana Resort
Once you are at the pool, you can also see and enjoy the beach, as both are right adjacent to each other. The beach is one of the many beautiful stretches of sand in Punta Cana, even it can't compete with the white color of Cap Cana's beaches or the amplitude of Bavaro Beach.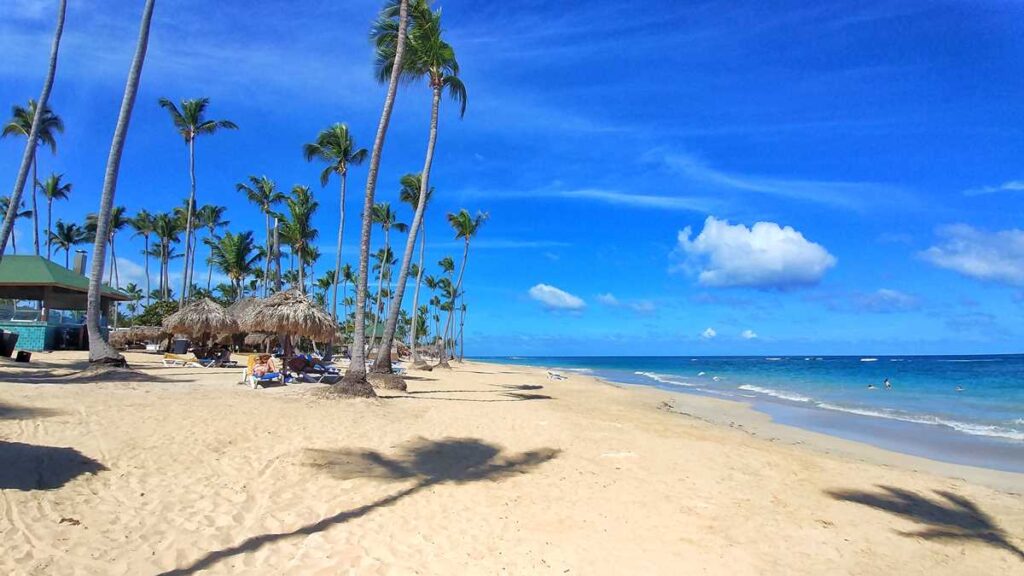 Nevertheless, the beach of Uvero Alto is fully recommendable if you are looking for a gorgeous Caribbean beach with a lot of palm trees and fine sand. The most important feature of the beach at Grand Sirenis Punta Cana is that it is very gently sloping, making it suitable even for smaller kids to play in the water.
If you want, you can also have long beach walks starting from Grand Sirenis Punta Cana. If you head south, you pass mainly other all-inclusive resorts, such as Excellence El Carmen, Now Onyx or breathless Punta Cana. If you head north, you pass several virgin stretches of beach with adjacent coconut groves, only interrupted by Excellence Punta Cana.
TRAVEL COACHING
Save money and time!
Do you need help planning a customized vacation in Punta Cana and the Dominican Republic? Is it difficult for you to decide what and where to book? Would you like to take advantage of someone with years of experience in the tourism industry (knowing all the travel hacks 😉 ) and living right in the place where you would like to spend your holiday?
That's what my personal travel coaching is for. I will design your tailor-made itinerary, tell you how to save money on your trip and send you the best insider tips and recommendations. All the information I send you are crafted with love and passion – and are coming with a money-back guarantee. Let me know how I can help you (check my packages here) and send me a request here!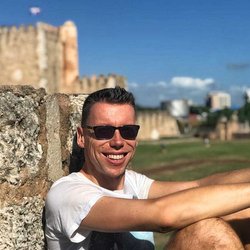 The rooms at Grand Sirenis Punta Cana Resort
Grand Sirenis Punta Cana Resort does have around 800 rooms. All of them are completely refurbished (except for the so-called "Promo Rooms", which still might appear in a few booking engines), guaranteeing a contemporary design, modern furniture and a bright décor. This was probably our biggest surprise when we visited the hotel as we knew that Sirenis already has around 20 years in the market.
When booking your room, you can choose among the following categories:
Double Room
Family Suite
Romance Junior Suite
Suite
The modern furniture contains huge flatscreen TVs, individual air-conditioning, a digital safe, comfortable beds and beautiful tropical decoration, especially on the walls.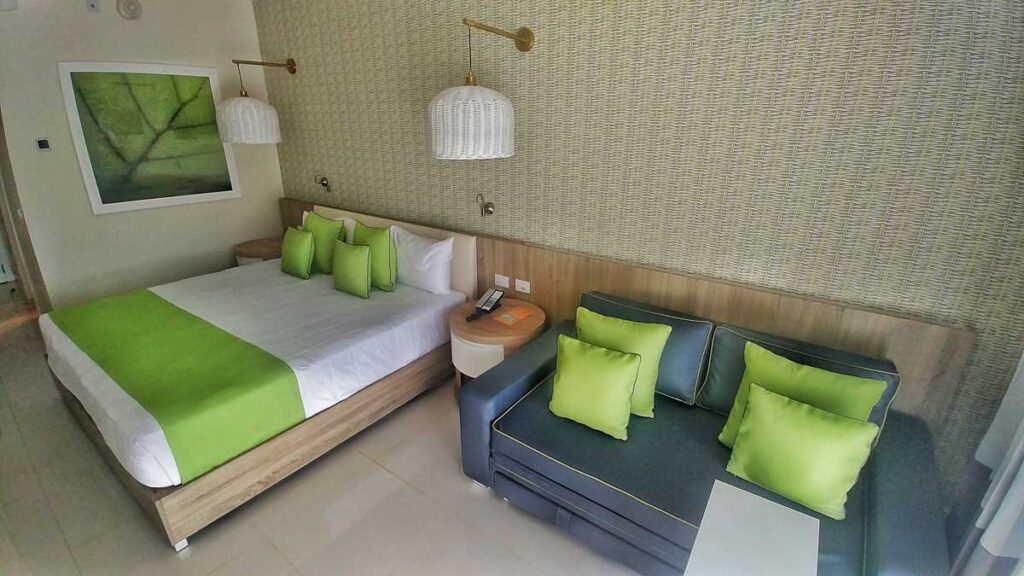 A minibar is included as well and gets replenished daily.
The standard rooms are available with 1 king bed and 1 sofa bed or with 2 queen beds.
If traveling as a family, Grand Sirenis Punta Cana also offers family suites (check the prices below), which have a separate seating area with a huge sofa bed and a sliding door in the bedroom for additional privacy.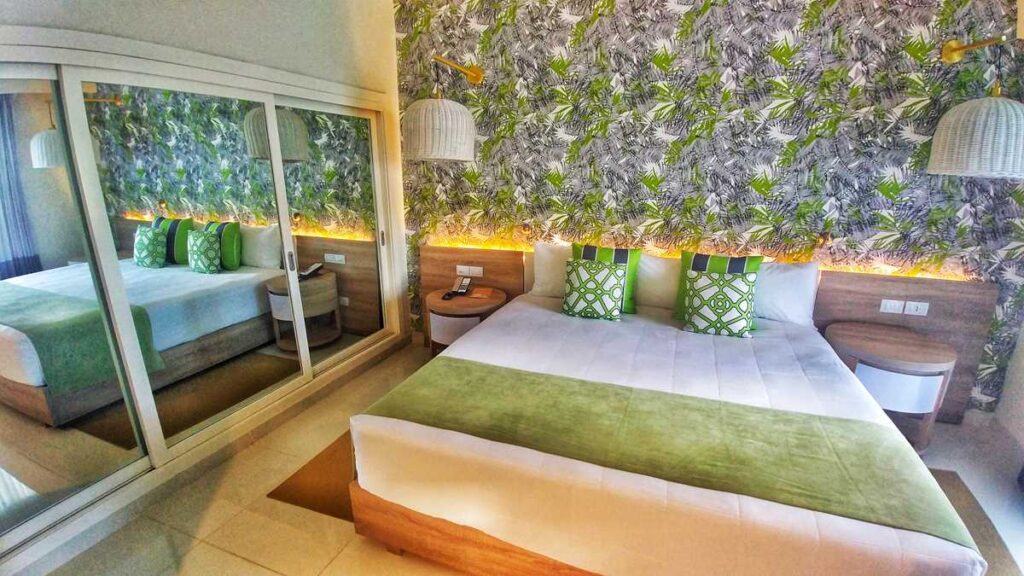 Couples or romantic parents (with their kids in a separate room) should book the Romantic Suite with a huge jacuzzi, a spacious bathroom and a four-poster bed, guaranteeing a relaxing stay with some time for two.
Furthermore, there are a couple of other things that are remarkable for a resort at this price level (Grand Sirenis is usually among the cheaper options when looking for an all-inclusive resort in Punta Cana).
First, the room service is included and for free from 11 am to 11 pm (even though with a limited menu). Second, you have very strong WiFi signal throughout the resort – in the room, in the water park, in all restaurants and even at the pool. Also, the speed of the WiFi was very good and you were always connected, no need to re-connect a dozen times a day like with other hotel Wi-Fis.
Booking and Prices at Grand Sirenis Punta Cana Resort
If you have decided on your room of choice, it's time to book Grand Sirenis Punta Cana. As always, it is recommendable to compare different websites to get the best price. Furthermore, different companies have different advantages, so pick the one which is most convenient for you. Below, I have a list for you of some travel websites where this all-inclusive resort is bookable – including their special conditions and how to save when booking Grand Sirenis Punta Cana:
| Website | Your Advantage | Grand Sirenis Punta Cana |
| --- | --- | --- |
| Booking | Get up to 10% Genius discount on the already discounted rates | |
| Dertour | Get European tour operator rates (only for Europeans) | |
| Hotellook | Comparing dozens of sites for you to find the best prices | |
| Hotels.com | Every 11th night is free, redeemable worldwide | |
| Hotelcombined | Powerful hotel search engine by Kayak | |
| Travala | Get a 25 USD welcome bonus (register here*) + 2% cashback | |
| Tripadvisor | Compare prices and reviews on one site | |
A room at Grand Sirenis incl. all-inclusive meal plan and all services mentioned in this hotel review usually is at around 200 USD per night in double occupancy in high season (January to April) and between 15% and 25% less in low season (May to November). Prices in the peak season (Christmas, New Year's Eve and Easter Holidays) might easily hit the 300 USD mark and during summer (July and August), shoulder season prices might apply.
With these price ranges, Grand Sirenis is one of the cheaper options among all-inclusive resorts in Punta Cana, and it only missed making it to the list of the best cheap all-inclusive resorts in Punta Cana by the skin of one's teeth, because it was a few dollars above the budget limit when I created the list.
Comparing to other family resorts in Punta Cana, Grand Sirenis offers a very attractive price-value ratio, particularly considering that the on-site waterpark is included and that the entire hotel is completely renovated.
Furthermore, in case you haven't booked your flights to Punta Cana yet, make sure to check if it might be cheaper to book flights and hotel together as a package. Sometimes tremendous discounts are offered when booking them together – and sometimes not. I'll recommend checking your package price for Grand Sirenis Punta Cana including flights from your designated airport with hotels.com.
Restaurants and bars at Grand Sirenis Punta Cana Resort
Besides the modern vibe of the resort, the selection of food was what definitively have excited us most. We have visited a lot of all-inclusive resorts in Punta Cana in the 200 USD budget range, but we hardly had such a quality and quantity of food before.
Grand Sirenis Punta Cana offers 2 buffet restaurants, 7 à-la-carte restaurants, 1 snack bar, 1 coffee shop (with lots of ice cream for the kids) and 13 bars.
Let's start with the buffet restaurants, which are usually open for breakfast, lunch and dinner. During our visit, they were closed for dinner due to the low occupancy because of Covid-19 (see below all information about the safety and hygienic protocol of Grand Sirenis), which was not a problem, as you could easily make reservations for their à-la-carte dinners.
The buffets at Grand Sirenis Punta Cana are offering an enormous selection of food, which literally blew our minds away. Yes, we have seen plenty of huge buffets in Punta Cana, but sometimes, especially in cheaper all-inclusive resorts, an immense quantity doesn't mean that you find good quality as well. But Sirenis delivered! They had an enormous selection of everything, including more expensive items such as salmon, parmesan, freshly-blended juices or imported cheese.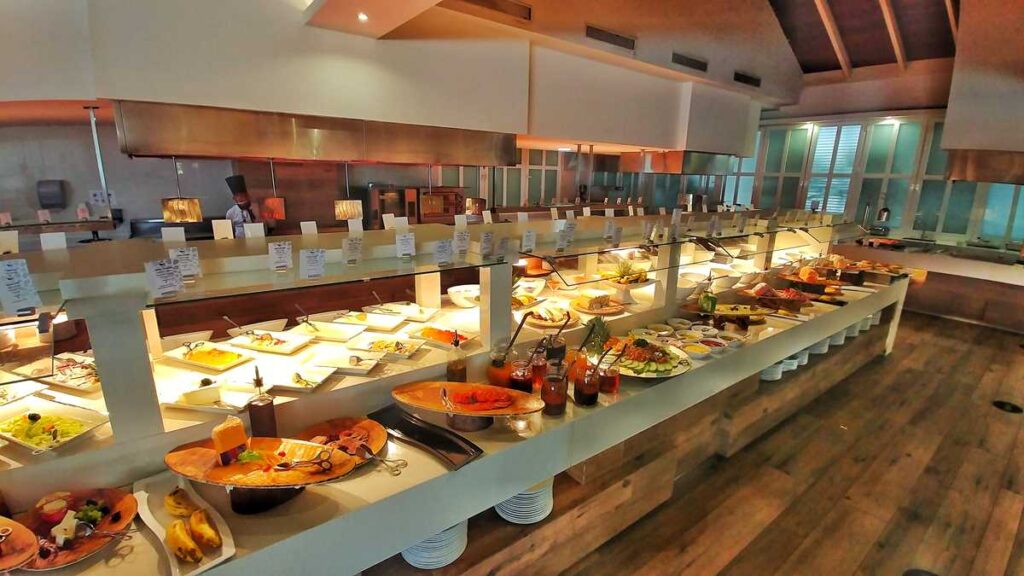 For breakfast, you can choose between a wide array of hot and cold items, sweet breakfast, various types of bread, waffles, cooked-to-order omelets or tortillas, müsli, fresh fruits and much more.
Lunch consisted of a great selection of local and international dishes, a wide array of salads, pizzas, a hot dog station and much more.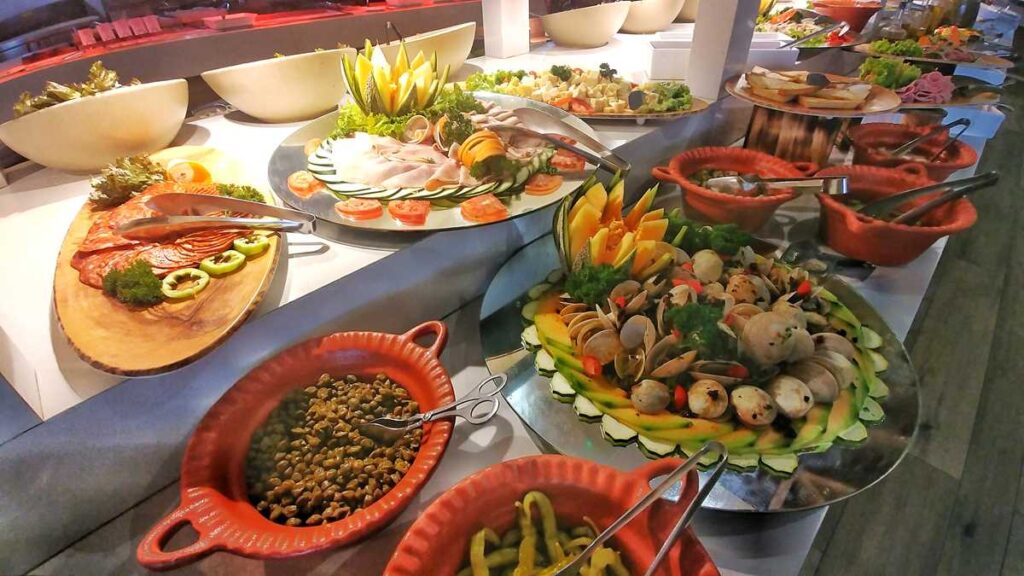 Another proof for the ample selection was the choice among the certain kinds of products. For example, instead of one yogurt, they had five different kinds of yogurts (natural, vanilla, pineapple, guayaba and fruits) and instead of serving multiple times the same cheese, they had various buffet plates with at least 5 different kinds of cheese.
Furthermore, the buffet restaurant had a very cozy atmosphere thanks to the colorful design. It didn't feel like one of those huge canteens, where you think you are in a big company rather than in a leisure hotel.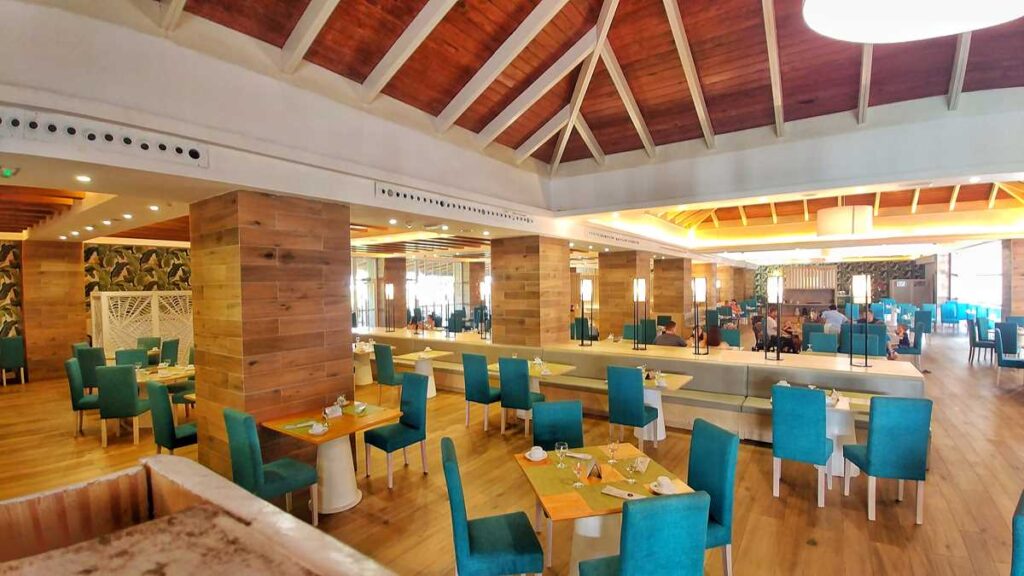 For dinner, you can choose between 7 à-la-carte restaurants at Grand Sirenis Punta Cana. While you need reservations, they are not a problem as you can make unlimited reservations throughout your stay. You can choose between the following dinners:
American Diner "Route 66"
Italian Restaurant "Cinecittá"
Brazilian "La Gira Rodizio"
Japanese Restaurant "Ikebana"
Tex Mex "El Rancho"
Mediterranean Food "Las Barcas"
French Restaurant "Le Relais Gourmand"
During our stay, we visited Cinecittá and Las Barcas. Both had a very creative menu and delicious food. Especially Las Barcas was a highlight as we got fresh seafood and a professionally pink grilled tuna steak, which couldn't have been prepared better in any seafood restaurant. Just avoid ordering a pizza at Cinecittá, better get them from the buffet. 😉 But all the other food was indeed super satisfying.
Concerning drinks at Grand Sirenis Punta Cana, there is not as much to write as about the food. The 13 bars are scattered around the resort and offer a typical Caribbean cocktail menu. They use a single local brand of alcohol for most of the drinks, but do have a few international liquors as well, such as Dewars, Beefeater, Martini or Campari.
However, a special mention shall be rewarded to the coffee shop of Grand Sirenis Punta Cana, which is one of the biggest and coziest coffee shops I have seen so far in an all-inclusive resort in Punta Cana. The design of this coffeehouse definitely invites you to get your dose of coffee every day. It is fresh Dominican coffee and you can choose out of a wide array of more than 15 coffee specialties. Furthermore, it has a selection of around 12 different ice cream flavors, so make sure you bring your kids when visiting the coffee shop.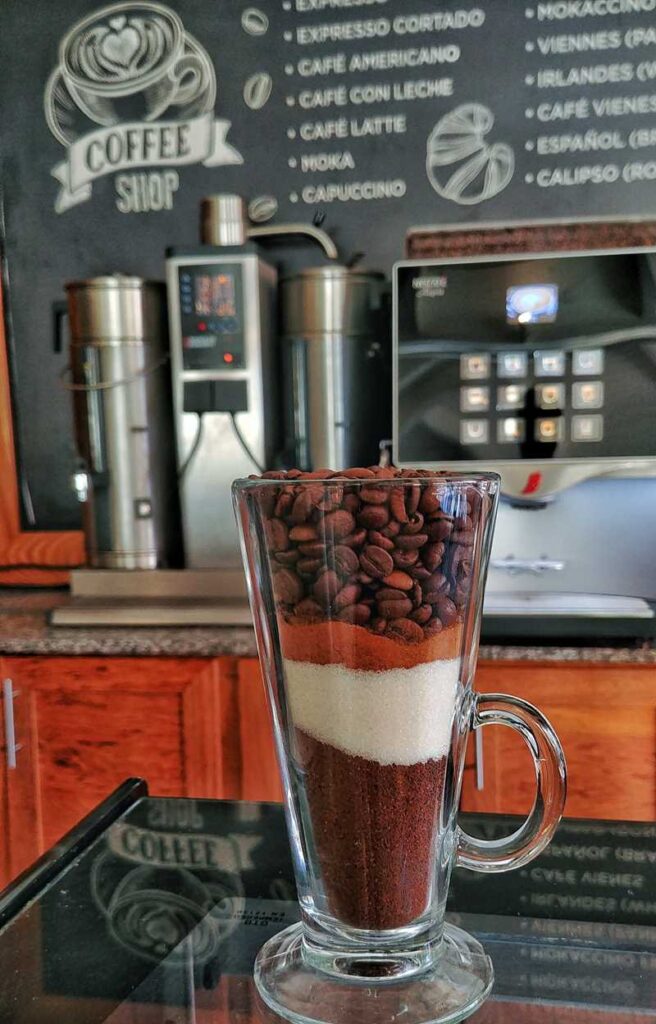 Sirenis Aquagames: the waterpark at Grand Sirenis Punta Cana Resort
Taking about kids and coffee: if you just walk two minutes past the coffee shop, you are reaching the biggest attraction Grand Sirenis Punta Cana might have for your kids: the on-site waterpark Sirenis Aquagames. This 3-acre sized waterpark was renovated as well (except the big tower with the water slides) and offers endless water fun for children of all ages. It has three main pools with a lot of animal statues, water sprinklers, splash elements and water slides. Furthermore, kids can play in a pirates-themed area with 4 giant water barrels. Those pools are suitable for kids starting at the age of 2 years.
The main area – and for most older children (and adults 😉 ) the most spectacular part – of Sirenis Aquagames is, however, the tower with its 7 water massive water slides, making it one of the biggest waterparks in Punta Cana and the Dominican Republic.
You can choose between two open waterslides, two dark slides, a kamikaze-style slide, a twister-style water slide with a free fall at the end called "Torbellino" and a 4-lane-water slide called "Aquaracer".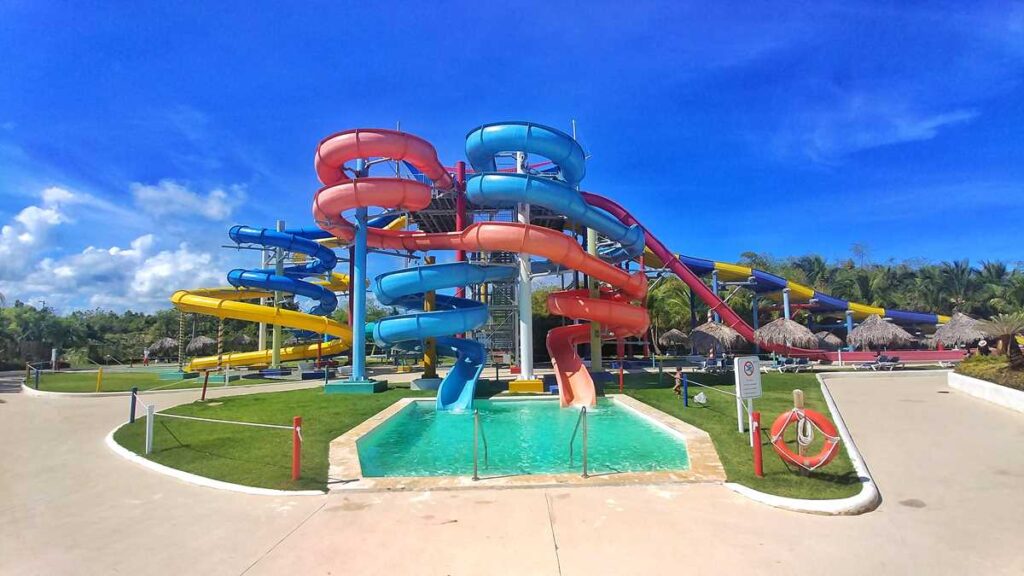 Aquaracer is the most fun of all slides, as you take a soft mat and race down the moderately declined slide, but gain a considerable amount of speed thanks to the water mats. You can also compete against your friends and see who is the quickest.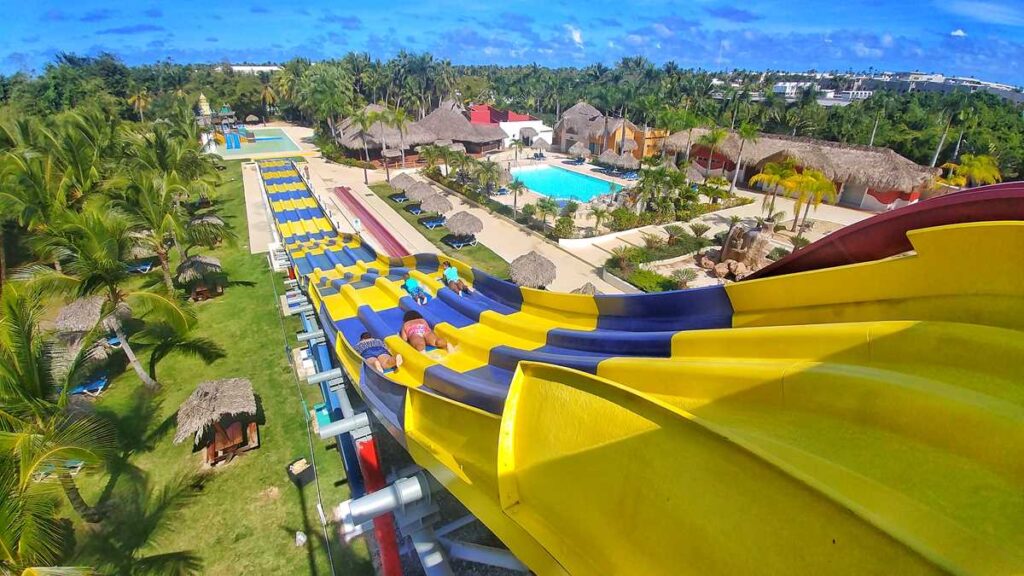 The other water slides are used without water mats or tubes and therefore have to be used with caution, as the age of the slides might cause a few bruises or scratches.
For me, the coolest slide among those was Torbellino, as you circle in an open spinning top before falling into the water.
Entertainment and Service at Grand Sirenis Punta Cana Resort
But there is more entertainment at Grand Sirenis Punta Cana than just the waterpark. There are tons of other activities and sports such as tennis, beach volleyball, pool games, archery, bicycle tours, table tennis or darts. There is also a well-equipped gym which is open daily.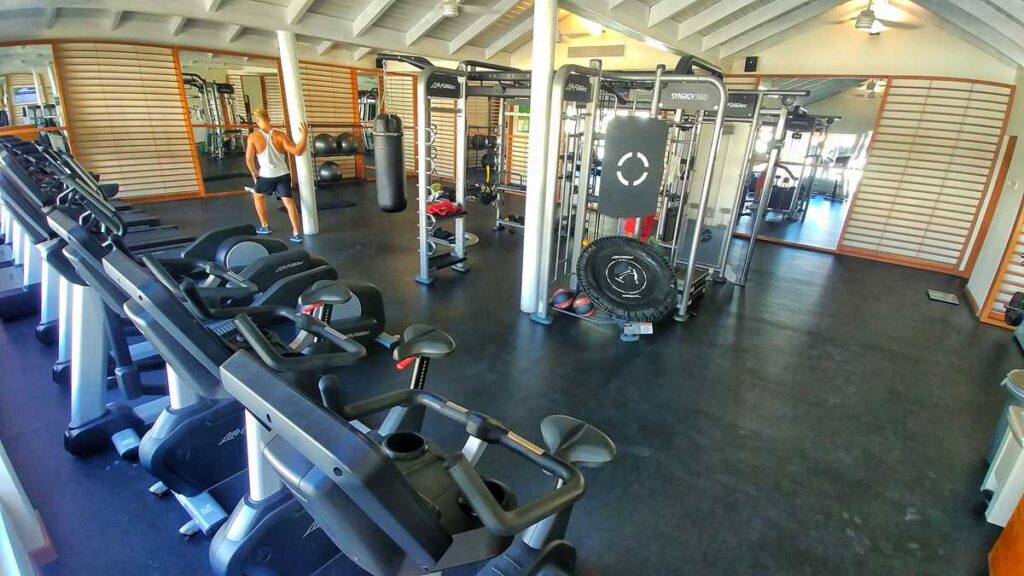 If you prefer animated entertainment, you can participate in dance lessons, team tournaments or aqua gym.
Once Covid-19 is fully under control, the kids club will reopen, with further services especially for children from 3 to 12 years.
In the evening, there is a mini disco, the lobby bar with occasional live music, the theatre with night entertainment or the open-air plaza with interactive shows.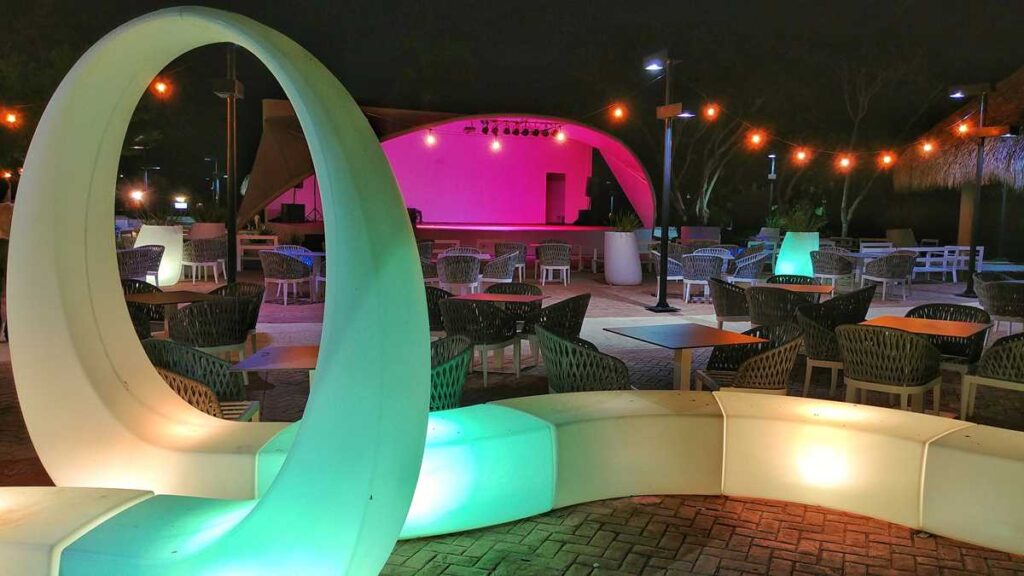 However, the evening entertainment is always family-friendly, making sure that both the parents and the kids get their fair share of fun and joy.
Safety Protocols and Hygiene Standards at Grand Sirenis Punta Cana Resort
Since the Dominican Republic reopened for public tourism in July last year, each hotel has to follow the nationwide Covid-19 hygienic protocol to comply with the regulations and restrictions. This is to prevent the spread of Coronavirus and guarantee a safe holiday for you and your family.
Some of those Covid-19 measures at Grand Sirenis Punta Cana include:
General:
Three-layer face shield and protection equipment for resort staff
Social distancing signs in the course of Covid-19 recommendations
Sanitizing gel stations at entry and exit points
Disinfection and cleaning of all areas, rooms and hotel furniture
Implementation of periodic certifications and audits.
Use of chemicals endorsed by the Environmental Protection Agency (US EPA)
Risk Management Team and Training of resort staff
Limited capacities at members and coworker common areas
During Check-In:
Online check-in
Covid-19 questionnaire
Body temperature check
Indicate Corona protocol recommendations
Delivery of mask and gel kit upon arrival in the room
Disinfection of luggage and golf carts after each use
Placement of protection acrylics at guest service areas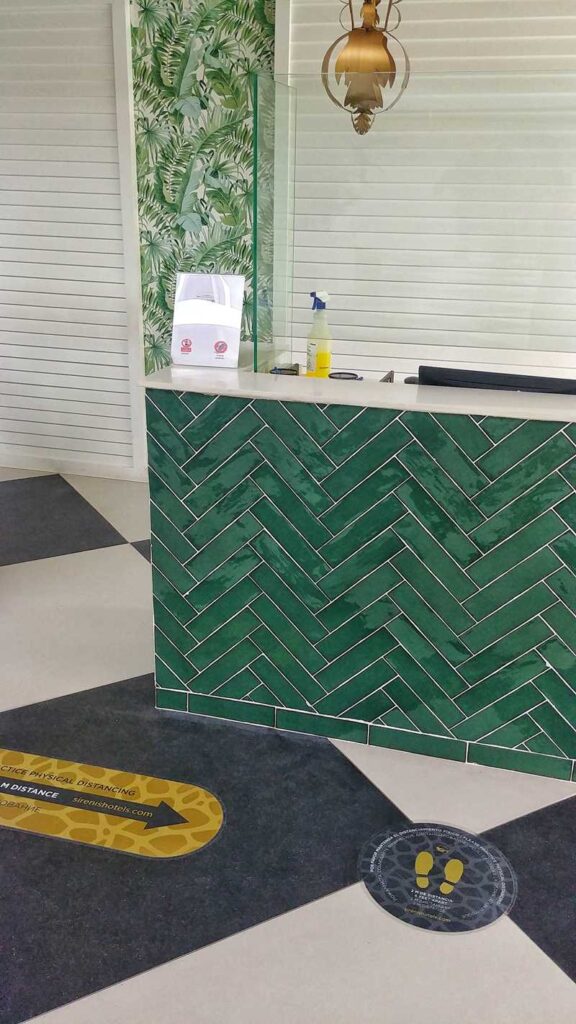 At bars, buffets and restaurants:
Sanitizing gel at entry points
Silverware, tableware and glassware disinfected in dishwasher with certified chemicals by US EPA
2m gaps between tables for Covid-19 social distancing
Cleaning and disinfection of furniture and cushions
QR menu
Special procedures for Room Service
In the hotel:
Sanitizing gel in frequented areas
Equipment, lounge chairs and others with 2m of separation
Cleaning and disinfection of furniture with products endorsed by US EPA
Dedicated person in the gym to disinfect equipment after each use
Entertainment activities will be carried out in open air and following the recommendation of the local authority and the Covid-19 regulations of the Dominican Republic.
Thermal fogger disinfection of the hotel rooms
In general, the Grand Sirenis Punta Cana did a very good job in operating under these Covid-19 conditions. There were sufficient signs and reminders of the guidelines, but not to such an extent that you felt annoyed by 2-meter warnings all the time. Furthermore, all resort staff constantly had their masks on, and it made a remarkable impression that each employer of the hotel wore the same type of mask.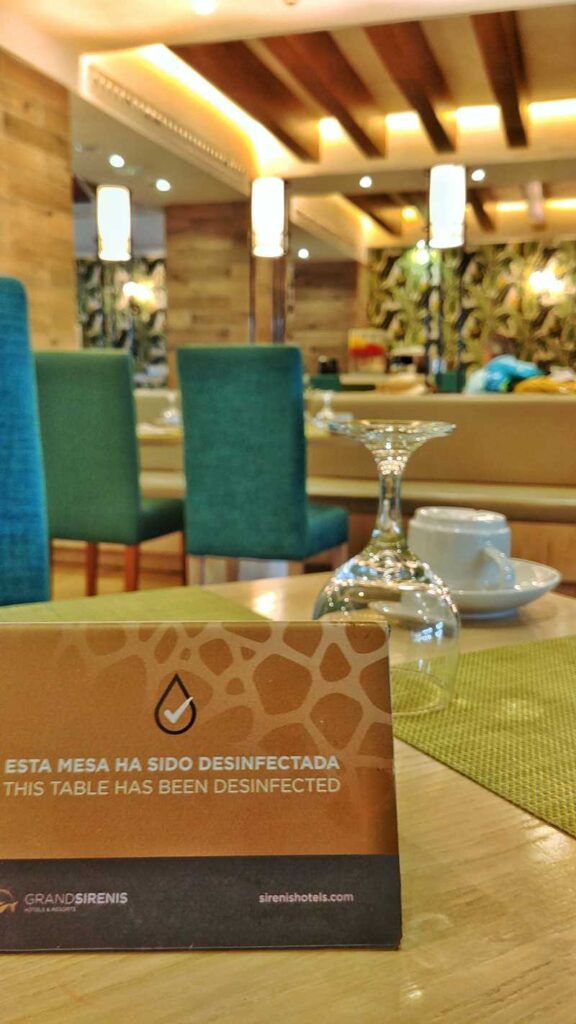 For the other restaurants, all menus have been digitalized and were accessible via QR-Codes.
If you'd like to know more on how it is to travel to Punta Cana during Covid-19 and all restrictions which are in place in the Dominican Republic, you can check out this article.
Excursions from Grand Sirenis Punta Cana Resort
Once you are on holiday at Grand Sirenis Punta Cana, you probably also want to experience some of the highlights of the Dominican Republic.
 First of all, if you are absolutely new to the world of Punta Cana, I am recommending you to read the ultimate list of the best things-to-do in Punta Cana – including excursions, adventures, road-trips and so much more. If traveling as a family, you also shouldn't miss the best things to do in Punta Cana with kids.
Uvero Alto doesn't offer a lot when it comes to DIY adventures, so leaving the resort on foot won't bring you very far. However, if you are planning to rent a car, you are much closer to the Anamuya mountains and the Cordillera Oriental than at other all-inclusive resorts. Therefore, if you are interested in waterfalls, hiking tours or exploring natural hidden gems such as Salto de la Jalda or Los Haitises National Park, Grand Sirenis Punta Cana is not the worst starting point.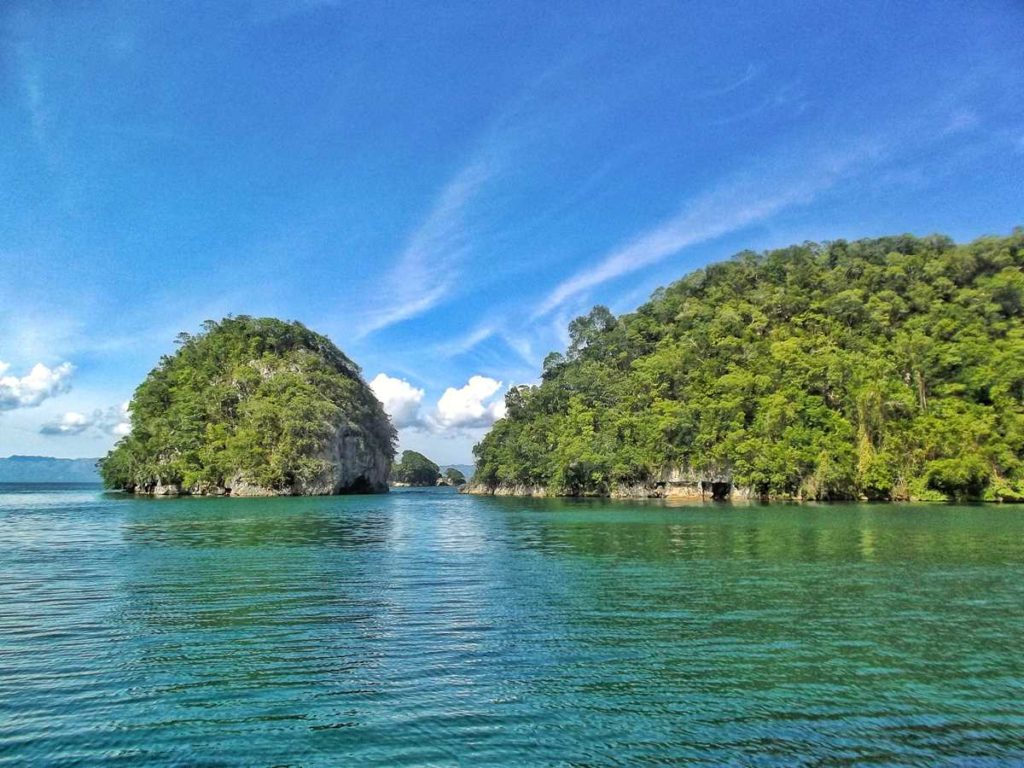 But also if you are preferring guided Punta Cana excursions so you can relax and sit back, you have several amazing options at Grand Sirenis. A must-see while in Punta Cana is Isla Saona, the paradisical island at Parque Nacional del Este. Furthermore, Scape Park Cap Cana is a perfect family adventure with so much water fun that your kids don't want to leave.
If you are not sure yet what you want to do, you can also decide later and for the moment just get some further impressions. You can find the best free things to do in Punta Cana here and the best day-trips in the area in this article.
Summary
Grand Sirenis Punta Cana is a very recommendable family resort in Punta Cana – with an outstanding price-value ratio. Especially the combination of a budget-friendly hotel with an included on-site water park and completely renovated rooms is very hard to find in this price segment. Furthermore, you get some amazing food, a kid-friendly beach and plenty of options to do during your stay.
There is hardly anything to moan about Grand Sirenis Punta Cana. Just if you are looking for some options to do in the immediate surrounding of the hotel when leaving the resort, Uvero Alto might not be the best choice for you as you are a little bit far away from any local life. But that's usually a negligible point when looking for a perfect family all-inclusive resort in Punta Cana, so make sure you check out the current promotions of Grand Sirenis Punta Cana* to get the best deal for your family.
SHARING IS CARING! IF YOU ENJOYED THIS ARTICLE, PLEASE SHARE WITH YOUR FRIENDS – I WOULD APPRECIATE IT A LOT.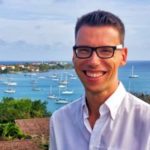 CHRIS
Author, Travel Coach & Punta Cana based digital nomad
Hey, I am Chris, a born and raised German, travel-addictive and Caribbean Soul. Since 2011 I have been living in the Caribbean, among them 5 years in the Dominican Republic. Punta Cana is my home-base here in the country and I'd love to tell you more about how to experience Punta Cana off-the-beaten-track and give you all the advice you want to know for your vacation in Punta Cana.