Do you want to know one of the biggest hidden gems in Punta Cana, the Dominican Republic and maybe the whole Caribbean? Can you imagine that there is the highest waterfall in the entire Caribbean not too far away from Punta Cana and nobody knows about it?
Exactly this is Salto de la Jalda, one of the most gorgeous and secret spots the east of the Dominican Republic has to offer. But why is this waterfall so unknown and how can you get there?
I have been there twice already and am happy to tell you a little bit more about this remote place, approximately two hours away from Punta Cana.
Are you looking for further options of waterfalls around Punta Cana you can visit? Check out this comprehensive guide with all waterfalls you can visit from Punta Cana in under 3 hours.
If you are interested in more things-to-do in Punta Cana for free, check out my free e-book.
Further hiking options can be found in my Punta Cana hiking guide.
Completely UPDATED: April 2023
Why is Salto de la Jalda unknown?
 If you ask local people about the highest waterfall in the Dominican Republic, you usually get Salto de Aguas Blancas as an answer. This seems logical as the central mountain area of the Dominican Republic, the Cordillera Central (see my 1-week Punta Cana itinerary for more details on the Cordillera Central and Cascada de Aguas Blancas), represents mountains with up to 10.000 feet. Somewhere in this large area is probably a waterfall that can fall high enough.
But surprisingly the tiny Cordillera Oriental with mountains hardly passing 2000 feet can call the highest waterfall of the Dominican Republic on its "territory". Its name is Salto de la Jalda. The drop is around 400 feet – quite impressive.
Even more interesting, it is less than two hours driving away from Punta Cana and therefore can be called one of the closest waterfalls of this (touristy) area. However, once you have reached the trailhead it is quite a long time to hike which is why hardly anybody visits Salto de la Jalda.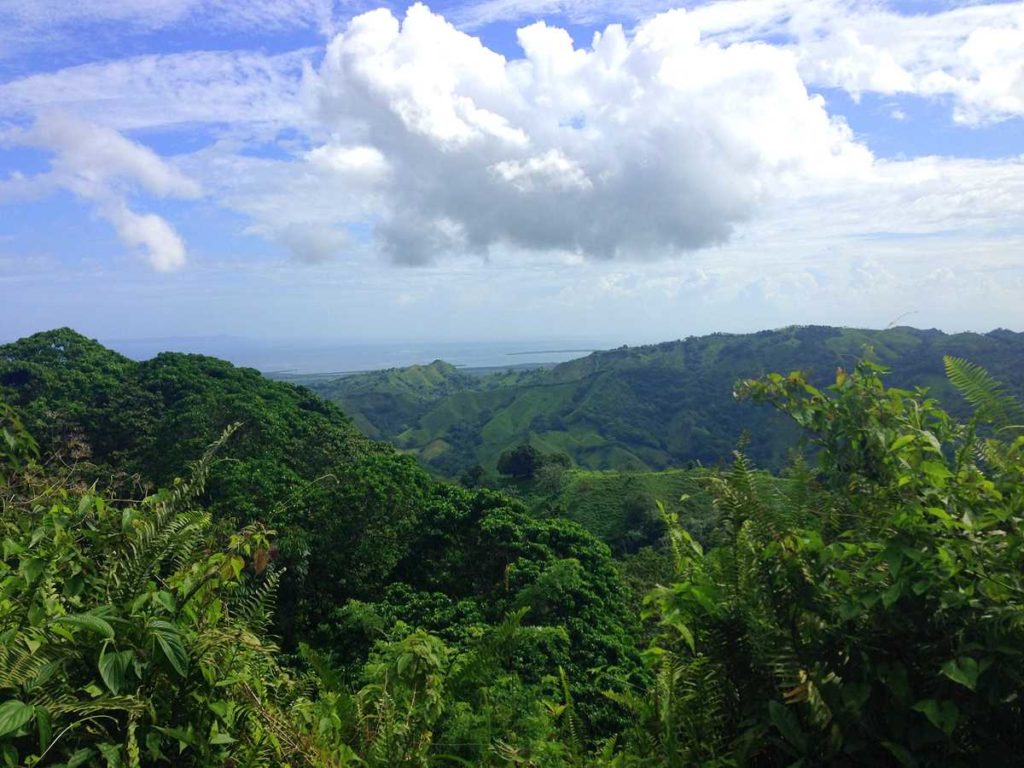 But why is Salto de la Jalda nearly unknown, despite its title as the highest waterfall in the Caribbean? To be honest, I am not quite sure. The only explanation I have is that it was just discovered a few years ago. I was there in the years 2016 and 2017 and even the local newspapers in the Dominican Republic where just publishing articles about it starting around 2013/2014. So it is indeed a completely new spot on the map and still absolutely untouched and nearly undiscovered.
How to get to Salto de la Jalda?
How to get to Salto de la Jalda from Punta Cana?
Salto de la Jalda from Punta Cana on a guided tour
Even though Salto de la Jalda remains mainly off-the-beaten-track, a few local tour operators have discovered its potential for the billion-dollar tourism business of Punta Cana. This is also good news for you because in case you're in one of the multiple all-inclusive resorts in Punta Cana, there is an option now to reach the highest waterfall in the Dominican Republic even if you don't want to rent a car in Punta Cana: with a guided excursion to Salto de la Jalda!
Like this, you don't have to take care of the logistics and can enjoy the scenic drive. The excursion brings you right to the trailhead, send you with a guide and (sometimes) provides water and snacks. You can even choose if you want to hike to Salto de la Jalda or ride on horseback.
 For details on the actual hike to the highest waterfall in the Dominican Republic and the Caribbean, check the details in the sections further below.
Salto de Jalda from Punta Cana on your own
 If you are coming from Punta Cana it is recommendable to leave very early, either by rental car (check prices for rental cars from/to Punta Cana here*) or by taxi/private driver (if you need help organizing your vacation in Punta Cana please have a look at my travel coaching services). Public transport is theoretically possible, but in this case, you would need to make a 2-day trip out of it.
Head towards Miches and continue the road in direction to Sabana de la Mar (the gateway to Los Haitises National Park). Half-way between those two towns you will find the little village of Magua which is the starting point for the hike. The distance between Magua and Punta Cana is around 60 miles, which makes it a 1:45h trip by car more or less.
TRAVEL COACHING
Save money and time!
Do you need help planning a customized vacation in Punta Cana and the Dominican Republic? Is it difficult for you to decide what and where to book? Would you like to take advantage of someone with years of experience in the tourism industry (knowing all the travel hacks 😉 ) and living right in the place where you would like to spend your holiday?
That's what my personal travel coaching is for. I will design your tailor-made itinerary, tell you how to save money on your trip and send you the best insider tips and recommendations. All the information I send you are crafted with love and passion – and are coming with a money-back guarantee. Let me know how I can help you (check my packages here) and send me a request here!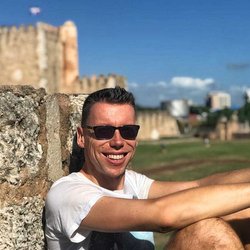 If you have an SUV you can head until the trailhead, if you arrive with a regular car (sedan-type etc.) without too much ground clearance, you have to park at the begin of the village and walk two additional miles (or ask a local villager to take you on a motorcycle to the start of the trail).
It is a must to go with a GPS and a valid track of the trail. You can download the track from my hike here*. Otherwise, I would recommend going with a guide. The trail is not complicated but still, there are options to get lost – so I did when I first visited Salto de la Jalda, which led to 3 extra miles I had to walk (on top of the 2×7 miles).
Salto de Jalda from Punta Cana – self-drive, but with a guide
In case you have a car but don't want to tackle the long hike without a guide (which is recommended if you have never walked with a GPS), you can also book a guide for Salto de la Jalda online*. The tour is similar to those starting from Punta Cana, but without the transport service, which makes it considerably cheaper. Still, this Salto de la Jalda tour with a guide is more expensive than if you would look for a guide on spot, but considering that the waterfall and the trailhead in Magua are still absolutely off the beaten track, you can't be sure to find one on the day when you get there. Furthermore, by pre-booking a tour guide, you can save yourself any negotiation, don't have to haggle and can be sure to have an English-speaking guide, which is unlikely to find when searching for tour guide options on the spot right in Magua.
How to get to Salto de la Jalda from Punta Cana?
Salto de la Jalda from Miches on a guided tour
The Salto de la Jalda waterfall is located between Miches and Sabana de la Mar – which makes it a great excursion from Miches. Miches and the neighboring Costa Esmeralda are some of the newest (and soon maybe hottest) tourism destinations in the Dominican Republic, as these are getting developed recently. So far, there are just two resorts out there, Club Med Costa Esmeralda* and Temptation Miches*. If you stay in these hotels and want to get to Salto de la Jalda, the drive is much shorter than from Punta Cana, which is usually also reflected in the price of this Salto de la Jalda excursion from Miches.
 The rest of the trip is similar to the Punta Cana excursions.
Salto de la Jalda from Miches or other destinations in the Dominican Republic on your own
 If you're coming from elsewhere than Punta Cana, just head towards Miches and follow the directions as described above from there.
 If you need a guide, check out the section above as if coming from Punta Cana – it might be worth prearranging one.
The hike to Salto de la Jalda
 If you feel you can easily hike 10 miles or more and you want to venture out to discover this hidden gem, be prepared for a long day of exploring. This is also why it is not an easy excursion to see the waterfall Salto de la Jalda. Getting there by rental car or taxi is not too complicated. Neither is the hike super challenging with regard to the altitude or inclination but it's simply a long hike, so please don't make a family excursion with buggy and stroller out of it. 😉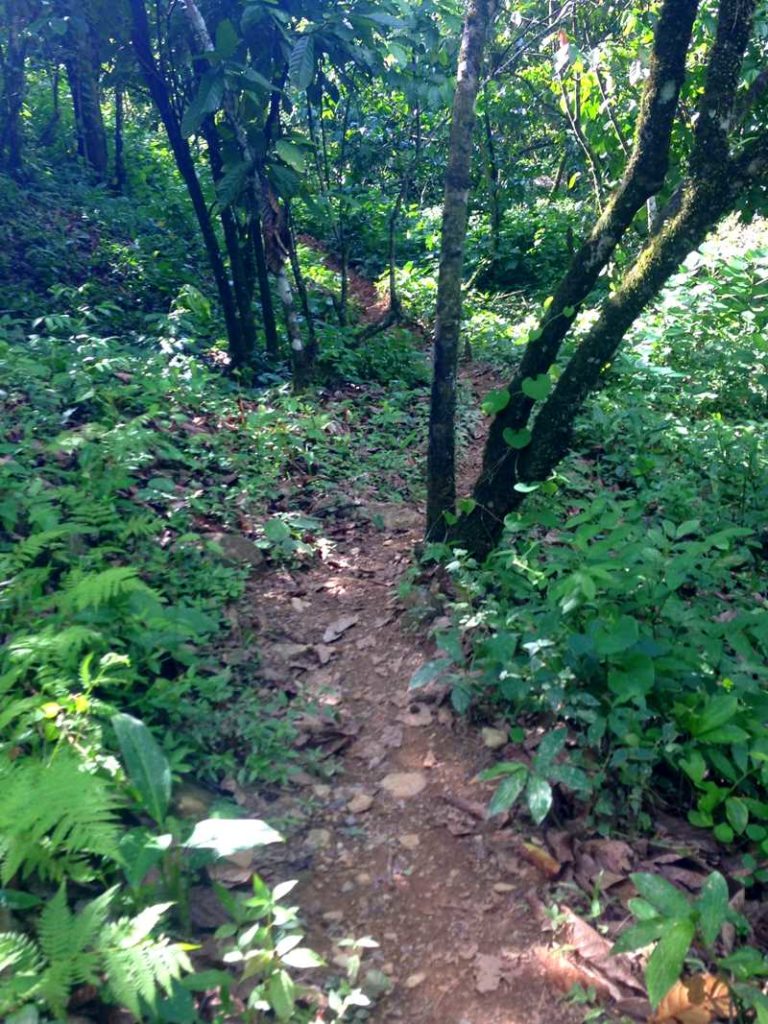 On the other side, the hike is gorgeous, as it leads you deep into a lush valley, surrounded by the greenest tropical jungle you can imagine. The trail leads you along abundant chocolate plantations and an omnipresent river, which you also have to cross multiple times (your shoes will get wet). When you reach a small wooden ranger station you know you are on the right path as there is already a distant view on the waterfall.
Depending on where exactly you are starting your hike (which at the end depends on your vehicle), the trail to the waterfall is around 5 to 7 miles one-way (which sums up to a total of 10 to 14 miles return). That is why you should reward yourself with a refreshing jump into the cool water of the natural pool once you reach Salto de la Jalda. You will not regret it! Please note that there is absolutely no infrastructure along the trail and at the waterfall, so take your snacks, drinks and food to top-up your energy for the long way back.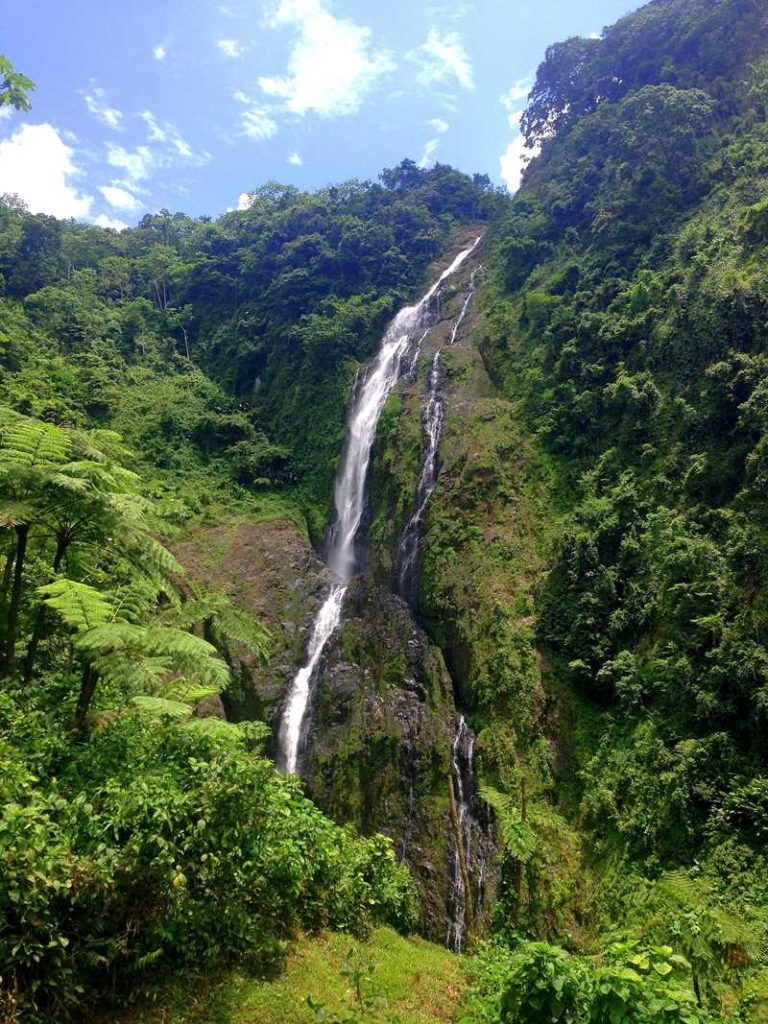 Accommodation options for a Salto de la Jalda hike
There are no accommodation neither right at the Salto de la Jalda waterfall nor in Magua, hence your closest options are in Miches or Sabana de la Mar.
Here are the best options you have. Some of them can be combined for an amazing Dominican Republic road trip.
Hotel Atabey, Miches: a small and basic hotel, perfect for individual travelers in the Dominican Republic (call +18095535131 for bookings)
Club Med Playa Esmeralda, Playa Costa Esmeralda: the first all-inclusive resort in the Miches area on a wonderful stretch of beach (which is one of the best beaches in the Dominican Republic) (check prices and availability here*)
Temptation Resort, Miches: a sensual playground for adults, this resort is just minutes away from Miches and therefore only a 30-minute drive from the Salto de la Jalda trailhead (check prices and availability here*)
Paraíso Cano Hondo, Sabana de la Mar: located in the Los Haitises National Park, this is an amazing eco-lodge surrounded by waterfalls, perfect if you want to combine your waterfall adventure at Salto de la Jalda with a visit to this popular but remote national park (check prices and availability here*)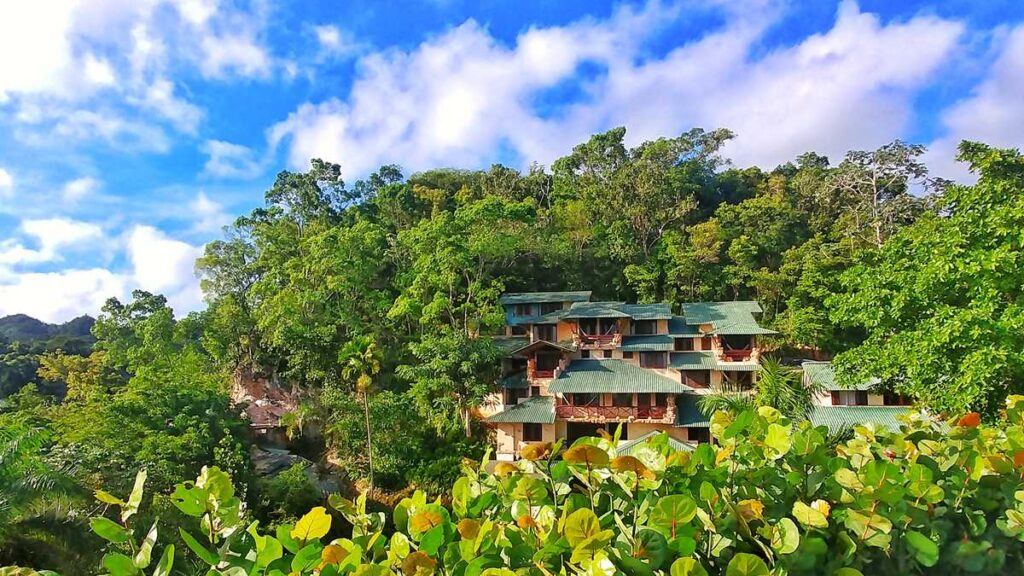 Alternatives for hiking to Salto de la Jalda
The hike to Salto de la Jalda is too long for you? Or you would like to see a waterfall that is easier accessible? Then I have three options for you.
Option 1: Fly to Salto de la Jalda
Yes, you got it right, you can fly to Salto de la Jalda! Even the waterfall and its surrounding are not developed at all yet, you can fly with a helicopter into the valley to see the impressive waterfall. But you won't be able to dip into the pool as it is just kind of a "fly-through" – you fly to the waterfall, can take photos from inside the helicopter and fly out of the valley again, with a subsequent stop and landing at the pristine beach of Playa Esmeralda. Interestingly enough, those tours are not that expensive as a helicopter excursion sounds at the first moment.
Option 2: Visit Cascada Blanca
If you'd still like to visit a roaring waterfall but prefer to walk less, Cascada Blanca might be your best option. It is also less than a two hours drive from Punta Cana, but the hike just takes you around 45 minutes. Due to the abundant vegetation is it super recommendable to go with a guide as the last time we went the trail was nearly completely overgrown.
Option 3: other waterfalls around Punta Cana
If Cascada Blanca isn't the right thing for you either, check out my article about all waterfalls close to Punta Cana. There are several additional options of waterfalls you can reach from Punta Cana in under 3 hours.
You can also check out other hikes you can do in Punta Cana.
What do you think, are you ready to visit Salto de la Jalda? With the ongoing expansion of Punta Cana, I am sure that the whole area will become completely different in the next 5 to 15 years, so if you like adventures and pristine nature it is recommendable to go sooner than later.
What impressive waterfalls have you seen in the Caribbean? Share your insider tips and leave a comment! Or let me know the questions you have about Salto de la Jalda!
SHARING IS CARING! IF YOU ENJOYED THIS ARTICLE, PLEASE SHARE WITH YOUR FRIENDS – I WOULD APPRECIATE IT A LOT.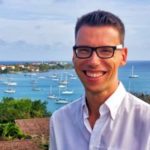 CHRIS
Author, Travel Coach & Punta Cana based digital nomad
Hey, I am Chris, a born and raised German, travel-addictive and Caribbean Soul. Since 2011 I have been living in the Caribbean, among them 5 years in the Dominican Republic. Punta Cana is my home-base here in the country and I'd love to tell you more about how to experience Punta Cana off-the-beaten-track and give you all the advice you want to know for your vacation in Punta Cana.