Do you want to visit one of these crystal-clear and super blue lagoons existing in the Dominican Republic and the surrounding area of Bavaro and Punta Cana? The most popular one is the "Hoyo Azul", located within the limits of Scape Park Cap Cana. Unfortunately, this park comes with a hefty entrance fee, so if you just want to visit the cenote, you have to pay for all the other attractions as well. Luckily, there is a (nearly) free alternative, which allows you to experience the same refreshing feeling while saving hundreds of bucks compared to Scape Park Cap Cana. It is called Hoyo Claro and it is not too far away from Punta Cana, so here I am explaining what you can expect, how to get there and what you have to pay.
Hoyo Claro is one of the great things you can do for just a few dollars. If you are interested in more things to do in Punta Cana for free or almost free, check out my free e-book.
If you are interested in more water fun, have a look at all the waterfalls reachable from Punta Cana in under three hours.
And if you want to save considerably during your Punta Cana vacation, check out my guide about how to travel Punta Cana on a budget.
Alternatively, if you want to see the real Blue Lagoon, you can read about Hoyo Azul in Punta Cana here.
Completely UPDATED: April 2023
What and where is Hoyo Claro?
Hoyo Claro is a crystal-clear Punta Cana cenote (an underground lagoon) in the province of La Altagracia, where Punta Cana and Bavaro are belonging to. It is located in the middle of the forest. Just a dirt track is leading to Hoyo Claro, so you have to walk around half an hour to get there if you are not having a (very high-clearance) SUV. For further arrival information please see below my section about how to get there.
Hoyo Claro has no facilities and is a true hidden gem in the Punta Cana area. It is a blue lagoon located on private property, where you can swim and snorkel. As the water comes from an underground cave system you (theoretically) could even drink the water (which I would not recommend though as there is some trash around).
My experiences at Hoyo Claro
We have been at Hoyo Claro some time ago (and recently again) and it was amazing to discover such a secret spot in the commercialized and touristy area of Punta Cana, where more than ten thousand tourists from all over the world arrive every day.
To get to Hoyo Claro, you have to park your car on a gravel road parallel to the highway and walk along a dirt trail. There are no significant inclines, so the walk of about a mile is fairly easy. Just remember to protect yourself from the sun and take water with you as the heat might take its toll. Furthermore, the walking trail is not wheelchair accessible or stroller-friendly, as it contains very uneven and bumpy terrain.
 Once there, you pay the entrance fee of 250 Dominican Pesos (5 USD) and can enjoy the cenote. Have a swim, free dive a bit, jump into the water or balance yourself while walking on the big trunk which you can find underwater.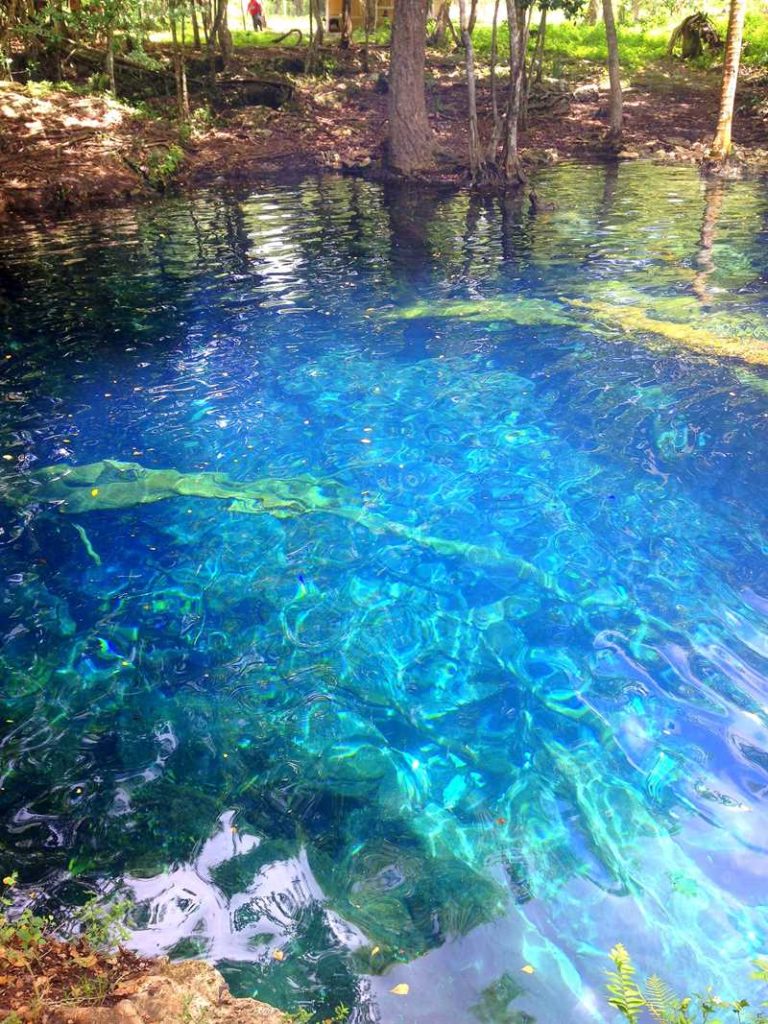 The good thing is that they built a staircase in recent years, hence it is easier now to enter this Dominican Republic cenote.
 Especially as Punta Cana is one of the hottest parts of the Dominican Republic, the refreshing dip into the cold water of Hoyo Claro feels so rewarding (even you might sweat again on your way back from the lagoon 😉 ). 
If you go during the weekend, you will most likely find a couple of Dominicans enjoying the cold and refreshing water (locals always prefer freshwater over the salty water of the ocean), but during the week you should have this hidden gem more or less on your own (same as when hiking to Salto de la Jalda, another attraction under the common tourist radar). As it gets more and more popular among the locals, I would definitely recommend visiting Hoyo Claro during the week, especially as Dominicans love blasting music which could disturb the peace of nature during the weekend.
Hoyo Claro tours and excursions
Unfortunately, there are currently no excursions or tours to Punta Cana's Hoyo Claro which you can book online. Therefore the best way to visit this Punta Cana cenote is to head there on your own. I have given you detailed instructions further below.
How to save 496 USD when visiting Hoyo Claro?
As mentioned in the introduction, the most famous blue lagoon in the Punta Cana area is the "Hoyo Azul" at Scape Park Cap Cana. And indeed, the color is (nearly) too blue to be true, but it is real. Unfortunately, you have to pay the full entrance fee for Scape Park to visit Hoyo Azul, which means you have to buy the full package including ziplining, cave visits, another cenote, cultural guided tours and much more. This is fine if you are interested in a full fun-filled day (and it might be worth it as you can read in my separate review about Scape Park Cap Cana), but if you just want to take a dip into those marvelous natural pools and take advantage of the stunning photo opportunities, the 129 USD entrance fee (per person!) for Scape Park Cap Cana is too expensive. Therefore, if you visit Hoyo Claro and pay your 5 USD entrance fee, a family of 4 would save 4 x 124 USD = 496 USD.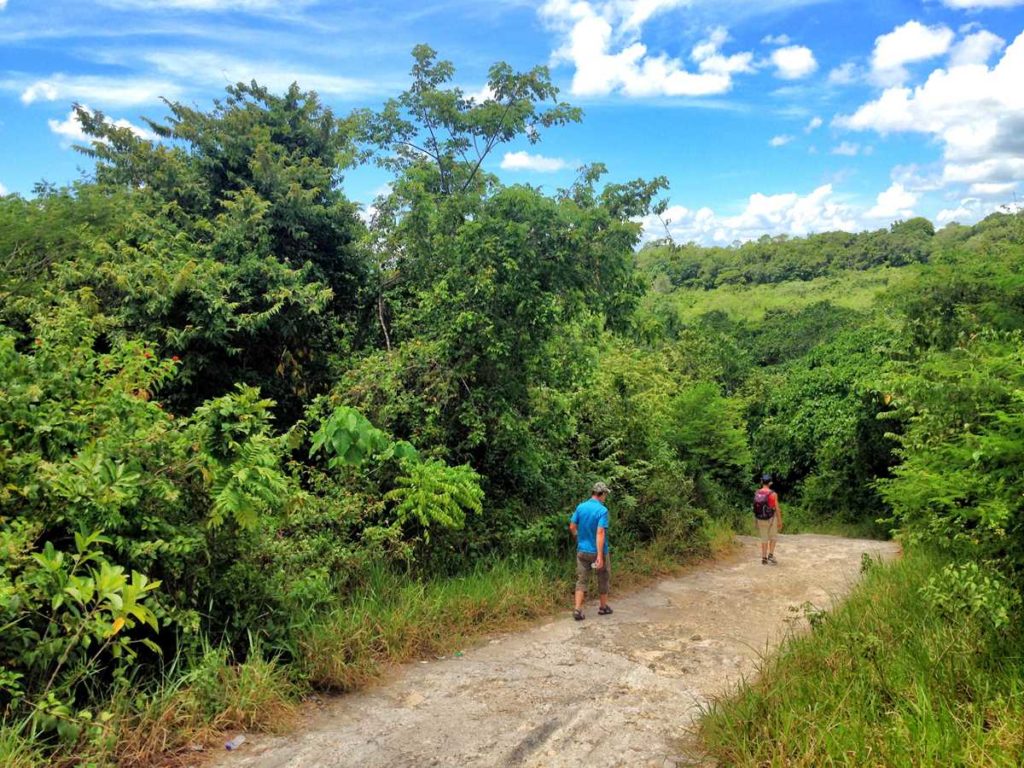 Of course, you have to plan your transfer to Hoyo Claro (transfers for Scape Park are included) but for just visiting one of the lagoons, Hoyo Claro offers a much better price-value ratio. Though I have to admit that the color at Hoyo Azul is just incredible and more photogenic. Hoyo Azul (Blue Lagoon) is also much cleaner than Hoyo Claro. Furthermore, you have to be at least a bit adventurous to visit Hoyo Claro as this will lead you fully off-the-beaten-track. Hoyo Azul at Scape Park is easier to reach and the option with less organization involved. If you just want to have an easy excursion from your Punta Cana resort to one of the Punta Cana cenotes without much planning involved, Blue Lagoon at Scape Park is definitely the better option.
How to get to Hoyo Claro Punta Cana?
When visiting Hoyo Claro it is best and easiest to rent a car. Check here for attractive car rental prices from different companies*.
 The trailhead is located on the highway from Punta Cana towards La Romana (Autopista del Coral). Once you go towards La Romana you have to drive around 6 miles from the main roundabout (intersection between Autopista del Coral, Boulevard de Turistico and the road to the Punta Cana Airport). You pass the entrance of Hoyo Claro at the other side and continue until you reach a section that allows you to turn around (a so-called "Retorno"). it is the first Retorno when coming from Punta Cana. Head back towards Punta Cana. Once you see a dirt road entering from the highway (approx. 2 miles after turning around), pull off, continue on the dirt road and park your car after around 0.35 miles when you see a junction to the right. You can find the trailhead to Hoyo Claro with the following map (use the satellite view to see it)*.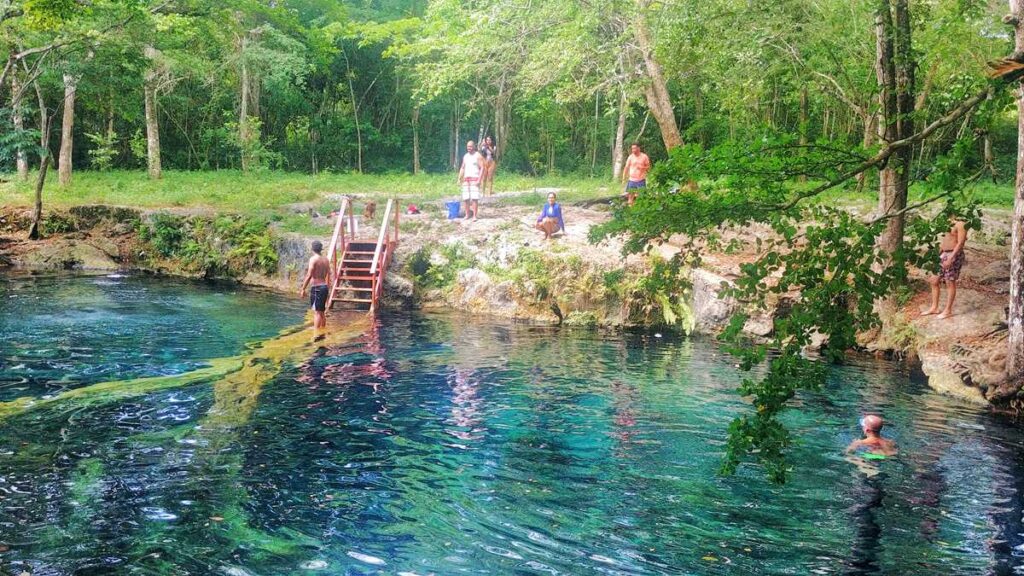 Once you are on the trail, it will take you around 30 minutes to reach Hoyo Claro. If you have a tracking app on your phone, you can download my GPS-File here.
Please ignore the Google locations when you search for "Hoyo Claro" as there are several ones, most of them are not correct. Instead, Hoyo Claro is located on the map where you can read "Hoyo Hicaco".
TRAVEL COACHING
Save money and time!
Do you need help planning a customized vacation in Punta Cana and the Dominican Republic? Is it difficult for you to decide what and where to book? Would you like to take advantage of someone with years of experience in the tourism industry (knowing all the travel hacks 😉 ) and living right in the place where you would like to spend your holiday?
That's what my personal travel coaching is for. I will design your tailor-made itinerary, tell you how to save money on your trip and send you the best insider tips and recommendations. All the information I send you are crafted with love and passion – and are coming with a money-back guarantee. Let me know how I can help you (check my packages here) and send me a request here!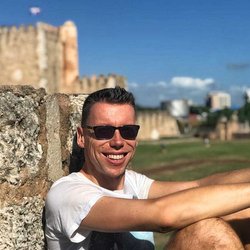 When you park your car at the trailhead, make sure you don't leave any valuables in the car.
Hoyo Claro Accommodations
There are no accommodation options right at Hoyo Claro. The closest options are at Punta Cana Village, approx. 5 miles away. The closest beach hotel is the famous Westin Punta Cana*, approx. a 6-mile drive away. In Punta Cana Village you can find many nice Airbnbs even though it lacks direct beach access.
Frequently asked questions
Can I book a guided excursion to Hoyo Claro?
Unfortunately (or luckily) there are no guided Punta Cana excursions to Hoyo Claro. As described, please rent a car (check prices for rental cars from/to Punta Cana here*) and follow the instructions above. If in doubt, please comment below or go with a guide.
Do I need a guide to visit Hoyo Claro?
You can visit Hoyo Claro on your own. If you do not feel comfortable, you can hire a guide in Punta Cana. However, no guides are waiting on spot so you would have to organize a guide in advance.
How much is the entrance fee to Hoyo Claro?
At my last visit, we paid 150 Pesos (approx. 3 USD) to enter Hoyo Claro, but I have heard that the Hoyo Claro entrance fee was raised to 250 Pesos (5 USD) in the meantime.
Is it safe to visit Hoyo Claro?
We felt safe when we visited Hoyo Claro. So far there are no incidents known in this area. Please take the usual precautions when venturing out. Do not take any valuables with you and watch your stuff when swimming at Hoyo Claro. When parking your car, don't leave anything inside which could attract attention. Read more about Punta Cana's safety here.
You want more cheap things-to-do in Punta Cana and Bavaro? Check out this article about the best things-to-do for free in Punta Cana.
And if you look for other day-trips from Punta Cana, continue reading here.
SHARING IS CARING! IF YOU ENJOYED THIS ARTICLE, PLEASE SHARE WITH YOUR FRIENDS – I WOULD APPRECIATE IT A LOT.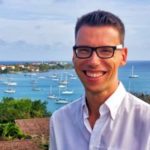 CHRIS
Author, Travel Coach & Punta Cana based digital nomad
Hey, I am Chris, a born and raised German, travel-addictive and Caribbean Soul. Since 2011 I have been living in the Caribbean, among them 5 years in the Dominican Republic. Punta Cana is my home-base here in the country and I'd love to tell you more about how to experience Punta Cana off-the-beaten-track and give you all the advice you want to know for your vacation in Punta Cana.