Are you planning a vacation in Punta Cana on a budget? Good luck! 😉
While it's not impossible to travel to the popular resort destination on a shoestring or even go backpacking in Punta Cana, it will take some effort and workarounds to seriously keep it cheap when traveling to Bavaro and beyond, which is supposed to be the most expensive area in the Dominican Republic. However, there are some options on how you can make it a great vacation without visiting an all-inclusive resort even if you are on a very tight budget. Let me show you a few tweaks and read my comprehensive guide about backpacking this part of the Dominican Republic and traveling Punta Cana on a budget.
Please note: this guide is for all visitors staying in individual accommodations, AirBnBs, hostels or guesthouses. If you'd like to know how to save money on an all-inclusive vacation in Punta Cana, check out this article.
If you are interested in detailed prices of Punta Cana, please check out this article.
For resorts with the lowest prices, check out the cheapest all-inclusive resorts in Punta Cana.
Preamble: Traveling Punta Cana on a budget and backpacking the area
Before I am talking about the precise tips on how to travel Punta Cana on a budget, let me explain to you why it is not the easiest task – doesn't matter if you are backpacking the Dominican Republic or if you are just looking for a cheap beach holiday outside of the all-inclusive resorts in Punta Cana. Punta Cana is made for package tourists arriving with their flight, heading straight to the provided shuttles, enjoying their all-inclusive resort and booking a few excursions. Therefore, the conditions for individual travelers might be a bit difficult at first glance, especially as the entire internet is full of the best tips for your all-inclusive vacation.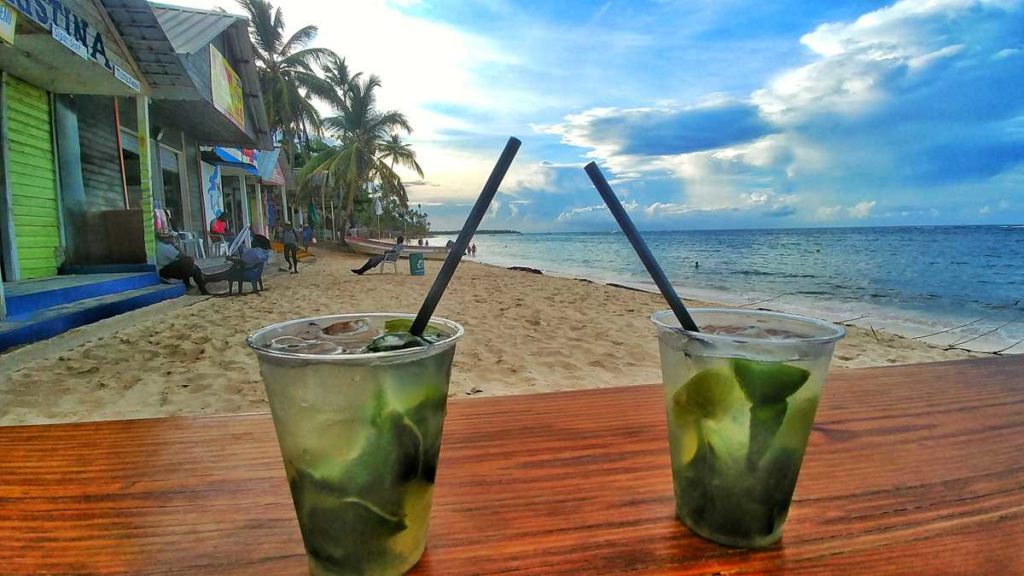 However, if you dig a bit deeper, it is absolutely possible to travel Punta Cana on a budget. Particularly in my first years in the Dominican Republic when I was still living in Santo Domingo, I have done around 30 or 40 trips to Punta Cana, most of them with a limited budget and looking how to get the best out of this area without spending too much. It just requires some knowledge which is usually hidden among all those all-inclusive resort reviews and excursion promotions out there. This comprehensive Punta Cana guide about budget-traveling and backpacking the area will help you, with all the personal experiences I made in the last years, including my time living here in Punta Cana!
Arrive: Airport transfers in Punta Cana when traveling on a budget
Even your journey to the Dominican Republic starts with the flight, I won't talk about this part as I assume you know how to book a cheap flight as a savvy budget traveler. If you need help finding the best flights to Punta Cana, let me know and send me a travel coaching request. You can also check the current flight promotions to Punta Cana here*.
For your transfer from Punta Cana International Airport to the main area of Punta Cana (which is known as Punta Cana but actually called Bavaro), you'll have the choice of different transfer options.
Your cheapest bet is to walk out of the airport and take a local guagua (a Dominican minivan) until Verón. Here you can change to busses bound for Bavaro and Cabeza de Toro. The entire journey will cost you around 2 USD (100 DOP) which is perfect for any backpacker and one of the cheapest airport transfers you can get in the entire Dominican Republic. However, it might take you around 90 minutes – mostly because of the waiting time and several stops along the way. Check out my airport transfer guide to find more information about this public transport option.
Please note that public transport from Punta Cana Airport is only possible if you are traveling with light luggage and without suitcases.
If you don't have to squeeze every dollar out of your pocket but still want to travel Punta Cana on a budget, my recommendation would be to book a shared airport transfer*. When booking in advance, they are already selling as low as 5-8 USD per person and get you to your destination much quicker and more comfortable than with public transport. You will be greeted by a representative of the booked company right at the arrival area and get accompanied to your shuttle. You might have to wait a bit for other travelers arriving during the same period than you, but in the end, it shouldn't take you more than 60 minutes from passing customs to your booked accommodation. You can book a shared airport transfer from Punta Cana Airport directly here or check out further information in my airport guide.
If you are looking for a private transfer from Punta Cana Airport, you should calculate with at least 25 USD per way, which might be more than you'd like to spend as a budget traveler. If interested, you can check out the cheapest options here*.
Stay: Finding the best AirBnBs, guesthouses and budget accommodation in Punta Cana
Even though all-inclusive resorts are more expensive, they also include a huge load of services. In case you are considering a resort, check out these three articles for the cheapest Punta Cana vacation:
– the cheapest all-inclusive resorts in Punta Cana
– the best affordable resorts in Punta Cana
– how to save on an all-inclusive vacation in Punta Cana
When looking for accommodation for a budget holiday in Punta Cana outside of the big all-inclusive resorts, I highly recommend you to stay in the area of Corales and El Cortecito. Those areas are located right in Bavaro and have the best connection to public transport, supermarkets, bars, restaurants and local life. They also feature the best public beach access.
When looking for a cheap guesthouse or small hotel in Punta Cana, I can recommend to you the following options which are (usually) all below 50 USD per night and within walking distance to the beach:
– Art Villa Dominicana (check prices* | check reviews*)
– Green Coast Beach Hotel (check prices* | check reviews*)
– The Greek Boutique Hotel (check prices* | check reviews*)
If that's not enough for you, you can see a list of further budget hotels here* – sufficient options for everyone traveling Punta Cana on a budget.
Cheaper accommodation (as cheap as 15 USD per night) usually can be found if you stay further away from the beach. However, if you are traveling to Punta Cana for a beach holiday, I would not recommend it as shuttling back and forth each day to get to the beach might be bothersome.
AirBnB is also an extremely popular option in Punta Cana. There are more than 4000 (!!) AirBnB accommodation in Bavaro, Punta Cana and the entire area, which also includes a massive amount of budget options – for as low as 10 USD per night in a double room. While you can look for your favorite one here*, I have selected some options I can recommend to you considering the location, the place and the reviews – and of course the budget as we are talking about traveling Punta Cana on a shoestring here 🙂 :
– Double room in Costa Bavaro (check prices and reviews here*): a super cheap and well maintained place in a super safe residential area with pool and approx. 20-25 minutes walking to the beach; I have stayed there as well.
– Cute studio in Corales (check prices and reviews here*): one of the best budget bargains you can find in Punta Cana with walking distance (5-7 minutes) to the beach, bars + restaurants + supermarkets even closer; incl. nice furniture and a kitchen.
– Budget beach apartment (check prices and reviews here*): literally only a few steps away from the beach, this is a well-maintained and beautiful apartment for less than the price of a restaurant meal with drinks for 2 in Punta Cana.
Not convinced of those selections? Have a look at my comprehensive post about the best Airbnbs in Punta Cana.
You can also check out on your own what you can find on the map below, there are so many accommodations in Punta Cana. But make sure you book the right location, as this is crucial for a pleasant holiday in Punta Cana.
Last but not least, if you are an experienced backpacker you might look for a genuine hostel in Punta Cana. Unfortunately, that's not easy to find. The only place in the entire area of Bavaro and Punta Cana with an original backpacker vibe is Macao Beach Hostel (check reviews and prices here*), which is located in the little village of Macao. It has rustic dorms, very basic private rooms and a few tents in the tropical garden. If you want to connect to fellow backpackers, this is the place to go. Unfortunately, it is quite remote, so you need some flexibility and a lot of time to get around.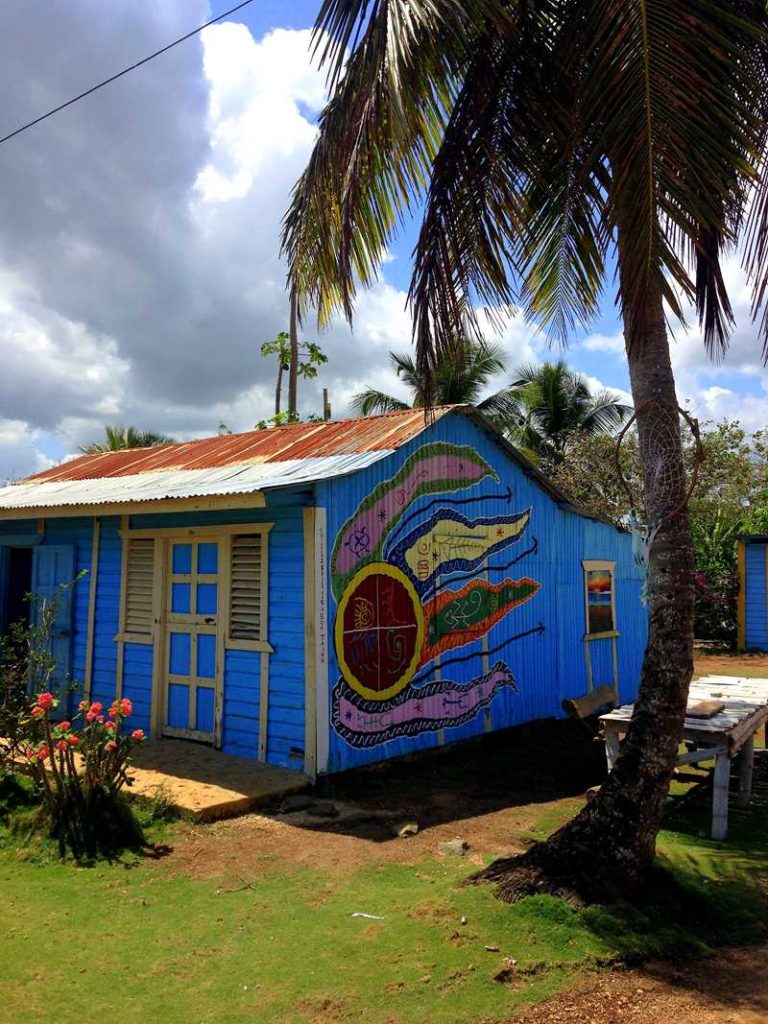 Another place for backpacker is Gava Hostel (check prices* | check reviews*) in Bavaro, close to Corales. The location is perfect and you have everything you need within walking distance. However, please note that it's not a true hostel as you are used to from typical backpacking countries, it is more a cheap place to stay with all the amenities you need, but without the typical backpacker vibe.
You can also try out Eco-Hostal (check prices* | check reviews*), as this is a new place which has popped up recently. I don't know it personally, but it's worth a try if you are a backpacker and are looking for cheap places to stay. Alternatively, as mentioned above, you also can book any cheap AirBnB* which is starting from as low as 15 USD.
Eat: Cheap eats in Punta Cana
When visiting Punta Cana, you'll find a lot of fancy and recommendable restaurants. But most of them are quite expensive, compared to other areas in the Dominican Republic. A lunch or dinner plate at a regular restaurant easily sets you back at 10 USD + tip + drinks + appetizer etc.. That's at least what I don't consider budget traveling when being in Latin America.
However, if you know where to go, you can also fill up your tummy for much less. You can find typical Dominican meals for around 3 USD in a "Comedor", which are Dominican eateries. They are all around Bavaro and are usually open for lunch, a typical fare is rice, beans, salad and meat for 150-200 DOP. Vegetarian options are not always available (well, besides just eating rice, beans and salad).
If 1 or 2 dollars more are not stretching your travel budget for Punta Cana too much, I am highly recommending you Delicias de Bavaro (probably the best local place to eat in Punta Cana) or the food trucks south of Corales (approx. 5 minutes walking), where you can sit in a comfortable surrounding and eat delicious local dishes for around 4-6 USD.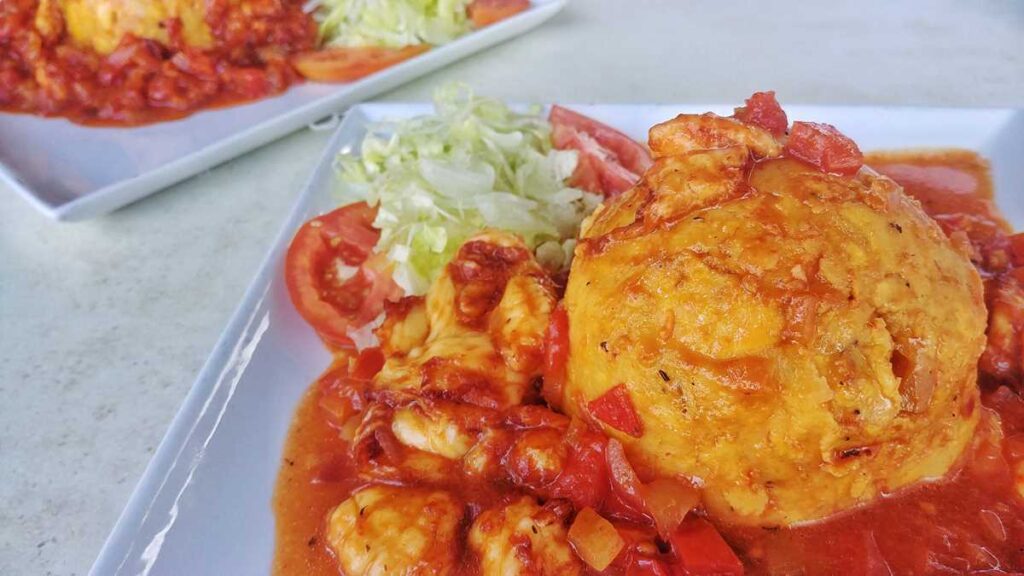 Furthermore, Punta Cana has also plenty of big supermarkets (Jumbo, Lama, Iberia), where you can buy groceries for local prices. In this article you get a good overview about all the prices in Punta Cana.
Connect: Where to meet other budget travelers and backpackers
Connecting with other like-minded travelers might be the most difficult part when traveling to Punta Cana on a budget. There are just not that many and as there are no hostels, typical do-it-yourself adventures or other hangout spots for individual travelers, it needs a bit of creativity to connect. Most foreign people you are going to meet are probably either expats living in Punta Cana or all-inclusive tourists roaming outside their resort. However, if you check the spots above, especially in Corales and Cortecito, you might be able to find and connect to other travelers in Punta Cana on a budget.
Get Around: Public transport in Punta Cana
When you are visiting Punta Cana on a budget, you also want to move around. The cheapest option is to use public transport, which just costs around 1 USD for all journeys within Bavaro, Verón and Punta Cana. However, public transport in Punta Cana takes its time, especially as connections are not pretty good. Sometimes you have to spend around 2 hours to cover just 20 kilometers. Before using it, please read my comprehensive guide about public transport in Punta Cana and make sure there is a connection to the place where you want to go.
Another option, while not particularly cheap, is to rent a car, as it will save you a lot of time and makes planning your trip much easier. Especially if you'd like to venture out and see the hidden gems of Punta Cana and beyond (check here for the 13 best day trips from Punta Cana), a car is nearly essential. Check out this article for more information on renting a car in Punta Cana.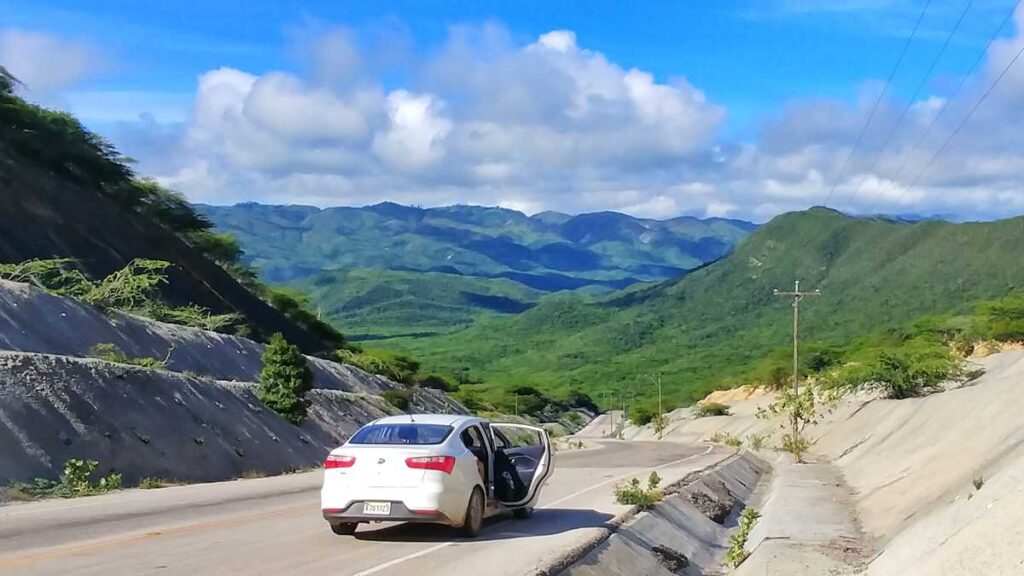 If a rental car doesn't fit your travel budget for Punta Cana, don't worry. Public transport will bring you to most places, even you might have to bring a lot of time and patience.
Experience: Backpacking adventures when traveling Punta Cana on a budget
A vacation in Punta Cana doesn't have to be expensive. There are a lot of things you can do when traveling on a budget or backpacking Punta Cana. Your first resource for budget-friendly activities is my guide with 15 amazing things you can do for free in Punta Cana.
I particularly recommend you exploring the different waterfalls in the area of Punta Cana, which makes up for some great adventures, especially if you are used to travel on your own. You can also check out this hiking guide for more things-to-do on a budget in Punta Cana.
You can also visit the different pristine beaches of the area, such as Playa Limón, Playa La Vacama or Playa Esmeralda, even this would require a Punta Cana car hire (check prices for rental cars from/to Punta Cana here*).
Montaña Redonda is a great day-trip from Punta Cana you can do on a budget. It is reachable by public transport and instead of taking a truck up, you can hike up by just paying a minimal entrance fee of 2 USD. You will be rewarded with amazing photo opportunities.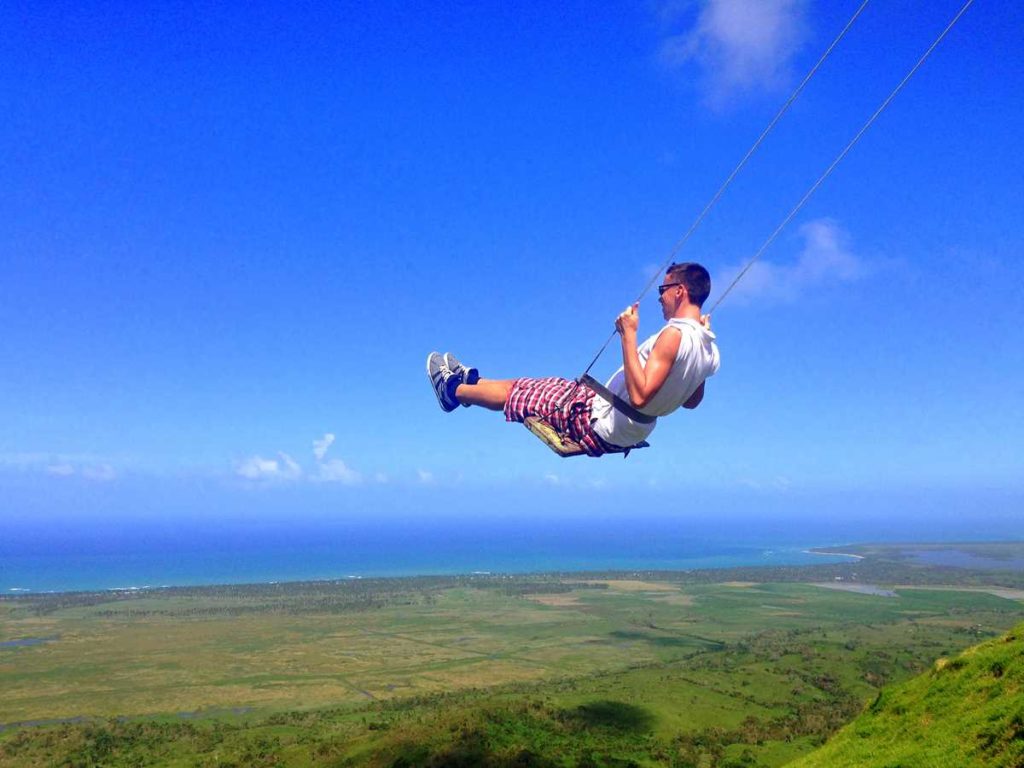 You can also head one day to Higuey to visit the most important basilica of the Dominican Republic and to see the bustling life of a local city. Visit the market, eat at the various food stalls and don't get overwhelmed by the chaotic surrounding with its multiple influences. Higuey can be easily reached by public transport.
Of course, you can also book one of the several excursions in Punta Cana which would be a straight-forward option to experience some unique things in the Dominican Republic. Some of the cheapest excursions, such as Buggys, Booze Cruises or Horseback Riding, already start at 40 USD per person. Check out the best prices here*.
Please note that Punta Cana does not have this particular ONE must-do activity where every individual traveler and backpacker is heading to. Therefore, you won't meet many people in most of the places mentioned above.
Get Out: Traveling the Dominican Republic on a budget and backpacking the country
 Once you have seen the most important highlights of Punta Cana, you might want to see other parts of the Dominican Republic – especially because those areas are more suitable for backpacking and individual travelers, as they offer much better conditions for traveling on a budget.
A must-see is Santo Domingo, which features the most beautiful old town in the entire Caribbean, with plenty of historic buildings dating back to the 17th century. It is a true pleasure to stroll through the Colonial Zone and experience this kind of history. A comfortable air-conditioned direct bus is running between Punta Cana and Santo Domingo 6 times a day, so it is very easy to get there and suitable for any budget. Continue reading here for the departure times and further options on how to get from Punta Cana to Santo Domingo.
Once in Santo Domingo, you have the full choice of exploring the Dominican Republic, which offers so much more than most people think. Direct busses are heading in all directions and it is easy to reach the North Coast, Samaná or the Central mountain area. There you will find perfect conditions for all budgets and plenty of things-to-do. It is the perfect contrast once you have explored Punta Cana and allows you to explore the Dominican Republic in all its facets.
Are you looking for further information to determine your travel budget? Check out the following articles:
– How to save money when booking an all-inclusive vacation … in case you decide for a resort in Punta Cana instead of Airbnb (+ a list of the best cheap all-inclusive resorts in Punta Cana)
– Is Punta Cana expensive? A guide about all the prices in Punta Cana …
SHARING IS CARING! IF YOU ENJOYED THIS ARTICLE, PLEASE SHARE WITH YOUR FRIENDS – I WOULD APPRECIATE IT A LOT.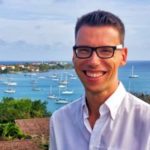 CHRIS
Author, Travel Coach & Punta Cana based digital nomad
Hey, I am Chris, a born and raised German, travel-addictive and Caribbean Soul. Since 2011 I have been living in the Caribbean, among them 5 years in the Dominican Republic. Punta Cana is my home-base here in the country and I'd love to tell you more about how to experience Punta Cana off-the-beaten-track and give you all the advice you want to know for your vacation in Punta Cana.