Catalonia Bayahibe is an affordable all-inclusive resort on the beautiful beach of Bayahibe, less than one hour away from Punta Cana with one of the most spectacular restaurant settings we have seen in all the all-inclusive resorts in Punta Cana and Bayahibe. It is perfect for all of those looking for seaweed-free beaches, incredibly turquoise water and lots of fresh and natural juices. Besides of this, Catalonia La Romana offers an attractive price-value ratio for all those looking for a smaller all-inclusive resort in Punta Cana and beyond. But what exactly can you expect when visiting Catalonia Gran Dominicus? Is it comparable with similar Punta Cana resorts? That's what we are explaining in this detailed Catalonia Bayahibe review.
For more information about Dominicus and Bayahibe, you can read the extensive Bayahibe Travel Guide.
For other Bayahibe hotel reviews, check out Dreams Dominicus and whala Bayahibe.
For other resort reviews about Catalonia, you can also have a look at Catalonia Royal Bavaro and Catalonia Punta Cana.
For further information about all-inclusive hotels, check out this post about the best resorts in Bayahibe.
Where is Catalonia Bayahibe La Romana?
Catalonia Bayahibe, which was formerly called Catalonia Gran Dominicus, and sometimes also is referred to as Catalonia La Romana, is located in Bayahibe, which is famous for its incredibly turquoise ocean and for being the starting point of the Isla Saona excursions. Bayahibe can also be described as the little sister of Punta Cana, as just 10 all-inclusive resorts call Bayahibe their home. The village is located in the La Romana province of the Dominican Republic, approx. 50 minutes away from Punta Cana and 25 minutes away from La Romana.
To get to Bayahibe, you can easily book a private or shared transfer from Punta Cana International Airport. It is less than a 1-hour drive from Punta Cana airport to the La Romana area, hence it is easy to reach the Bayahibe and Dominicus area. However, it is recommended to prebook your airport transfer to Catalonia Bayahibe as taxis tend to be extensive and public transport from Punta Cana to Bayahibe very complicated.
In case you are arriving at Santo Domingo's Las Américas International Airport, the situation is not much different. You can either book a private airport transfer or a shared shuttle to get to Bayahibe.
Even though Uber is available at both airports, it is not a viable option to get to Catalonia Bayahibe as they simply will decline the ride.
You can find all the information about airport transfers to Bayahibe here:
– transfer from Punta Cana Airport to La Romana and Bayahibe
– transfers from Punta Cana International Airport
– transfers from Santo Domingo International Airport
Catalonia Gran Dominicus, is, as the name implies, located in the Dominicus area of Bayahibe, bordering Dreams Dominicus La Romana on the one side and Iberostar Hacienda Dominicus on the other side. If leaving the resort along the beach, you can reach the center of Dominicus with its couple of shops, bars and restaurants after a few minutes of walking.
Dominicus is also famous for being one of the beaches without seaweed in the Dominican Republic during the entire year, hence it is a perfect option when looking for a beach in the Dominican Republic or the entire Caribbean without any sargassum. You can find additional information further below in this Catalonia Bayahibe review.
Definition of Catalonia Bayahibe La Romana
As with most all-inclusive resorts in Punta Cana and the Dominican Republic, Catalonia Bayahibe can also be found under different names, particularly after the most recent rebranding respectively name change.
While the official name is Catalonia Bayahibe, the following modifications are also occasionally used:
– Catalonia La Romana
– Catalonia Gran Dominicus
– Catalonia Dominicus
– Catalonia Gran Dominicus Bayahibe
– Hotel Catalonia Bayahibe
– Catalonia La Romana Bayahibe
As mentioned, the current official name is Catalonia Bayahibe, but you will find a lot of information about Catalonia Gran Dominicus out there on the internet as this was the official name until the beginning of 2022.
Catalonia La Romana is also a common name as it refers to the area respectively the province where Catalonia Bayahibe is located.
However, the hotel shouldn't be confused with Catalonia Royal La Romana, as this is the high-tier all-inclusive resort on the same property. You can find a few more information about Catalonia Royal La Romana further below in a separate section within this Catalonia Bayahibe review.
Overview of Catalonia Bayahibe La Romana
Catalonia Bayahibe is one of the smaller all-inclusive resorts in Punta Cana and beyond, as it just features around 400 rooms and is easily walkable in 5 minutes maximum. Compared to other all-inclusive hotels, it doesn't feature any amenities except the reception within the lobby. All services such as restaurants, pool or entertainment are located beachside, hence you're most likely to spend all your time in this area and not close to the lobby, which, I guess, is great considering we are talking about a Caribbean resort and you probably want to get out most of your time at the beach.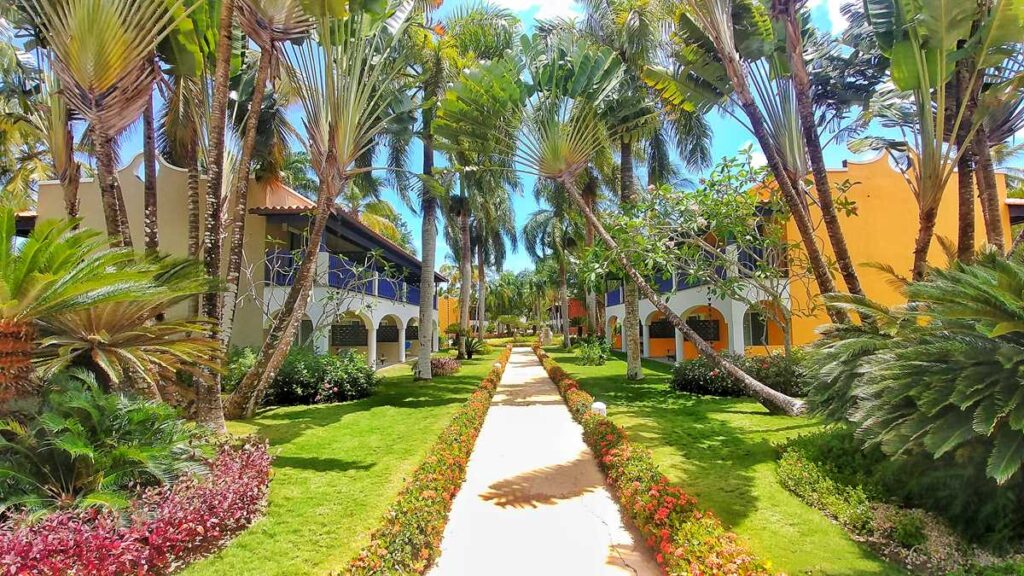 Hence let's start our little resort tour of Catalonia La Romana in the lobby of the hotel. Leaving this area, you will immediately dive into the lush and tropical gardens of the property, which dominates the entire resort. The accommodation buildings are dotted through the entire garden and build the perfect Caribbean scenery thanks to its colorful walls.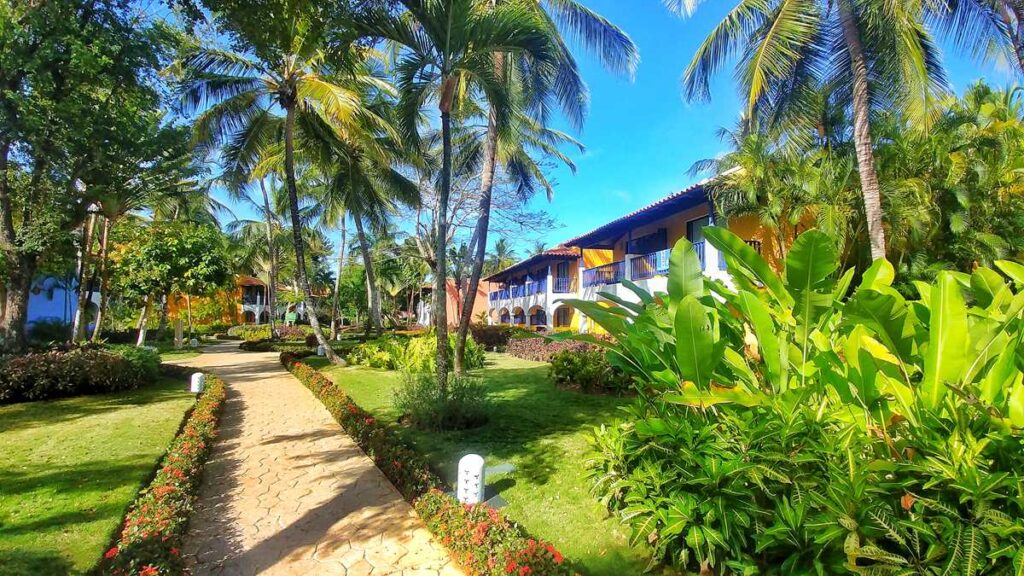 The accommodation buildings at Catalonia Bayahibe are all named according to provinces or tourist attractions in the Dominican Republic, which adds to the authentic charm of the property.
Once you have passed all of the buildings, which does not take more than 2-3 minutes, you're already in the main area of this Bayahibe resort with all its amenities. First, you'll have the main pool right in front of you, which features a super shallow area for kids and toddlers, some loungers in the water and a swim-up bar which is actually a 100% wet bar, compared to many other all-inclusive resorts where you can access the pool bar also from the dry section.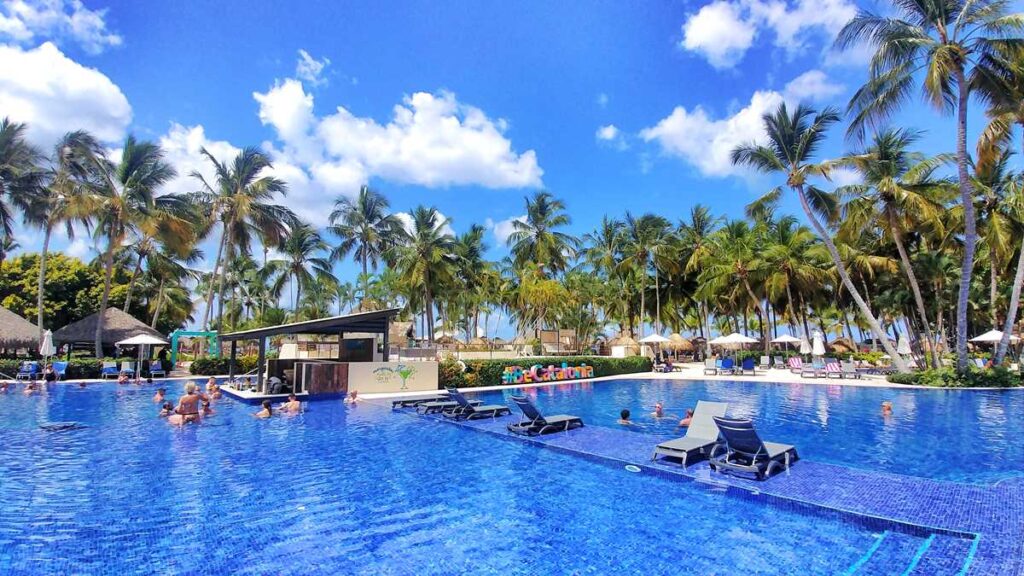 Around the pool, you'll find all the amenities of Catalonia La Romana Bayahibe: all the restaurants, the main buffet, the main bar, shops, the theatre, the juice bar and the Catalonia Bayahibe Privileged area. There is also a separate infinity-pool style jacuzzi next to the pool with views of the beach.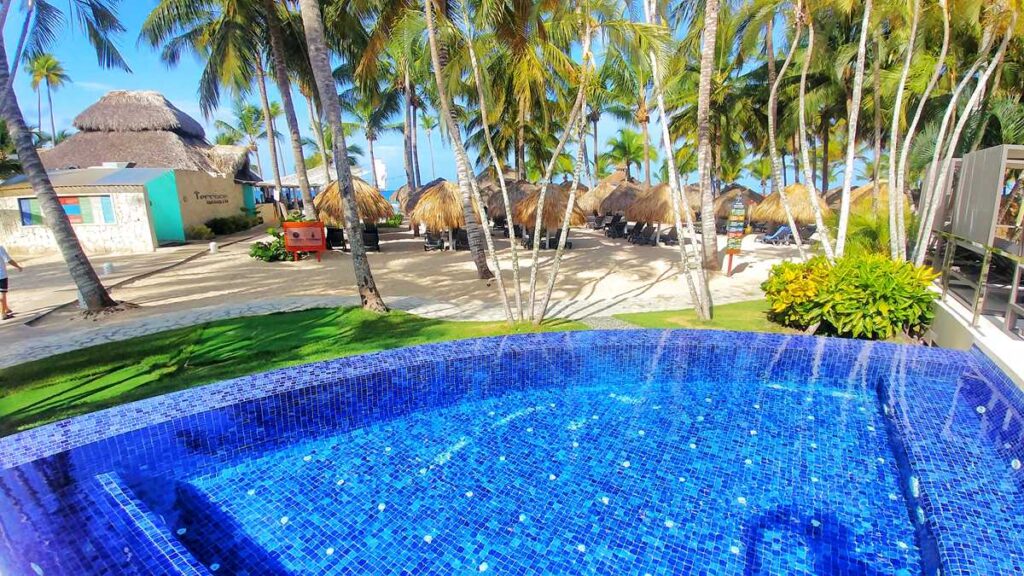 Passing this area, either to the left or the right side of the pool, you're reaching the beautiful Dominicus Beach. There are plenty of sun chairs for everyone here, a beach volleyball court, a boule area, a beach bar with a crepe station and a Privileged area for all those having booked one of the Privileged Rooms.
Another thing that is notable about the property of Catalonia Gran Dominicus – something we already loved at Catalonia Punta Cana and Catalonia Royal Bavaro – are the many cute spots with beautiful decorations, animating signs and photogenic corners. With those small areas, you can explore a separate little world and it doesn't feel like a standardized all-inclusive resort. There is also a herb and organic garden at Catalonia Bayahibe that you can walk through.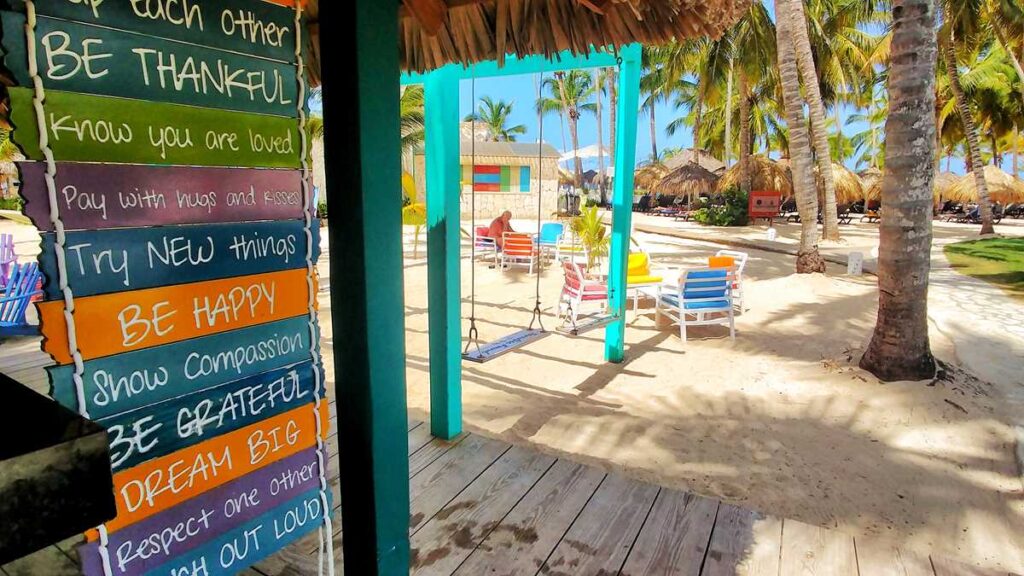 The beach at Catalonia Bayahibe La Romana
But let's talk about the beach again, one of the main reasons travelers are heading to Bayahibe in the La Romana area.
In general, two main attractions sets Bayahibe apart from Punta Cana. First, Bayahibe is located in the Caribbean Sea, while Punta Cana is in the Atlantic Sea. Even though one would not realize it if you don't know as both beaches and oceans are incredibly beautiful, Bayahibe and Dominicus usually offer a more shallow ocean with hardly any waves. (which doesn't mean there are waves everywhere in Punta Cana – check out the best Punta Cana beaches to find the most appealing beaches)
Second, especially during the summer months when Punta Cana sometimes gets affected by seaweed, Bayahibe, including Catalonia La Romana, is the much better choice as the beaches are 99% free of sargassum (due to different currents and being protected from the peninsula being to Bayahibe's east). Obviously, this is only important if you're spending significant time at the beach and not at the pool.
This being said, a lovely beach is awaiting you at Catalonia Bayahibe, even though it is not as wide as in Punta Cana for example. It is pretty similar to neighboring Dreams Dominicus La Romana, even though Catalonia La Romana doesn't have a jetty. The ocean here at Catalonia is super shallow but is still good for swimming if you walk a few meters.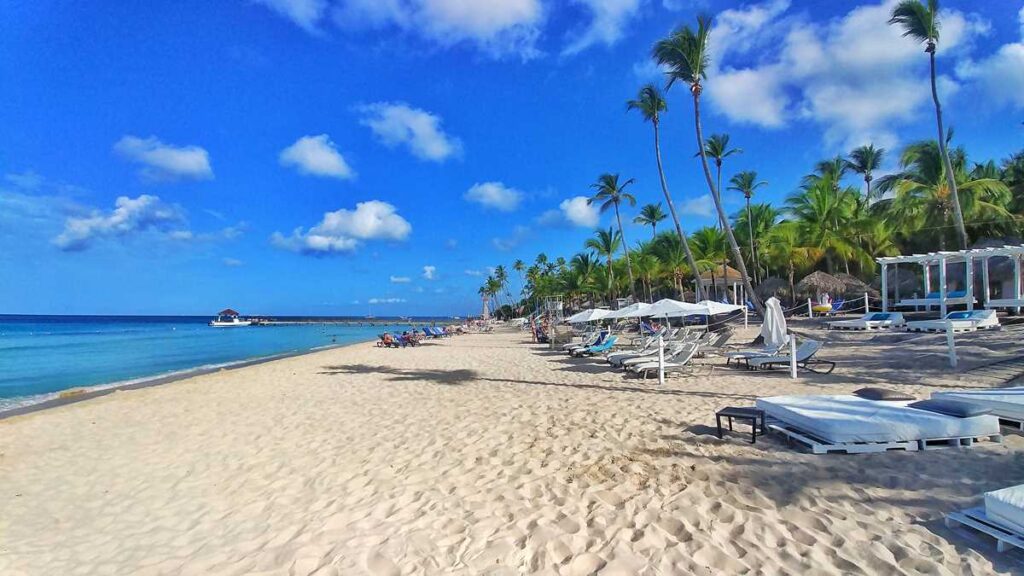 Talking about walking, if you walk along the beach from Catalonia Dominicus, you'll immediately reach the Bayahibe Lighthouse after a few meters. You can continue in this direction for a little bit more than half a mile.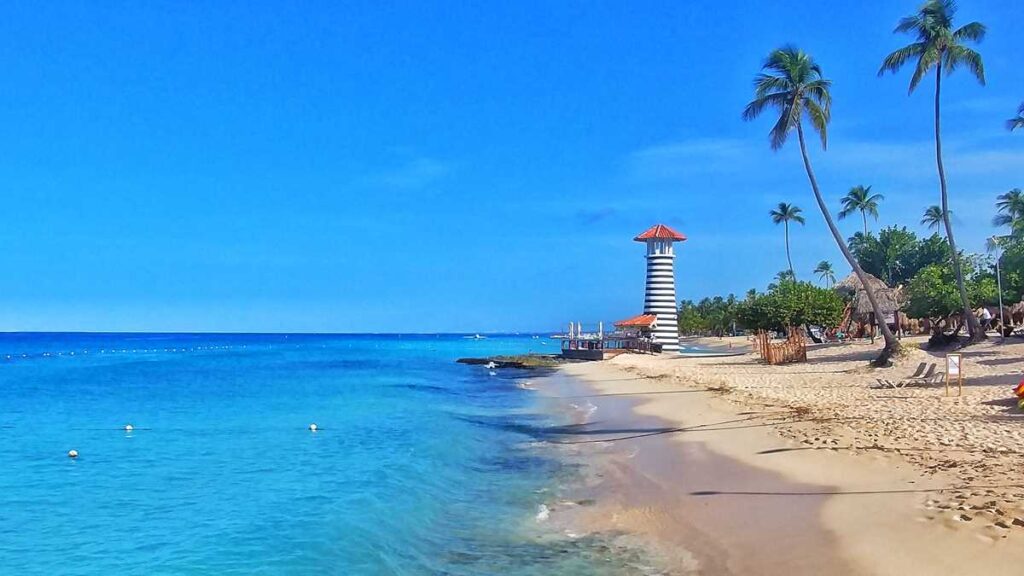 You can also walk in the other direction, passing Dreams Dominicus and Be Live until reaching a bit rockier section. Take your walking shoes in case you're planning to explore here.
The beach itself at Catalonia Gran Dominicus is easily explained. Besides the main area, there is a Privileged section, which also features the Terrace Restaurant, one of the most spectacular beach restaurants we have seen in Bayahibe and Punta Cana. Or what is your opinion about this view?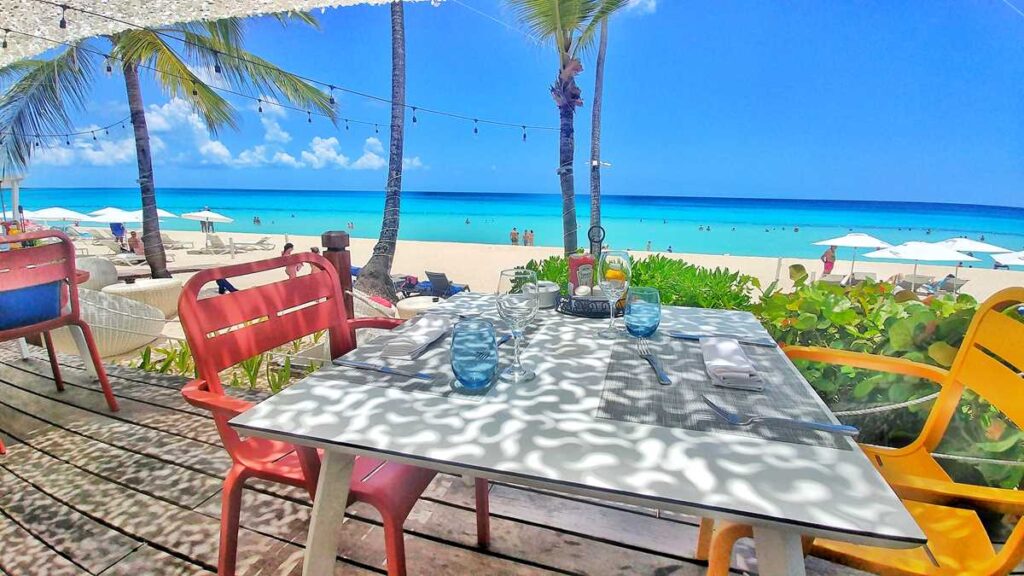 In case you are interested in the Privileged section, check the following sections of this Catalonia La Romana review for further information on pricing and advantages of the Catalonia Privileged Rooms, which are not that much more expensive than the regular rooms.
By the way, the beach of Catalonia Bayahibe La Romana is perfect for sunsets as it faces the west.
The rooms at Catalonia Bayahibe La Romana
As mentioned earlier, Catalonia Gran Dominicus is a rather small all-inclusive resort in Bayahibe. No room is further away than 1100 feet from the beach.
All of Catalonia's approximately 400 rooms are located in more than 40 accommodation buildings, each containing around 8-10 rooms. This gives the resort a particular intimate vibe compared to all-inclusive hotels with just one large building (which are luckily quite rare in the Dominican Republic).
When booking one of Catalonia Bayahibes' rooms, you can choose among the following categories:
Garden View Room
Comfort Room
Privileged Deluxe Room
Privileged Romance Deluxe Room (Adults Only)
Privileged Family Deluxe Room
Even though there are 5 room categories, there are usually only 4 being sold to regular customers. The Garden View Room, which is the oldest among all Catalonia La Romana rooms, is only used for European package tourists, hence it is not officially bookable anymore.
The Comfort Rooms are an intermediate solution between the old Garden View Rooms and the fully renovated Privileged Rooms at Catalonia Bayahibe La Romana.
The Comfort Rooms (not in the photo) are – same as all the Privileged Rooms – equipped with a balcony or terrace, air-conditioning, scale, coffee machine, safe, ironing kit, minibar, hairdryer, telephone, TV with satellite channels, ceiling fan and free (excellent) WiFi.
All the other rooms are not only coming with the Privileged status (see the section further below in this Catalonia Bayahibe review for all Privileged amenities), but they are also very modern. They have a comfortable bathroom with a double shower (each shower has a traditional shower head and a waterfall shower, hence 4 showers in total), a separate toilet, two sinks, a working desk and a relaxing chair.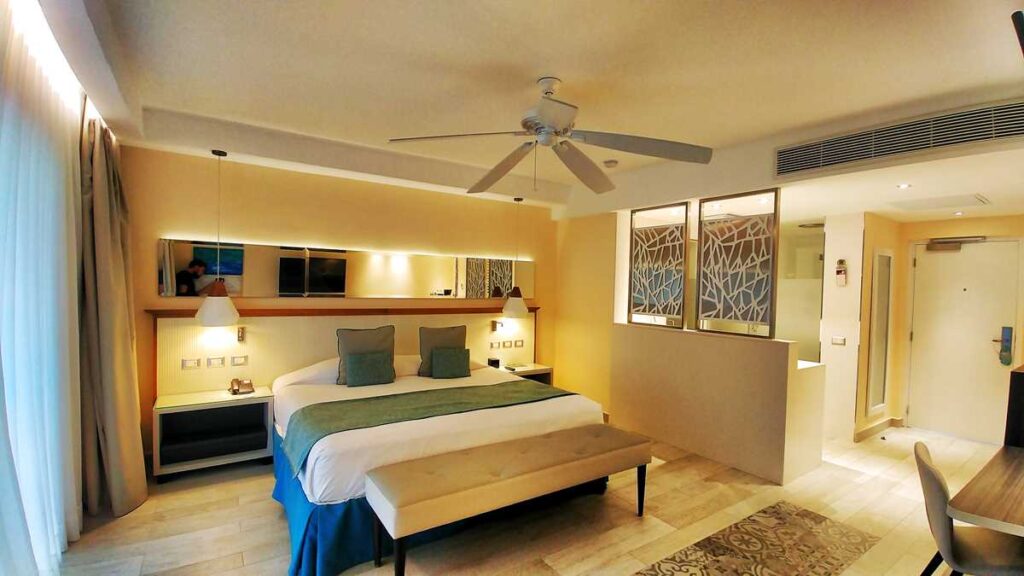 The Privileged Romance Deluxe Rooms are located in separate buildings with only this certain room category, but there aren't any other adults-only amenities at Catalonia La Romana. If you are looking for an adults-only vacation in the Dominican Republic, you can either check the sister resort on the same property, Catalonia Royal La Romana, or their adults-only resort in Punta Cana, Catalonia Royal Bavaro.
As you can see in the next section when comparing the prices at Catalonia Bayahibe, the Privileged Rooms are usually only 20 USD more expensive per person per room. It is worth considering booking this category, as the advantages count for additional experiences at Catalonia La Romana.
Booking and Prices at Catalonia Bayahibe La Romana
Catalonia is not the cheapest all-inclusive resort in Bayahibe, but by far also not the most expensive. It definitely can be considered as one of the affordable all-inclusive resorts, particularly in the low season. The lowest prices are available in September and October, intermediate prices in May to August and November plus Dezember (before Christmas) and the highest prices for Catalonia Bayahibe shall be expected between the Christmas and Easter holidays.
To book your vacation at Hotel Catalonia Bayahibe, it is recommendable to check multiple tour operators and online travel agencies, as the hotel offers various prices through different channels, as we have found out in our price comparison. The following websites are trustful options and offer additional perks for your vacation in the Dominican Republic.
| Website | Your Advantage | Catalonia Bayahibe La Romana |
| --- | --- | --- |
| Apple Vacations | Great package deals and interesting promotions | |
| Booking | Get up to 10% Genius discount on the already discounted rates | |
| Expedia | Online travel agency with great deals, personal service and good reputation | |
| Hotelscombined | Powerful hotel search engine by Kayak | |
| Travala | Get a 25 USD welcome bonus (register here*) + 2% cashback | |
| Tripadvisor | Compare prices and reviews on one site | |
| Trip.com | Attractive prices and collecting reward points | |
Prices for Catalonia start at a very affordable 75 USD per person per night in low season (September and October), but are more than double as high for high season when prices start at 165 USD, which is the same as their sister all-inclusive resort in Punta Cana, Catalonia Punta Cana.
To be honest, while I find that you get a great deal at Catalonia Bayahibe, considering all the services, amenities and food options for prices around 75 to 120 USD per person per night, 165 USD seems a bit steep to me. In this case, I would rather prefer neighboring Dreams Dominicus, which starts at 175 USD per person per night in high season, with much more updated rooms and more extensive food options, particularly at the buffet (see the next section in this Catalonia Bayahibe review for additional details about food and restaurants).
Another option to check for savings is a package booking, consisting of flight, transfer and the hotel, booking with one tour operator. This doesn't have to be cheaper per sé, but sometimes you can score some attractive deals, hence it is worth checking.
Usually, Catalonia Bayahibe is more expensive than whala Bayahibe and Be Live Collection Canoa, but less expensive than Dreams Dominicus La Romana and Iberostar Hacienda Dominicus. That's also where we would rate the quality of this all-inclusive hotel – in between the other resorts mentioned. Compared to more upscale Catalonia Royal La Romana, Catalonia Bayahibe usually is around 40-100 USD cheaper per room per night.
Another thing important to note when booking Catalonia La Romana is that it is very recommendable to decide before your trip if you'd like to get that Privileged upgrade or not. During our price checks, we have seen that the additional cost for Privileged rooms is usually only 20 USD per person. Considering the much newer room and the additional perks of meals and drinks (particularly at the Tapas restaurant with this amazing ocean view), this is definitely a bargain. You can also upgrade when checking in, but this depends on the availability and the price of the day, which is subject to change.
To make it easier for you to understand the all-inclusive pricing of Catalonia Bayahibe, we have compared the prices at different websites for three different scenarios:
Scenario 1: a couple traveling in low season (01-08 December)
Scenario 2: a couple traveling in high season (15-22 February)
Scenario 3: a family with 2 children (aged 8 and 14) traveling during the summer holiday (15-22 July)
(mobile users: please turn your device to landscape mode to enjoy the best view of this table)
All prices were taken on the 26th of May 2022.
As you can see, Catalonia Bayahibe La Romana is offering different prices on nearly every website. That's why it is important to check different online travel agencies to make sure you get the best deal.
For Catalonia La Romana, the cheapest provider is trip.com*, an NYSE-listed online travel company, which offers the best rates for a Bayahibe vacation at Catalonia.
However, if traveling as a family, trip.com can't help that much as their booking engine seems to be not able to work with 4 guests in one room. In this case, Booking.com* has the best prices as seen in our extensive price comparison. As you can see in the table above, Booking also features the second-best prices after trip. com, hence it is always worth checking their page for the best deals and promotions as well.
Very important: Prices can vary from one day to another, they might also be different depending on the country where you are located. Make sure to check booking, payment and cancellation conditions, as they might vary widely. It pays off to compare different platforms, but it is also worth to skip some of the cheapest offers if you don't know and/or trust the company. If booking directly with the hotel or with renowned platforms like Booking or Expedia or leading tour operators like Apple Vacations, Sunwing Vacations or Virgin Holidays, you are usually making a good decision.
Restaurants and bars at Catalonia Bayahibe La Romana
Catalonia Bayahibe La Romana offers 1 main buffet, 4 à-la carte restaurants (among them one only for Privileged guests) and 2 snack bars/restaurants. Whenever you're hungry, you can choose between:
Main Buffet "Taino" for breakfast, lunch and dinner
Caribbean à-la-carte restaurant "Yuca" for dinner
Italian à-la-carte restaurant "La Toscana" for dinner
Steakhouse "Rodeo" à-la-carte for dinner
Terrace Tapas à-la-carte for breakfast, lunch and dinner (exclusively for Privileged guests)
Snack restaurant and pizzeria "Sorrento" from 11 am until after midnight
Creperie at La Cocotero bar at the beach (during the day)
The à-la-carte restaurants are with reservations only (except for the Terrace Tapas restaurant), which can be done through the Catalonia app. Despite a 90% hotel occupancy, reservations were very easy and widely available. Just for the first night availability was a bit tight as we only booked it in the afternoon.
Regarding food, let's start with the not-so-spectacular at Catalonia Bayahibe, the buffet. Compared to their sister resort Catalonia Punta Cana, which has the same quality and price level and offers an amazing buffet, especially for healthy eaters and vegan travelers, Catalonias Bayahibe is rather small, which isn't a problem at all, particularly as dishes and preparations are varying every day. However, sometimes I felt the selection was a bit uninspiring or unbalanced, especially when it comes to desserts (a giant dessert buffet compared to a rather small main dish buffet), fish (always tasted the same) or salads (a lot of salads had meat or fish included, which is not great for vegetarian eaters). But don't get me wrong, we were happy with the food and there is something for everyone – I just have seen many better buffets during our various stays at all-inclusive resorts, both in Punta Cana and in Bayahibe.
What I particularly liked at the buffet was the juice station in the morning. You picked your fruits and they prepared the juice for you – with or without sugar, with water or with milk. That's such an amazing start to the day to have your fresh tropical juice every morning in the Caribbean.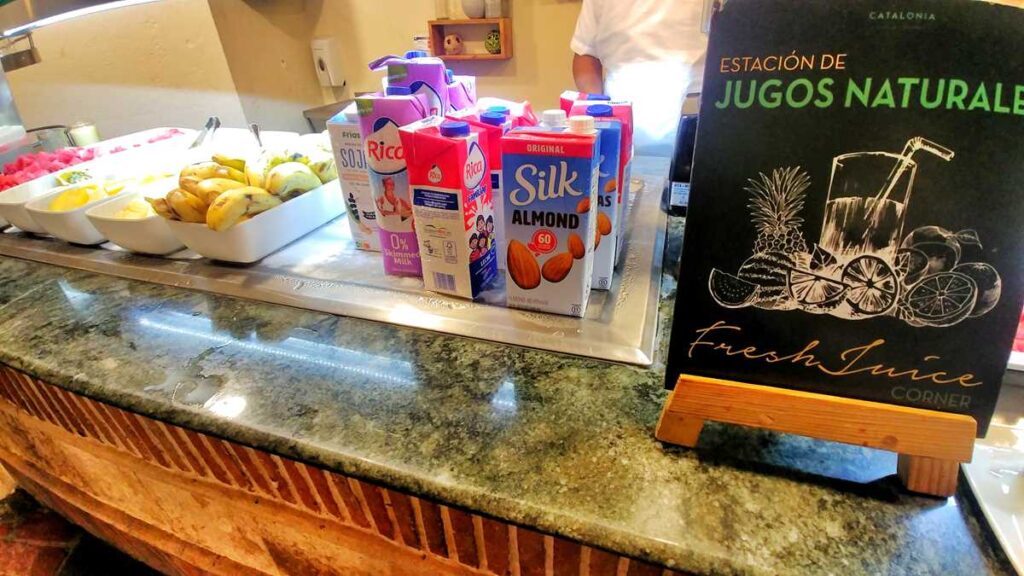 As with basically every buffet in an all-inclusive resort in the Dominican Republic, you also have different live cooking stations, such as the omelets in the morning and or fish, meat and pasta during the lunch and evening buffet.
During our stay, there has been 1 or 2 themed dinners at Catalonia Bayahibe La Romana. However, there were themed lunches a couple of days at the beach, such as Paella lunch or Coco party.
Much better than the buffet were the à-la-carte restaurants at Catalonia Bayahibe, where you can dine as often as you want, assuming you have a reservation. We have tried all of them and you can expect the same very good quality we already experienced at Catalonia Punta Cana (particularly considering that some of the menus are the same). Balanced à-la-carte menus, a fitting atmosphere, decent house wines and interesting creations are some of the characteristics of the restaurants at Catalonia Gran Dominicus.
After the average buffet and the well-managed à-la-carte restaurants, let's finish the food section in this Catalonia La Romana review with the most spectacular: the Terrace Tapas restaurant & lounge, which is exclusively for Privileged guests. Among all those dozens of all-inclusive resorts in Punta Cana and Bayahibe we have visited in the last months and years, we have hardly had a more spectacular setting for a restaurant. Or what is your opinion about lunch at this table?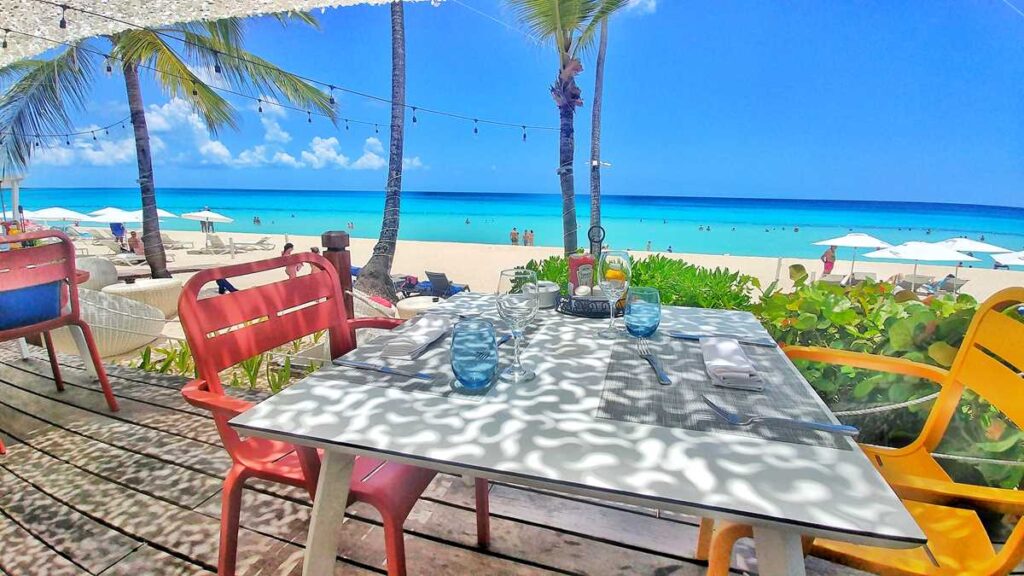 The amazing thing here is that this restaurant is available for breakfast, lunch and dinner when you're staying in a Privileged room, hence you can absorb and enjoy this amazing ocean view every time you eat. And being a Tapas restaurant, you can also order several plates to have a true oceanfront dining feast (or lunch feast, obviously).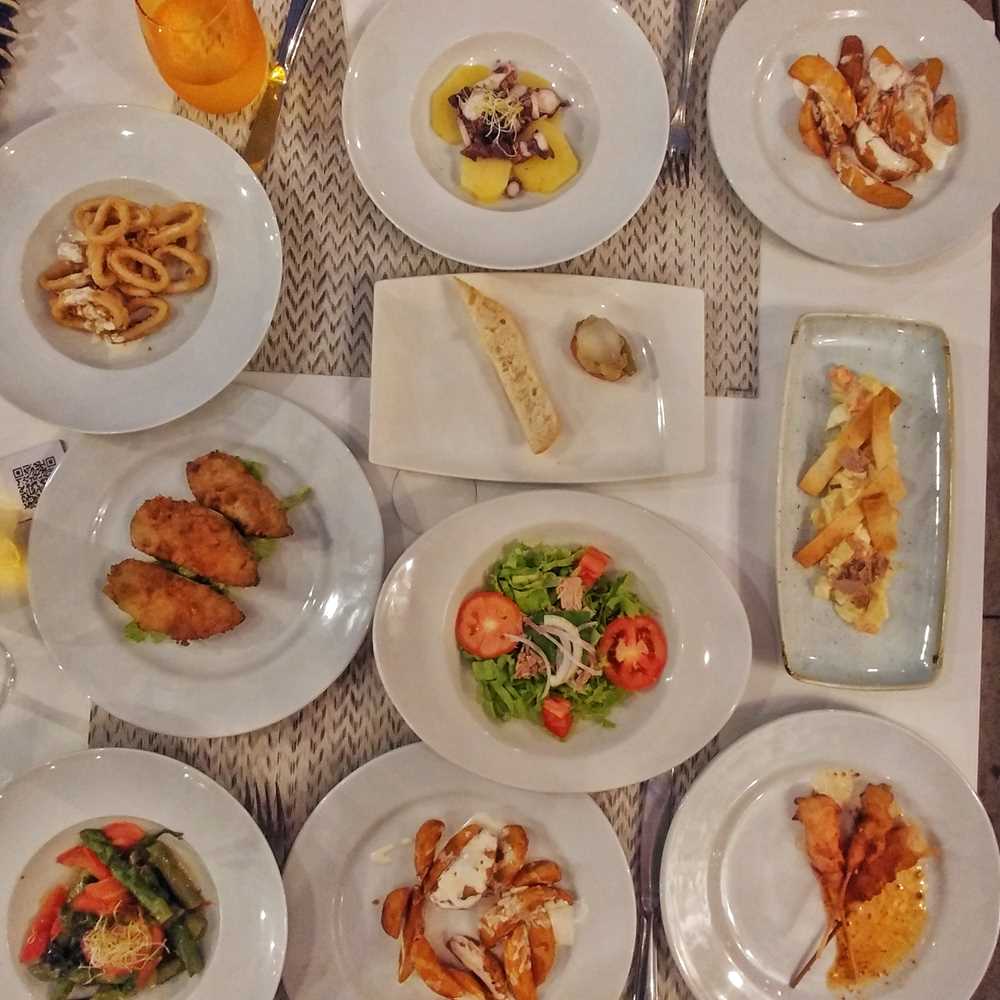 If you are hungry during the day, you can always grab a freshly prepared crepe at the beach or head to the Sorrento snack restaurant, which serves a couple of salads, vegetables, bread and hamburger besides their oven-baked pizzas. Strange enough, the receipt of the dough seems to be different here at Catalonia Bayahibe compared to Catalonia Punta Cana as the pizzas in the Punta Cana resort were better. However, I have also had worse pizzas, hence the Sorrento pizzeria at Catalonia La Romana is worth a visit.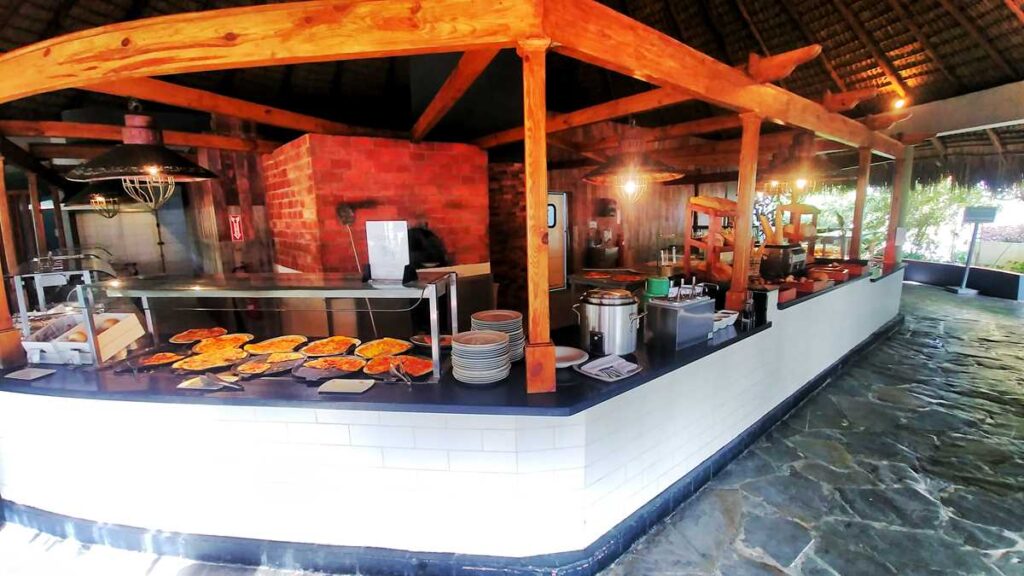 Regarding bars, Catalonia Bayahibe doesn't have that many bars, but considering the compact size of this all-inclusive resort in Bayahibe, this is also not necessary. Your main point of approach will be the central bar, which is open day and night. You can start your day here with a coffee and croissant at 8 am (which is a nice feature in case you don't like a full breakfast), get your drinks for the adjoining pool or order your Margaritas when you want to socialize and mingle at night. Everything is close here, hence you are probably going to frequent this bar pretty often.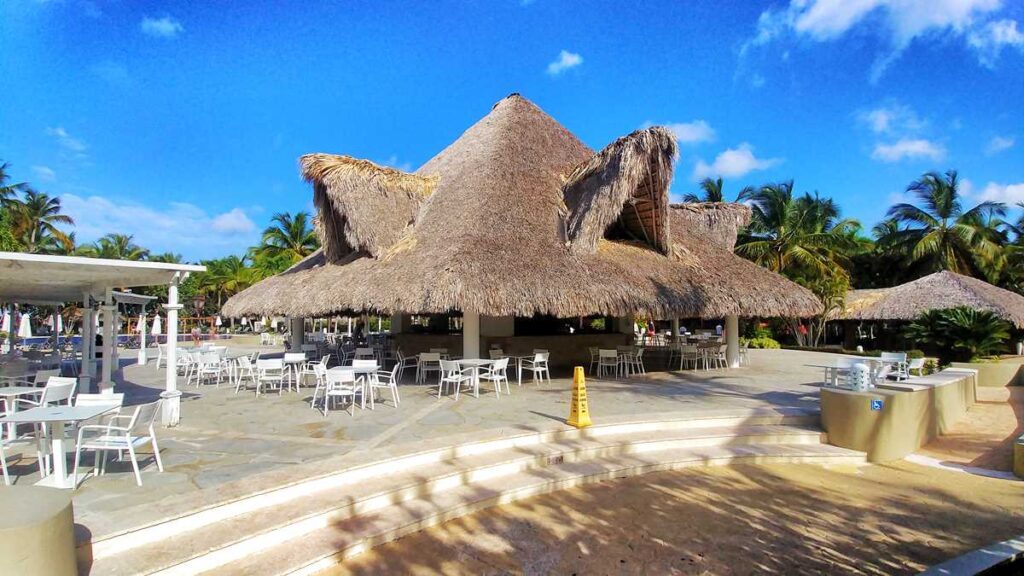 For the beach, there is a separate bar open during the day. A nice feature of all those bars – something I have never seen before in any other all-inclusive resort in Punta Cana and Bayahibe – is the homemade Mamajuana of different flavors. Mamajuana is a traditional liquor in the Dominican Republic available in many hotels, but homemade and with flavors is a nice touch to differentiate from other resorts.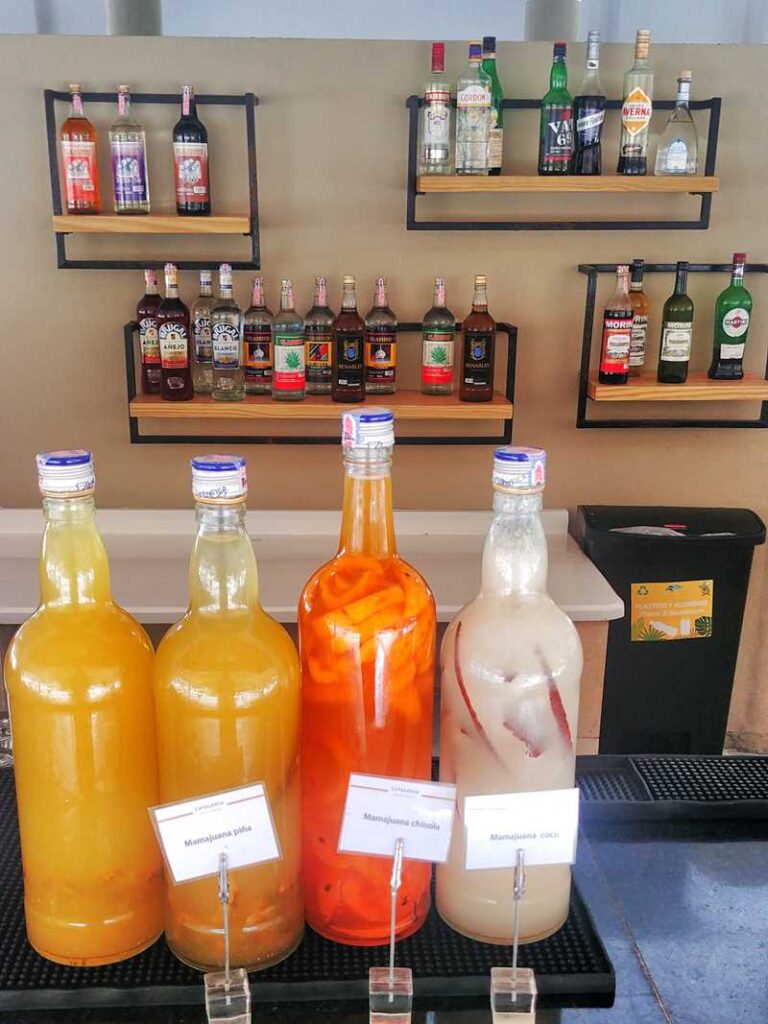 And there is another thing we loved when talking about the drinks at Catalonia Bayahibe La Romana: the newly-built juice bar Maloo. This bar only serves freshly prepared and blended fruit juices, made of tropical fruits. You can order them to your liking, with or without sugar, with ice or no ice, with milk or water and with the fruits you like – your personal smoothie, as much as you want, in the middle of the Caribbean. And, as an additional plus, the place here with all the seating arrangements is beautifully set up and decorated.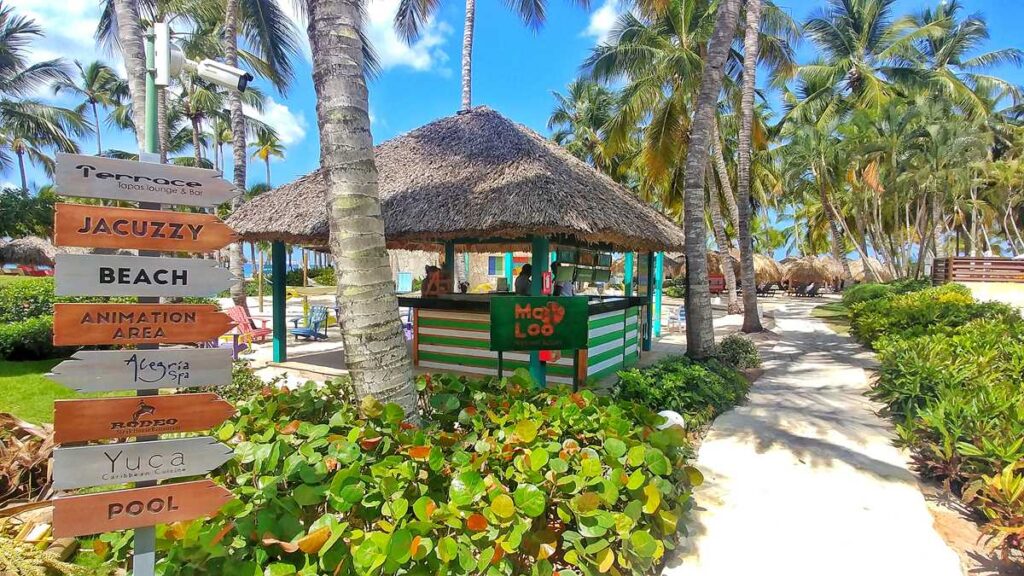 Regarding drink quality, Catalonia Bayahibe is in-line with other affordable all-inclusive resorts. Most of the drinks are prepared with local ingredients and brands, but there are a few international liquor brands included, such as Aperol, Campari, Martini, Stolichnaya, Smirnoff and Gordons Dry Gin. For Privileged guests, there is a separate bar at the Terrace Tapas restaurant and lounge with additional spirits and brands.
Entertainment and service at Catalonia Bayahibe La Romana
Regarding entertainment and activities, Catalonia Bayahibe has the similar full range of amenities most all-inclusive resorts in the Dominican Republic are offering, among them several sports activities as well as entertainment options.
During the day, the center of entertainment is located at the pool and the adjoining central plaza. Here is where most of the activities are happening, among them aqua gym, Zumba or dance lessons. If you fancy some water activities on the crazy turquoise ocean of Bayahibe, you can rent a kayak, Hobie cats or snorkeling equipment, even though the hours are pretty limited with just being available from 09:30 to 11:30 am and from 01:30 pm to 03:30 pm.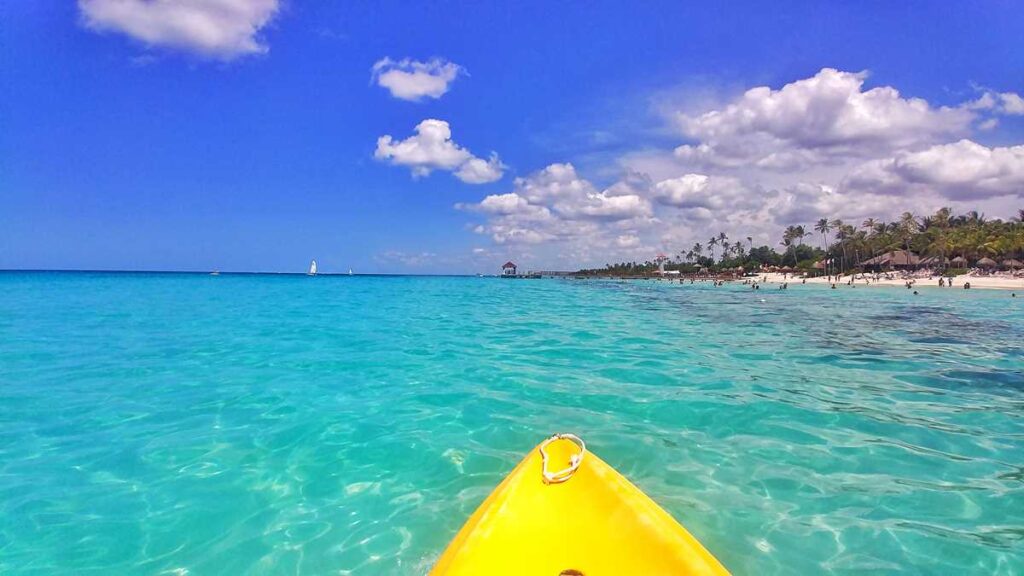 For other sports, Catalonia Gran Dominicus also offer a reasonably sized gym, tennis courts, beach volleyball, archery or boule.
Further activities include table tennis, beach exercises, yoga, bingo or Spanish lessons. During the night, there are daily entertainment shows at the theatre and a disco starting at 11 pm.
The WiFi at Catalonia Bayahibe works excellent. There wasn't any need to connect or disconnect after your first connection and the coverage was extremely good. The rooms had a perfect signal and even at the beach, the connection was decent.
Service was ok, even though nothing to write home about. Sometimes we missed some personality, but those were just nuances. In general, everything worked perfectly fine. We never had to wait for anything, everything was super clean and there was always staff available wherever you needed them. Furthermore, a really good idea of Catalonia Bayahibe was to put a guest service desk right at the pool and beach area – like this you don't have to walk to the lobby if you have any kind of request.
Privileged advantages at Catalonia Bayahibe La Romana
I have mentioned the Privileged rooms and perks in this Catalonia La Romana review a couple of times – not because I want to sell it (luckily I am not selling any room which is why I can give you my honest opinion), but mainly because I think that the price-value ratio of this upgrade is absolutely a bargain. In case you are considering a Privileged room, here is a full list of advantages when booking one of the Catalonia Bayahibe rooms with Privileged status:
Completely renovated rooms
Early check-in and late check-out upon availability
10% discount on romantic beach dinners, massages and spa treatments and in boutiques and stores
24-hour room service
Dedicated beach zone
Access to Terrace Tapas restaurant & lounge
Exclusive Privileged bar at Terrace Tapas
Turndown Service
As mentioned in this extensive hotel review, the two top arguments on why booking the Privileged Room are definitely the newly-renovated and modern rooms and the Terrace Tapas restaurant with the spectacular setting and views right at the beach. Particularly considering it is just a surcharge of 20 USD per person per day, this is an amazing deal. Usually, in comparable hotels, a room upgrade to a renovated room only without any additional amenities would be around 40-50 USD per room per night.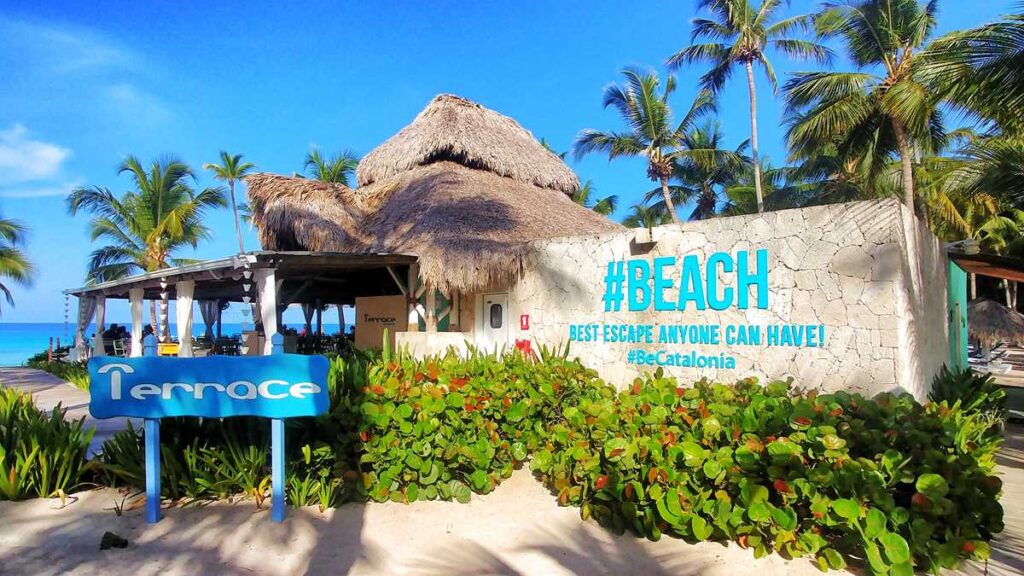 Furthermore, you also enjoy a separate beach area (which is not that much different than the regular one though) and a Privileged bar at the beach with additional drinks.
Interchanging facilities between Catalonia Bayahibe and Catalonia Royal La Romana
As mentioned, the Catalonia property in Bayahibe consists of two resorts: Catalonia Bayahibe (or Catalonia La Romana or Catalonia Gran Dominicus) and Catalonia Royal La Romana. The latter one is an adults-only resort in Bayahibe, which is more upscale than Catalonia Bayahibe. It can be considered as the higher tier of both resorts. That's also why guests of Catalonia Royal La Romana have access to Catalonia Bayahibe, but not vice versa. This being said, when staying at Catalonia Bayahibe, you don't have access to any part of Catalonia Royal La Romana.
Safety Protocols and Hygiene Standards at Catalonia Bayahibe La Romana
Even though Covid-19 is still an issue and there are still over 500.000 new cases daily (!) worldwide, the government of the Dominican Republic has terminated all regulations and restrictions in terms of Covid-19. This also applies to the all-inclusive resorts in Bayahibe including Catalonia Bayahibe.
However, the hotels are still applying a few of their measures which have been implemented during the Covid-19 pandemic even though you hardly can feel it. One of them is that the staff is still wearing masks, even though not really properly. 😉
Furthermore, hand sanitizer is still available when entering restaurants.
We haven't seen any further measures even though we know that in the background certain regulations still apply.
Excursions from Catalonia Bayahibe La Romana
Usually, there are three main reasons for booking your all-inclusive vacation in the Dominican Republic in Bayahibe:
the more shallow water and beaches without seaweed
smaller resorts and easier access to local life (Bayahibe is less touristy than Punta Cana)
a better starting point for tours to Isla Saona, Isla Catalina or Santo Domingo
Exactly the last point is what comes into effect when talking about excursions in Bayahibe.
When staying in Bayahibe, a Saona Island tour is actually a must-do. Just imagine this beautiful turquoise ocean you already have at Catalonia Dominicus and combine it with picture-perfect palm trees, a fantastic island vibe and – if you pick the right excursion – with hardly any other people. Especially if you want to discover the more remote and less crowded parts of Isla Saona, I'd recommend you one of the premium tours, which are covering more than just the typical Isla Saona beach. This Saona excursion* for example heads all the way to Mano Juan and Canto de la Playa, two of the most beautiful and paradisical places on the island and the entire Dominican Republic.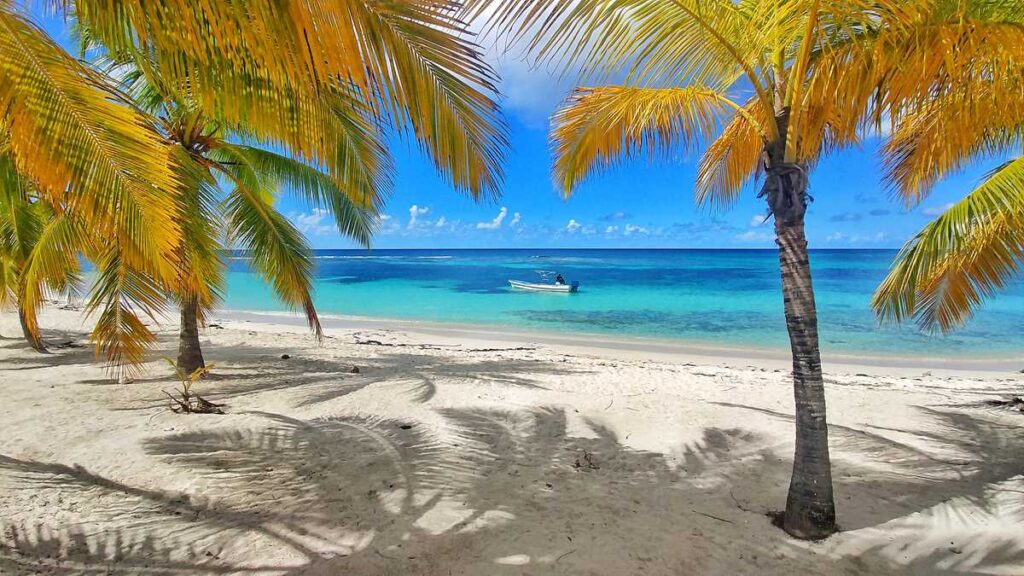 Isla Catalina is also a place that is nearly next door to Bayahibe, even the tours are starting in La Romana, just 25 minutes away from Bayahibe. Isla Catalina is less crowded than Saona Island and offers better snorkeling conditions, even though the scenery can't compete 100% with the one of Saona.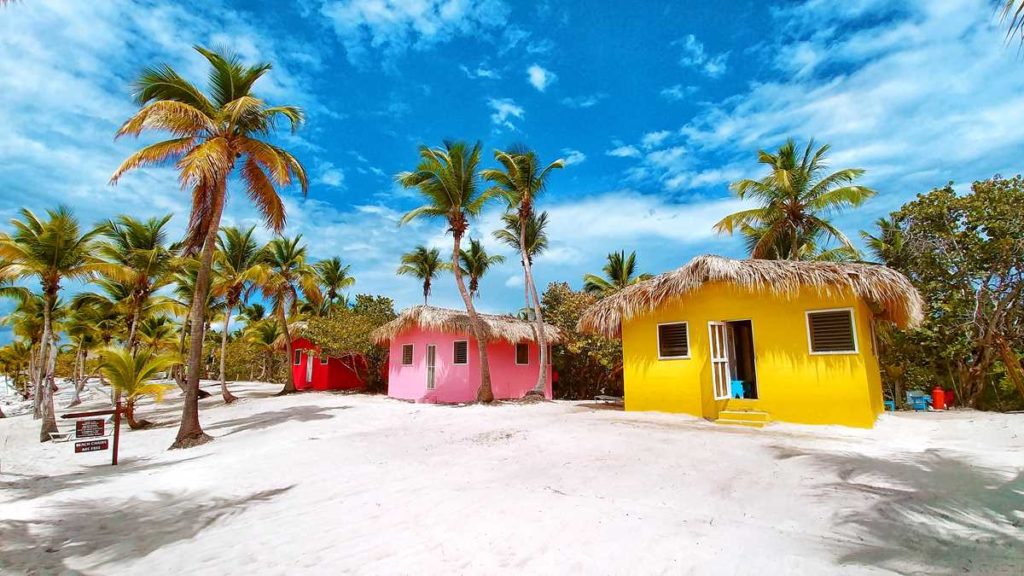 If you want to see more than islands from the Dominican Republic, you can also head to Santo Domingo, the capital of the country. Here you can learn more about the history and the culture of the Dominican Republic and see the authentic life of the Colonial Zone.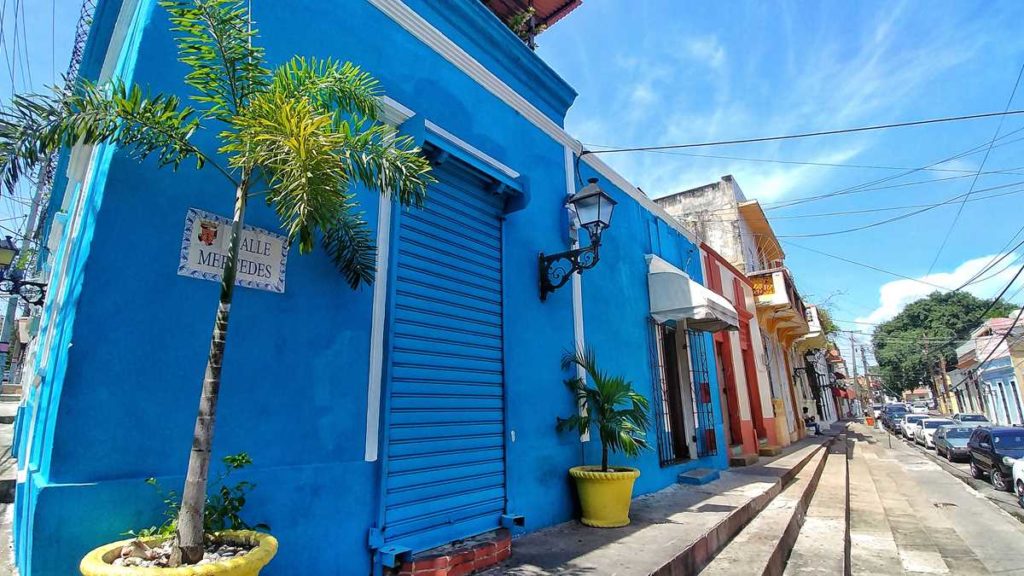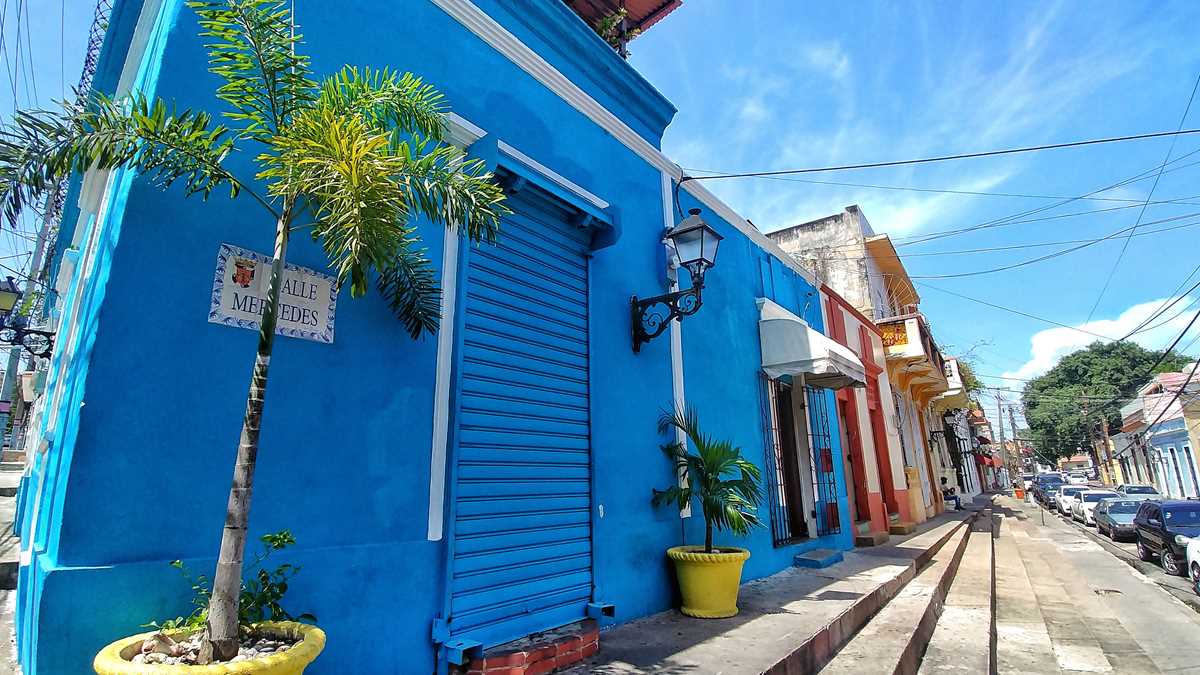 If you're looking for further inspiration, you can check out the extensive Bayahibe Travel Guide or the soon-to-follow guide about the best excursions in Bayahibe.
Alternatively, you can also rent a car and explore the east of the Dominican Republic on your own. In this case, it is recommendable to rent a car in La Romana instead of Bayahibe, as you will have more choice of rental car companies there. Or even better, instead of booking an airport transfer to Catalonia La Romana Bayahibe, you can also rent your car right at the airport in Santo Domingo or Punta Cana and are completely flexible in terms of activities or excursions.
Summary
So what's the summary of this Catalonia La Romana review? It depends!
In general, it is a great resort with lots of amenities, some really cute spots, a marvelous turquoise ocean and a pretty compact size where a 2-3 minute walk gets you nearly everywhere. This is very convenient when compared with some of the mega-resorts in Punta Cana.
In general, Catalonia Bayahibe is one of the cheaper resorts, particularly in the low season. When you travel outside of the peak season between Christmas and Easter and also avoid the summer holidays (July/August) you can score some pretty attractive deals, guaranteeing a great price-value ratio. You get all kinds of different food, decent drinks and have a wide array of activities and entertainment. My personal highlight are the fresh juices both at breakfast and at the juice bar all day long, which is pretty unique considering the price level of Catalonia La Romana. Usually, you have such kind of personalized service only at high-end hotels in Punta Cana.
Another feature that is unique at Catalonia La Romana is the Terrace Tapas restaurant for Privileged guests. It has such a spectacular location we have hardly seen before in any other all-inclusive resort in Punta Cana and Bayahibe – and the food doesn't disappoint either. While the Privileged guest status is not mandatory, it is recommendable considering it is only a 20 USD extra per person per night for most bookings when booked in advance.
When traveling in high season, I'd say that the Privileged upgrade is actually a must. Not because the services are different. But considering you're paying between 320 and 380 USD per night for a regular old room, I think the additional 40 USD (20 USD per person) can be considered a small surcharge compared to the regular room price, which, during high season offers only a mediocre price-value ratio. Alternatively, you can also check the pricing for Catalonia Royal La Romana* or Dreams Dominicus as they're also in the range of around 400 USD per room per night. Or, as another option, you can consider Catalonia Punta Cana. Even though they are usually in the same price range, I feel Catalonia Punta Cana is offering more bang for the buck especially as everything is bigger and you therefore have more choices when it comes to activities, restaurants, food and bars.
Independent from the season, Catalonia La Romana guarantees you a worry-free vacation in the Dominican Republic with everything you need for a relaxed and enjoyable stay. Particularly if you're looking for an alternative option to Punta Cana, Catalonia Bayahiba is a great choice with a beautiful beach setting.
SHARING IS CARING! IF YOU ENJOYED THIS ARTICLE, PLEASE SHARE WITH YOUR FRIENDS – I WOULD APPRECIATE IT A LOT.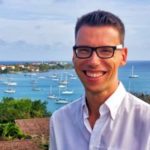 CHRIS
Author, Travel Coach & Punta Cana based digital nomad
Hey, I am Chris, a born and raised German, travel-addictive and Caribbean Soul. Since 2011 I have been living in the Caribbean, among them 5 years in the Dominican Republic. Punta Cana is my home-base here in the country and I'd love to tell you more about how to experience Punta Cana off-the-beaten-track and give you all the advice you want to know for your vacation in Punta Cana.