Covid-19 might affect our everyday life longer than we might initially have thought – and our travel routines as well. With this having in mind, it is important to check which excursions in Punta Cana are the better ones to do during the times of Coronavirus and which ones are Covid-19 safe. While there is a general hygienic protocol in place for all excursion tour operators in Punta Cana which determines the rules like social distancing, face mask obligations, cleaning standards and maximum occupations, there are some tours which are more Covid-19 friendly and other tours with an increased risk of Coronavirus transmission. In the following article, I am summarizing some of the best excursion in Punta Cana during times of Covid-19 where social distancing can be enforced as much as possible. You can never be 100% safe, but as the Coronavirus situation in Punta Cana is absolutely reasonable, you shouldn't be too worried as well, especially if you take the recommended precautions.
Last updated: December 2020
This article is about the best excursions during the times of Coronavirus. If you are looking for general information with regard to Covid-19 in Punta Cana, entry regulations, Covid-19 measures in the Dominican Republic or travel experiences during the pandemic, check out this article.
Are you interested in further Punta Cana tours? If so, check out our comprehensive Punta Cana Excursion Guide with the most exciting 35+ activities for your vacation.
Buggy Adventure in Punta Cana
A buggy adventure in Punta Cana might be the best Covid-19 safe excursion in Punta Cana. It was required to wear a face mask (and glasses) even long before Coronavirus started. The reason: you might get wet or muddy (or both) and the vehicles in front of you might disperse dust, hence it is important to protect your face.
But even besides the fact of recommendable face-covering without the reason of Covid-19, the buggy excursions are perfect to guarantee social distancing. You get your own vehicle with your traveling party and you don't have much interaction with other people.
If you want to be super safe, take a few sanitizing wipes with you so that you can wipe off the steering wheel, door handles and gear stick. Even the cars get cleaned after every tour, I assume that not every buggy tour operator in Punta Cana does a deep cleaning process with alcohol for every vehicle.
Buggy adventures in Punta Cana are a fun way to get out into the countryside and see a little bit of the surrounding areas. While most tours go to Macao Beach, I can highly recommend Flintstones Buggy Adventure* as they take you far off-the-beaten-track into authentic Dominican villages where no other tour company is going.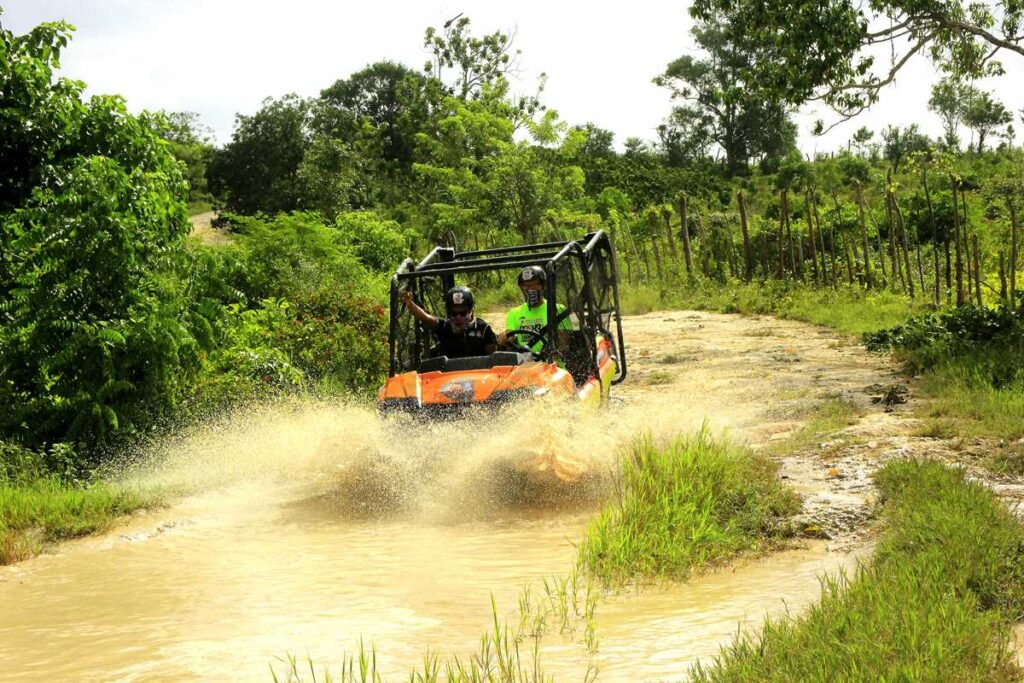 Ziplining in Punta Cana
Ziplining is another adrenaline-filled adventure in Punta Cana where you have enough space to not be too close to anyone. Social distancing can be perfectly enforced, especially when the transfer is done in an (open-air) safari truck with a 50% maximum occupancy.
During the excursion, you just meet the Zipline instructors for a very short time when they lock and unlock you to the cables. Furthermore, you are wearing gloves, which is another good way to prevent the spread of Coronavirus (if applied correctly and not touching your face with the gloves).
Ziplining is a great option to see Punta Cana from a bird's eye view and to satisfy your cravings for action and adrenaline while being on vacation in Punta Cana. The particular tour I can recommend you here leads you into the lush hills of the Anamuya Mountains where you can enjoy the incredibly green sceneries and 12 exciting cables above and through the tropical vegetation*.
If you want to know more about this exciting activity, check out the full Punta Cana Ziplining Guide.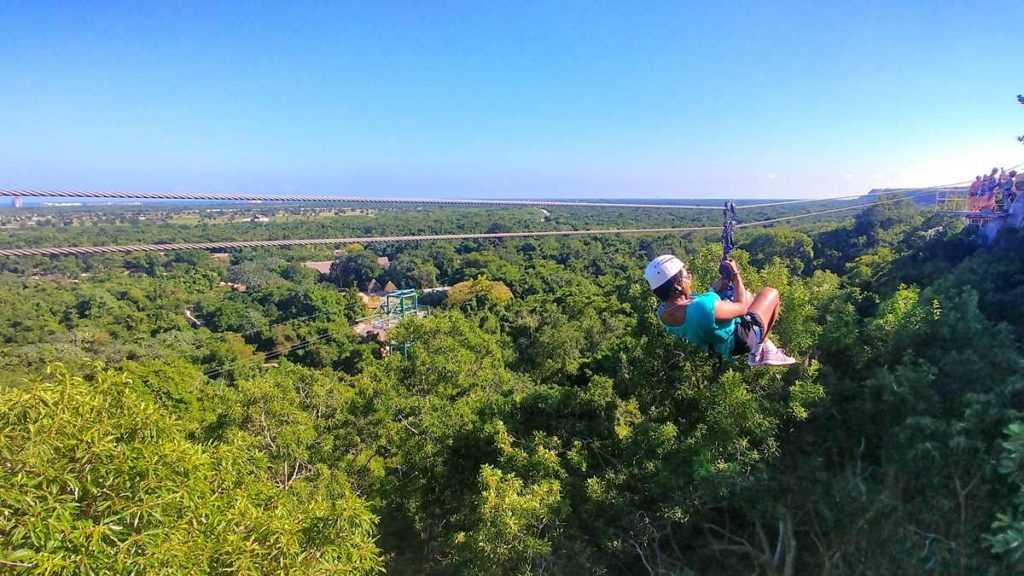 Horseback Riding along Punta Canas' beaches
Avoiding Coronavirus is also about avoiding crowds and highly frequented areas, so a horseback riding excursion that takes you off-the-beaten-track along virgin beaches is another great covid-19 safe excursion in Punta Cana. Horseback riding tours are usually operated in very small groups, so you won't get stuffed into cramped transfer shuttles. Furthermore, as each participant does ride its own horse, there is plenty of space for social distancing during the tour. Human interaction is limited to a short moment when your guide helps you onto the horse, but this is usually not happening face-to-face, more towards your legs.
Horseback Riding in Punta Cana takes you away from the all-inclusive resort more towards the lesser-known areas, but not too far away. The selected excursion will take you to Uvero Alto*, where you visit a local ranch with many other animals. The horseback ride is mostly along the beach, guaranteeing a smooth and easy ride and memorable vacation photos.
E-Bike or Mountainbike Tour around Punta Cana
If you prefer to sit in a saddle instead of on a horse, you can opt for an e-bike or mountain bike tour in Punta Cana. Safety precautions against the spread of Covid-19 are nearly the same as for the horseback riding excursion, as everyone has his own bicycle. Furthermore, there isn't any close human interaction involved (except for visiting a local mom-and-pop store for a coffee tasting, which you, of course, can skip if you want). Bicycles are getting cleaned before every tour and if you want, you can bring some wipes to disinfect your handles. By doing some physical activity you are also helping your immune system which is an additional plus.
Mountain bike tours in Punta Cana lead you through dirt roads and other trails without much through traffic towards the village of Macao with one of the best beaches in the area. It is a two-hour mountain bike tour* more or less. If you feel that this is too much, you can also opt for an e-bike*, which makes it easier to enjoy the beautiful countryside.
Hiking in Punta Cana
If you prefer to walk instead of cycling, a hiking tour might be your best fit, especially as it one of the best options to maintain social distancing AND keep your immune system in shape. You don't have to touch any surfaces and can always maintain distance from your guide, even if he is explaining something about the nature you are walking through. It is hardly impossible to transmit Covid-19 on a hiking excursion as long as you maintain your personal hygiene and social distancing.
Hiking in Punta Cana is still a hidden gem as not many visitors are considering these kinds of tours when on vacation in the Dominican Republic. I have recently published a full hiking guide of Punta Cana. Feel free to check this out if you are interested in further information. My recommended Covid-19 safe hiking excursion leads you out into the Anamuya Mountains*, the closest mountain range to Punta Cana, where you can have a pleasant hike through forests and farmlands without too many steep inclines.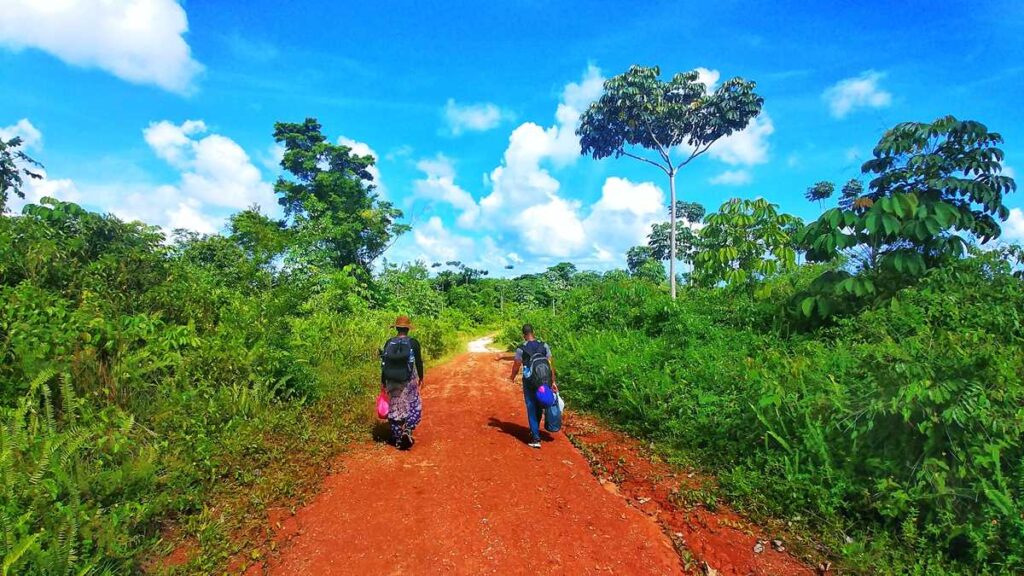 Do a Segway tour in Punta Cana
Another off-the-beaten-track activity in Punta Cana is a Segway tour. Its "Covid" capability is obvious and similar to mountain biking or the buggy adventure. You have your own moving vehicle, you have enough space for social distancing and your guide does not interact that close with you that Coronavirus can be transmitted. Furthermore, you can bring your wipes or alcohol to disinfect the handles of the Segway. Segway tours in Punta Cana are usually done in very small groups, as there is no inventory to have big groups with 15, 20 or more people.
While Segway tours in popular cities are well known, they are still one of the newer attractions Punta Cana has to offer. The recommended tour is not only a perfect option because it's a fun way to explore the surrounding area, but you will also get to know the secluded "Ojos Indigenas", which is a protected and private area with 12 crystal-clear lagoons. Considering that the entrance fee of the Ojos Indigenas is already 50 US-Dollar, this Punta Cana Segway tour* is a real bargain.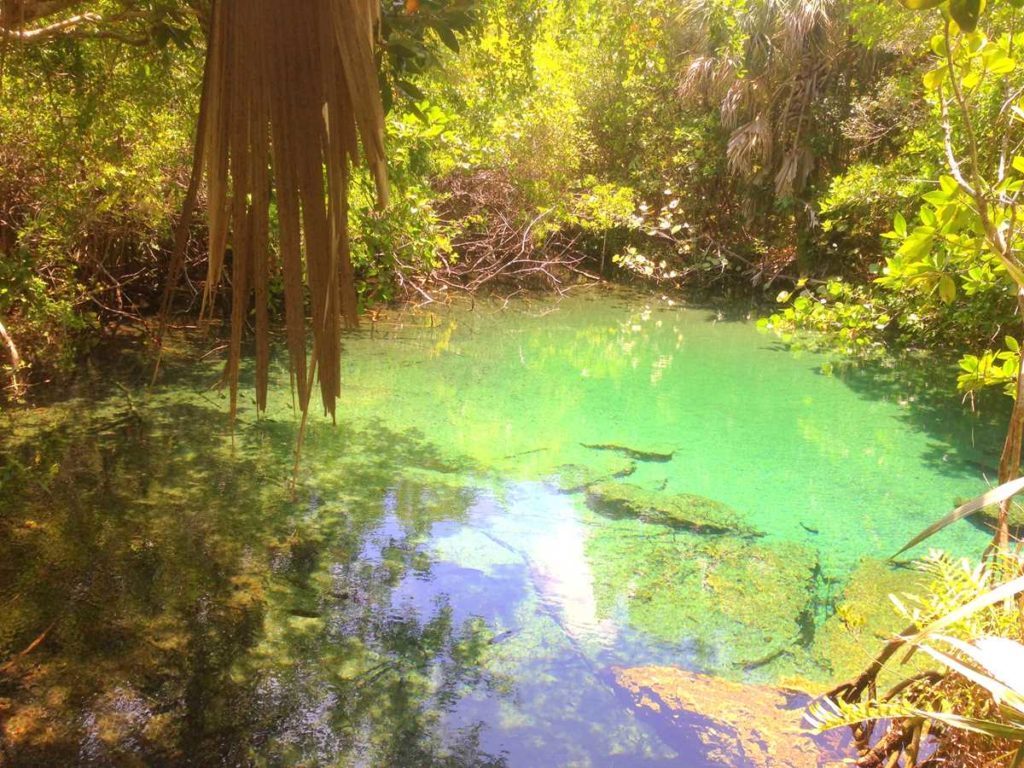 Take a surfing lesson in Punta Cana
After all those land excursions, do you rather prefer some water-based activities in Punta Cana that are Covid-19 friendly? How about a surfing lesson?
Even in a course and with a surfing instructor, social distancing can always be maintained. It doesn't matter if you just practice on the beach or if you are trying to catch the best wave. Furthermore, you don't have to touch anything except your surfboard, and the permanent salty ocean water will clean and "naturally" sanitize your hands and your board frequently. Tough conditions for any Coronavirus transmission!
The best place to take a surfing lesson in Punta Cana is Playa Macao. You can either book a full surfing excursion* which includes hotel pick-up from your all-inclusive resort (or alternative accommodation such as Airbnb), equipment incl. a rash guard and your personal surfing instructor. Alternatively, you can also head to Macao Beach on your own. Just rent a board and hop into the water if you are an experienced surfer.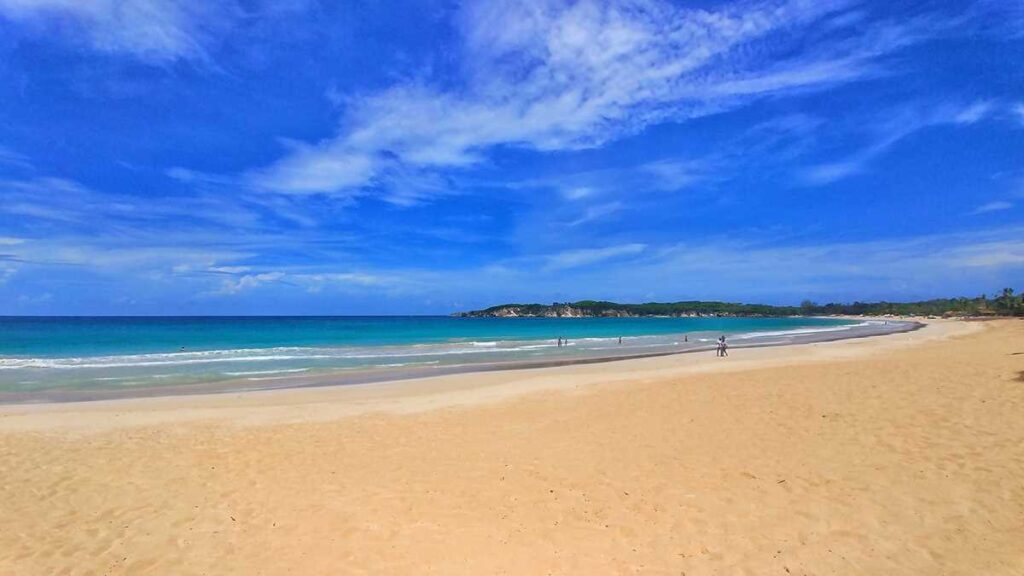 Parasailing in Punta Cana
Another fun and water-based activity in Punta Cana which is Covid-friendly is parasailing. Here you head into the air with a maximum of 2 people, so it is just you and your partner. While flying up into the air, it's pretty hard to catch any Covid-19 aerosols, so you are safe here as well. And even if the parasailing excursion includes a short boat ride, it is not comparable with booze cruises or party boats where you touch a lot of different stuff and you are on the boat with dozens of people.
TRAVEL COACHING
Save money and time!
Do you need help planning a customized vacation in Punta Cana and the Dominican Republic? Is it difficult for you to decide what and where to book? Would you like to take advantage of someone with years of experience in the tourism industry (knowing all the travel hacks 😉 ) and living right in the place where you would like to spend your holiday?
That's what my personal travel coaching is for. I will design your tailor-made itinerary, tell you how to save money on your trip and send you the best insider tips and recommendations. All the information I send you are crafted with love and passion – and are coming with a money-back guarantee. Let me know how I can help you (check my packages here) and send me a request here!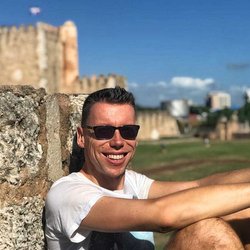 Parasailing in Punta Cana usually takes place in the Bavaro Beach area, but partly also at others of Punta Canas' amazing beaches. The most appealing point of this Punta Cana excursion is the aerial view of those white-sand beaches and turquoise-colored ocean you can enjoy from high above.
Visit a theme park in Punta Cana
 If you can't decide on one of these activities, why not choose an option which combines many of them, such as the various amusement parks we have in Punta Cana. While it sounds contradictory that a theme park in the Dominican Republic is a covid-19 friendly excursion while most theme parks in North America and Europe are closed for months, it indeed isn't. Amusement parks in Punta Cana are set up completely differently and are designed around a tropical theme, which offers sufficient space and social distancing for everyone while being out in nature. Furthermore, those parks are not set up to receive thousands of people every day like Disney World & Co.; they operate on a much smaller scale. Last but not least, you don't have roller coasters or bumper cars where you are holding handrails that have been touched by dozens of other people before. You are rather enjoying some of the Covid-19 friendly activities already included in this article, such as horseback riding, ziplining or swimming in a lagoon.
 One of the possible excursions among theme parks in Punta Cana is Scape Park Cap Cana, which is particularly famous for its incredible blue lagoon. Further highlights are an ocean view zip line system that ends in a pool and an extensive cave system.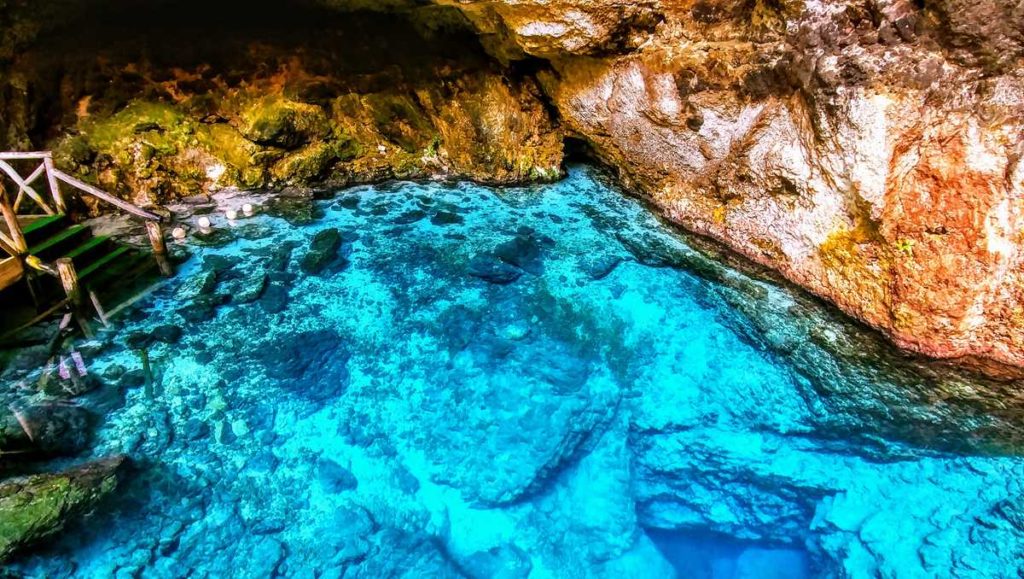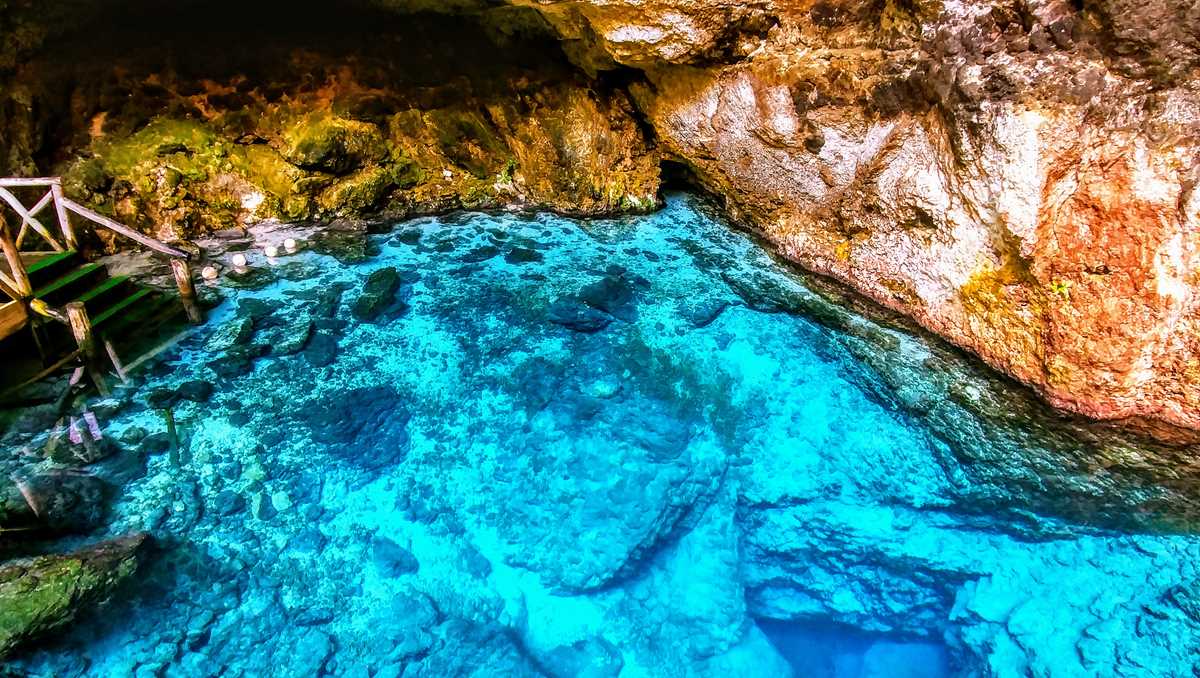 Cueva Fun Fun
Cueva Fun Fun is another Punta Cana Covid-19 friendly excursion where you can enjoy different activities in one tour. All of those activities (horseback riding, hiking, rappelling, caving and swimming) are possible with enough social distancing and operate in very less frequented areas, so the infection risk is particularly low. Guides are present all the time, but they keep the necessary distance. Gloves are being used for rappelling. Hence the rope, which is a touchpoint by all participants, is not being touched by your hand.
Cueva Fun Fun is a highly recommendable activity if you are looking for a day full of fun and adrenaline out in nature without sticking to just one activity. You start with a horseback ride through a pretty forest and continue with a hike to the entrance of a cave, where you rappel down more than 50 feet. The walk through the large cave, which is partly filled with water, is impressive; there is even a small section to swim. In the end, you finish at a place far away from the cave entrance and ride back to your starting point by horse. The area is located within the southern limits of Los Haitises National Park.
Fun Fun Cave is currently closed, but we will let you know as soon as a reopening date is announced.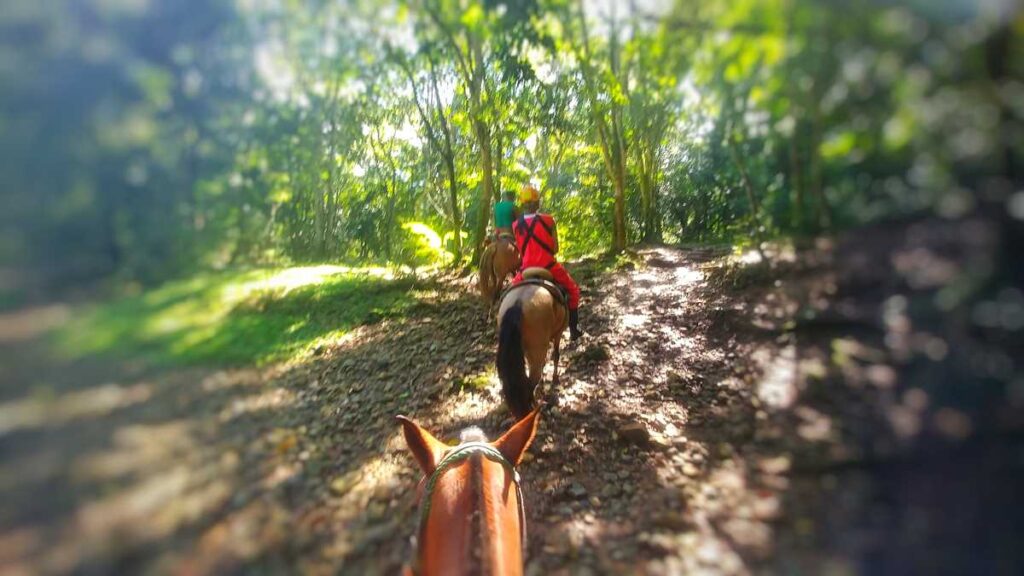 Bonus: private excursions
If those proposals are not what you are looking for, you also have the option to book a private excursion. This means that wherever you go, it's just you, your travel companion(s) and the guide/driver/crew. Without other guests and with a tour company respecting the Covid-19 protocol of the Dominican Republic, your chances are very close to zero to get infected by the virus.
Theoretically, you can book all kinds of Punta Cana excursions as a private tour. It doesn't matter if ziplining, buggy adventure, snorkeling trip or a national park tour – everything is possible. You can check out some promotions for private tours below.
A pretty good example where a private excursion makes absolute sense is the trip to Isla Saona. Usually, tours and boats can get very crowded with up to 70 people on a catamaran, making it very hard to guarantee social distancing. To avoid this, you can book a private tour to Isla Saona (or Isla Catalina as well), where you will be not only the sole passengers on the boat, but you can also determine the itinerary and which stops you want to make. An interesting option, especially as those Punta Cana tours can be affordable as well. Check out my article about private excursions to Isla Saona and Isla Catalina to find out more.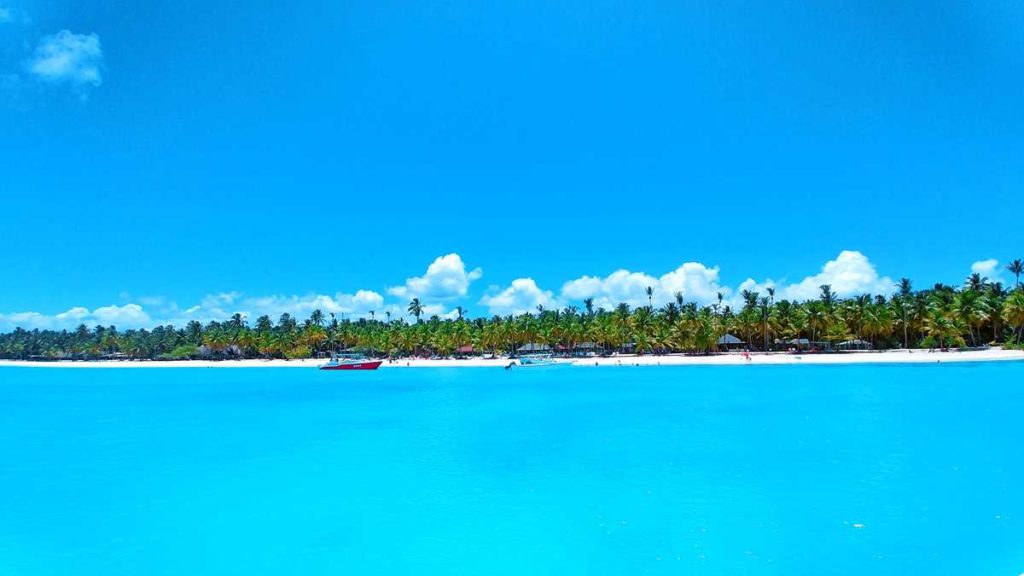 What is your favorite Covid-19 friendly excursion in Punta Cana? Do you care to protect yourself of Coronavirus? Which tour have you done in the last weeks which called your attention particular about the hygienic protocol? Let me know in the comments and share your experiences or questions.
SHARING IS CARING! IF YOU ENJOYED THIS ARTICLE, PLEASE SHARE WITH YOUR FRIENDS – I WOULD APPRECIATE IT A LOT.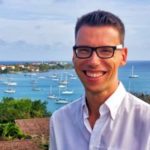 CHRIS
Author, Travel Coach & Punta Cana based digital nomad
Hey, I am Chris, a born and raised German, travel-addictive and Caribbean Soul. Since 2011 I have been living in the Caribbean, among them 5 years in the Dominican Republic. Punta Cana is my home-base here in the country and I'd love to tell you more about how to experience Punta Cana off-the-beaten-track and give you all the advice you want to know for your vacation in Punta Cana.